by
Brian C. Sheetz, Editor In Chief
posted on September 8, 2016
Support NRA American Rifleman
DONATE
Shown: Blue Force Gear Essential Kit 2

Having experienced a few hunting situations that required fast shots on uncooperative four-legged targets—including firing an AR from a fast-angling helicopter on fleeing hogs—I can testify that having extra ammunition at the ready is more than just a convenience. Any hunter or home defender who has several spare loaded magazines in close proximity to the rifle and to his hands has, like his military counterpart, an advantage in minimizing the time and movements required to recharge a magazine-fed rifle.
Modern chest rigs, which offer shooters a level of efficiency and convenience that is difficult to deny, are increasingly popular among civilian shooters for both self-defense and hunting. Originally developed for military operators—whose loads are markedly heavier and targets much less cooperative—the latest chest rigs make use of high-tech materials and streamlined design, resulting in battlefield-tough platforms that are both light and trim. Synthetic materials and advanced manufacturing processes lend them other characteristics, such as breathability and water resistance, that their cotton-web, waist-mounted predecessors didn't possess.
On most models, thin nylon webbing straps comfortably and securely support the rigs on the shoulders and around the midsection, and donning or doffing is easily accomplished by pinching a couple of plastic quick-release buckles. Users can adjust the straps to dial in the best position for fit and reach, and, with some styles, customize the load by docking specific MOLLE-compatible pouches onto platforms of high-strength fabric featuring slots or sewn-webbing loops. The lightest models can be worn in conjunction with backpacks or belt rigs without resulting in undue bulk or interference for the wearer.
To convince myself of the concept's merits and to try different brands, I loaded three different U.S.-made rigs with four 30-round Brownells mil-spec aluminum AR magazines, and a few pieces of additional gear. Then I wore them while shooting from different positions at the range and in the field and with other gear to get a sense of their practical utility.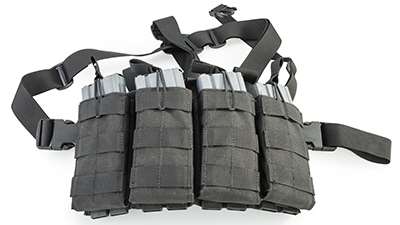 Tactical Tailor Mini MAV
Years of experience designing tactical vests, packs, magazine carriers and the like for soldiers seeking improvements to standard-issue military gear make Tactical Tailor's (tacticaltailor.com) products unique and effective. Its Mini Modular Assault Vest ($60) is a perfect example. Two 1.5" X-format suspenders and a 1" body-encircling strap secure the 5½" tall 14"-wide, 1,000-denier Cordura nylon platform to the chest. Perforated fabric covering foam segments on the rear surface offers improved ventilation. I mounted four of the company's Fight Light magazine pouches ($18), with simple tabbed shockcord retainers, using the company's excellent polymer MALICE Clips to effectively stitch the two together. Unlike their metal ALICE ancestors, the durable, flexible clips are quick to attach, add little bulk and make no noise.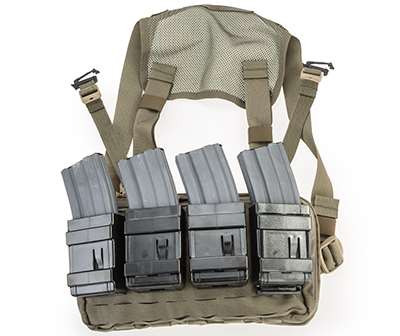 Hill People Gear Heavy Recon Kit Bag
Wilderness roamers turned backpack designers, Evan and Scott Hill (hillpeoplegear.com) long ago decided that a pouch suspended on the chest was a great place to carry essential gear. So, building on the success of their Original Kit Bag (May 2015, p. 32)—which was intended to carry a handgun and a few necessities but had no particular accommodation for magazines—the brothers decided to offer the Recon version ($115), which has a layer of laser-cut 500-denier Cordura bonded to Velcro on its face that can accommodate a variety of Velcro and/or MOLLE-compatible pouches. I opted to augment it with magazine carriers from newcomer Limitless Gear (limitlessgear.com). That company's rigid polymer OPFOR MC-4 carriers ($30) attach in seconds, and because they have a molded-in tab that engages the magazine's retention slot, they can be hung upside down. Simply twisting the magazine allows it to be removed without any fuss.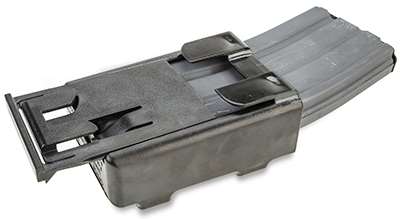 Blue Force Gear Essential Kit 2
One of the most prominent companies in the lightweight tactical gear revolution, Blue Force Gear (blueforcegear.com), offers its Essential Kit 2 ($175) in sizes specific to either .223 Rem. or .308 Win. magazines since the pouches themselves are sewn-on. Made from a super-stretchy and durable elastic weave, the pouches have no additional retention features beyond the fabric's tenacious properties. I experienced no inadvertent loss of magazines, but pulling them free was faster than reinserting them. The included Small Utility Pouch was just right for a Nikon Monarch 7, 8X 30 mm binocular, and two smaller pouches of slightly different design turned out to be perfect for a multi-tool and flashlight.
Testing The Rigs
Once each rig was adjusted to suit my physique and clothing, I ran it through a few drills with an AR carbine in which I moved quickly between firing positions, reloading as fast as possible, replacing empty magazines back into the pouches. I also took them on a few jaunts into the woods. While wearing a full complement of hunting gear—including a 20-lb. pack—I liked the way they kept the magazines high and dry and made changing them fumble-free. I could see and reach them easily rather than have to grope for them at arm's length and out of sight on a belt. I also liked how they made use of space on my body that would otherwise have been unoccupied.
The Tactical Tailor Mini MAV worked well, staying put and out of the way. But, other than a flat pocket between its outer and inner layers, it offered little additional gear stowage. It was the lightest rig when loaded. The Blue Force Gear Essential Kit 2's optional pouches made it capable of carrying lots of gear that was well-distributed and somewhat reconfigurable. The HPG Heavy Recon Kit Bag, while a bit on the thick side when paired with the OPFOR carriers, proved to be the most utilitarian, swallowing all sorts of small items such as a handgun, pen and pad, lip balm, nutrition bars, and a wool hat and gloves in addition to the AR magazines.
Each of the rigs proved to be more than worth their weight and expense. And any of them—combined with a small pack, whether with a built-in or separate waist belt—would go a long way toward making hunting forays or security patrols exercises in efficiency. Their ability to organize critical items so that they remained secure, accessible and available for quick use meant there was more time to observe and, if necessary, shoot rather than worry about loose or lost gear. For me, the chest rig is a revelation, and may just be the ideal way for any outdoorsman to carry his most essential gear.