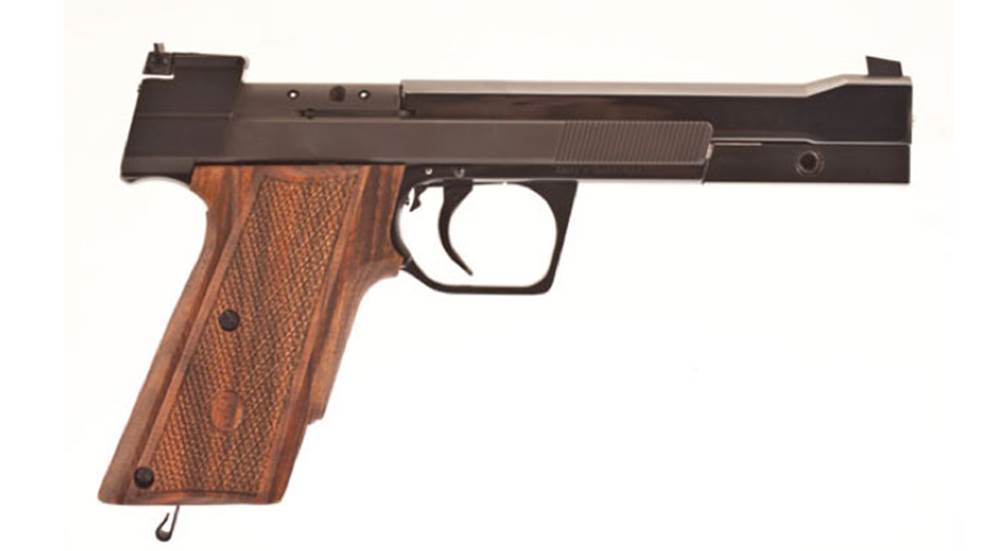 Gallery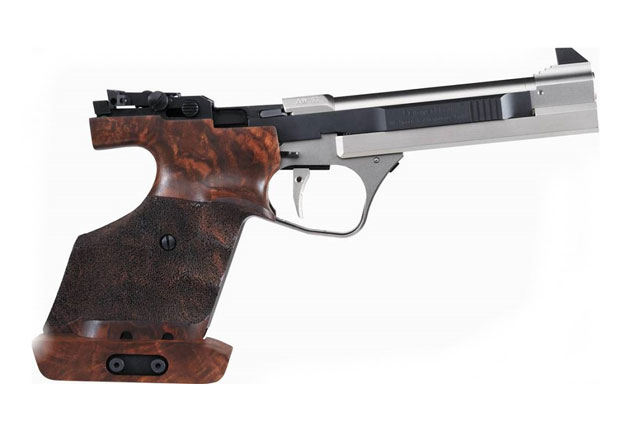 Feinwerkbau AW93
This is the .22 cal. pistol that eleven-time National Bullseye Champion Brian Zins shoots. The AW93 (Altenburger & Westinger '93) is a descendant of the Soviet XP-86 Olympic gun designed by Haidurov, with Feinwerkbau re-engineered tolerances, improved finish and a recoil-compensation mechanism. 
The AW-93 uses a blow-back design. Offered are two types of slide lock levers and two magazine follower knob sizes. Magazines with small follower knobs will not lock the slide back automatically. The other slide lock/release is a longer lever extending forward from above the trigger. Neither magazine will lock the slide back with this slide lock.
Weight: 7.25-inch barrel (2.43 lbs.); 5.5-inch barrel (2.25 lbs.)
Magazine capacity:5
Price: $2,475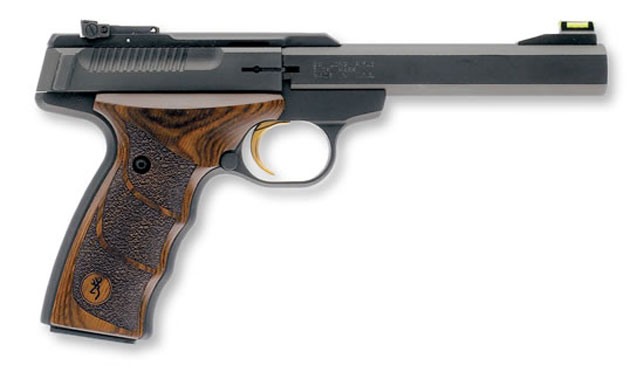 Browning Buck Plus UDX
Since the Buck Mark was first introduced in 1985, fans favor the design as a natural pointer. The Buck Mark trigger is smooth and crisp, breaking slightly over 4 1/2 pounds. The Pro-Target rear sight is fully adjustable for windage and elevation. The heavier contour barrels on the Buck Mark feature a target crown.
Weight: 5.5-inch barrel (2.25 lbs.)
Magazine capacity:10
Price: $520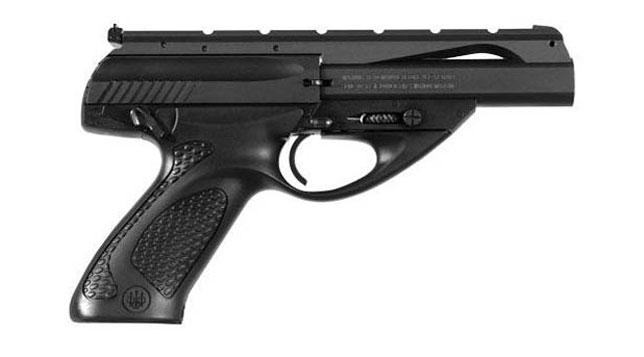 Beretta Neos
Neos means "new" in Greek, and Beretta's American design staff started with a clean sheet when drawing up this new line of .22 pistols. The Neos features a new design, modular construction that allows personalization and the flexibility for many shooting disciplines. 
Weight: 4.5-inch barrel (1.98 lbs); 6-inch barrel (2.26 lbs)
Magazine capacity:10
Price: $275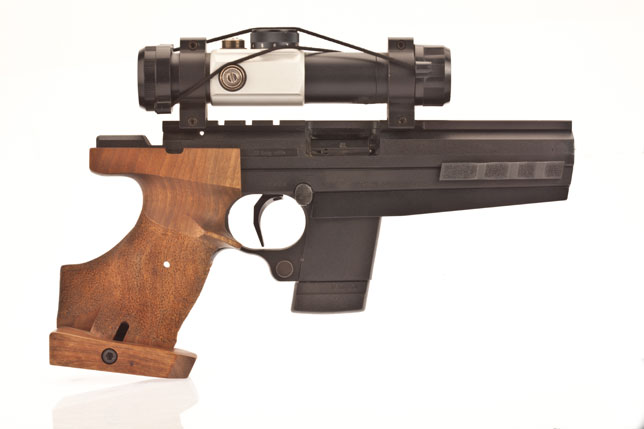 Hämmerli 280
Introduced in the early 1980s, the 280 was discontinued in 1999. The 280 was, and still is, a very good target handgun that established an excellent reputation for accuracy, handling and reliability. However, even after the introduction of the 280, the Hammerli 208 remained the choice of champions in Sport Pistol events because its weight and balance suited the female and junior shooters for whom that match was intended. 
Weight: 4.5-inch barrel (2.4 lbs.)
Magazine capacity:6
Price: $1,500 (Used pricing varies)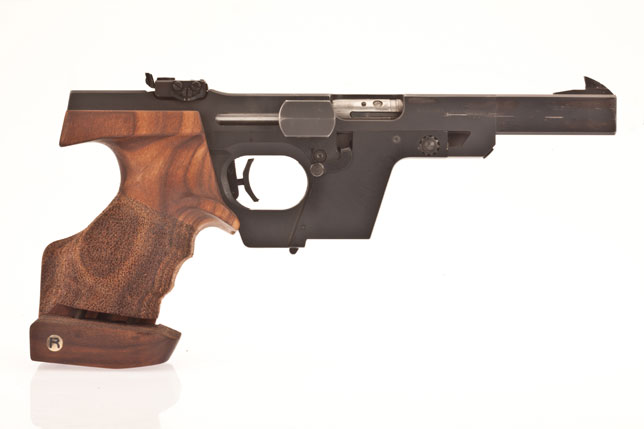 Walther GSP
The Walther GSP, Gebrauchs Sport Pistole (Sport Pistol for Standard Use), is a single-action, precision target shooting pistol made in Germany by Walther Sportwaffen. It has the same technical base as the Walther OSP and thus is almost identical in outward appearance, albeit slightly longer and heavier than the OSP.
The GSP was introduced on the world market in 1968, and was chambered for .22 LR. The anatomical, adjustable walnut grips are also available, on order from Walther, for left-handed shooters. In 1988, Walther introduced a fully adjustable (for pull, stop and angle) two-stage trigger that athletes could retrofit their pistols with.
Weight: 4.35-inch barrel (2.64 lbs.)
Magazine capacity: 5
Price: $1,760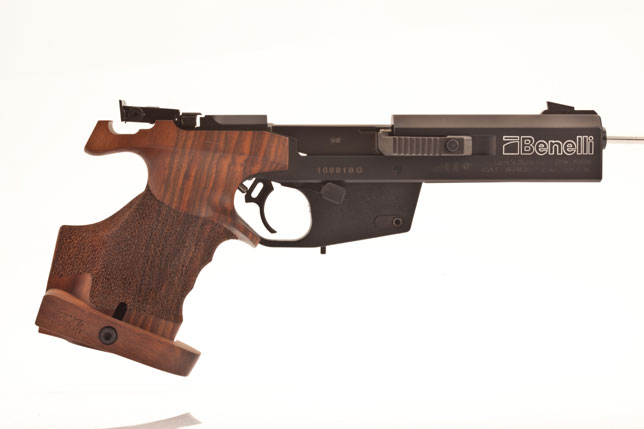 Benelli MP90S
Benelli Arms is an Italian firearm manufacturer founded in 1967 that is best known for high quality shotguns. Benelli and Benelli USA have been owned by Pietro Beretta since 2000.
The entire Finnish military shooting team uses the MP90S. It employs a semi-automatic fixed barrel operation using the inertial, blow-back system. The feed is through sequential loading with a six-round magazine. Like most of these guns, the trigger is completely adjustable. The sights are of a square-section type, with fixed front sight and a rear sight with lateral and vertical adjustment. 
Weight: 4.3-inch barrel (2.3 lbs.)
Magazine capacity:6
Price: $929-$1549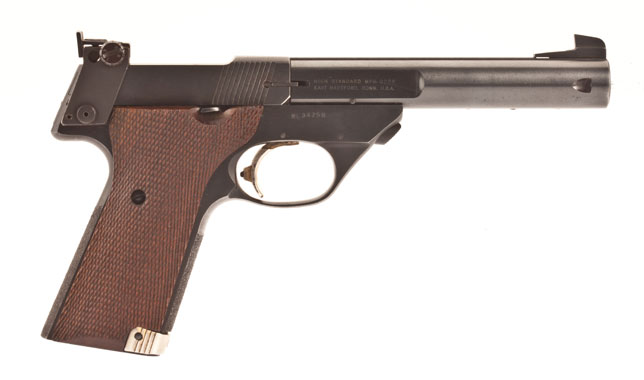 High Standard
Founded in Connecticut in 1926, Manufacturing Company, Inc. is now located in Houston, Texas. The company began as a supplier of deep hole drills and specialty machines to numerous firearms companies. In 1932, the company purchased the Hartford Arms and Equipment Company and began making .22 cal. pistols.
Development continued and significant sales of .22 cal. pistols were made for the U.S. Government, which trained hundreds of thousands of servicemen in World War II using High Standard pistols. During the war, the company also produced thousands of .50 cal. machine guns and machine gun parts, in addition to various pistols for the military. By the 1950's, the High Standard .22 pistol was the gun of choice on the NRA pistol competition circuit.
After several new owners, High Standard Manufacturing Company, Inc. acquired the company assets and trademarks in 1993. Its Connecticut roots are continued with their National Parts Distributor, G.W. Elliott Inc., located in East Hartford, and Bob Shea from North Haven, working with its Custom Gun Shop. Twenty models of .22 cal. target pistols are listed on the company website as of this writing.
For the 7.25 inch Supermatic Trophy Model:
Weight: 7.25-inch barrel (2.75 lbs.)
Magazine capacity: 10
Price: $985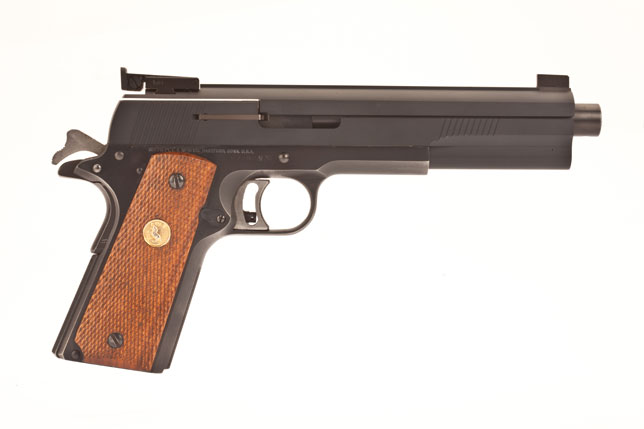 Marvel
Established in 1981, Bob Marvel Custom Guns has built a reputation for accurate and reliable custom pistols. Marvel's work evolved from building pistols out of his basement, to customizing or rebuilding a variety of pistol models used for competition, personal protection and concealed carry. In the late 1990s, Bob Marvel and Lamonte Drees, both employees of Marvel Products (created to meet quantity demand) at the time, developed a popular .22 conversion unit. Marvel Products changed hands in 2002, was renamed Marvel Precision LLC, and continues to specialize in top quality .22 cal. conversions. In 2003, Bob Marvel left the company he founded, partnered with Advantage Arms for a time, and has since returned to making a variety of highly accurate match and defensive handguns. His most popular model is the 1911 .45 caliber match pistol with guaranteed accuracy of 1.5 inches or less at 50 yards. 
More than 40 national records and 20 national titles in bullseye competitions are attributed to competitors who shot a Marvel gun. 
Price and specifications vary based on model.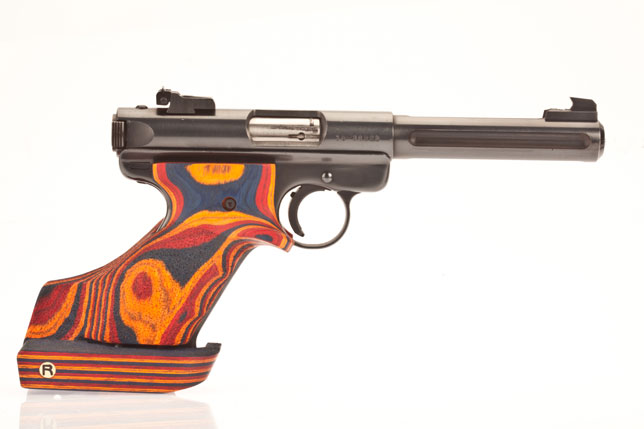 Ruger MK II/III
Inventor, gun designer, self-taught engineer and entrepreneur Bill Ruger wanted to produce a new handgun. Having acquired a World War II souvenir Nambu pistol from a returning U.S. Marine, Ruger successfully duplicated the pistol in his garage. Using the Nambu's silhouette and bolt system, Ruger produced his first prototype. Once partnered with Alex Sturm, production began in 1949. The sleek traditional design, reminiscent of the classic Luger pistol, has been a popular model for countless pistol shooters.
The Mark III is blowback operated, meaning the initial explosion of the cartridge powers the cycling. It uses an internal cylindrical bolt for its action. However, the bolt recoils out of the pistol, rather than pushing a slide back.
Weight: 6.88-inch barrel (2.62 lbs.) Competition mode
Magazine capacity: 10
Price: $625 Competition model; $430-$550 Target model; $362 Standard model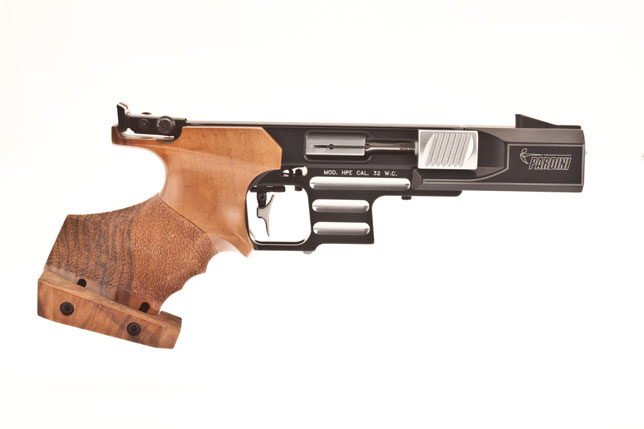 Pardini SP
Born in 1941, Giampiero Pardini has been one of the most prominent marksman in Italian target-shooting. Introduced to shooting in 1970, Pardini challenged himself in all the handgun shooting events, but ultimately favored the Free Pistol.
His first foray into manufacturing began with the modification of a Free Pistol, followed by the creation of a new trigger mechanism, and finally a complete pistol, with which Pardini obtained a series of record scores. Named the PGP 75, this first free pistol became popular enough that Pardini eventually retired from competition in the 1980s to dedicate himself to the work of gunsmith. The SP (.22 LR) has a fully adjustable trigger with six removable steel weights with springs in the front of the gun that act like an active recoil absorber and provide the ability adjust the balance.
Weight: 4.75-inch barrel (2.64 lbs.)
Magazine capacity: 5
Price: $2,085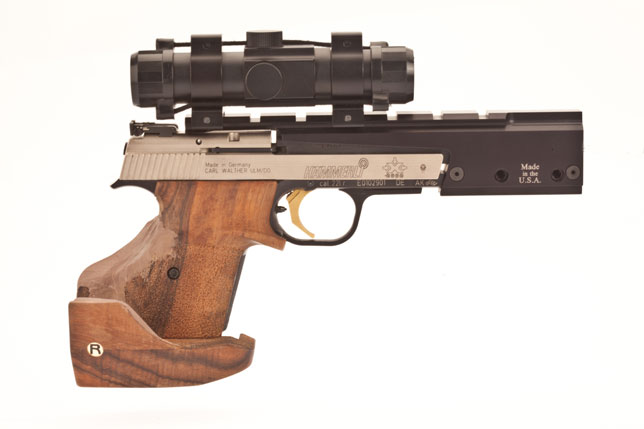 Third Place: Hämmerli X-Esse
Earning three spots in the Larry's Guns online poll, Haummerli originally established a benchmark with its .22 target pistols with the 208/215(s) Sport/Standard pistol target handgun, followed by the 280 and SP20. While all three models are popular among champion shooters, they are expensive. Top-level shooters often invest in an identical back-up gun as insurance to maintain their lead standings. Club and recreation shooters, on the other hand, typically purchase guns at a lower cost threshold. To fill this need, Haummerli produced the X-Esse model. Sigarms imported a less expensive version of the X-Esse–the Trailside. While Sigarms was importing the Trailside, a non-compete agreement prevented import of the X-Esse. When Haummerli was purchased by Walther's owners in 2006, the Trailside and the agreement were discontinued. Walther currently produces and exports the Hämmerli X-Esse pistols.
Weight: 4.5 or 6-inch barrel (2.29 lbs.)
Magazine capacity: 10
Price: $749-$1100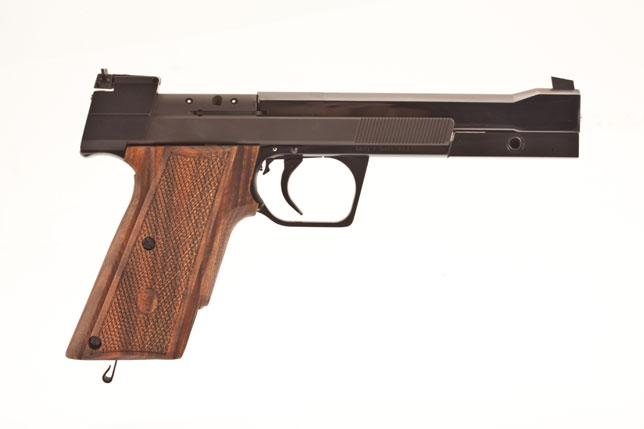 Second Place: Hämmerli 208s
Haummerli is a Swiss manufacturer of firearms predominantly in shooting sports, particularly in Olympic events governed by the ISSF (International Shooting Sport Federation). Haummerli began in 1863 when Johann Ulrich Haummerli founded the company to make rifle barrels for the Swiss Army. In 1950, Haummerli produced Olympic rifles that were used to win gold medals at the next four Olympics. In 1966, production began on the famous 208 pistol using a blowback semi-automatic design. In 2006, Haummerli was purchased by Umarex, who moved production of the Haummerli brand to Walther's factory in Ulm, Germany. The 208s is the last version of Haummerli's venerable 208 series of target .22 LR pistols. Discontinued in 1998, they are still highly sought after by the serious shooter.
Weight: 6-inch barrel (2.375 lbs.)
Magazine capacity: 8
Price: $2,500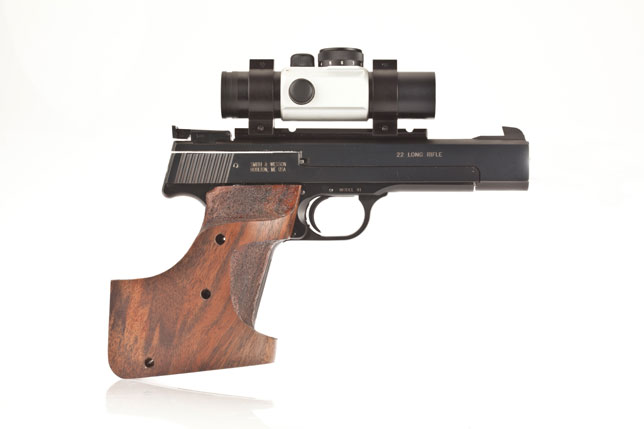 First Place: Smith and Wesson Model 41
The Smith & Wesson Model 41 is a semi-automatic pistol developed by Smith & Wesson after World War II as a competitive target pistol. It was designed with a 105 degree grip angle, the same as the Colt M1911 pistol, to maintain a consistent grip angle during training and competition.
Two prototypes, numbered X-41 and X-42, were produced in 1947 and improved in the years that followed. In 1957, the Model 41 was made available to the public when Smith & Wesson built 679 units. Production increased to 9,875 the very next year. Various short and long barrels were produced during its lifetime. In 1992, the Model 41 was dropped from production. In 1994, Smith & Wesson returned it to production as the Model 41 (New Model). The photo depicts the author's gun with custom hand stocks from Vitarbo. 
Weight: 5.5-inch barrel (2.56 lbs.); 7-inch barrel (2.62 lbs.)
Magazine Capacity10
Price: $1,369