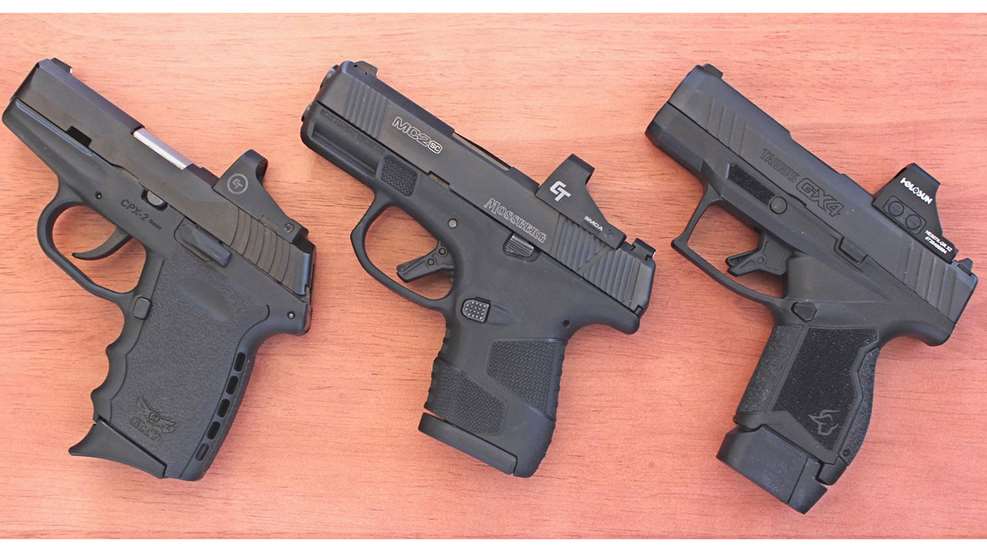 As we turn the page on 2021 and step into a new year, let's take a few minutes to look back at what this year had to offer in one of the fastest growing defensive handgun categories: the 'Micro Nine' carry pistol. But to appreciate what these guns have to offer, it's helpful to take a look back at what came before:
Glock G26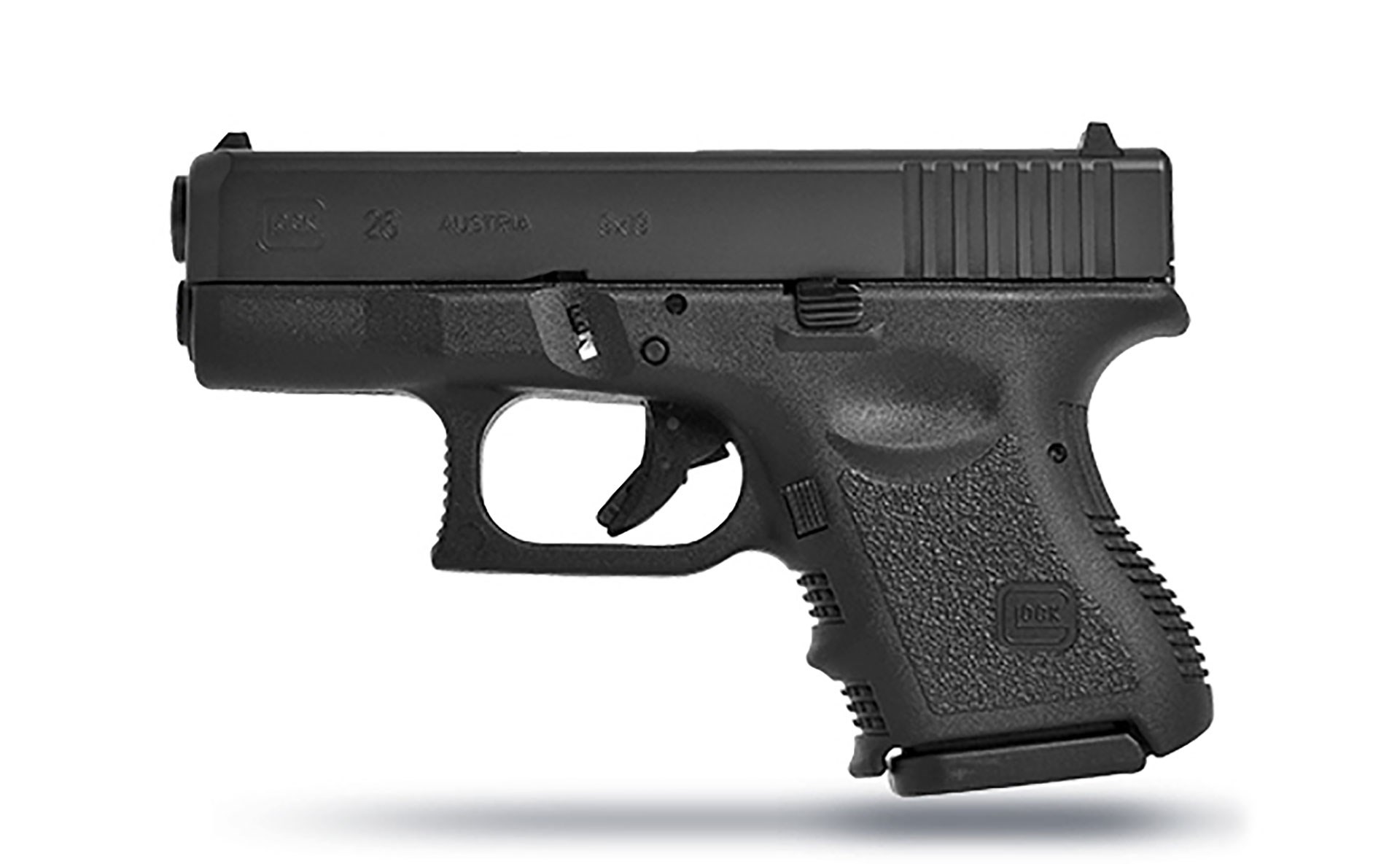 Back in 1994, the Glock G26 was instrumental in establishing the subcompact size polymer-framed, semi-automatic pistol as a standard for more comfortable carry. With Gen 3, 4 and 5 models still in production today, it's 6.5" long, 4.17" tall (with a flush-fit magazine) and has a slide that's 1" wide. The 1.15" wide frame makes room for double-stack magazines that hold 10 or 12-rounds of 9 mm ammunition. With an unloaded weight of around 22-oz., it's shorter than the Compact Glock G19 by more than 0.5" in the slide and over 1" in the grip frame. It was quite innovative at the time and set the stage for several similarly sized pistols. Those looking for a slimmer 9 mm platform from the company that still provides decent capacity also have an option in the G43 or even the G48.
Kel-Tec P11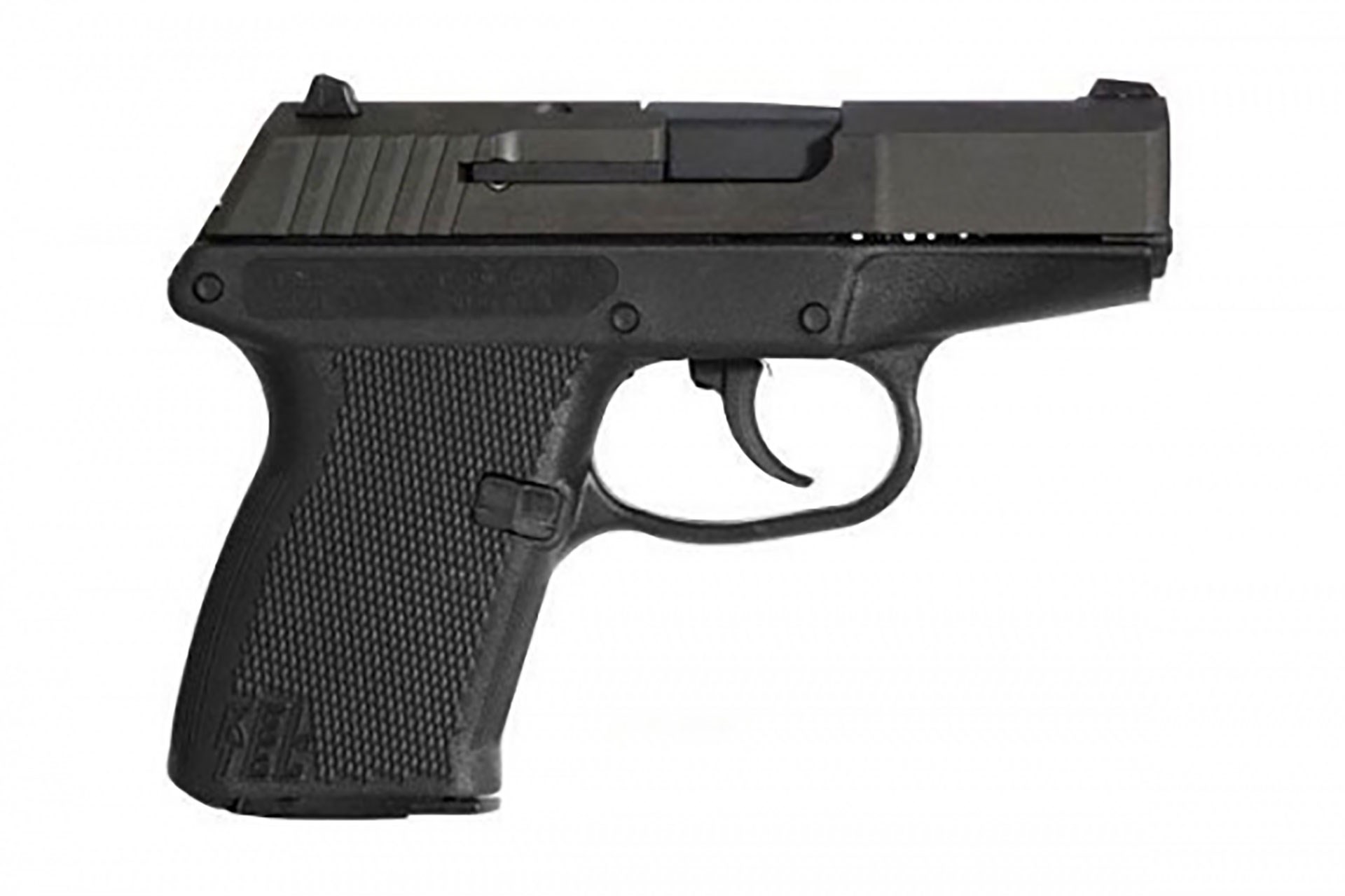 But it was in 1995 that we see one of the first true Micro Nines arrive on the scene. The Kel-Tec P11 was developed by George Kellgren, the Swedish-born designer of Intratec and Grendel-brand firearms. The P11 was about the same height and width as the G26 and accepted a 10-round magazine. However, the slide assembly was 0.9" shorter and the pistol was almost 5-oz. lighter. The P11 would have fit in comfortably with today's crop of Micro Nines. But for whatever reason, Kel-Tec discontinued this model in 2019. Kel-Tec has announced a new handgun for 2022 in the P15, though, which is designed to be one of the lightest, thinnest handguns available.
SCCY CPX-2RD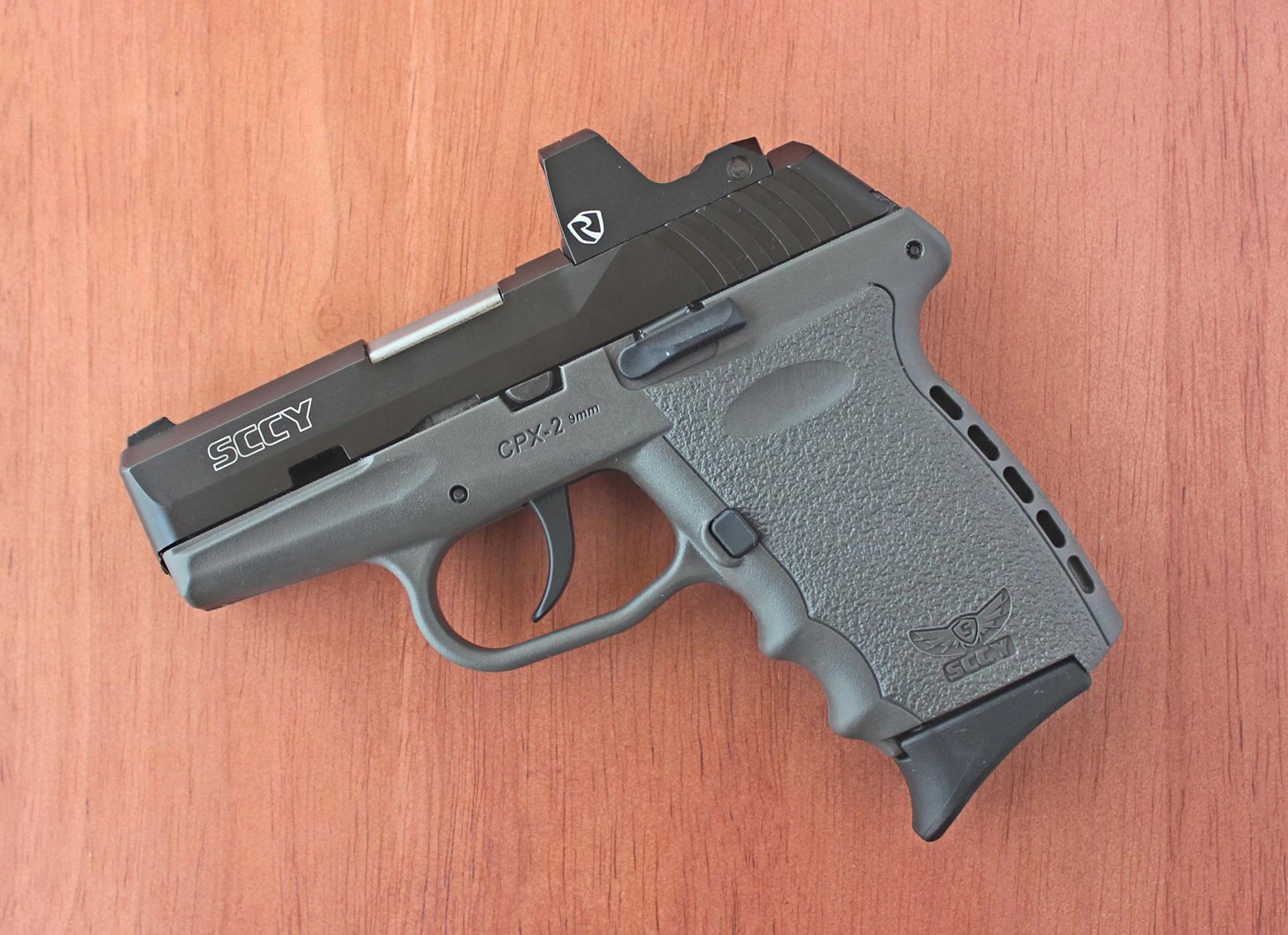 Despite being in production for 24 years, the P11 failed to ignite the Micro Nine revolution that would kick into gear just a year before it went out of production. Similarly, the P11-influenced SCCY Industries CPX series of light weight double-stack 9 mm pistols have been on the market since 2010. Although SCCY is selling off these guns as quickly as they can make them, the CPX was not a trend-setter either.
SIG Sauer P365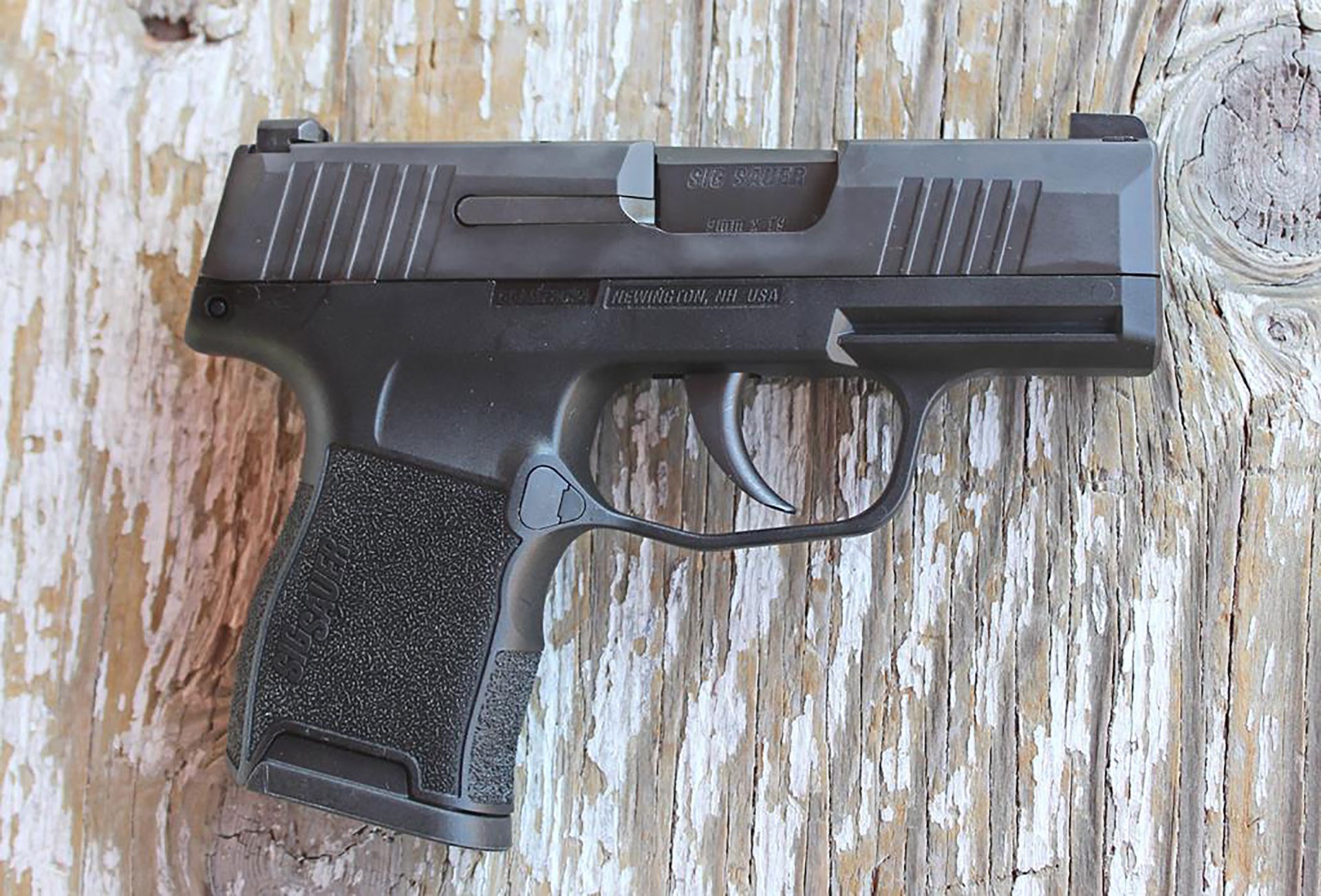 It was the success of the SIG Sauer P365, launched in 2018, that most likely got the Micro Nine ball rolling. It nearly replicates the dimensions of the P11; it's 5.8" long, 4.3" tall and 1.06" wide with an unloaded weight of 17.8-oz. It wasn't a brand new idea or a particularly ground-breaking design. But much like the Glock G26 subcompact, Ruger LCP .380 ACP pocket pistol and the Mossberg Shockwave pump-action 12-ga. firearm, it had that just-right balance of features, brand recognition and price point to drive high demand. The P365 lineup has since expanded to include a variety of models and features.
Springfield Armory Hellcat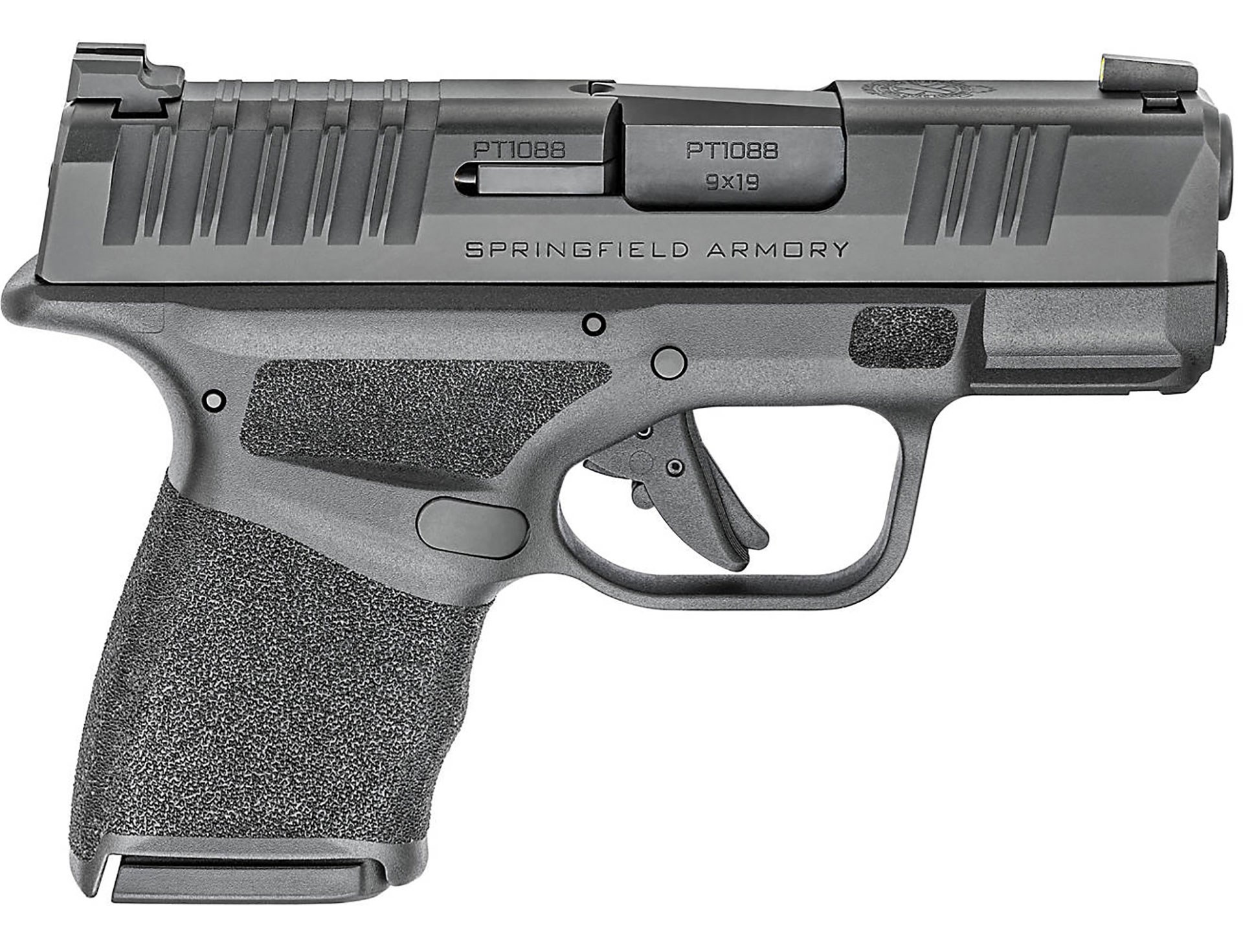 In 2019, Springfield Armory got on board the Micro Nine train with the release of the Hellcat pistol. Upping the ante, Springfield launched their guns with night sight and optics-ready slides right out of the starting gate. Once again, the size, brand name, features and price point were a hit with consumers.
It's likely that 2020 would have been the year of the Micro Nine if not for shooting industry disruptions caused by the COVID-19 pandemic. The combination of facility closures, worker shortages and record high demand put many new gun model launches on hold until 2021. Let's take a look at a few of the models that caught our attention, shown here in alphabetical order:
Kimber R7 Mako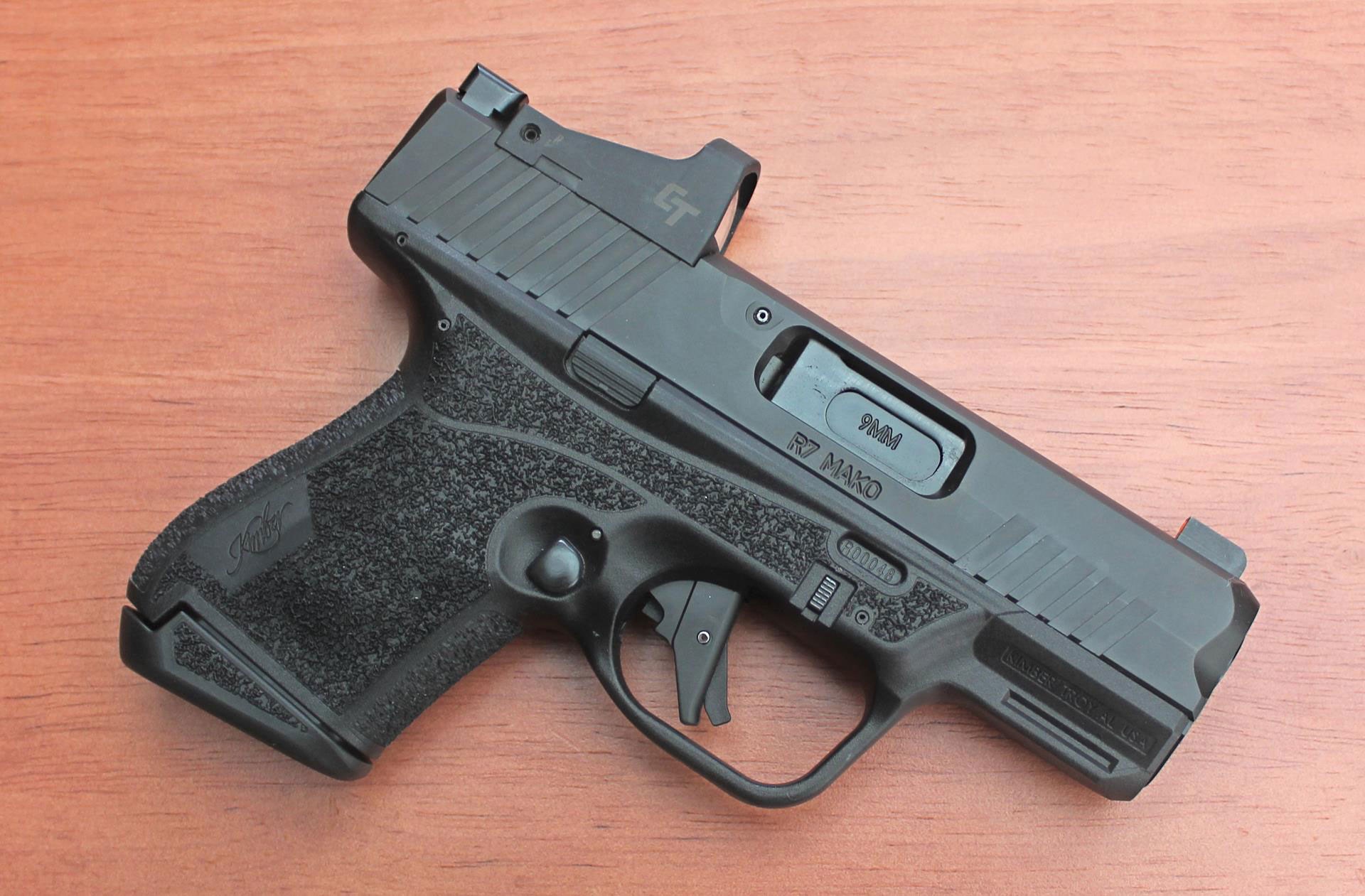 The Kimber R7 Mako represents a step in a new direction for this company. It's Kimber's third striker-fired pistol but the first one with a polymer frame. The gun is a bit heavier than some in this class. It has a listed weight of 19.5-oz. that slips up to 22.7-oz. with an empty 11-round magazine and a micro red optic installed. But the added weight has a purpose. The R7 has an uncommon closed-top slide design which protects the lens of an installed optic from the hot gases and debris that escape the chamber.
The company was careful to dot their I's and cross their T's with this gun's feature set while infusing it with their own sense of style and design. It ships with two double-stack magazines. One is flush fit to the grip and holds 11 rounds while the other is slightly extended to hold 13 rounds. R7 Mako has a flat-faced aluminum trigger with a listed trigger pull of 5- 6.75-lbs. But the gun I worked with had a trigger pull of about 4.5 lbs. that handled more like an aftermarket upgrade than a factory trigger. The Kimber R7 Mako has a suggested retail price of $599 with TruGlo tritium night sights only, or $799 shipped with a factory installed Crimson Trace CT-1500 micro red-dot sight.
Mossberg MC2sc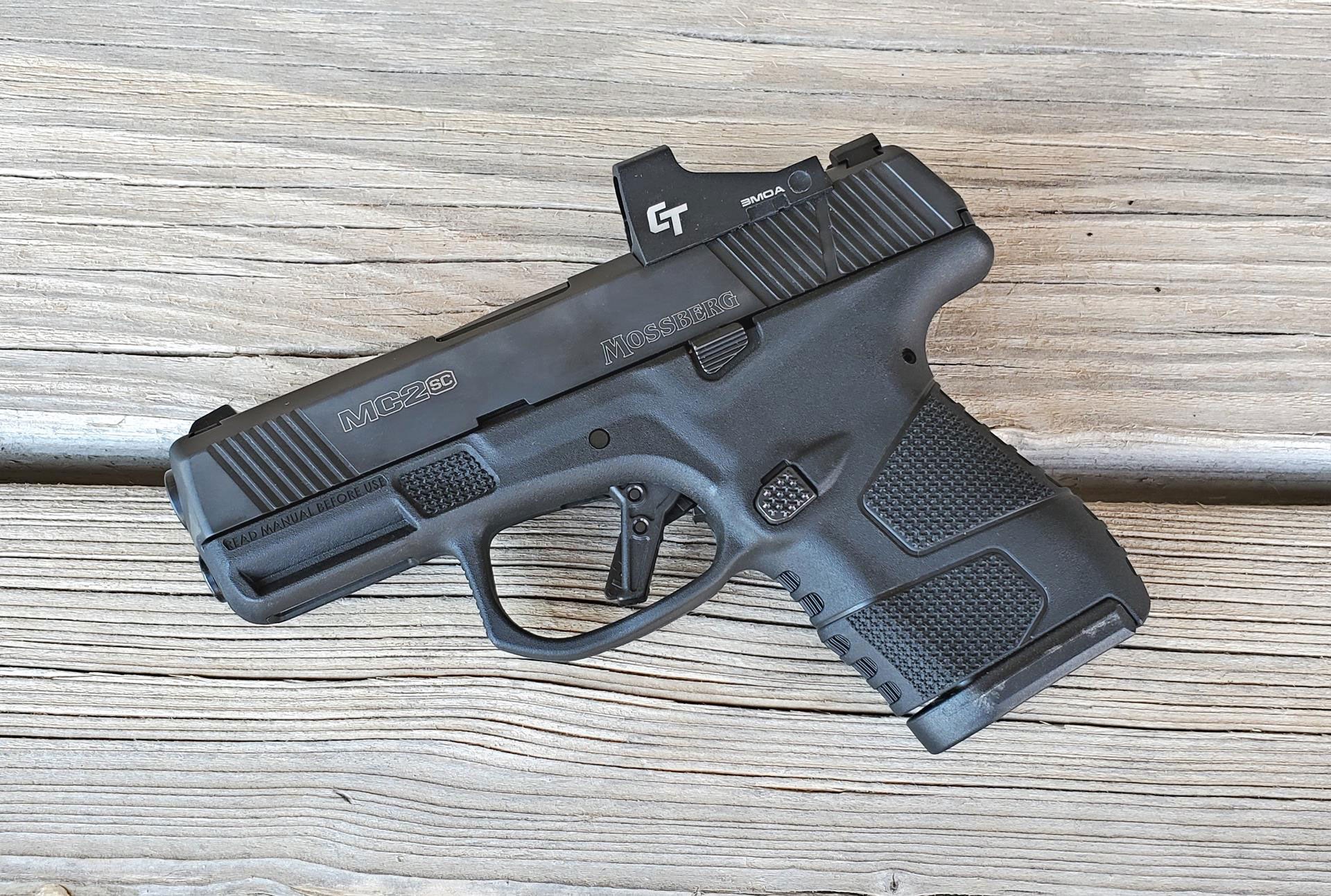 O.F. Mossberg & Sons broke its 100-year hiatus from offering handguns with the release of the polymer-framed, subcompact MC1sc in 2019. It was soon followed by the compact MC2c. The MC2sc combines the best daily carry features of Mossberg's two previous MC pistol models. It has the shorter 3.4" barrel and reduced grip length of the MC1sc subcompact while accepting the same slim profile, double-stack magazines developed for the compact MC2c. The MC2sc can be ordered with night sights and with, or without, a push-button, cross-bolt type thumb safety located just behind the trigger.
This model ships with an optics-ready slide and it holds a bit more ammunition than most of the competition. The flush fit magazines hold 11-rounds, instead of 10-rounds, and an extended magazine holds 14-rounds instead of 12. The longer 14-round magazine is outfitted with a removable polymer sleeve which acts as a grip extension. Using this magazine adds 0.6" to fully support the shooting hand's little finger. The Mossberg MC2sc tips the scales at 19.5-oz., unloaded, with suggested retail pricing starting at $556. 
Ruger Max 9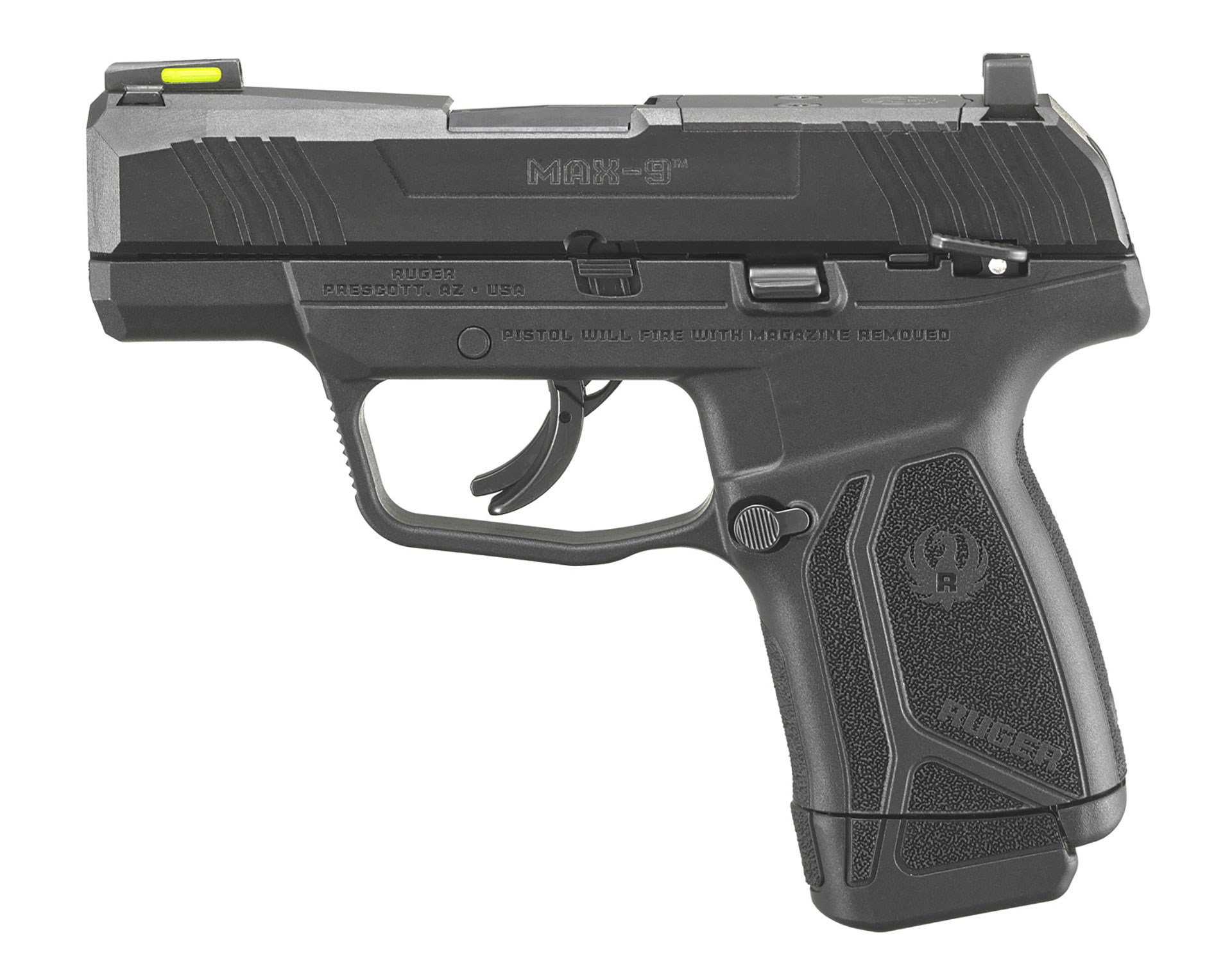 The Ruger Max 9 follows the company's long standing tradition of offering a well balanced set of features for a competitive price. This model launched with popular upgrades installed including an optics-ready slide. The metallic square notch rear sight is paired with a front sight that features a tritium lamp that serves as a night sight, with a light gathering fiber optic that brightens the sight during the day.
When I first heard about the Max 9, I expected it to essentially be the single-stack EC9s with a slightly wider grip or a new twist on the Security 9. Instead, this pistol looks more like a .380 ACP LCP II that ate its Wheaties for breakfast. Features include a beveled slide for easier reholstering, a left side manual thumb safety and a trigger guard that's canted and textured to act as a finger rest. The pistol ships with two Teflon-coated magazines including a flush fit 10-round and an extended 12-round option. The Max 9 weighs 18.4-oz. with a suggested retail price of $579. There's also a Talo Distributor's exclusive version which ships with a factory-installed and co-witnessed Crimson Trace compact reflex sight.
Savage Stance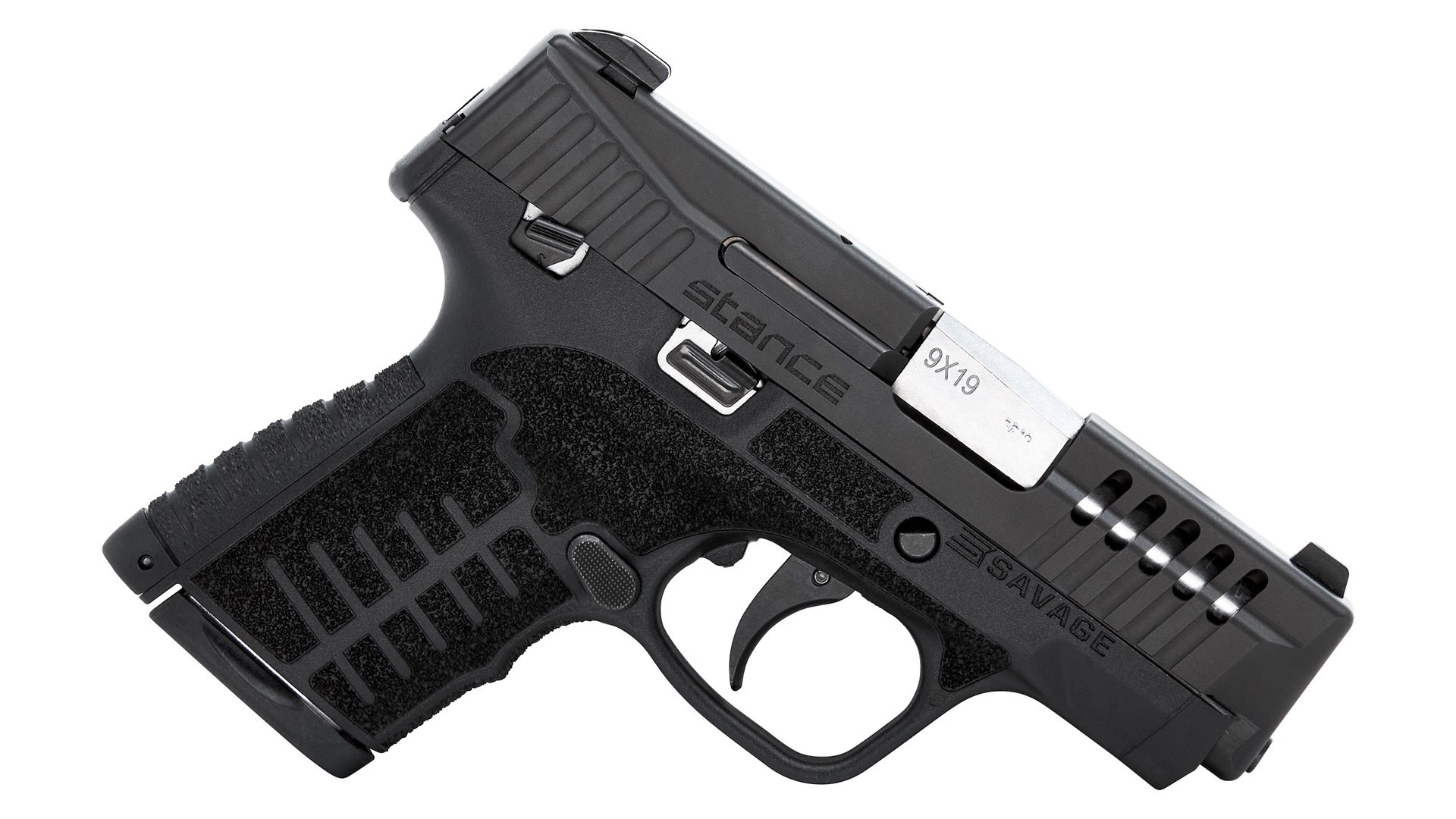 Savage's Stance handgun.
Savage Arms also has rejoined the fray with the Stance. As the company's first compact pistol line made in more than a century, the Stance is polymer-framed and striker fired, chambered for 9 mm with magazine capacity options of seven, eight and 10 rounds. It also uses a removable chassis, similar to the SIG Sauer 320 line of handguns, as the serialized component of the pistol. This allows the chassis to be swapped into different sized frames, with black, grey and FDE color options. Each of these grip-frame options have stippled texturing molded in completely around the grip. 
The slide and barrel of the Stance is made from stainless steel, with the slide being Nitride finished. The slide as features wide serrations at the front and rear, with the serrations on the front being ported. On top of the slide, the Stance's iron sights are beveled to reduce the chances of a snag. For controls, the Stance comes with an ambidextrous magazine release and slide catch. Models of the Stance with an ambidextrous manual safety are also offered.There are also models offered with night sights pre-installed and a package option which includes a Viridian E-Series red laser module. The retail price of the Stance line ranges from $479 to $561, depending on the specific model and features selected.
SCCY DVG-1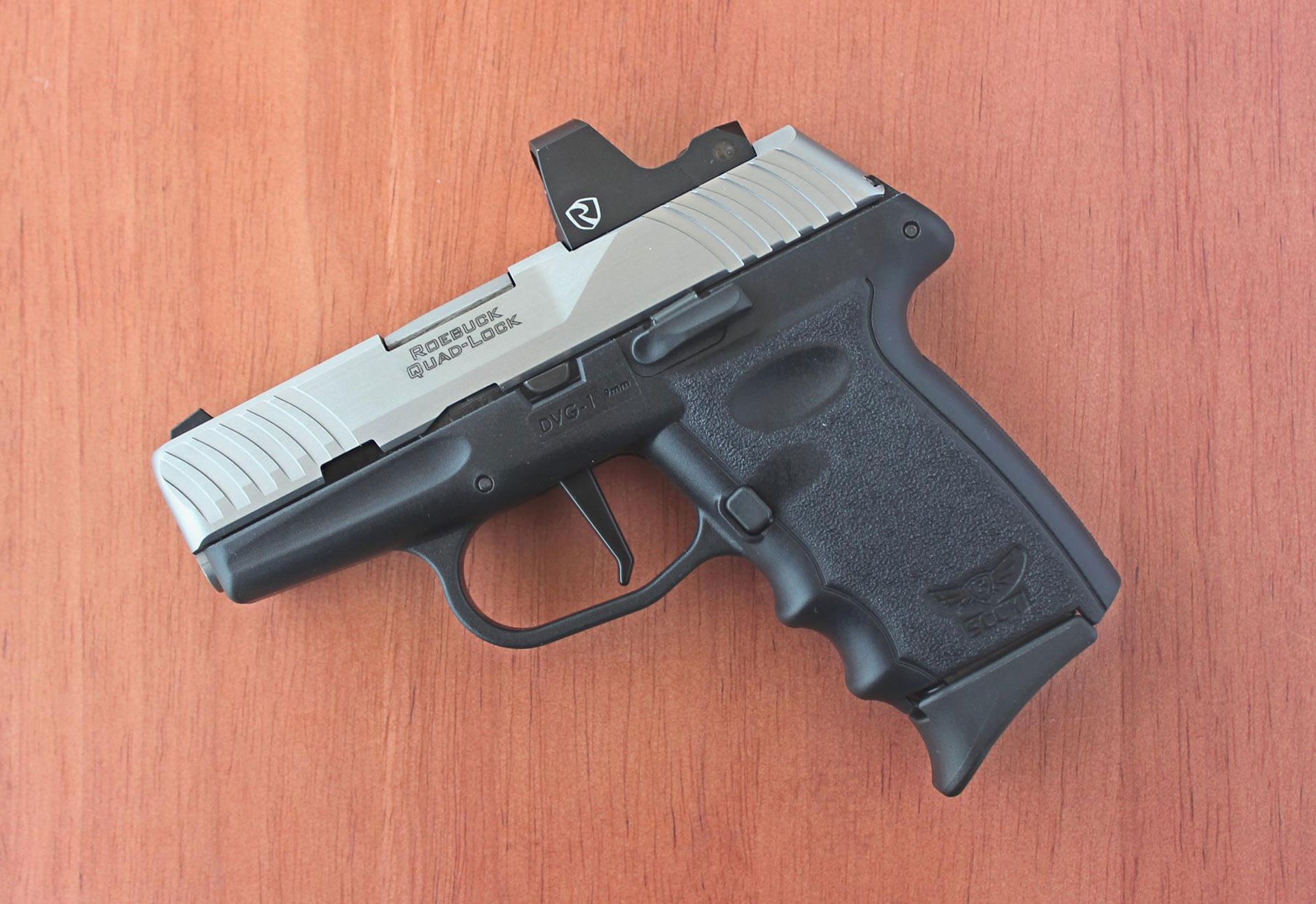 As mentioned earlier, the SCCY Industries CPX series of hammer-fired, double-action-only Micro Nines have been in production for over 12 years. Selling for real-world prices under $300, these pistols have passed 5,000-round endurance tests without any breakages. However, some folks don't care for the gun's relatively long and heavy trigger pull, which usually weighs in at around 9-lbs. The DVG-1 represents a redesign of the gun with the hammer-fired ignition system replaced with the company's first striker-fired configuration. The straight-profile polymer trigger has a listed pull weight of 5.5-lbs. which is more in keeping with other popular polymer framed pistols.
The DVG-1 takes the same double-stack 10-round magazines as the CPX series but the grip frame has been modified to provide a more comfortable gun-to-hand fit. The stainless steel slides are available with either a natural silver or a matte black nitride finish. This model is currently available with a black polymer frame but additional frame colors will likely be available in the future. The DVG-1 is one of the lightest models listed here with an unloaded weight of 15.5 ozs. It has a low suggested price of $299.99 with iron-sights only. The DVG-1RD version ships with a factory-installed micro red-dot sight for $399.99.
S&W 9 Shield Plus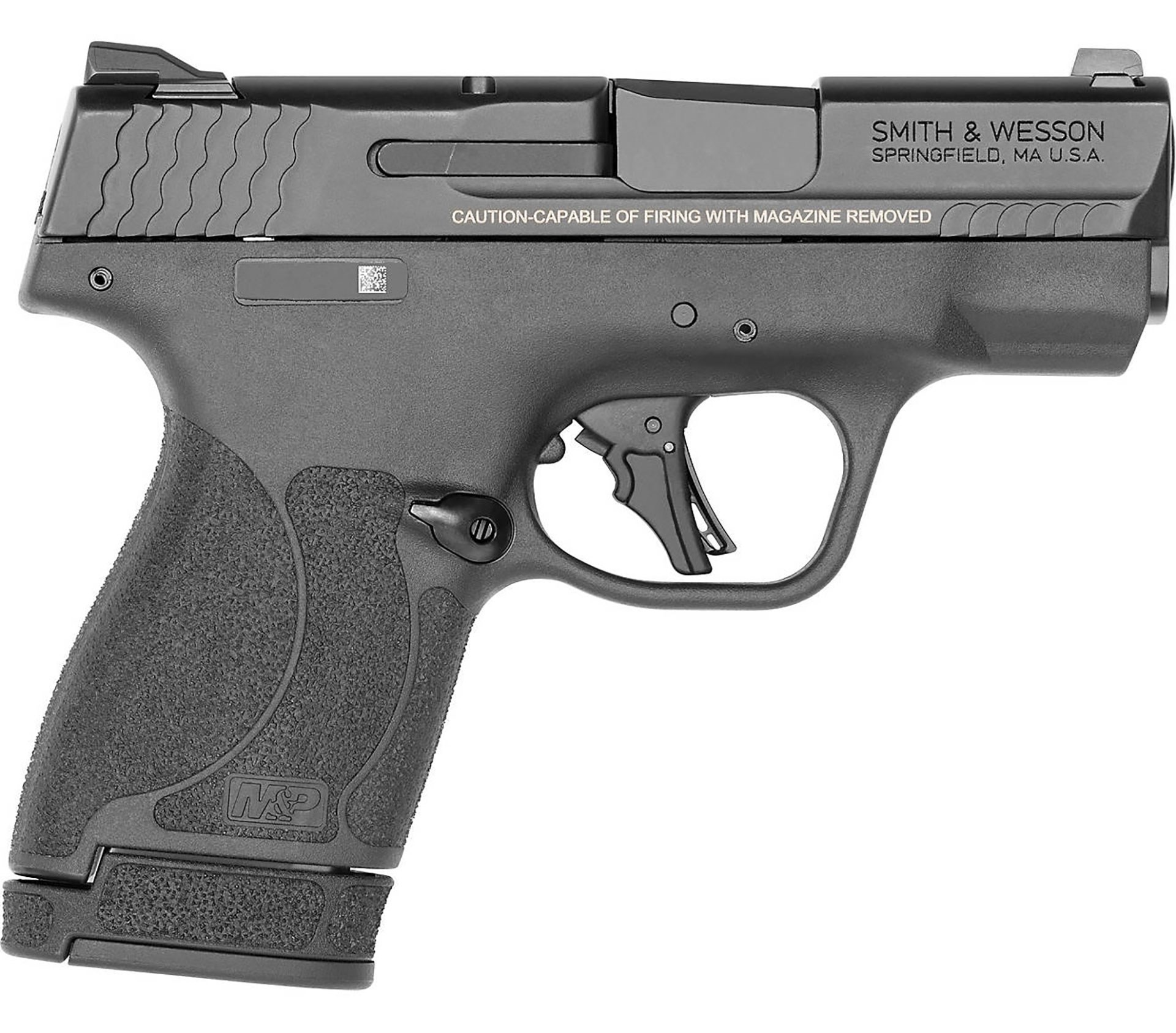 The Smith & Wesson M&P Shield Plus is the latest version of this company's well respected lineup of polymer framed pistols. The original version of the 9 mm M&P Shield, launched in 2012, was based on the Compact pistol of the series. It offered a slimmer profile thanks to a 1" wide slide and single-stack 7 or 8-round magazines. In 2019, Smith & Wesson introduced the M&P Shield EZ in 9 mm. The EZ models are designed to be more convenient to operate with features like an easy-rack slide and easy-to-load magazines.
The 2021 M&P Shield Plus keeps the slim, trim profile of the original but accepts double-stack magazines. Flush-fit magazines hold 10-rounds with the extended magazines holding 13. These pistols are outfitted with up-to-date features including an optics-ready slide and a flat-face trigger. Smith & Wesson will offer standard models along with Performance Center options that include ported barrels, fiber-optic sights and extended slides. The M&P Shield Plus weighs in at 19.3-oz. with suggested retail pricing that starts at $553. To see the Gun of the Week video featuring this model, click here. Also worth noting is a new introduction for 2022, the Smith & Wesson CSX, which offers heightened capacity in 9 mm in an alloy-framed, hammer-fired design.
Taurus GX4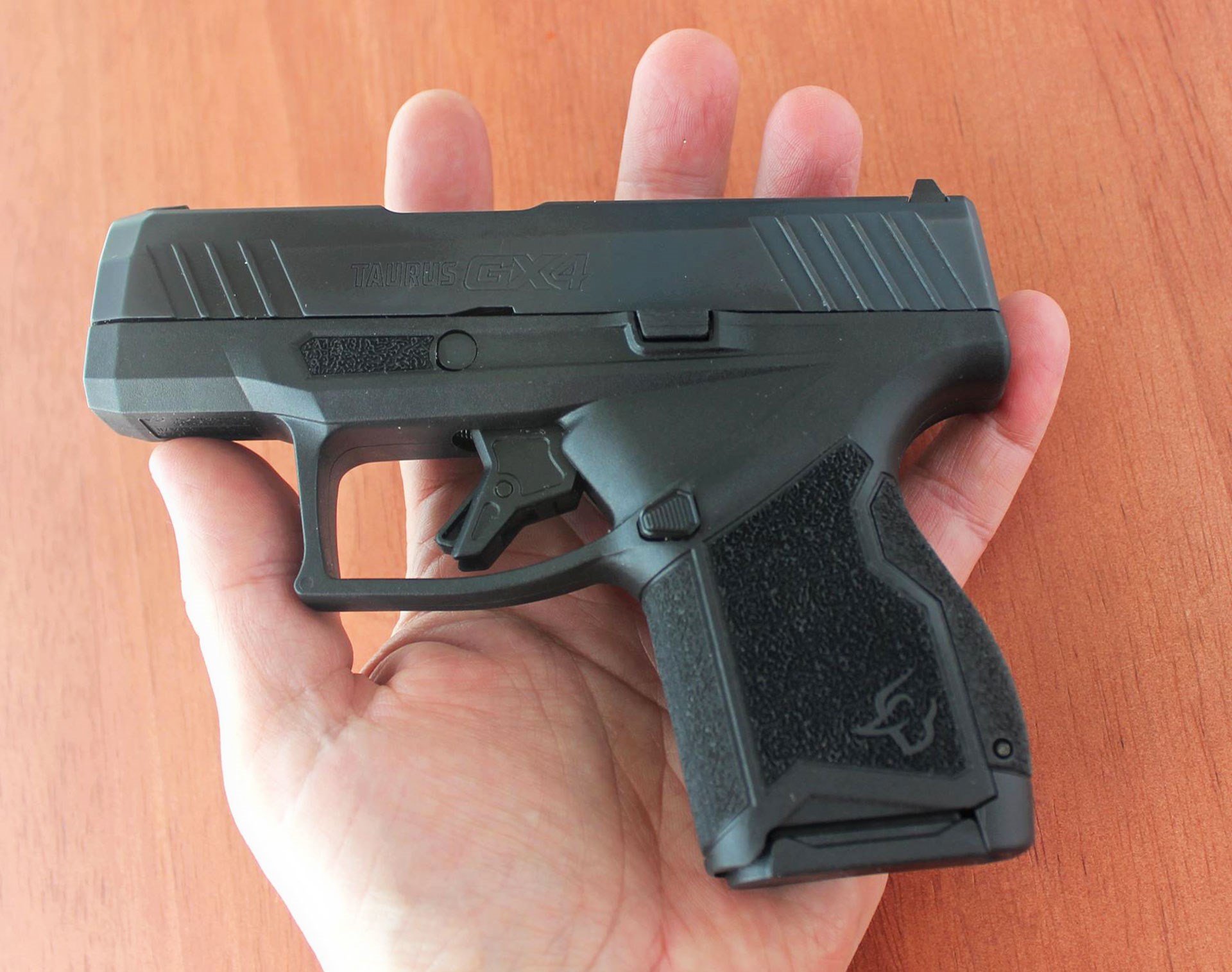 The Taurus GX4 is a bit smaller than some on this list with a footprint that's comparable to the slim and trim Sig Sauer P365. It's also one of the more affordably priced Micro Nines currently available with suggested retail prices starting at $392.42. For the recently released T.O.R.O. (Taurus Optics Ready Option) version of the pistol, prices start at $468.18.
Taurus was careful not to throw the baby out with the bath water to keep prices down. The carbon steel slide has a gas-nitride finish while the barrel is treated with a durable satin-black diamond-like carbon (DLC) finish. The slide has front and rear cocking serrations and is topped with a metallic sight system instead of polymer sights. The grip's backstraps are interchangeable with two straps to choose from. The fit and finish throughout is neat and tidy, like it should be. The GX4 weighs 18.5-oz. with an empty magazine installed and ships with two 11-round, flush-fit magazines. Extended 13-round magazines are available. To see the Gun of the Week video featuring this model, click here.