by
posted on October 25, 2021
Support NRA American Rifleman
DONATE
Although O.F. Mossberg & Sons is well known for its extensive selection of sporting and defensive shotguns, the product that got the company rolling in 1919 was a little 4-barrel rimfire derringer called the Brownie. It seems appropriate then, that for its 100th anniversary the company re-entered the handgun market with the striker-fired, polymer framed MC1sc subcompact 9 mm carry pistol that accepts single-stack 6- or 7-round magazines.
In 2020 Mossberg followed up with the MC2c, a compact model with a slightly longer slide and an extended grip designed to use double-stack 13-round magazines. That model earned a Shooting Illustrated Golden Bullseye Award. For 2021, the lineup is growing with the addition of the new red-dot optics ready MC2sc. Here's a closer look at this pistol and what it has to offer.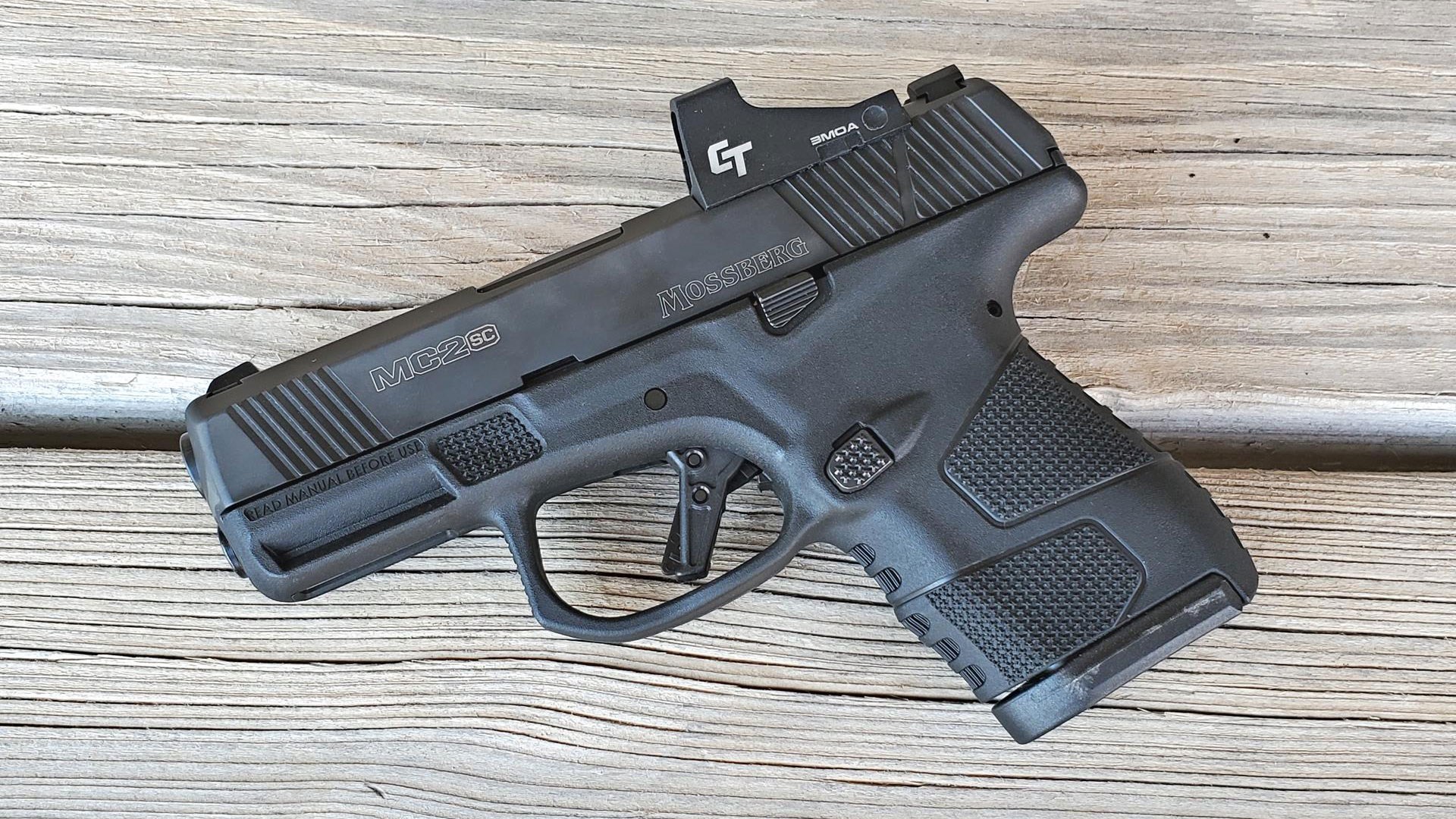 A left-side view of the Mossberg MC2sc.
The MC2sc neatly splits the difference between Mossberg's earlier two models. It has the 'Micro Nine' barrel and grip lengths of the original MC1sc while accepting the same slim profile type double-stack magazines developed for the compact MC2c. The subcompact MC2sc ships with two blued steel magazines. One has a flush-fit base plate and holds 11-rounds. The second magazine is extended to hold 14-rounds with a polymer sleeve which extends the grip profile by 0.6", which is the same 3-finger length as the grip of the MC2c. One of the standout features of Mossberg's MC2 series of polymer pistols is the reduced girth of their grip frames. Although they accept double-stack magazines, the profile is similar to that of popular single-stacks in this class. 
The extended 14-round magazine (left) compared with the standard 11-round, flush-fit magazine (right) that come with the Mossberg MC2sc.
The stainless steel slide is just 0.90" wide with front and rear canted cocking serrations, a beveled ejection port and an oversized extraction claw. Treated with a durable matte-black Diamond-Like Carbon (DLC) coating, it has been beveled long the top and the edges rounded off for more comfortable carry and easy holstering.  Customers will have a choice of two iron sight options including the metallic low profile 3-dot sight system used in this review, or, a set of TRUGLO Tritium Pro Night Sights which add around $100 to the suggested retail price of the pistol.  
Just in front of the rear sight, the slide has been milled, drilled and tapped to accept micro red-dot optics. The pistol ships with a filler plate installed. The optics slot is sized for micro sights with a JPoint or Shield footprint which can be directly mounted to the slide without the need for a mounting plate. The 3-dot sights are configured so that they can be co-witnessed with an optic if one is installed.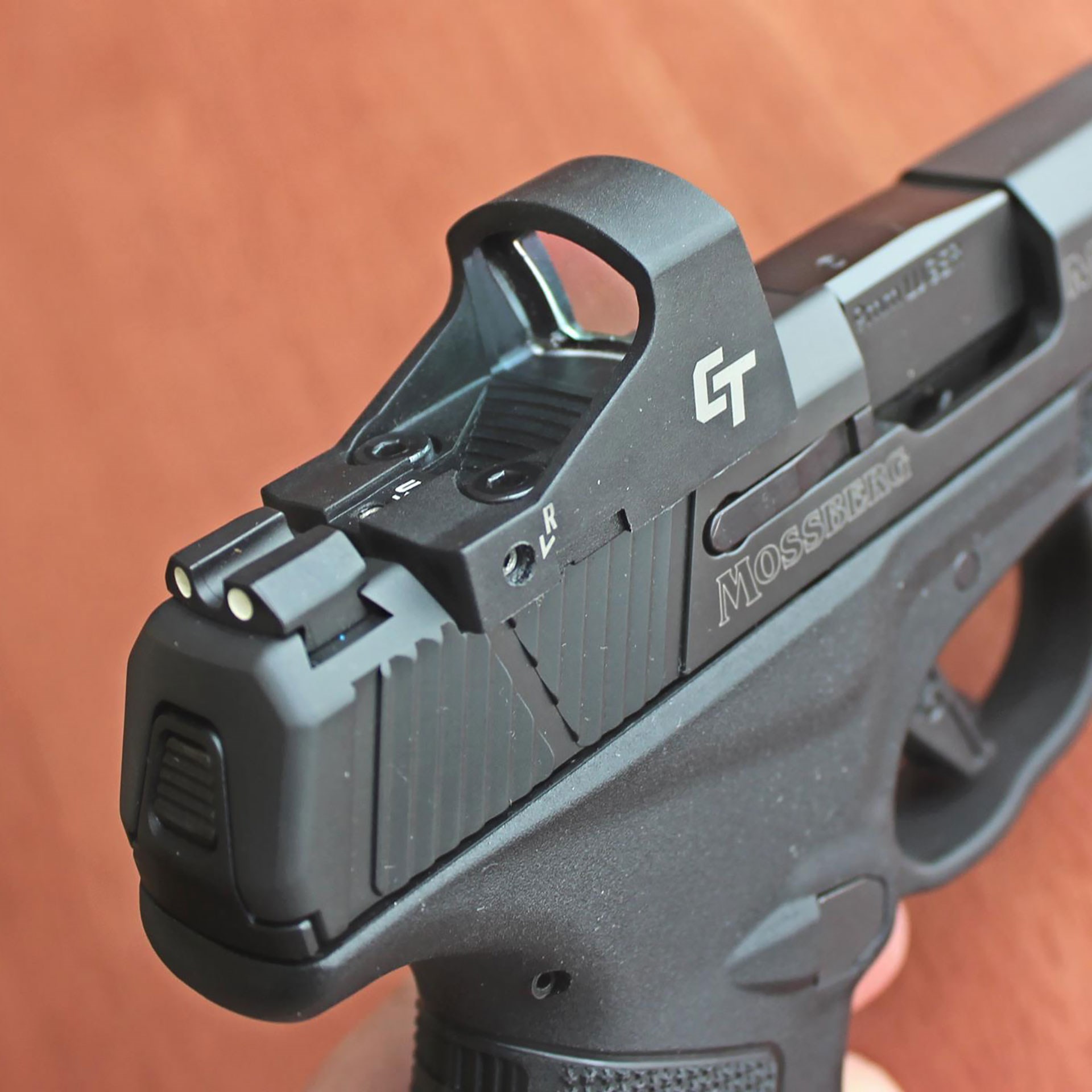 A close-up view of the Crimson Trace CTS-1550 reflex sight mounted to the Mossberg MC2sc.
For this review, the MC2sc was topped with a Crimson Trace model CTS-1550 open reflex sight. This optic features a light weight polymer housing, a 3.0 MOA round red dot, an ambient light sensor, up to 20,000 hours of run time with a single CR2032 button cell battery and a reasonable suggested retail price of $180. I've used this optic with a few smaller carry pistols now with positive results.
The 3.4" stainless steel barrel is treated the same matte black coating as the slide. The traditional six land and groove rifling is cut at a 1:16" right-hand twist rate. The dual recoil assembly features an all-steel construction with two captured round-wire springs. The slide rails and interior configuration of the pistol is clearly influenced by the now ubiquitous Glock Safe Action striker-fired design.
The Mossberg MC2sc partially disassembled showing the recoil spring and striker assembly. 
The textured polymer frame is molded from glass-reinforced polymer. The dust cover has a molded in 1" accessory rail to support light and laser modules. Textured touch points have been added, just behind the accessory rail, to act as a tactile resting spot for the tip of the trigger finger. The front face of the trigger guard is flattened and textured for use as a finger rest.
Mossberg gave the MC2sc the same flat-faced polymer trigger, with an integral blade safety, that shipped with the compact MC2c. The striker-type trigger pull is a bit better than, but still similar to, this class of defensive pistols. The take-up feels a bit mushy just before reaching a firm stop. This particular pistol's trigger broke cleanly with 5 lbs. 1 oz. of pressure, which was lighter than the listed trigger weight of 5.5 lbs. The trigger reset is usefully distinctive with an audible click. I liked the trigger of this pistol from the start and it just got better with use. It smoothed out a bit more and felt like a natural fit.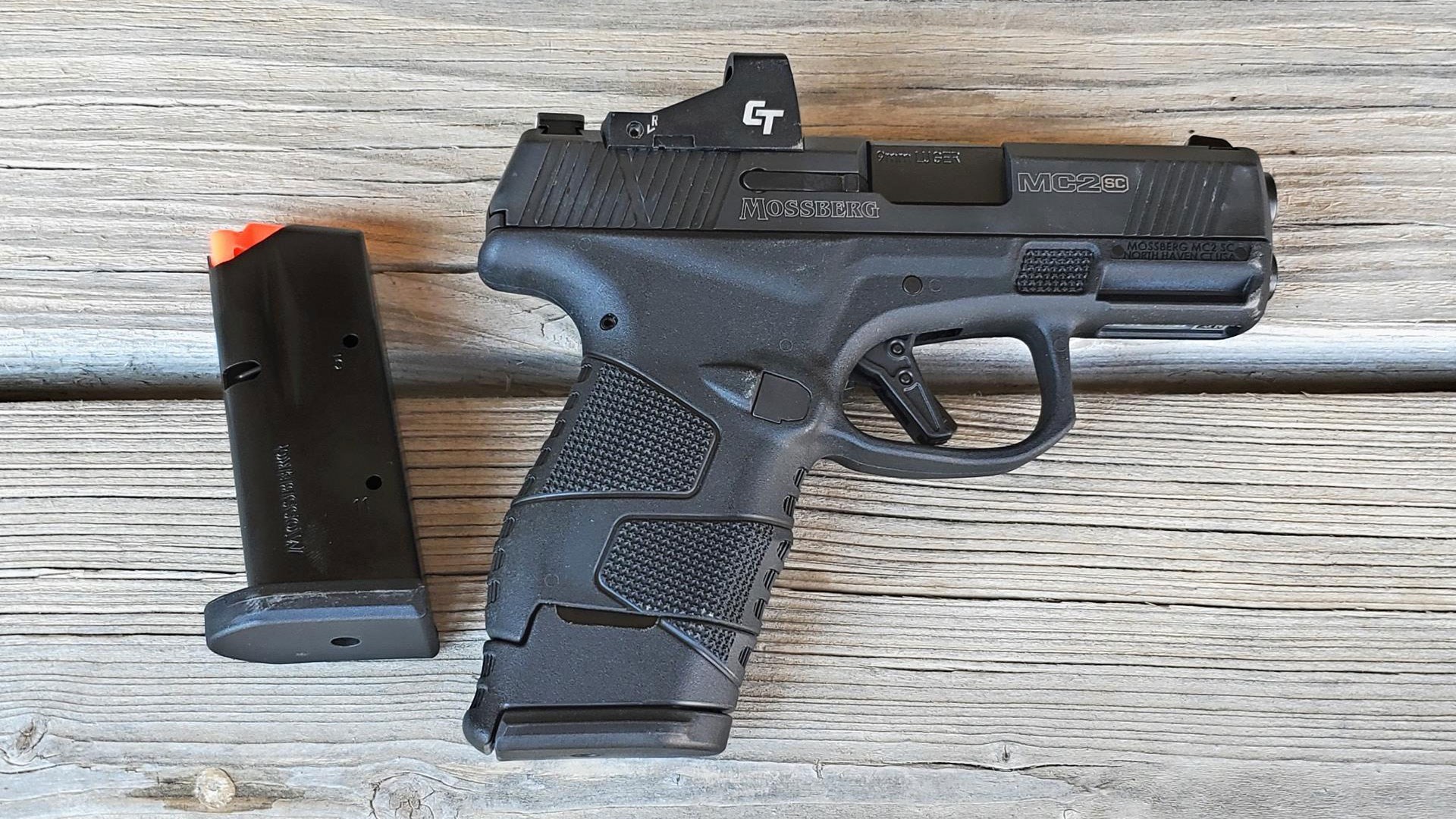 A right-side view of the Mossberg MC2sc with 14-round extended magazine inserted. 
The remaining external controls, including the slide stop lever and a textured metallic magazine release button, are both found on the left side of the frame. This version of the MC2sc does not have an external thumb safety. However, for those who prefer to have one, this model can be ordered with a push-button, cross-bolt type safety which is located just behind the trigger for easy operation with the trigger finger. These guns do not have magazine safeties. This means the pistol will fire if the trigger is pressed while the magazine is removed from the grip. But the pistol is fitted with a quick release slide plate that allows the pistol to be dismantled for cleaning without pressing the trigger.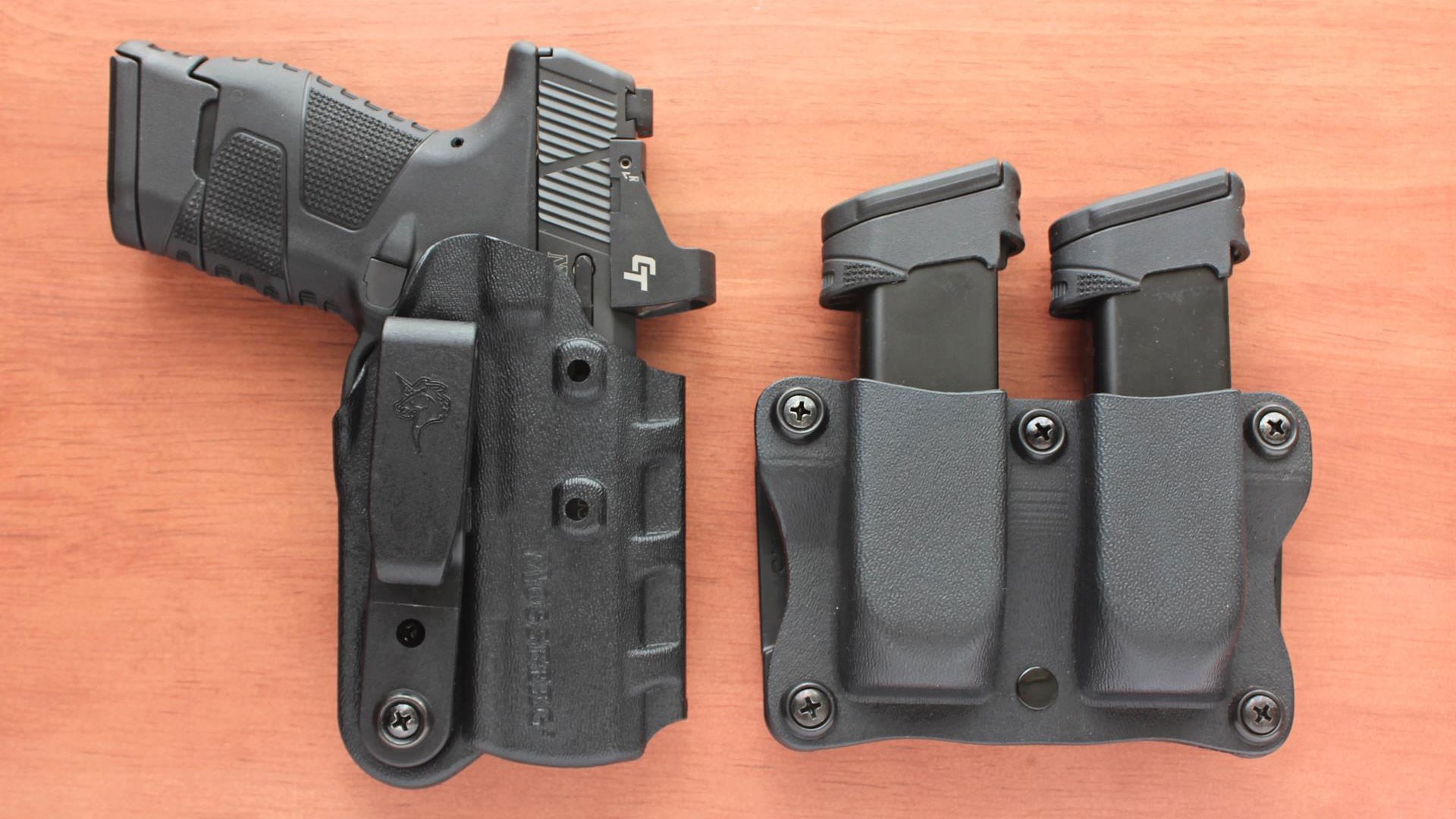 The Mossberg MC2sc and magazines holstered in Kydex holsters and magazine pouches made by DeSantis Gunhide for Mossberg.
As mentioned earlier, Mossberg was careful to ensure the grips of the MC2 pistols have a slim profile that is compatible with a wide variety of hand shapes, including somewhat smaller hands like mine. But they didn't stop there. The trigger guard is undercut and radiused where it meets the grip frame for added comfort. The front and back straps of the grip frame feature molded-in rib and serration textures. The sides of the grip have trapezoidal panels of aggressive texturing separated by smooth, un-textured surfaces. The result of this mixing of textures adds purchase where it's needed without being overly abrasive.
Time spent on a square range with paper target drills, bench rested accuracy testing and chronograph work is all useful and informative. But there's nothing quite like a live fire class, working outside, from the holster, with steel plates and timed exercises, to find out if your gear is working for you or against you in achieving your down-range objectives.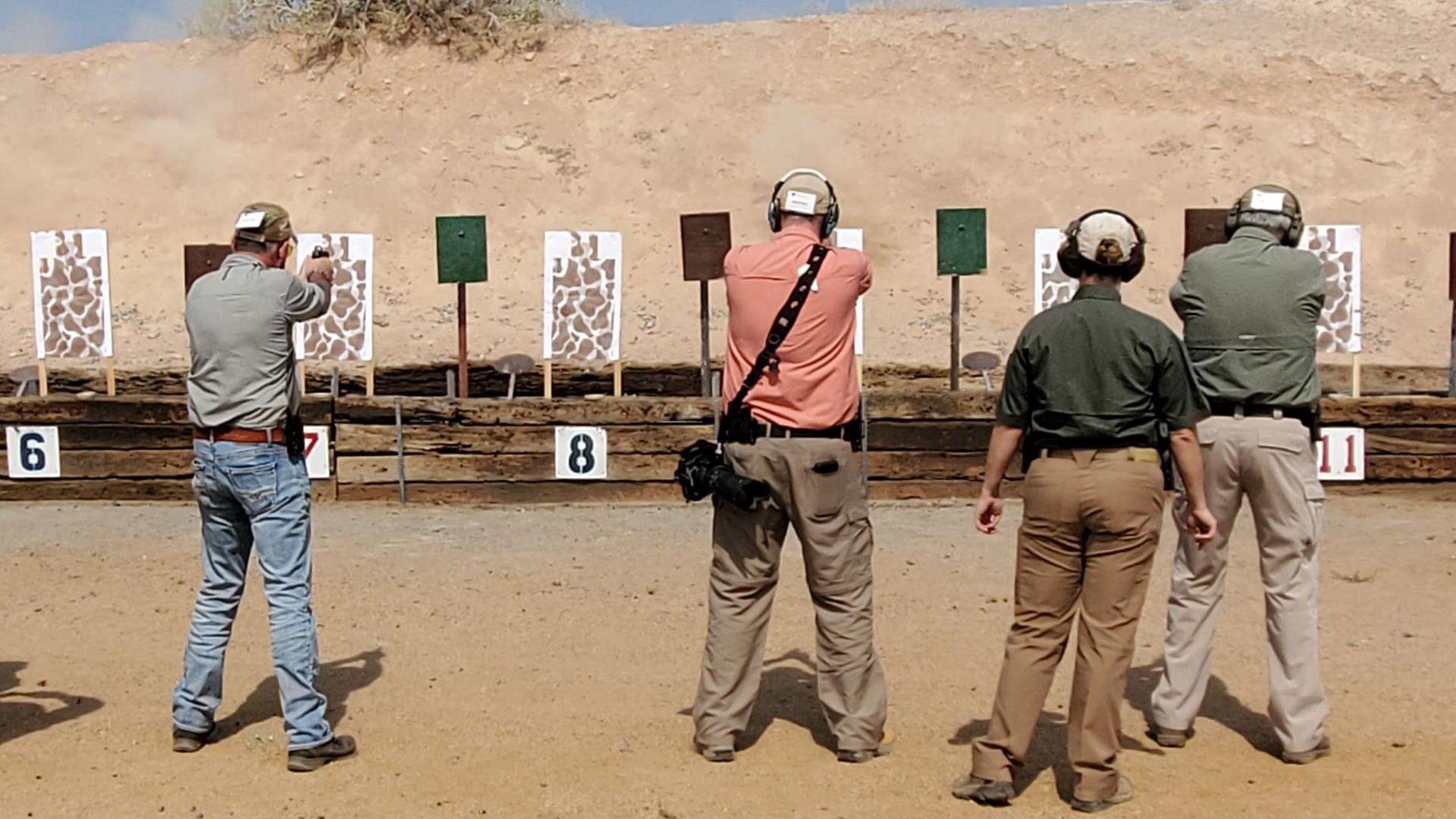 On the firing line at Gunsite Academy in Paulden, Ariz.
Ahead of the launch of the MC2sc, Mossberg flew a group of media members out to Gunsite Academy in Paulden, Ariz., to spend quality time getting to know this pistol and optic combo. It was hot, dusty and the instructors were top notch. We cycled plenty of Hornady's Critical Duty 135-gr. Flexlock 9 mm ammunition through several pistols with positive results. We also used a set Kydex holsters and magazine pouches which are being made by DeSantis Gunhide for Mossberg's online shop. They proved to be a great fit for the platform.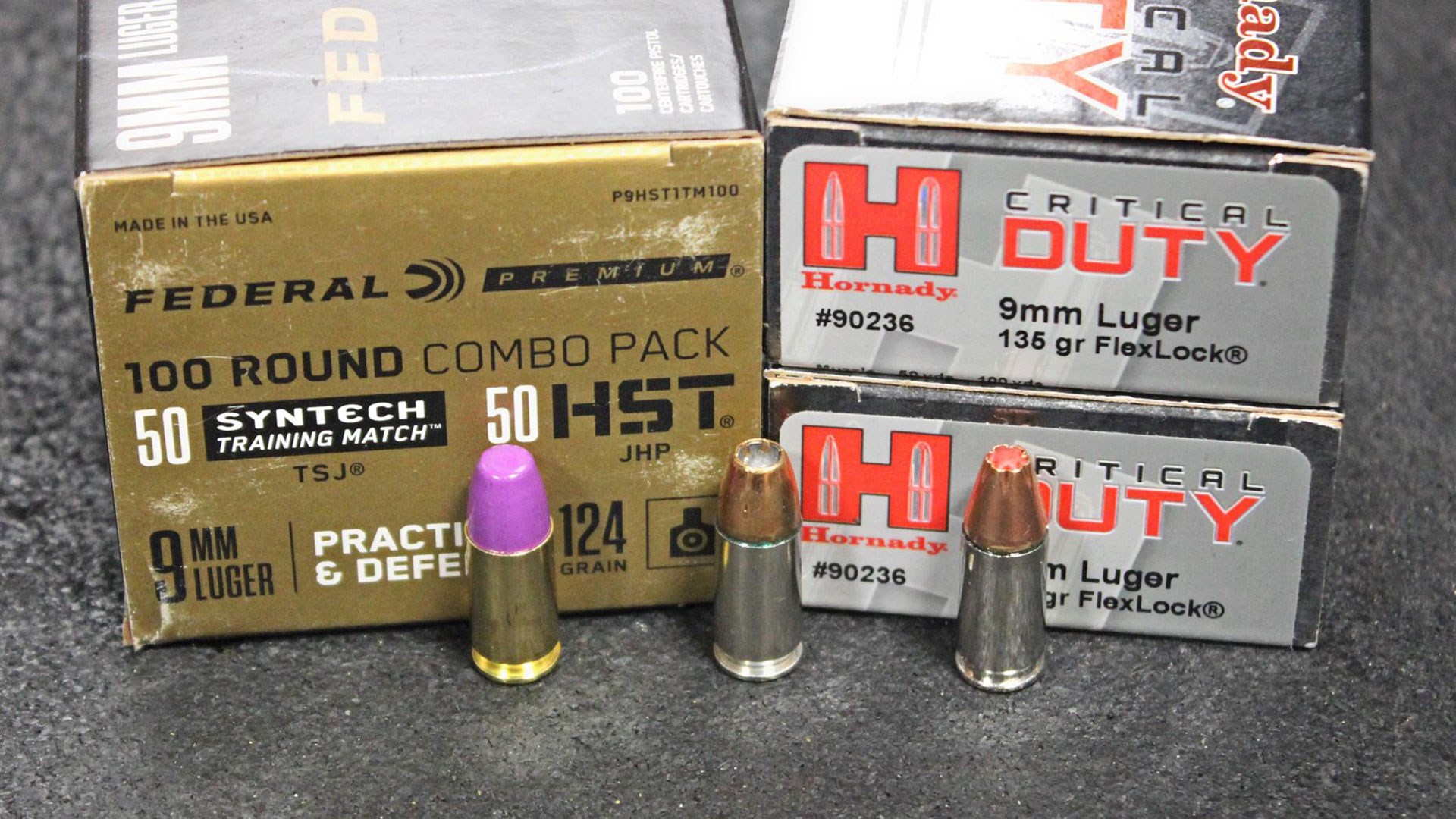 The three 9 mm loadings used in bench-rest testing for the Mossberg MC2sc: Federal Premium Syntech 124-gr. TSJ (left), Federal Premium HST 124-gr. JHP (center) and Hornady Critical Duty 135-gr. Flexlock (right).
After the Gunsite visit, I headed back to my home town range and ran this pistol again with a variety of ammunition and a total of seven factory magazines. The MC2sc ticked right along reliably with the Crimson trace optic, without any malfunctions, hiccups or hang-ups. Formal bench-rested accuracy testing was conducted at 7-yards using more of the Hornady Critical Duty load and one of Federal Premium's Practice & Defend Combo Packs. This included the Syntech Training Match and HST jacketed hollow point loads topped with 124-gr. bullets. Here's how that round of testing turned out:   
The new optics-ready MC2sc is clearly intended to be Mossberg's answer to the current swell in demand for Micro Nine daily carry pistols. It's the right size and weight with a spot-on ammunition capacity of 11+1 or 14+1 rounds of 9 mm. Having shot a few of these pistols, it's safe to say that Mossberg understands what a Micro Nine should be. It provides a competitive, well balanced set of features that can go toe-to-toe with other models in this quickly growing segment of the market.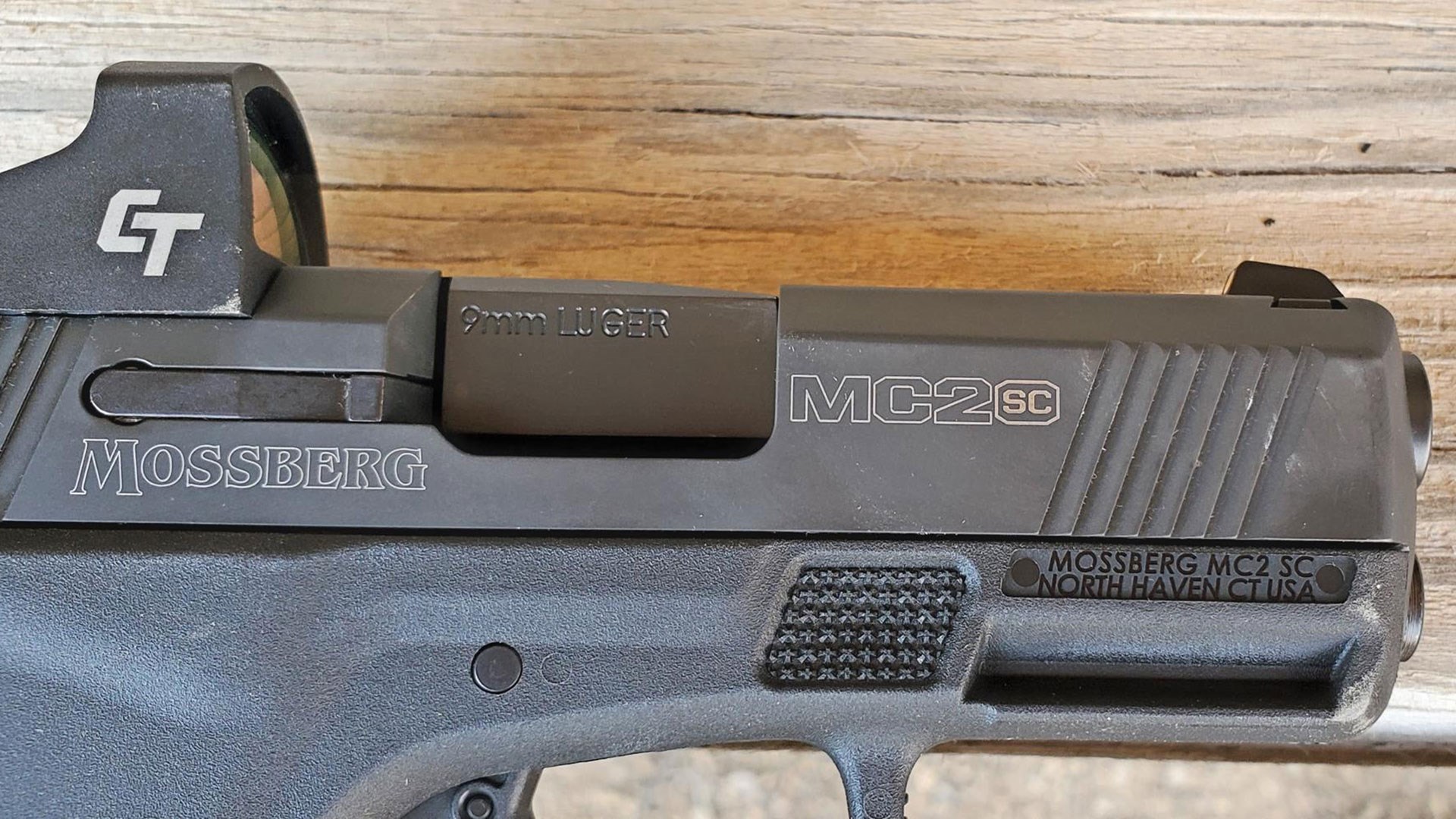 Specifications:
Manufacturer: O.F. Mossberg & Sons
Model: MC2sc Optics Ready (#89025)
Action: Striker Fired Semi-Auto Pistol
Caliber: 9 mm
Slide: 416 Stainless Steel, Matte Black DLC Coating, Front & Rear Cocking Serrations
Sights: Metallic Low Profile 3-Dot, Drift Adjustable Rear
Micro Red-Dot Slot: Direct Mount, JPoint/Shield Footprint
Barrel: 3.40" 416 Stainless Steel, Matte Black DLC Coating
Frame: Glass-Reinforced Black Polymer
Accessory Rail: 1.2"
Trigger: Flat-Faced Polymer with Integrated Blade Safety
Trigger Pull: 5 lbs. 1 oz. (As Tested)
Overall Length: 6.25"
Height: 4.30"
Slide Width: 0.90"
Grip Width: 1.10"
Weight: 19.8-ozs. with Empty 11-Round Magazine and Optic Installed
Capacity: 11+1 or 14+1 Rounds
Twist: 1:16" Right-Hand Twist
Rifle Grooves: 6
Accessories: One Extended 14-Round Magazine, One 11-Round Flush Fit Magazine, Lock, Owner's Manual
MSRP: Standard 3-Dot Sights $556, TRUGLO Tritium Pro Night Sights $662  
Tested Optic: Crimson Trace CTS-1550 Micro Red Dot $180  
Holster: Mossberg Store IWB/OWB Kydex Holster, by DeSantis Gunhide $50
Mag Pouch: Mossberg Store Qisntico Kydex Double Magazine Pouch, by DeSantis Gunhide $39