When my interest in handguns was sparked more than two decades ago, I began a long and extensive search for a pistol or a revolver that could do it all. I wanted to find just one gun that could straddle the three main events of the handgun triathlon: target shooting, handgun hunting and concealed carry for personal protection. Such a gun would be the holy grail of handgun shooting.
But after 25 years of research and testing, I have yet to find it. Due to the laws of physics, and the laws of the land, modern handgun designs are all an exercise in compromise. Some are specialized to the point of only being useful for one purpose. Others are more flexible but, much like an amateur triathlete, they tend to be strong in two events at the sacrifice of the third. A 6-shot .44 Mag. revolver with a 6" or 8" barrel is a useful choice for handgun hunting and target shooting but it's too large for concealed carry. A well-tuned 9 mm semi-automatic pistol is ideal for concealed carry and target shooting but not powerful enough for hunting large game. A .22 LR rimfire pistol is great fun to take to the range and useful for small game but does not have enough stopping power to be a reliable self defense gun. And the list goes on.
Frustrated, I took a big step back from the quest for the grail and asked which tree I was really looking for in the forest of shooting data and marketing materials. The answer is what I would call Trail-To-Town handguns. 
My family and I enjoy taking road trips to see beautiful areas around our state. Our days are spent outdoors exploring trails and mountain sides before heading back into town for a shower at the motel and dinner at a restaurant. In our region of the country there's the chance that we may bump into dangerous game on the trail. A close relative of ours met a mountain lion while out for a run. Rattle snakes, coyotes, wolfs and bears out there too. For me, a handgun with enough power to stop dangerous game at close range would be a plus.
However, when it's time to head back into the city, I don't want to have to switch from a trail rig to a concealed-carry arrangement. It's inconvenient and other hikers may be disturbed by the display of hardware being moved around in and out of storage. This means the handgun has to be concealable, stay concealed throughout the day and be a viable option for two-legged threats as well. Concealable handguns with plenty of short-range punch are available. Remember, these models are all about compromise. They don't have the range that comes with longer barrels and they produce more felt recoil than the smaller calibers usually associated with concealed carry.
Here are a few of the Trail-To-Town guns that I think are worth consideration:
The Small-But-Feisty Bond Arms Double-Barrel Pistol
Before anyone starts reading me the riot act about the limitations of the Bond Arms pistol's ammunition capacity, let me agree with you. No, I wouldn't want to face off against an angry bear or a hungry mountain lion with a two-shot derringer. That being said, Bond pistols do have their place on the trail.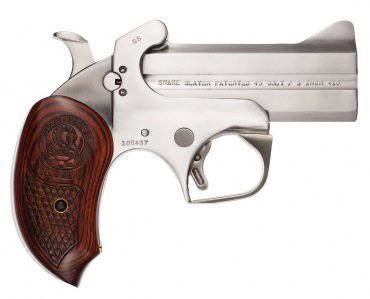 First, you won't find many other pistols this small with caliber-conversion barrels chambered for cartridges like the .410 bore shotgun shell, .357 Mag. or 10 mm (the company offers several more.) That means the double-barrel Bond is going to get carried at times and in places when larger guns are likely to be left at home. Next, the Bond is a great little gun to have on hand when poisonous snakes or pests get too close for comfort. They're quite effective at close range when loaded with .410 birdshot loads or with CCI's pistol-caliber pest control shells. In fact, one of the company's most popular models is called the Snake Slayer.
Finally, these pistols can be caliber matched to a larger primary firearm (.410 shotgun, .357 Mag revolver, 10 mm semi-automatic) so that you only have to carry one caliber of ammunition in the field. The Bond can be comfortably packed as a big-bore back-up-gun (BUG) or carried by a second permit holder who doesn't want to carry something larger. Take a look at these gun tests to learn more about the Bond's performance potential:
Bond Arms: Building the World's Smallest 10 mm Pistol
Tested: Bond Arms' New Rough Series Budget Friendly Double-Barrel Pistols
Tested: Bond Arms "Full Tilt" 6-inch Barrel Builds
The Easy Carrying .357 Mag. Snub-Nose Revolver
With a lineage that extends all the way back to the 1880s, the compact Smith & Wesson J-Frame set the standard for the small, easy-to-carry double-action snub nose revolver (meaning wheel guns with short barrels). These little 5-shot .38s have been the subjects of several technical advancements over the years. In 1965 the Model 60 was launched, which was the first stainless steel model. By 1996 manufacturing processes had advanced to the point that the Model 60 could be chambered in .357 Mag. as well as .38 Spl.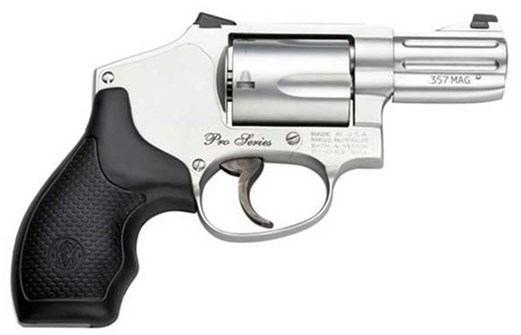 Although 5-shot .357 snub guns can be pressed into service for wilderness protection, they are more useful in town than on the trail. They have the advantages of being comfortable to carry, easy to conceal and the cylinders can be loaded with a .38 cal. CCI pest control shell for snakes followed by high performance hollow points for two or four-legged threats. However, it can be a challenge to load these guns up to the power levels needed for trail use. The gun's light weight combined with potent full-power .357 Mag. loads will produce stout (possibly painful) levels of felt recoil. It can be mastered but it takes practice and dedication to do so. Some folks say that the short barrels of .357 snub guns lose too much power to be useful. Take a look at Andrew Butts' test results and see what you think:   
Testing the .357 Mag. Cartridge
If you're looking for a compact .357, here are a few models to consider:
Tested: Kimber K6s Revolver
Ruger LCRx Now In .357 Magnum
Tested: Ruger's Blued SP101 .357 Mag. Revolver
Refining the Snub Gun: Smith & Wesson's 640 Pro Series .357 Mag. Revolver
Balance of Power: Ruger 3" Barrel GP100 Revolvers
Often the quest for either the smallest or the most powerful handgun in a given category leads to copious amounts of felt recoil. Adding some weight and a longer grip can result in a handgun that is more comfortable to shoot and still relatively easy to carry. One of my favorite examples of the "middle man" trail-to-town gun is the 3" barrel Ruger GP100. Certainly there are other good examples of revolvers in this class but the GP100 has won my loyalty due to its tank-like construction, accuracy and decades of reliable operation. The various versions of this revolver I've worked with have had the very best customer service in the world, which is to say, no need to call customer service at all.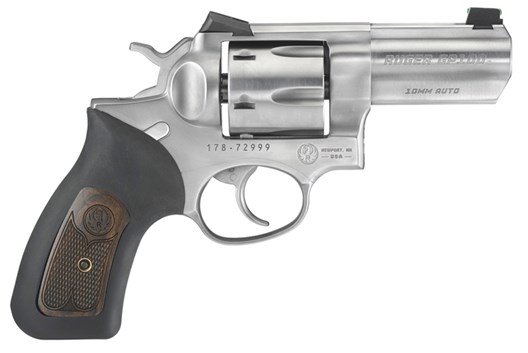 My first 3" GP100 was a stainless steel 6-shot .357 Mag. with fixed sights purchased more than 20 years ago. Weighing in at 36 oz. unloaded, it needs a sturdy belt rig to carry comfortably all day. But the added weight of the steel frame, along with the comfortable rubber grip, works to tame the stout recoil produced by hunting-grade .357 Mag. loads suitable for defense against dangerous game.
Today Ruger offers 7-shot models of the .357 Mag. GP100 and more potent 10 mm 6-shots, including the Wiley Clapp 3" barrel limited edition.
Double-Stacked Capacity: Glock 10 mm Semi-Automatics
Recently a family member called asking for some advice. A friend of theirs is now working deep wilderness rescue in areas that have plenty of bears. The rescue teams are trained to avoid bears and do carry bear spray. But even though most of the team has never had a dangerous run in with a bear, they still choose to carry bear-stopper firearms just in case. We walked through this friend's personal preferences. He wanted something on the light side for long hikes over rough terrain. He preferred semi-automatics to revolvers and was thinking something chambered in 10 mm would do the trick.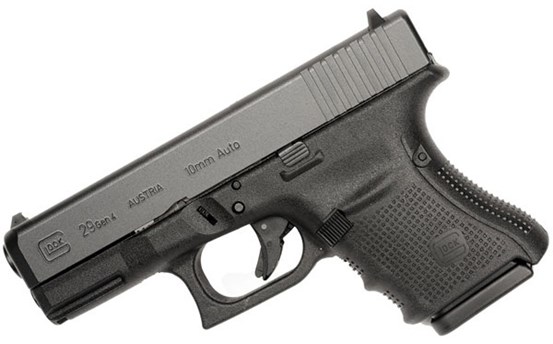 Although there are some top notch single-stack 1911 platforms chambered for 10 mm, the double-stack polymer framed striker pistols are a better choice for use on the trail. One of the toughest, lightest and most compact options is the Glock G29 subcompact. It's a handful to shoot, but certainly manageable enough to be a good compromise of size, capacity (10+1) and power. If you prefer a duty-size pistol with longer grips and increased ammunition capacity (they can be concealed with the right clothes and holsters) the Glock G20 holds 15+1 rounds and the gun itself only weighs 7-oz. more than the G29.
More Bang for the Buck: Charter Arms .41 Mag Pug
The .41 Rem. Mag. is a revolver cartridge that neatly splits the difference in size and power between the venerable .357 Mag. and the .44 Mag. Developed by Elmer Keith and Bill Jordan, the cartridge was launched in 1964 to give police officers a more powerful alternative to the .357 Mag. without having to switch to the larger and heavier .44 Mag. revolvers. The added expense and increased recoil caused it to flop with law enforcement but it was adopted by some sportsmen as a handgun hunting load.
Despite its failure to become a mainstream cartridge, the appeal of the .41 Rem. Mag.'s smaller size and potent performance remains. Quite frankly, it's the ideal cartridge for a compact trail-to-town revolver. However, very few companies have ever produced .41 Rem. Mag. in an easy to pack snubby configuration. At one point Taurus offered the 5-shot Model 415 Stainless and 415T Titanium models, with or without barrel ports, but they are not in production today.
However, in 2018 Charter Arms released the 2.5" barrel 5-shot .41 Mag Pug (#74120). Built wholly of stainless steel using the company's new slightly larger XL frame, this rubber-gripped snub weighs in at just 23 oz. There's nothing subtle about the .41 Rem. Mag.'s level of felt recoil. But having shot the Charter Arms Boomer .44 Spl. Revolver, and the next revolver on this list, I worked up the courage to order the Mag Pug for a test and evaluation. Stay tuned for a full review...
The Most Bang for the Buck: Smith & Wesson M69 .44 Mag
It seems like many of the folks who follow these write-ups want to test the limits of a given idea, just like I do! So what is one of the most potent yet practically portable Trail-To-Town guns on the market today? My vote goes to the Smith & Wesson Model 69 Combat Magnum chambered in .44 Mag.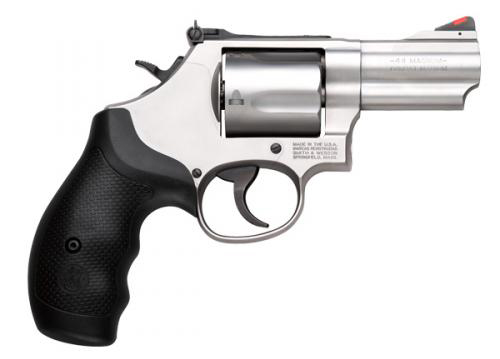 This all-stainless steel 2.75" barrel 5-shot tips the scales at just over 34 ozs., which is not a whole lot of revolver to work with considering the cartridge it fires. The range results are impressive considering the short length of the barrel. This gun would certainly make a terrific replacement for the Model 696 I so foolishly traded away many years ago. 
Do you agree with this list? What are your preferred Trail-To-Town guns? I'm interested to find out, so please share your comments below.