Support NRA American Rifleman
DONATE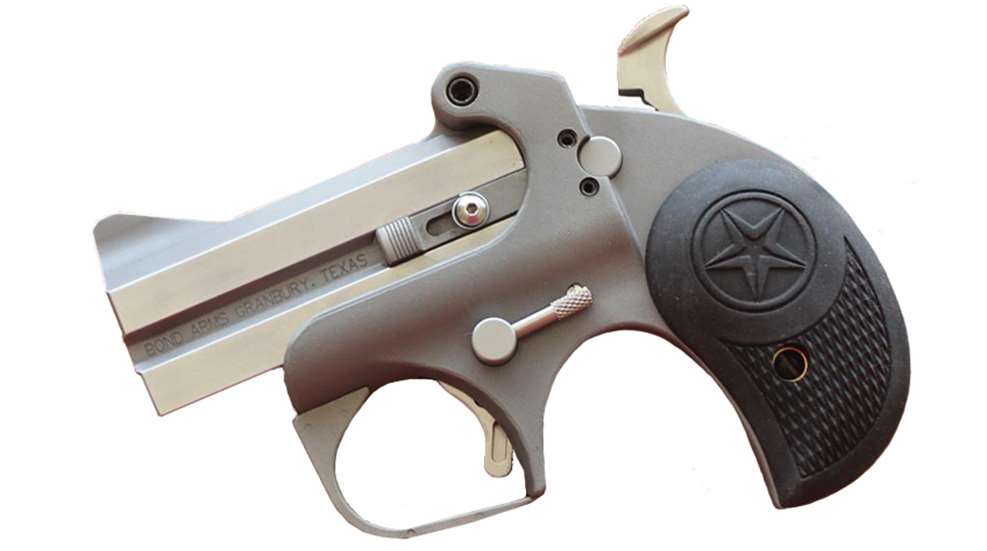 Bond Arms President Gordon Bond was on site with his team at the 2019 NRA Annual Meetings & Exhibits to display the company's big-bore double-barrel pistols and compact Bullpup semi-autos. During the show, they stopped by the Ruger booth to take a look at the brand new Ruger Wrangler, which is a $249 version of the company's Single-Six rimfire revolver.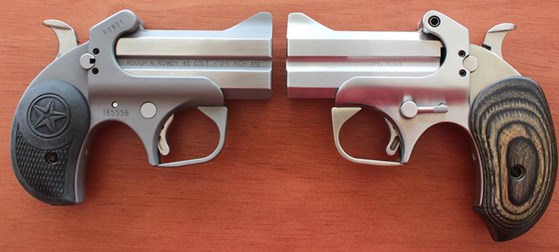 Ruger used several strategies to drop the Wrangler's price point but it was a reduction in finishing work that caught Mr. Bond's eye (there's a visible seam in the grip frame that gets sanded out on other models). The hours spent by technicians grinding, sanding and polishing away machine and mold marks can really add up. It's an expense that gets passed on to the consumer.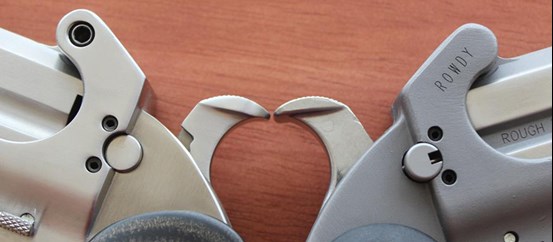 Bond Arms fans have been requesting less expensive model options for quite some time. Prices range from $535 to $700 for current catalog items. After the NRA event wrapped up, Gordon gathered the Bond team back in Grandbury, Texas, to ask a straight forward question. How much could they reduce the price of the double-barrels if they cut down on polishing and hand-finishing work? The all-stainless steel construction, components and quality control standards would be exactly the same. However, the guns wouldn't be gussied up to the Quality Finish level that Bond Arms has always adhered to over the last 24 years.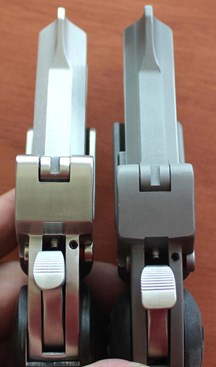 The team went through all of the components, piece by piece, identifying the minimum finishing work needed in order to maintain the guns' safe and reliable operation with grip frames that are still comfortable to hold. They learned that pistols with a rough finish can be produced at a rate of 4 to 1 when compared to the hand-polished models. Thus the new budget-priced Rough Series was launched with the two least expensive models the company has ever offered.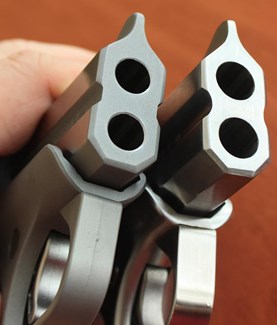 The new Roughneck 2.5" barrel 9 mm has a suggested retail price of $269 while the Rough N Rowdy 3" .45 Colt/.410 is priced at $299. When compared to the fully polished pistols with the same features, including the Mama Bear 9 mm ($541) and the Texas Defender .45 Colt/.410 ($543), the Rough models cost 50 percent and 45 percent less, respectively.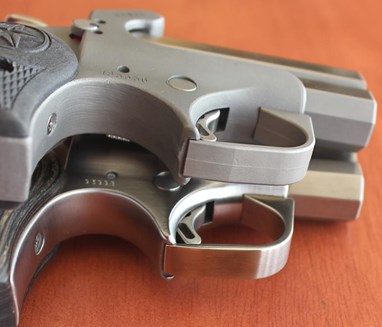 It may seem odd that Bond Arms hasn't offered a rough version of their products before now. But a bit of industry history is helpful in understanding why the pistols have been so carefully polished up until now. When the company was founded in 1995, the Remington 95 derringer design (the inspiration for the Bond double-barrel) had been co-opted and cloned extensively by companies that employed less than ideal manufacturing processes. Because these guns were constructed with "pot metal" alloy frames, were often chambered in small calibers, had unreliable safeties and sketchy levels of reliability, double-barrel derringers in general were lumped in with other low quality "Saturday Night Specials."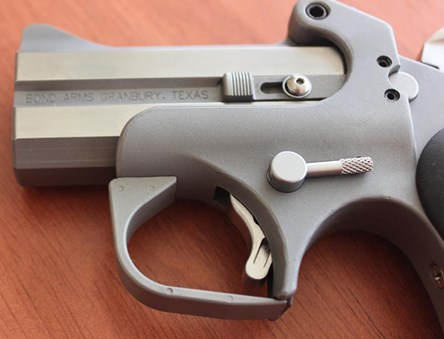 In order to overcome the derringer's reputation as a junk gun, Bond Arms had to do something completely different with the platform. The mystery metal construction was replaced with stainless steel components throughout. The frame and barrels were redesigned and toughened up to handle much more potent loads including modern .45 Colt, .357 Mag. and 10 mm cartridges. The untrustworthy half-cock hammer safety was replaced with dependable cross-bolt and rebounding hammer safeties. The barrels were made to be interchangeable for easy caliber conversions. An optional, removable trigger guard was added, and handsome laminated hardwood grips were installed instead of molded plastic panels. Finally, each pistol was subjected to extensive by-hand polishing in order to show off their quality.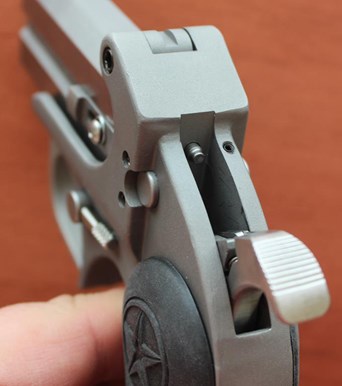 Here we are, almost 25 years later. The cheap Remington clones have all but faded away and Bond Arms is now the number one producer of double-barrel pistols in the country. With the quality and reliability of the Bond platform firmly established, and customer demand for a less-expensive model ever present, it's a good time for the company to test the waters and see how folks react to a less-refined finish offered at a reduced price.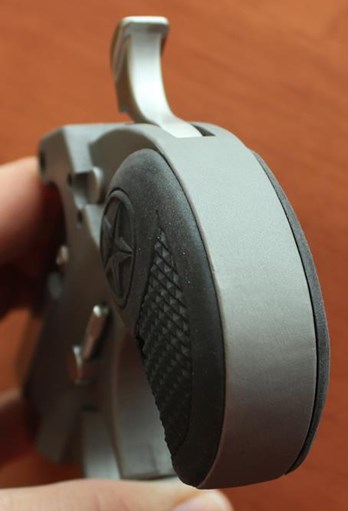 So, how do Rough models look in person? The changes are noticeable, especially when compared to a polished model. That being said, it's not as drastic as some close-up photos may imply. In fact, you have to get really close to notice most of the differences.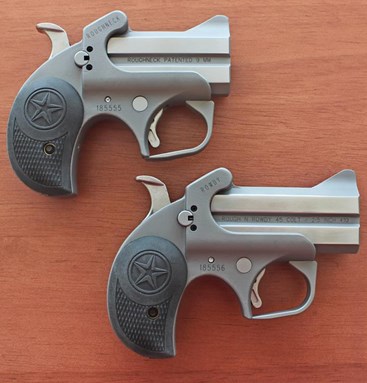 Like all previous Bond Models, the 2.5" barrel Roughneck 9 mm and the 3" barrel Rough N Rowdy .45 Colt/.410 are constructed of 400 series stainless steel. The frame is investment cast. For the Rough finish, any burs are knocked off before the frame is bead blasted. That's all the finish work it gets. The barrels are machined from bar stock. The chamber and bore work remains unchanged. The exterior of the barrel is also bead blasted with the flats receiving a moderate polish. Machine marks are still visible but not distractingly so.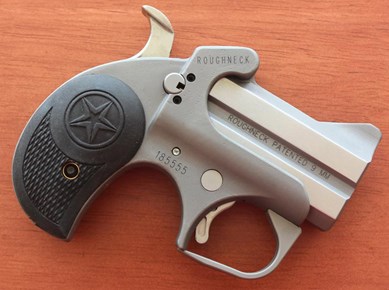 The trigger, hammer and removable trigger guard are all MIM stainless steel components. They exit the molding process in a near-ready condition sporting visible mold marks. The trigger is polished up as usual so that it is smooth and comfortable to press. The hammer is only polished at the contact points so the casting marks and slightly rougher texture is visible along the sides.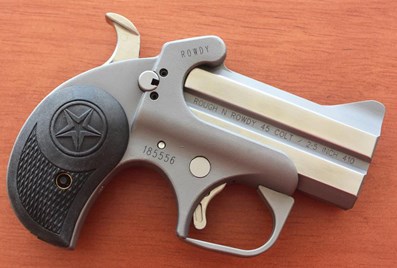 I learned during this review that the trigger guard is among the most challenging pieces to polish because of its small size and curved shape. It's bead blasted, properly fitted in place and that's it. It has the most visible mold marks, with a clearly visible seam right down the middle. Many customers prefer having a trigger guard, so leaving it this rough makes it affordable enough to include with these models. The pistols are then topped off with less expensive but comfortable rubber grip panels. Overall, these guns are still good looking.  
It's been said that seeing is believing. However, when it comes to firearms, how the gun feels in the hand is more important than how it looks. I took both pistols to the range and put them through their paces. They handled and shot just like the polished models. All of the controls were smooth and reliable, the barrel-to-frame lock up nice and tight and the rubber grips provided plenty of purchase for the stiff to stout levels of felt recoil.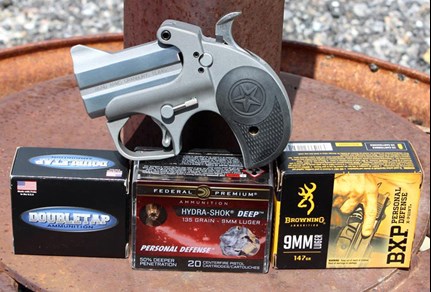 Test fired with a range of 9 mm loads from bulk-box to premium with bullet weights from light to heavy, the Roughneck proved to be utterly reliable with all loads fired and it patterned just like other Bond 2.5" barrels at 7 yards. When firing 10 shots (five rounds from each barrel), the upper and lower groups were around 2.5" in size with a 5" gap between them. Remember, these are not competition handguns. They are up-close-and-personal defensive pocket pistols.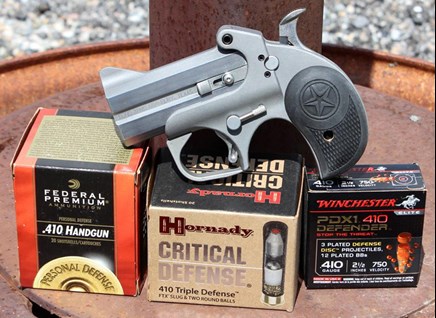 The 3" barrel Rough N' Rowdy was stoked with top notch 2.5" defensive loads and fired from a standing position at 5 yards. I've produced solid pattern results when shooting the Winchester's PDX1 Defender loads through Bond's 4.25" or longer barrels. With the 3" barrel the pattern opened up noticeably. The three copper-plated defense disks spread out into a 5" vertical line with the 12 pieces of BB size shot spreading across the 12"x18" targets. Federal Premium's .410 Handgun shell filled with four copper-plated 00 buckshot pellets punched out a 1.75" group. Hornady's Triple Defense mixed payload round formed a tight 1" cluster at this distance (that's a wad mark 2" to the left).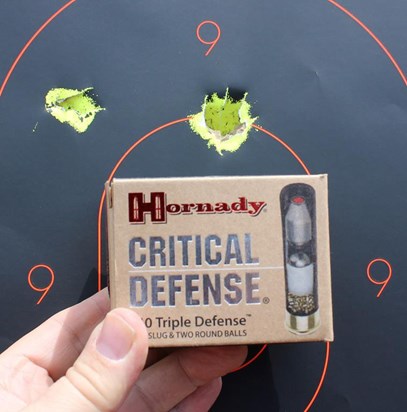 Beauty is only skin deep but Bond Arms' toughness and reliability still goes right to the bone. The double-barrel pistols of the new Rough series are not as pretty as their predecessors. However, once the shooting session starts, they behave just the same. The controls are smooth and tight. The barrels lock snuggly in place and can still be swapped out with the twist of a screw. The Rough frames are 100 percent compatible with the company's 2.5" to 6" long caliber conversion barrels. In keeping with the lower price of frames, a limited number of Rough Series caliber conversion barrels will be available including 2.5" barrels chambered in .38 Spl./.357 Mag. and .45 ACP for $100 and 3" .45 Colt/.410 barrels for $120.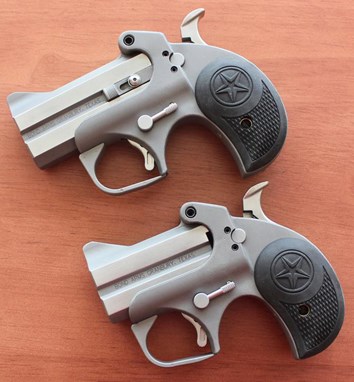 Specifications: 
Manufacturer: Bond Arms 
Model: Roughneck
Action: Single-Action Double Barrel
Caliber: 9 mm, Interchangeable Barrel 
Finish: Stainless Steel
Grips: Black Rubber
Sights: Fixed
Safeties: Push-Button Cross Bolt, Rebounding Hammer
Removable Trigger Guard: Yes
Trigger Pull: 4 lbs. 11 oz.
Barrel Length: 2.5"
Overall Length: 4.5"
Height: 3.75"
Width: 1.12"
Weight: 20.5 oz.
Capacity: 2 Rounds
Twist: 1:12" RH
Rifle Grooves: 6
Accessories: Polymer Storage Case
MSRP: $269
Model: Rough N Rowdy 
Action: Single-Action Double Barrel
Caliber: .45 Colt/.410 (2.5" .410 shells only), Interchangeable Barrel 
Finish: Stainless Steel
Grips: Black Rubber
Sights: Fixed
Safeties: Push-Button Cross Bolt, Rebounding Hammer
Removable Trigger Guard: Yes
Trigger Pull: 4 lbs. 7 oz.
Barrel Length: 3"
Overall Length: 5"
Height: 3.75"
Width: 1.12"
Weight: 20.2 oz. with 9 mm Barrel 
Capacity: 2 Rounds
Twist: 1:12" RH
Rifle Grooves: 6
Accessories: Polymer Storage Case
MSRP: $299

Rough Series Caliber Conversion Barrels: 2.5" $100, 3" $120