Support NRA American Rifleman
DONATE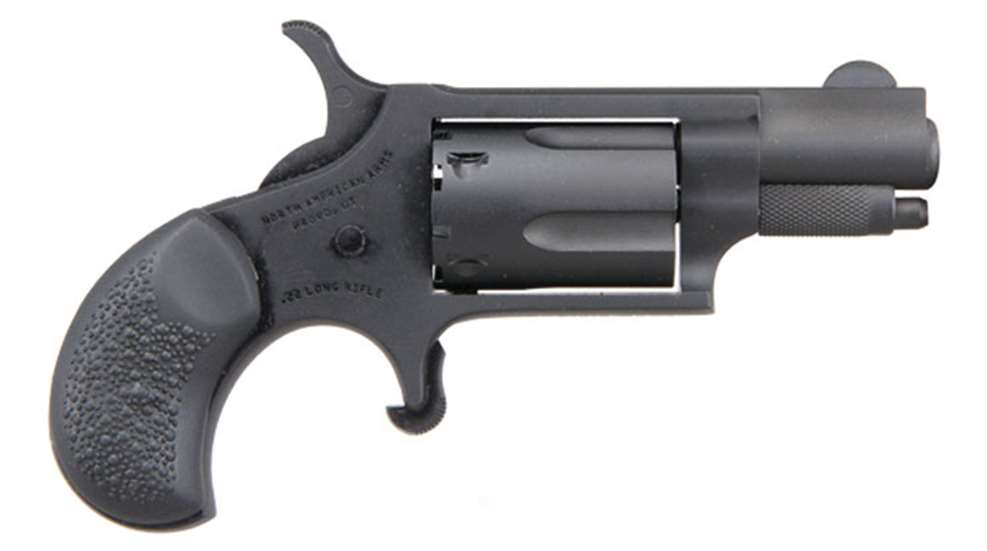 The North American Arms (NAA) Mini revolvers are among the smallest guns on the market today. These tiny 5-shot single-actions are constructed of 17-4 stainless steel with tear-drop-shaped birdshead grips and a unique between-the-chambers integral safety system. You would think that making a working revolver this size would be enough, but the company has found several interesting ways to re-invent the platform, including the Ported Pug, Tucker's Combo and Sidewinder configurations.
But just like other reputable gun makers who have been on the scene for years, NAA has new Minis in the works and existing models tucked away at the back of the catalog that some folks have yet to hear about. Here are five new, unusual or underappreciated Mini models for your consideration: 

1. New Davidson's Exclusive Mini Shadow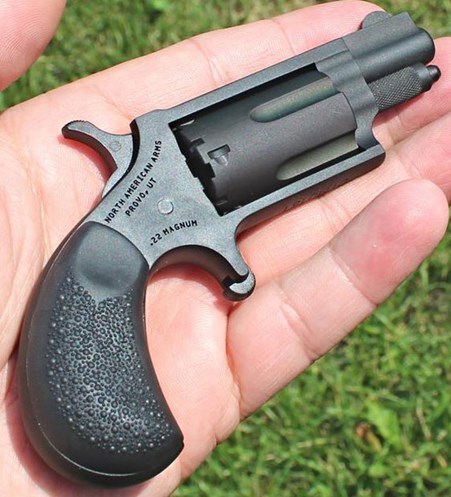 When I first held this new Mini, I couldn't help but think of the old-time radio show trill of organ music, the blood chilling laugh and the timeless opening line spoken by actor Frank Readick Jr., "Who knows what evil lurks in the hearts of men? The Shadow knows!" And the company knows that some customers have been looking for a more subdued, non-reflective finish for Minis used as back-up guns or for deep concealed carry as opposed to the standard stainless-steel finish with bead-blasted rounds and polished flats. 
The new Davidson's exclusive Mini Shadow models have a titanium PVD (Physical Vapor Deposition) finish applied for an overall matte-black appearance which does not require a top coat. This PVD coating has the added benefits of being durable, scratch resistant and corrosion resistant. The traditional rosewood grip panels have been replaced with a matching set of black-pebbled grip panels from Hogue. Three Shadows are available now including a .22 LR Only, .22 Mag. and .22 Mag. Convertible options. If this initial PVD release goes well, then other models will be considered for this finish. All three models are shipping now.
Mini Shadow MSRP:
.22 LR Only (NAA-22LR-PVD) $309.99
.22 Mag. Only (NAA-22MS-PVD) $319.99
.22 Mag. with .22 LR Conversion Cylinder (NAA-22MSC-PVD) $359.99
2. Case-Hardened Carbon-Steel Minis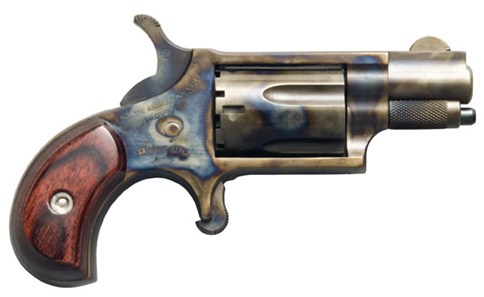 Under the Curios, Custom, & Collectibles section of the NAA online catalog, you'll find a pair of Minis with a finish unlike any other: the Case-Hardened .22 LR and .22 Mag. models. These revolvers are a departure from the standard models because they are constructed from 8620 carbon steel rather than 17-4 stainless steel. All of the major components, including the frame, cylinder, barrel and barrel pin feature the color case-hardened finish which is topped off with a set of smooth rosewood grip panels. Although this finish will certainly catch the eye of the Cowboy Action shooters in the crowd, these revolvers are a pleasing departure from standard stainless that any discerning collector can enjoy.
Case-Hardened Minis MSRP:
.22 LR Only (NAA-22LR-CH) $424
.22 Mag. Only (NAA-22M-CH) $439

3. The Hogsleg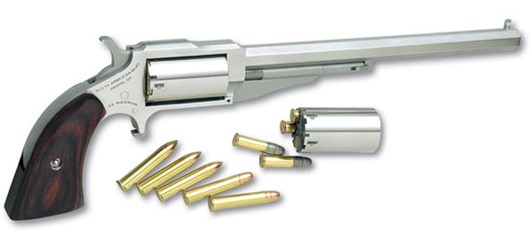 Last year, I had the pleasure of heading to the range with the smallest NAA Mini available, the .22 Short. But then I got to wondering, is there such a thing as the "largest" Mini in the catalog? For quite some time I thought that the Mini Master (NAA-MM-M), with its 4" barrel and oversized grip, was just about as "big" as a Mini would ever get. It turns out my information was incomplete.           
Take a gander at the Hogsleg, which is a member of "The Earl" 1860 replica line-up built around .22 Mag. frames. Just in case you don't have a tape measure handy, that's 6" worth of barrel standing at attention out in front of the unfluted cylinder. Available with or without a .22 LR conversion cylinder, The Earl models feature a stainless steel construction, octagonal barrels, a post-type front sight and slightly larger "boot" grips. With half a foot of rifled real estate to work with, this little wheelgun should exhibit rimfire performance potential on par with a full-size wheelgun in the same calibers. I'm hoping to take one to the range and find out.
Hogsleg MSRP:
.22 Mag. Only (NAA-1860-6) $308
.22 Mag. with .22 LR Conversion Cylinder (NAA-1860-6C) $344
4. Black Powder Cap & Ball Companions
NAA has applied the company's small revolver know-how to converting the rimfire Minis into the .22 cal., stainless-steel black-powder Companion series. The Companion model is built on the .22 LR frame while the Super Companion is assembled around a .22 Mag. frame with unfluted cylinders and rosewood grip panels. The hammers and firing pins have been modified to ignite #11 percussion caps while the cylinders are designed to be loaded with loose black powder (or Pyrodex) and proprietary-belted lead bullets. There is even a Companion based on The Earl design. 
Each Companion arrives with a set of tools for loading it and a package of bullets. For an additional $45, the kits can be upgraded to include additional accessories. Like many other black powder/muzzle loading firearms, the Companions qualify as "Antiques" under federal law and therefore do not require an FFL transfer like the rimfire Minis. There's a lot to talk about with the Companions, but rather than stuff the details in here, I'm working up a full review to be posted soon.
Companion MSRP:
.22 LR Frame (NAA-22LR-CB) $251
.22 Mag. Frame (NAA-22M-CB) $261
5. 3-Gun Collector's Set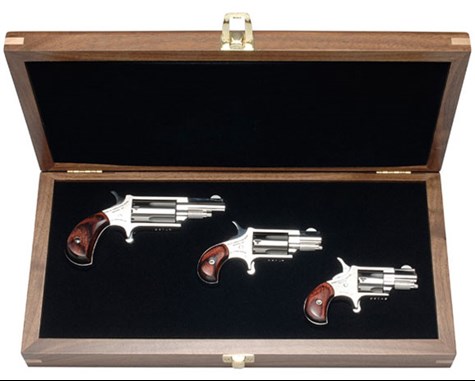 If you are looking for an amazing gift for a family member, friend or your favorite gun collector (i.e. yourself), then take a look at NAA's 3-Gun Collector's Set. These sets offer special features that are not available anywhere else in the company catalog.
The set consists of three standard-configuration, stainless-steel Minis including the .22 Mag., .22 LR and the oh-so elusive .22 Short frames which have been engraved with matching serial numbers. The set ships with a handsome walnut display case with the NAA logo on the lid. Choose from the Standard set, in which the flats of the revolvers have been hand polished to a high shine, or the Deluxe set with revolvers featuring a high-polish finish of the entire gun.
3-Gun Collector's Set MSRP:
Standard (NAA-STD-SET) $787
Deluxe (NAA-DLX-SET) $931