Support NRA American Rifleman
DONATE
For more than half a century, the performance potential for mid-size, double-action revolvers has been mostly defined by the .357 Mag. cartridge. I'm a fan of revolvers chambered for .357 Mag. because they are so versatile. I have nothing but good things to say about this gun and ammunition combination, because it's one of my favorites. While a good number of mid-size frame models (Ruger GP100, Smith & Wesson K- and L-Frames, Taurus Medium Frame) are fitted with 4" to 6" barrels, it's not hard to find the same guns with barrels trimmed to around 2" to 3" so they are more comfortable to wear while sitting down. These "middle man" revolvers offer a good balance of ammunition capacity (six or seven rounds), with weight and grip size, for home defense, concealed carry or for use as a trail gun.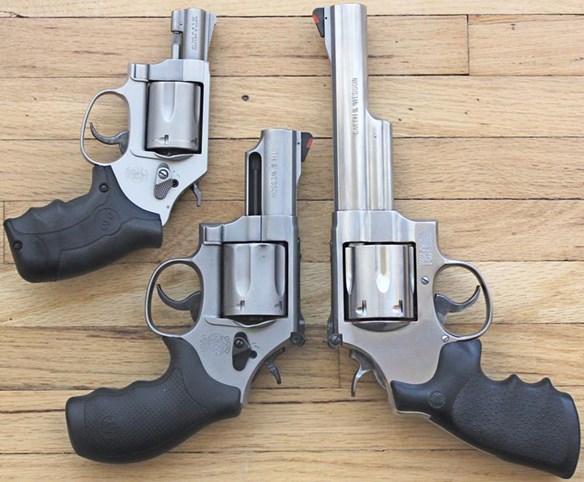 The five-shot .44 Mag. Model 69 (center) shown with a smaller Smith & Wesson J-Frame .38 Spl. (left) and the larger six-shot Model 629 .44 Mag. 
However, the question remains, is it possible to squeeze more performance out of a mid-size, short-barrel revolver, without having to move up to a larger frame size? It's a valid question for outdoor enthusiasts looking to buy a handgun for protection against dangerous game. When loaded with hunting cartridges designed for deep penetration, a .357 Mag. is a solid performer. Nevertheless, increased performance is a reasonable request if it's available.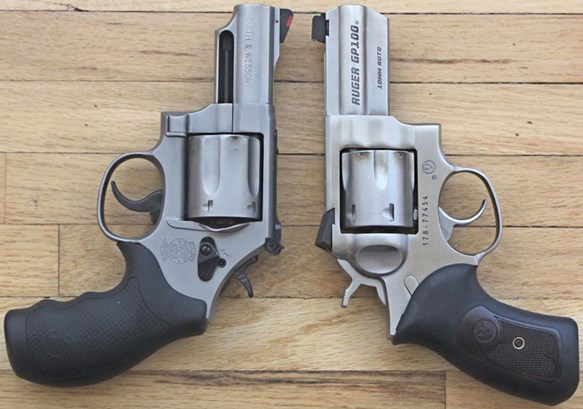 The Model 69 (Left) has nearly the same carry profile as the Ruger GP100. 
But why should concealability play a role in picking a trail gun? In some cases, compact size is not an issue. There are plenty of places in the country where folks can plunge into the wilderness with a full-size hunting-grade handgun openly carried in a chest rig or belt holster. I agree that 4"- to 6"-barrel big-bore revolvers offer more stopping power than compact 3" models and would be preferable when circumstances allow.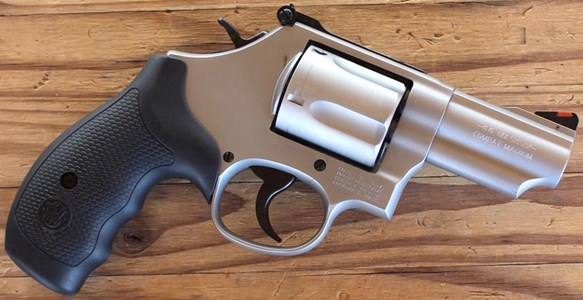 However, many of us who enjoy the outdoors do so in regions where the local laws forbid open carry. In other cases, the outdoor enthusiast prefers to maintain the "gray man" benefits and tactical advantage that come with keeping their handgun legally concealed. So, the combination of increased power and concealability does have its place.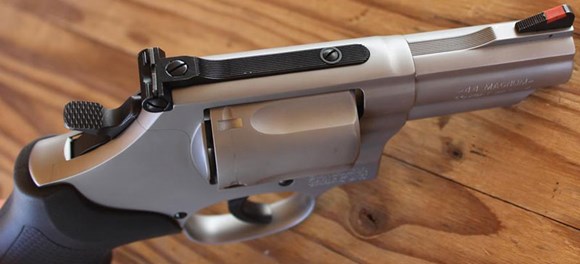 In 2018, I did find a more powerful mid-size double-action with the 3" barrel, six-shot 10 mm Ruger GP100. I enjoy shooting both the platform and the cartridge, so it was good to see performance results that fit somewhere between the .357 Mag. and the .41 Rem. Mag. Although this model provides an improvement in performance, I'll admit it's not an earth shattering one.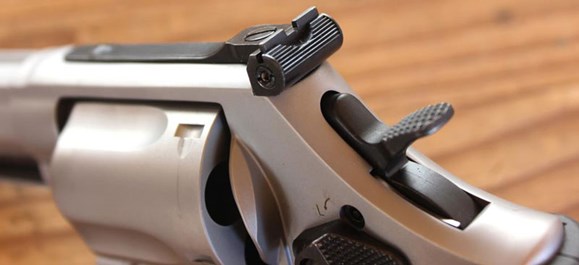 How much more power is possible with a short-barrel, factory-produced revolver? Smith & Wesson took a crack at maximizing the power of their mid-size revolvers in 2014 with the release of the five-shot Model 69 Combat Magnum (M69). Essentially, the company blended the desirable features of the K-Frame .357 Mag. Combat Magnums with the .44 Mag. cartridge, previously reserved for larger models like the N-Frame Model 29. The M69 was initially released with a 4" barrel, which was longer than what I was looking for. It took another four years for Smith & Wesson to produce a more compact model with a 2.75" barrel which is better suited to concealed carry on and off the trail.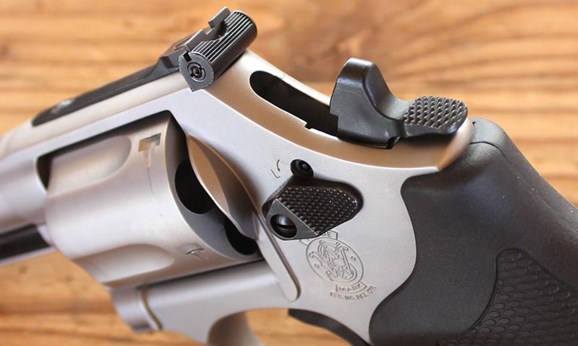 The M69 Combat Magnum double-action revolver ships with a rugged set of features that make sense for a handgun intended to be carried regularly in less-than-ideal environmental conditions. This revolver has an all-stainless steel construction, including the barrel, cylinder and frame. The exterior has been glass-beaded for a non-reflective satin finish. The appointments, including the sights, hammer, cylinder release and trigger, are treated with a matte-black finish.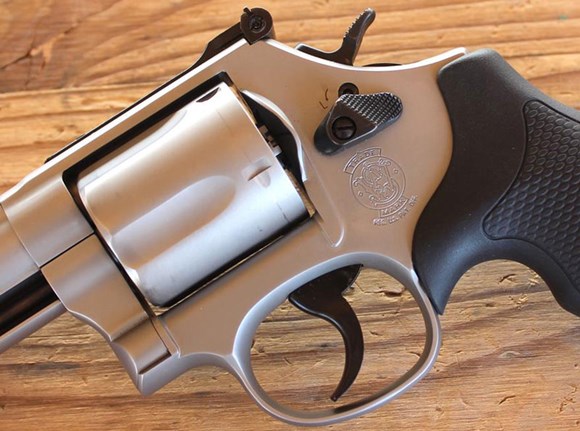 The top of the two-piece, 2.75" barrel is grooved to reduce glare, as is the fully adjustable rear sight. The lug under the barrel shrouds the knurled ejector rod. The red-ramp front sight is pinned to the frame, which allows it to be replaced with a fiber-optic or night sight. The square-notch white-outline rear sight is fitted with two click-adjustable screws, one for height and the other for windage adjustments.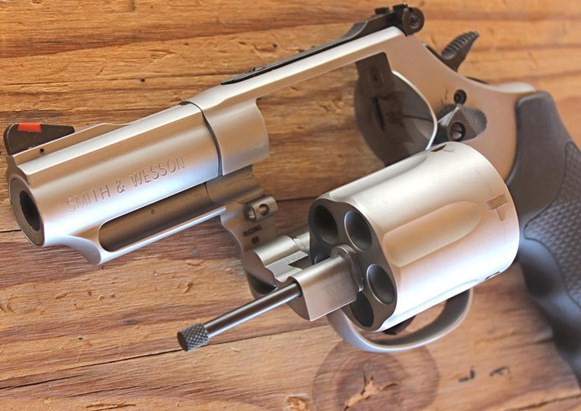 The cylinder is opened by pressing the left-side cylinder release forward, toward the muzzle. A frame-mounted ball detent provides extra support for the yoke in Smith & Wesson's big-bore models. The cylinder yoke moved freely back and forth in the frame, the ejector rod cycled in and out smoothly, with no catches or grittiness, and the cylinder spun freely. These are all reliable indicators that the revolver has been properly fitted, which is something folks have come to expect from Smith & Wesson revolvers. The five-shot cylinder has been beveled along the front edge to make re-holstering easier. The ejector proved to be long enough to efficiently eject spent cartridge casings.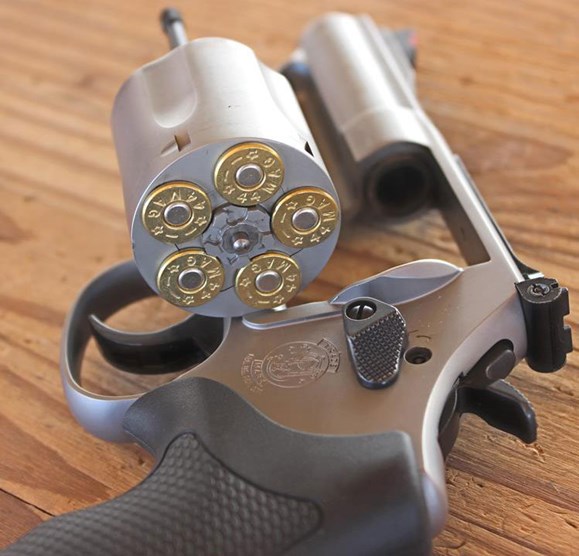 The rounded trigger guard houses a smooth-faced combat trigger. In double-action mode, the trigger pull is smooth but heavy at 12+ pounds (that's as high as a Lyman's digital trigger gauge can go). Cocking the exposed hammer for single-action fire drops the trigger pull to 5 lbs. 11 ozs. with a short, crisp break. A transfer-bar safety prevents the hammer from striking the firing pin unless the trigger is pressed. Like other new Smith & Wesson revolvers, the Model 69 arrives with an integral locking system that can be engaged via a keyhole located just above the cylinder release. When activated, this lock prevents the revolver from firing.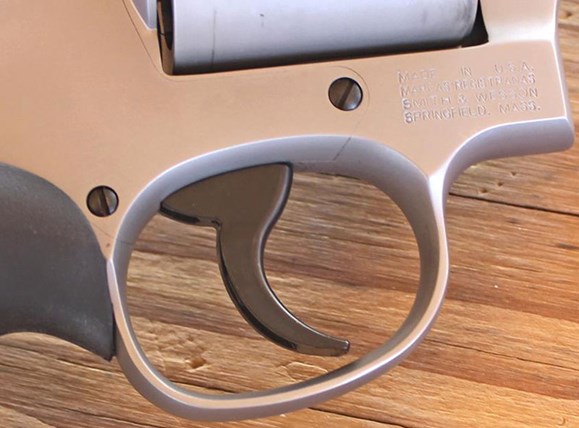 This model ships with a comfortable, compact, two-piece rubber grip that supports all three fingers of the shooting hand. If you prefer wood, take a look at Hogue's K- and L-Frame offerings, like the laminated rosewood model shown here. If you're in the market for a laser sight, the Crimson Trace LG-306 laser grip is a compact size for comfortable carry. The company does offer larger models if you want more to hold on to.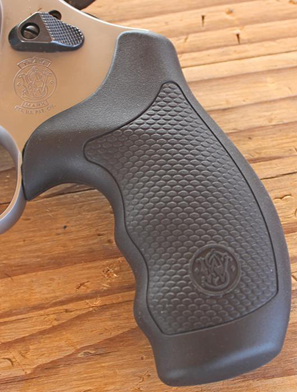 For a quality belt holster to support this 3" barrel, 34.4-oz. gun, Galco Gunleather's Silhouette High Ride is hard to beat. The model sized for the Smith & Wesson 686 proved to be a great fit, and it's available in tan or black finishes. The carry rig was rounded out with a 1¾"-wide Galco SB5 Sports belt and Belt Speedloader Carrier pouch. Reliable speedloaders for this model include the HKS CA-44 (available at Brownells) and the 5-Star Firearms J5-44/45. Tuff Products offers five- and six-round QuickStrips which hold spare ammunition in a flat profile suitable for pocket carry.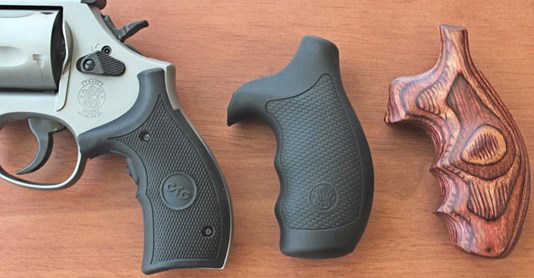 Overall, the Model 69 demonstrated a top-notch level of fit and finish. I prefer the more polished finish found on other models, but the matte finish is appropriate for this gun's purpose. At the range this revolver functioned flawlessly—it loaded, fired and ejected without a hitch. The cylinder lock-up was nice and tight, and it never skipped a beat. The trigger cycled smoothly and the hammer clicked tightly into place when cocked for single-action fire. Spent shells ejected smoothly with a proper downward slap to the ejector rod. The revolver was utterly reliable with all the ammunition tested. The factory grip provides a good balance of hand-filling fit with a more compact profile. The adjustable sight system is a great fit.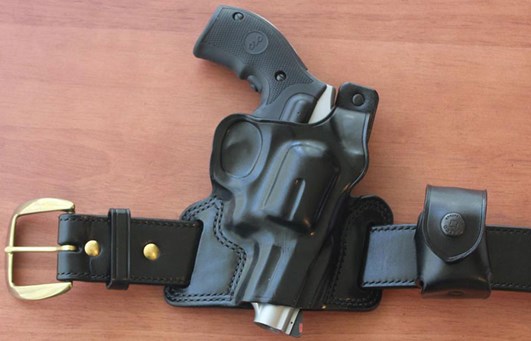 But I'm not going to sugar coat things when it comes to shooting the M69 with full-power .44 Mag. ammunition. It's a real wrist bender. The felt-recoil range starts at stout and grows in intensity from there. It's just the nature of physics, my friends. A smaller, lighter gun loaded with hotter ammunition equals plenty of kick. It was tempting to roll back the recoil levels by throwing in a .44 Spl. load or two for the range test, but I didn't for two reasons. First, I already had .44 Spl. results from a similarly sized revolver. Second, it would defeat the primary purpose of this test—to see what levels of dangerous-game stopping performance the snubby M69's can produce.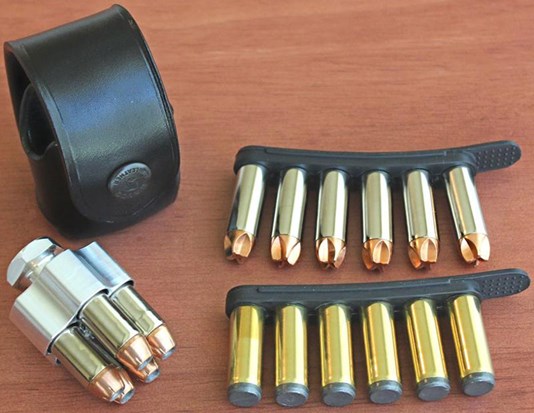 The ammunition for formal performance testing was provided by CCI and Underwood Ammunition. In case of poisonous snakes, as well as for pest control, CCI offers two .44 Mag.-compatible shotshell options. For defense against dangerous game (with tolerable levels of felt recoil) Underwood offers three .44 Mag. loads that were a good fit for this platform.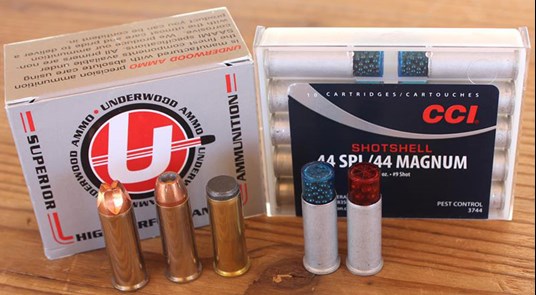 The CCI shells were fired into Birchwood Casey Shoot-N-C 12"x18" silhouette targets at 15-feet. The shot spreads rapidly from the short, rifled barrel. The .44-cal. Pest Control shell (#3744) is packed with 140-grs. of #9 lead birdshot, with a listed velocity of 1000-f.p.s. At 15-feet, the shot spread out to cover the whole target.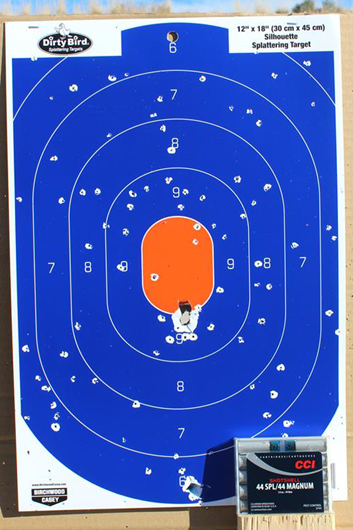 The Big 4 shotshell (#3718CC) launches 110 grs. of #4 lead birdshot, with a listed velocity of 1000 f.p.s. The #4 shot pattern was not as dense, but the pellets penetrate more deeply. Based on these limited results, I would say that these shells will produce the best results at distances between five to 10 feet with 15 feet being the practical maximum rage.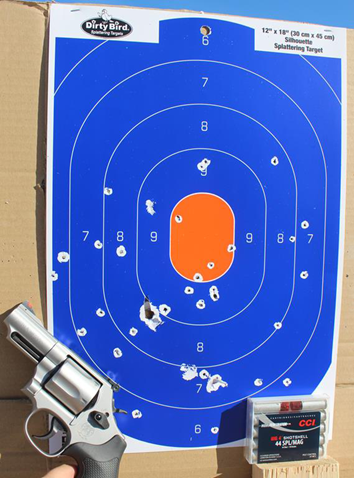 The three loads provided by Underwood Ammunition included hard-cast lead, hollowpoint and solid-copper bullets. The 200-gr. Hard-cast lead wadcutter (which sits almost flush with the mouth of the cartridge case) is an old-school, non-expanding bullet design that's still an effective option for dangerous game. The flat face of the bullet causes tissue disruption while allowing it to penetrate deeply and break bones. This was the most accurate round of the test, and it produced a moderate level of felt recoil. The 180-gr. hollow-point load is topped with Hornady's reliable XTP jacketed expanding bullet. It was the most powerful load of the test, and it showed in the level of felt recoil (which was about as much as I would be willing to practice with). The 160-gr. Xtreme Hunter round launches a fluted, solid-copper bullet made by Lehigh Defense for Underwood. This is another non-expanding bullet design that causes and impressive degree of tissue disruption with deep penetration. Recoil with this load was in between the other two loads, stout but manageable. Here are the formal testing results for these three loads, at 25 yards from a bench rest: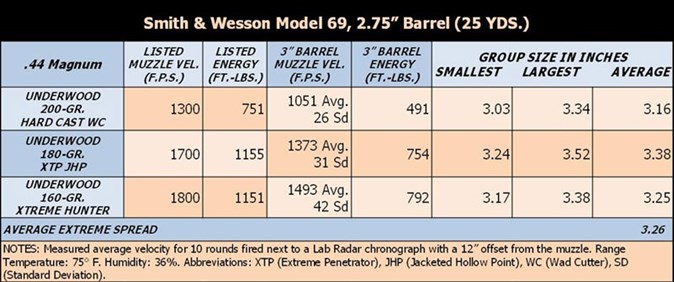 The 25-yard, five-shot-group accuracy was in line with what I expected with me doing the shooting. Clearly there was a drop in velocity and energy across the board. Remember, most .44 Mag. ammunition is designed for revolvers with 6" or longer barrels, not the snubby 2.75" barrel this gun has. Compared to the manufacturers' listed energy levels (which are usually measured in laboratory conditions using longer test barrels), the ammunition yielded between 65 to 69 percent of the muzzle energy one would expect from a larger revolver. The 200-gr. wad cutter was a bit slower than I hoped it would be, but it still packed a respectable punch comparable to a hot .44 Spl. load.
The 160-gr. and 180-gr. loads still generated around 200 ft.-lbs. more muzzle energy than the hottest load fired from the 3" 10 mm Ruger GP100, or a 4.25" barrel Smith & Wesson Model 19 chambered in .357 Mag.
The Smith & Wesson Model 69 Combat Magnum is a well-made double-action revolver that successfully embraces the extremes of a concealed-carry handgun chambered for a handgun hunting cartridge. Smaller, lighter handguns (chambered in smaller calibers) are available if you carry around town most of the time. However, this five-shot .44 Mag. can be loaded with full-power magnum loads for defense against dangerous game,  loaded down with softer shooting .44 Spl. for two-legged threats, or shotshells for pests and dangerous snakes. That means this model is versatile enough to straddle the roles of trail gun, concealed carry and home defense, for those who want just one gun for all three tasks. With a listed price of $849 (real world prices are closer to $750), this model is also one of the more affordable .44 Mag. revolvers available.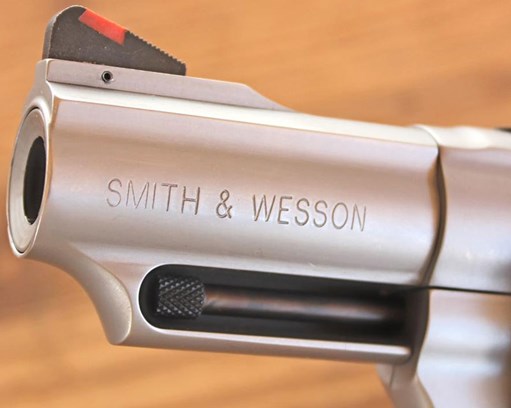 Specifications: 
Manufacturer: Smith & Wesson
Model: 69 Combat Magnum (10064)
Action: Double-Action Revolver
Caliber: .44 Mag./.44 Spl.
Finish: Satin Stainless Steel
Grip: Black Synthetic Round Butt
Front Sight: Red Ramp
Rear Sight: White Outline, Adjustable
Barrel Length: 2.75"
Overall Length: 7.80"
Height: 5.85"
Cylinder Width: 1.55"
Weight: 34.3 ozs.
Capacity: Five Rounds
Twist: 1:18.75" RH
Rifle Grooves: Five
Accessories: Hard Case, Lock, Owner's Manual
Suggested Retail: $849
 
Laser Sight: Crimson Trace LG-306 for Smith & Wesson K- and L-Frames Round Butt $319
Holster: Galco Silhouette High Ride $97
Belt: Galco SB5 Sport Belt, Black $99
Pouch: Galco Belt Speeloader Carrier $49
Speed Loader: 5 Star Firearms J5-44/45, Starting at $22.45
Strips: Tuff Products QuickStrips  $9.45 for two