Support NRA American Rifleman
DONATE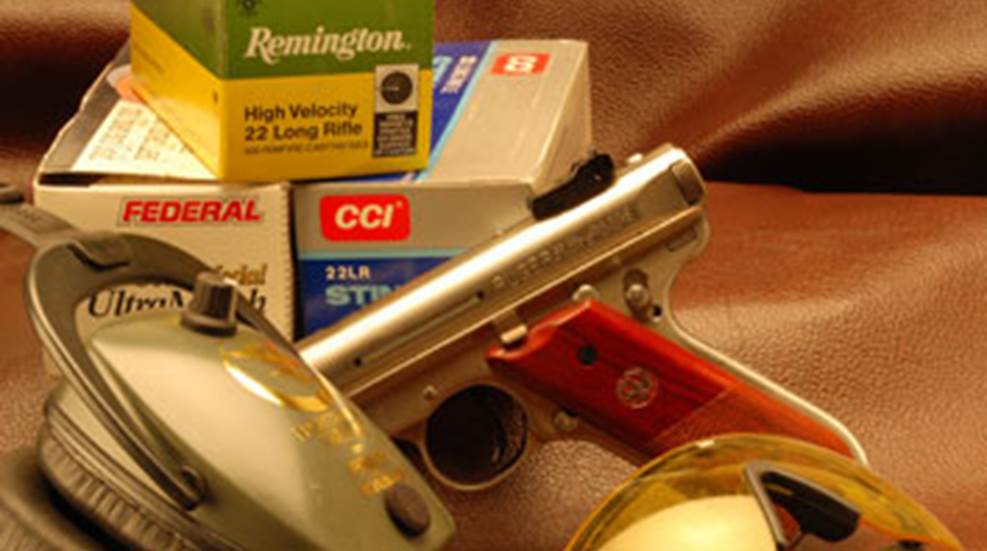 It's no secret that the economy is hurting and that few Americans are spending heavy on recreational activities and equipment. Still, lots of folks are involved in the shooting sports and many are newcomers. And of course, most of us are interested in managing our funds to get the most for our money. So here's my take on where you need to put your money at the beginning of a career in handgun shooting. Obviously, the heart of the matter is making your money go as far as possible. It's the old homily of "waste not, want not."
While a miss is a waste of sorts, you are going to have to accept that you'll miss to some extent. This happens in the process of learning. The point is that you need to practice a lot to learn the principles of good shooting. Your first purchases should be respectable quality eye and ear protection, and then you need a decent .22 pistol or revolver. From actual shooting experience, I know that the autos of Ruger, S&W and Browning (even the low-end versions) will hold the X-ring of a standard American 25-yard target. Smith and Ruger revolvers will do the same and I expect that there a lot of other brands of .22s that will stay with them. These guns are competitively priced and .22 long Rifle ammo is one of the last great bargains in the business. You will get your money's worth in the learning process by shooting on the cheap until your skill develops. That may take a while, but the learning process is a big part of the fun. I have been doing this for a very long time, and I now understand that learning to shoot is protracted and may even go over my life's horizon. But I am still having a good time in the process.
This may seem patronizingly simple, but I have seen too many shooters give up on the game by pricing themselves out of a great hobby. Skills are developed through diligent effort, and you can seldom buy your way in with equipment purchases. You don't buy smarts in a five-gallon can; you learn them through study and application. I have often seen shooters convince themselves that they need the latest and greatest custom 1911 with all the bells and whistles. They end up with a magnificent pistol that can cost well into four figures with special features that are worthwhile to only 1 percent of the shooting population. Disappointment is often the result and folks understandably give up when the new "wundergun" doesn't vault them to the top of the heap.
This also applies to the defensive firearm situation. Personal defense is a function of mindset over all other factors. Good equipment matters, as does good gunhandling and pure marksmanship, but the ability to decide quickly in a life-threatening emergency is paramount. Accept that you can't buy bullseyes; you have to develop them.