On April 6, 2008, Special Forces S/Sgt. John Wayne Walding and the rest of the members of ODA 3336 ascended a 10,000-ft. mountain in Nuristan, Afghanistan, to kill or capture high-value targets. Accompanied by a complement of 60 Afghan commandos, Walding and his team found themselves in a six-and-a-half-hour life-or-death firefight with more than 250 insurgents. A single rifle round made Walding an instant amputee when his right leg was all but severed below the knee. Walding tied his lower leg to his thigh with a bootlace, and stayed in the fight for hours. Seventy danger-close air strikes and nine Purple Hearts later, the battle was over. Walding was one of 10 Green Berets who were awarded the Silver Star for their gallant actions that day, and he later became the first amputee to graduate from the Special Forces Sniper Course.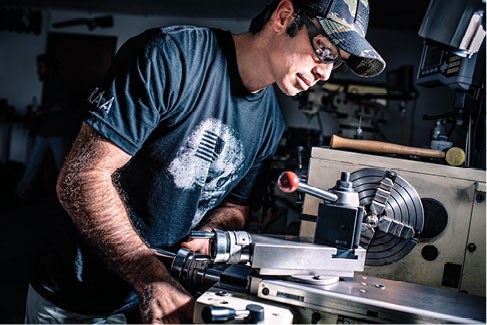 Walding had gone from being one of a chosen few who served in U.S. Special Operations to being one of more than 1 million wounded service members from Iraq and Afghanistan who were faced with the challenge of learning to live with life-altering injuries. Like many wounded warriors, he had to find what the next chapter in his life would be. That door opened after a meeting with pro-golfer David Feherty turned into a close friendship between two dedicated shooters. Feherty asked Walding if he was interested in learning to build custom rifles—not being one to back away from a challenge, Walding accepted. After spending a year "breaking bits and drinking Red Bull" under the tutelage of retired master gunsmith Dick Cook, it was time for Walding to build his next career, and 5 Toes Custom was born.
5 Toes Custom (5toescustom.com) builds everything from long-range, precision bolt guns to highly customized ARs. "The first rule of being a Green Beret is that you've got to look cool—my rifles have to look cool," explains Walding. For its bolt guns, 5 Toes traditionally uses Defiance actions, Manners stocks and Jewell triggers along with top-notch barrels from Krieger, Bartlein or Proof Research. These high-end components, combined with the skill of a dedicated gunmaker, make for high-performance rifles. "I tell people that it's like buying a Ferrari—it's going to cost more, but it's going to drive a lot better than a Pinto." 5 Toes' bolt guns start at around $6,000, and go up from there depending on the options. If this sounds like a lot of money, get out your calculator and figure out what it takes to run a small business—these vets aren't getting rich.

When Walding decided to launch 5 Toes, he was adamant that it be something more than just a custom rifle business. "It needed to be bigger than me. We lose 22 guys a day to suicide that are suffering from PTSD (post-traumatic stress disorder)—this shop is a place for vets to work, a place to hang out, a beacon of hope." Walding went on to explain why a rifle business is different than just any job when it comes to smoothing the path from warrior to civilian: "You lose a piece of yourself when you turn that weapon in. To be around guns again really helps the transition process." 5 Toes Custom has not only given Walding a second career, but another veteran, a former Marine Scout Sniper, has found a home there as well. A third wounded warrior, a double-amputee friend of Walding's, will join the company soon.

Walding's wounds were severe, but what about veterans with even more serious wounds who are confined to wheelchairs for life? Those individuals need look no further than renowned gunsmith Steve Heilmann for inspiration. Heilmann has been without the use of his legs for his entire adult life: a car accident when he was in high school caused a severe spinal cord injury, and he spent well over a year recovering. Coincidentally, an advertisement in this magazine led him to the Colorado School of Trades where he began its gunsmithing program. The world wasn't exactly wheelchair-accessible back in the early 1970s, but he and the faculty found a way to make it work. "It was as accessible as anything else was at that time. I had no complaints. If you needed to use one of the machines they'd drag a platform over and shove you up a ramp, I didn't get a lot of hands-on for that reason. The workbench was fine; most of it was handwork anyway. It was a good start, and it got me going." A one-armed marine in Heilmann's class, wounded in Vietnam, was able to do amazing work even with the rudimentary prosthetics of the time—he was an inspiration to many in the program. While in school, Heilmann was impressed by a custom rifle built by the legendary Jerry Fisher, and his journey into fine gunmaking began. Decades later, Heilmann is at the top of the profession.

Heilmann doesn't see his disability as a challenge when it comes to his work, "Lots of guys like to work standing up, and it certainly gives them more strength in things like shaping a stock, but it's one profession that I know of where being disabled isn't a disadvantage." Once Heilmann was able to set up his own shop, everything from his milling machine to his lathe was positioned to be accessible from his wheelchair. The most important factor to Heilmann is motivation. "This is a tough business. You have to either have a burning passion for it—or acquire it. A disabled gunmaker has got to want to make something and do something with his life. There's physical work to it, but for someone in a wheelchair, you're on an even playing field. But if you don't have the fire in your belly, it's not going to happen."
Today's gunsmithing schools are far better-adapted to disabled students' needs than they were in Heilman's day. Chuck Grace, the Dean of the NRA Gunsmithing Program at Trinidad State Junior College in Colorado, and a custom gunmaker in his own right, told me that the school works every year to make the program more ADA compliant. "We have two high-rise wheelchairs to get students up to work height with the machines, and we installed an elevator so that those with disabilities can get to the second-floor classrooms. We have at least one student in each class who is in a wheelchair." Trinidad's gunsmithing program offers two-year associate degrees as well as certificates for would-be gunsmiths. NRA-sponsored summer programs are also available and are a good exposure to the program for prospective students who aren't ready to commit to the two-year course. As a state institution, TSJC is accessible for students on the G.I. Bill, and approximately half of the students usually are veterans. Though Trinidad is the best known of the NRA Gunsmithing schools, others are located in North Carolina, Oklahoma, Montana and California (nragunsmithing.com). The Colorado School of Trades is not an NRA-affiliated institution, but it has a great program as well.

With four young children, Walding couldn't afford to put his life on hold to attend gunsmithing school, but he found a willing teacher locally in Dick Cook. Many of the highly skilled, but often aging, gunmakers in this country are willing to pass along their knowledge to younger individuals entering the trade, especially veterans. Jerry Fisher, the dean of American gunmakers, has mentored countless apprentices over his many decades in the trade, and even in his 80s, continues to be an ambassador for the profession to students. Heilmann has, over the years, advised many young men with disabilities on the realities of the business as well as how to set up a wheelchair-accessible shop. Veterans who are unable to gain a formal education for whatever reason, may be well-served by an informal apprenticeship.

Finding a skilled gunsmith or gunmaker is tough in this country, and finding one under the age of 50 is even tougher. The economics of the business are harsh—customers who demand a good wage at their own jobs often balk at the prices skilled gunmakers charge for their work. When you break down th
e price and factor in the overhead of running a business, even the most skilled gunmakers, such as Heilmann and D'Arcy Echols, work for the hourly wage of an average car mechanic. Many promising young gunmakers have walked away from the trade in favor of more lucrative jobs that offer better benefits for their families. Only about 20 percent of the graduates of the various gunmaking schools move on to careers as gunmakers or gunsmiths. A guy who is willing to work hard can make far more money working in the oil fields of North Dakota than he can chambering barrels on the lathe. Many wounded warriors can't do those physically demanding jobs though, which is why the gunsmith trade may be a great option.

When it comes to the economics of getting started in the profession, wounded warriors may actually have other advantages over the average would-be gunmaker. The G.I. Bill, vocational programs, monthly disability or retirement payments, and health care coverage through the VA system can get a wounded veteran through the tough and lean years of starting a new career as a gunsmith or gunmaker. Beyond those benefits earned by wounded warriors, a myriad of privately funded programs are also available. "If you want to do it, there's some program out there, aside from the bureaucracy of the VA, that will help you make it happen" says Walding. "The money is there, people want to help."

Vets like John Wayne Walding didn't join the military during wartime because they thought it would be easy, and they didn't have an easy time relearning to live their lives with painful and debilitating injuries. Starting out in the gunsmithing profession is hard work, and the economics of running a small business aren't easy; but these men and women have the resolve to get it done, just as they've had the resolve to fight through the tough times overseas and back at home. Our country faces a serious shortage of qualified gunsmiths, but there is a motivated pool of individuals who can do the work. Consumers can do their part in the grand tradition of this country by paying fair prices for quality work, and creating an economic incentive. "We want to work, and we put out an amazing product—but the business has to make money in order to do that," said Walding. The more rifles he sells, the more wounded heroes he can put to work.