by
posted on April 7, 2015
Support NRA American Rifleman
DONATE
It may come as a surprise to you that your favorite "brand" of AR-15 wasn't actually made by that company. Assembled, perhaps, but not necessarily manufactured. The reality is that a handful of vendors supply the vast majority of AR-15 components to the companies who market them. This is neither good nor bad; it is simple economics.
Forging and machining parts is not something that is practical to do on the scale of a few thousand rifles. The advent of CNC machining has changed the game a bit, though, and has allowed some small shops to produce many rifle components in-house rather than buying them from the big forging operations. One of the few companies that builds ARs this way is HM Defense in Mount Orab, Ohio. The fruit of their precision labor is the HM-15, an AR-style carbine chambered in either 5.56x45 mm NATO (.223 Rem.) or .300 Blackout. 



Because parts are machined from aluminum billets rather than forged by heat, CNC-made guns or components are often referred to as "billet." But for a few small parts that aren't cost-effective to produce, HM brings in blocks of aluminum and steel and ships out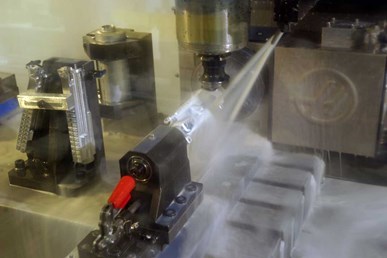 billet rifles. A byproduct of this manufacturing process is excellent fit and finish. In other words, there is no play or slop in the way that the parts fit together on the HM-15. The gun is lightweight and portable, but feels rock solid.      

The HM-15's appearance is striking. Though it carries the general lines of a traditional AR, the little details are unique to this design. The billet lower receiver is curved at the front of the magwell as opposed to the traditional square shape, and is grooved to facilitate using the surface for a support-hand grip.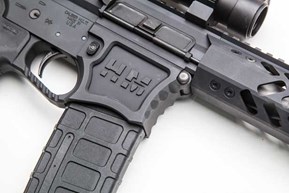 Although I don't hold ARs that way when I shoot, those who do will find the HM's shape to be confortable and natural. As it is a homogeneous part of the lower receiver, the HM-15's trigger guard does not hinge downward the way most ARs do. HM-15s use Magpul grips and buttstocks, and can be traded for aftermarket parts  the user chooses as there is nothing proprietary about the way they mount. The internals of the lower are pretty standard, but the excellent Geissele Automatics Super Semi-Auto (SSA) two-stage trigger is available as an upgrade, and our test rifle was so-equipped. I'm a sucker for great triggers and this one did not disappoint. Its two-stage design has a slight "wall" at about 3 pounds and then the trigger breaks cleanly at just under 5 pounds. For me, that's about a perfect setup for a general use rifle or carbine.         

If HM Defense has a trademark "look" that is visible from across the room, it is its monolithic handguard. Slim, comfortable and fairly lightweight, this rail gives you what you need and little more. The past decade saw railed fore-ends get out of control. They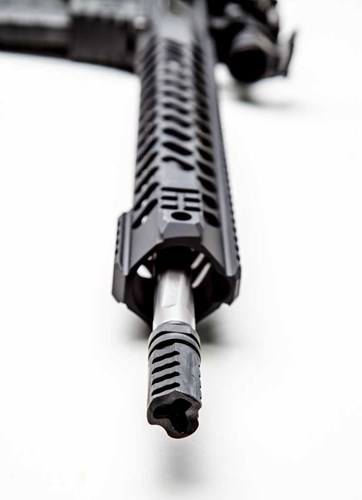 got big, heavy and were covered with far more sharp edges than any of us would conceivably use for mounting accessories. Fortunately, the pendulum has swung the other way and this handguard is a great example of a practical setup. The 12 o'clock surface of the handguard is fully railed and provides plenty of real estate for whatever sighting setup one can desire. The remainder of the handguard is smooth except for mounting positions at the forward end where a user can mount a light, laser or bipod. Both sides of the handguard are fitted with an integral mount for a QD sling swivel, which makes mounting a sling fast and simple. Both carbine and rifle length handguards are available.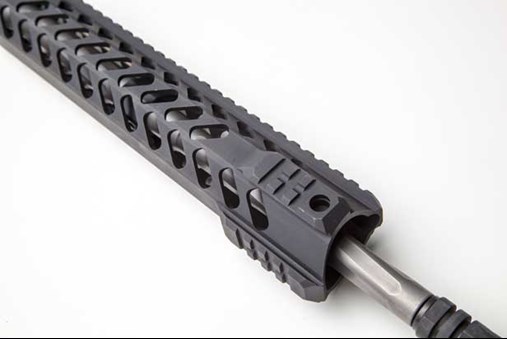 HM Defense uses both chromoly and 416 stainless steel button-rifled barrels without chrome lining. Chrome lining can increase reliability under extreme conditions but can slightly degrade accuracy. I found the HM-15 to be both reliable and accurate throughout testing. Because of the company's in-house machining capabilities, HM Defense is able to radically flute their barrels in a selection of styles. Our test rifle's 416 stainless barrel was spiral fluted in a way that created helical flats along the length of the barrel. Not only do these flutes provide for increased surface area to promote heat dissipation, they look cool. At this stage in the game, all HM-15s use 16" barrels with carbine-length gas systems. Additional configurations will become available as production allows. HM makes its own muzzle device, a hybrid flash hider and muzzle break that is attractive and effective.   

Functionally, the HM-15 works like any other AR-style rifle or carbine. The controls are where they should be. I put a couple of hundred rounds of various types of ammunition through our test gun and it functioned at 100 percent. Though the 1:8" twist is capable of stabilizing a broad range of bullet weights, this rifle shot better with the 55-gr. loads we tried rather than heavier bullets such as the 69-gr. Federal Match. Three shot groups with the Federal Premium 55-gr. Nosler Ballistic Tip load were excellent, but the five-shot groups necessary for our testing standard opened things up a bit. Practically speaking, accuracy was excellent. Repeatedly hitting a steel popper target at 250 yards from the kneeling, seated and prone positions was cake.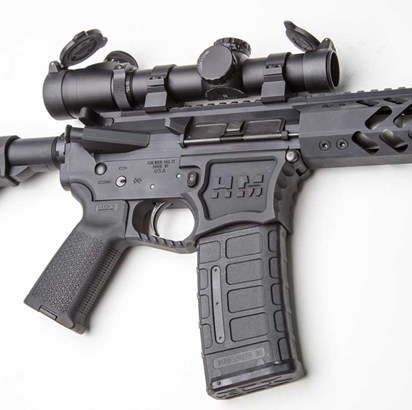 In a marketplace dominated by ARs built by few but configured and marketed by many, HM Defense provides a fairly unique product. This rifle's precision construction, standout aesthetics, and solid performance make it great option for shooters looking for a great all-around carbine. Because HM Defense does everything in-house, they can make component changes quickly so look for more configurations to come along soon—including a carbine in 6.5 Grendel.     
     
Specifications
Caliber: 5.56x45 mm NATO (tested)
Action type: Gas-operated, rotating bolt, semi-auto
Receiver: Billet machined aluminum
Barrel: 16" 416 stainless steel, button-rifled, spiral-fluted  
Rifling: 5-groove, RH 1:8"
Sights: None, Picatinny rail for scope mounting
Trigger pull:  4 lbs. 13 ozs.
Stock: Magpul CTR
Length of Pull: 10 ½"-13 3/4" (stock collapsed/extended)  
Drop at Heel: 0"
Drop at Comb: 0"
Overall Length: 33-36" (stock collapsed/extended)  
Weight: 6 lbs., 8 ozs.
MSRP: $1,095 (base)

Results of five, five-shot groups at 100 yards from a bench rest. Velocity measured 10 feet from the muzzle with an Oehler 35P Chronograph using Federal Premium 55-gr. Nosler Ballistic Tip 
        
Velocity: 2819  
SD: 54  
Smallest:  0.78    
Largest:  1.36      
Average: 1.03
Temperature: 52 F
Humidity: 60 percent
Wind: 12 mph