What do women want? It's an age-old question that stumps more people than it really should...especially when all one would have to do is to walk the convention-hall floor at the Great American Outdoor Show here in Harrisburg, Pa. This wintry Thursday morning, the convention center is all but shoulder-to-shoulder with people from all walks of life, many of whom are women who are clearly doing anything but "tagging along." I polled a number of firearm manufacturers to gather their impressions about what they'd seen the female attendees gravitating towards. I received as diverse an array of answers as there are women in the outdoors.

Remington's Jack Neary noted that women seem to be spending a lot of time examining the company's self-defense offerings, "especially," he said, "the subcompact R51."

Savage's Steve Cole mentioned that many women seemed to be focusing on the Savage Stevens 555, "which we introduced in a .410 gauge for the first time in 2015." Cole mentioned that the new shotgun has proven very popular among recoil-sensitive consumers. What's more, he's noticed that the popularity of firearms clad in Muddy Girl camouflage continues unabated. However, there seems to be more at work than cool-looking patterns. "Women at this show are just shouldering everything and seeing what fits."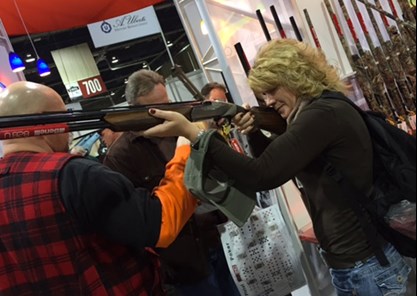 Benelli's Stephanie Spika noted that the company's commitment to offering a wide variety of compact and left-hand shotguns seems to have resulted in an increase in attention from women. "Women know they can come to us and find something perfect for them," smiled Spika. Just then, behind us, a woman hoisted the 828u to her shoulder. "Beauuutifulll," she cooed under her breath.

Is it all about looks? Smith & Wesson's Jim Unger would disagree, at least when it comes to personal defense. "At this show, I'm seeing women interested in self-defense and concealed carry," he said. "There's a lot of focus on our lightweight j-frames, our M&P Bodyguard chambered in .380, and the Shield."

What is it that women want? If you pay attention to the women at the Great American Outdoor Show, it seems as if the answer is the same thing that men want: quality, value and fit.