by
posted on July 28, 2022
Support NRA American Rifleman
DONATE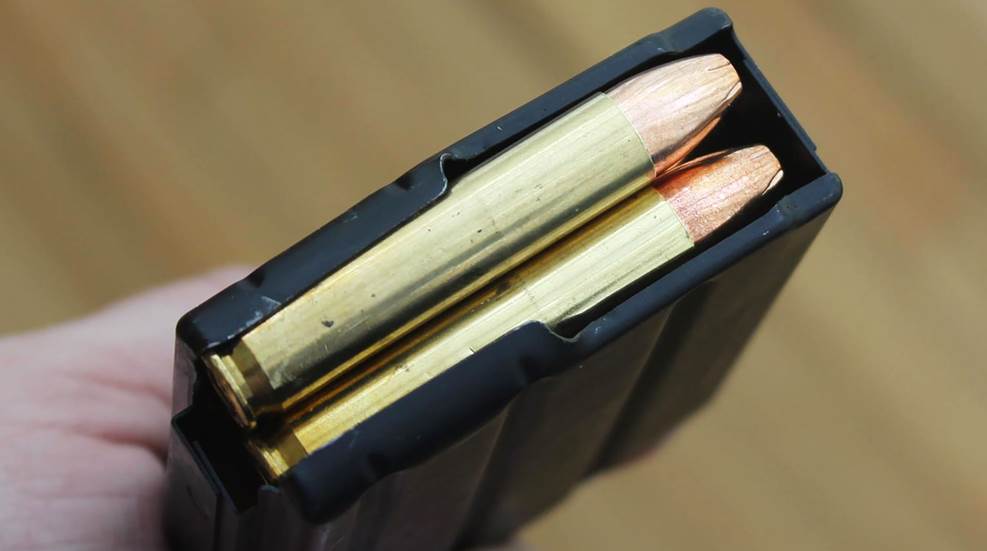 In the past, I've touched on firearm related developments that were shaped just as much by regulations and politics as innovation and customer demand. The case in point today is Winchester's .350 Legend rifle cartridge.
Since the mid-2010s, several states with deer hunting seasons, including Indiana, Iowa, Ohio and Michigan, now allow straight-wall cartridges to be used in zones previously reserved for muzzleloader or shotgun only hunts. Big-bore 'thumpers' like the .450 Bushmaster, designed for semi-automatic rifles, and the venerable .45-70 Gov't.  rimmed rifle round were quickly pressed into service. Both cartridges provide plenty of performance, thanks to relatively heavy .45-cal. bullets with an effective game-sacking range of around 200 yards or so. However, these cartridges produce stout levels of felt recoil, and they can be relatively expensive to buy.
Enter Winchester Ammunition's .350 Legend, which was launched at the 2019 SHOT Show in Las Vegas, Nev. It was a new (no parent case) rebated rim, straight-walled cartridge sized for .357-cal. bullets. This round can launch projectiles weighing between 145 grains to 255 grains at higher velocities for an effective range of around 250 yards. The case is slightly tapered to contribute to positive ejection from bolt-action and semi-automatic rifles alike. Winchester's initial ammunition options included 150 grain (2,350 f.p.s.), 160 grain (2,225 f.p.s.) and 180 grain (2,100 f.p.s.) hunting loads, along with a subsonic 255 grain (1,060 f.p.s.) load for use with sound suppressors and an affordably priced 145-grain (2,350 f.ps.) full-metal jacket load for target shooting. 
In his extensive evaluation of the .350 Legend, American Rifleman's Senior Executive Editor Kelly Young said, "Velocities of each load vary by bullet weight, but according to Winchester company literature, all four supersonic options generate a bit less than 1,650 ft.-lbs. of energy at the muzzle through a 16" barrel and a bit more than 1,750 ft.-lbs. of energy at the muzzle through a 20" barrel". He goes on to detail a successful deer harvest using this round.
The .350 Legend lived up to expectations as a straight-walled hunting cartridge and would go on to win the American Rifleman Ammunition Product of The Year. The cartridge was soon chambered in a variety of rifles, and other ammunition manufacturers, including Federal Premium and Hornady, added .350 Legend to their catalogs.  
But let's go back to the 2019 SHOT Show for a minute. The big marketing vibe at the launch was essentially, "Hey everyone, we just made a faster, softer-shooting, straight-wall cartridge for hunting deer with bolt-action rifles. Hooray!" And that was certainly a valid angle that proved to be true.
But the cartridge's dimensions kept pulling me back to its compatibility with the AR-15 platform. Most notable, its overall length allows it to be comfortably tucked into AR magazines and the 0.378" rim diameter is the same as the 5.56 NATO and .223 Rem. The AR-15 is among the most popular semi-automatic rifles in U.S. history because it so effectively meets the requirements for the rifle trifecta: hunting, target shooting and home defense. Looking then at the .350 Legend's performance potential, I saw it meeting that trifecta quite nicely with the right loads. It seemed especially attractive for those AR enthusiasts who want a larger bullet diameter than that of the 5.56 NATO or .223 Rem. without sacrificing the ammunition capacity those rounds provide.
Let's run the trifecta checklist. Hunting potential? Check, we've covered that. Target shooting? Also check. At the time of its launch, a 20-round box of Winchester's 145-gr. full-metal jacket practice-grade loads was about the same price as a 20-round box of premium grade .223 Rem. That made it much more affordable for practice and plinking than a good sized majority of centerfire hunting rifle cartridges. 
That leaves home defense, which is what I was most curious about investigating for this write up. I gave Kelly a call soon after he posted his evaluation to see what he thought of the .350 Legend AR for home defense. In short, we agreed that hunting-grade loads are likely to over penetrate in a close-quarters situation.
This means more specialized loads are required. Winchester already had the Super Suppressed subsonic load in place. Its 255-grain bullet launched at the listed velocity of 1,060 f.p.s. generates a nominal muzzle energy of 636 ft.-lbs. That's an additional 100-ft.-lbs. of muzzle energy when compared to the listed energy of Winchester's 145-grain Silver Tip .357 Mag. revolver cartridge. That's certainly adequate for in-home defensive distances, but some folks will want more performance out of a rifle.
It took about two years, but in 2021, Winchester expanded its Defender line of self defense rifle ammunition to include the .350 Legend. This load is specifically designed for modern sporting rifles with a nickel-plated cartridge case and a 160-grain bonded jacketed hollow point. It has a listed velocity of 2,170 f.p.s. for 1,673-ft.-lbs. of muzzle energy when fired from a carbine-length 16" barrel. This defensive round was rolled in with the subsonic and practice-grade loads for the range test.
The other hurdle to using the .350 Legend as a target shooting or defensive load in an AR-15 was magazine capacity. The cartridge's geometry requires a caliber-specific follower that prevents the use of off-the-rack 5.56 NATO magazines. And due to the marketing being so focused on hunting, the typical AR-15 magazines made for this cartridge are limited to just five rounds. Thankfully, CMMG addressed this ammunition limitation by releasing a 20-round magazine (#35AFC66). It features a stainless-steel box, bright-orange follower and a matte-black finish. Although 30 rounds is the common standard these days, 20-round magazines have been in service for quite some time and it definitely brings the round count up to a defense-grade level. The company also offers 10-round and five-round models.
To wring out the .350 Legend as an AR cartridge, I used Ruger's gas-impingement operated AR-556 MPR (Multi-Purpose Rifle, #8532) AR pattern rifle. The controls are mil-spec and the flat-top upper and lower receivers are forged from 7075-T6 aluminum. They are treated with a matte black Type III hard-coat anodized finish. Ruger made sure to include the traditional forward assist, brass deflector and dust cover that some companies exclude as a cost-savings measure.
The 16" cold hammer-forged 4140 chrome-moly steel barrel's threaded muzzle is fitted with a radial port muzzle brake, and it is shrouded by a 15" free float M-Lok aluminum handguard. The lower receiver is outfitted with Magpul's MOE grip and six-postion shoulder stock, along with an oversized polymer trigger guard. This gun is factory fitted with Ruger's Elite 452 two-stage trigger that has a listed trigger pull of 4 lbs., 8 oz. The trigger I tested had a smooth feel with a trigger pull of 4 lbs., 2 ozs. As expected, it arrived with one five-round magazine. At the shooting range, this rifle was topped off with Brownell's top notch 1-8x24 mm Match Precision Optic (MPO) rifle scope which has an illuminated CQ-NOMR reticle (080-001-394WB). It was secured by the company's in-house 0 m.o.a. 30 mm Cantilever Scope Mount (080-001-351WB).
The rifle, ammunition and magazines all operated properly without any hitches or hang-ups. The felt recoil is more authoritative than a 5.56, but it was definitely more comfortable to work with than similarly sized ARs chambered for .450 Bushmaster. The following table shows the range test results. As you'll see, two loads generated higher than list velocities while the third was spot on, statistically speaking. As for accuracy, a few of the individual 5-shot groups were sub-m.o.a. while the five group averages hovered around the 1.25" mark.
What does the future hold for the .350 Legend? The cartridge had a strong start, but it was still in its commercial infancy when the COVID-19 pandemic struck. This caused worldwide disruptions to just about every commercial aspect of life, including the ebb and flow of the American shooting sports market. For a while it was relatively plentiful and easy to find, but today, many ammunition websites are listing their .350 Legend selection as out of stock for now. Divining the future popularity or adoption of this or other recently released, or on-the-fringe, cartridges continues to be a tricky business at best. Will the .350 Legend settle into being a niche deer hunting cartridge favored in certain states, or will it catch on and become a standard mid-size round embraced by AR-15 fans? Only time will tell for sure.
From what I've seen of the .350 Legend's performance potential, especially when it's paired with AR platforms, this is a flexible, multi-purpose round that can comfortably straddle target shooting, hunting and defensive roles. It's currently a more challenging round to find in stock due to ongoing shortages. But it's my hope is that when the marketplace settles back down into a normal rhythm, and we get back to a more consistent flow through the supply chain, that this still young cartridge will have weathered the storm to be enjoyed by hunters and AR-15 fans alike. I know I'm looking forward to working with it more in the future.