by
posted on April 10, 2017
Support NRA American Rifleman
DONATE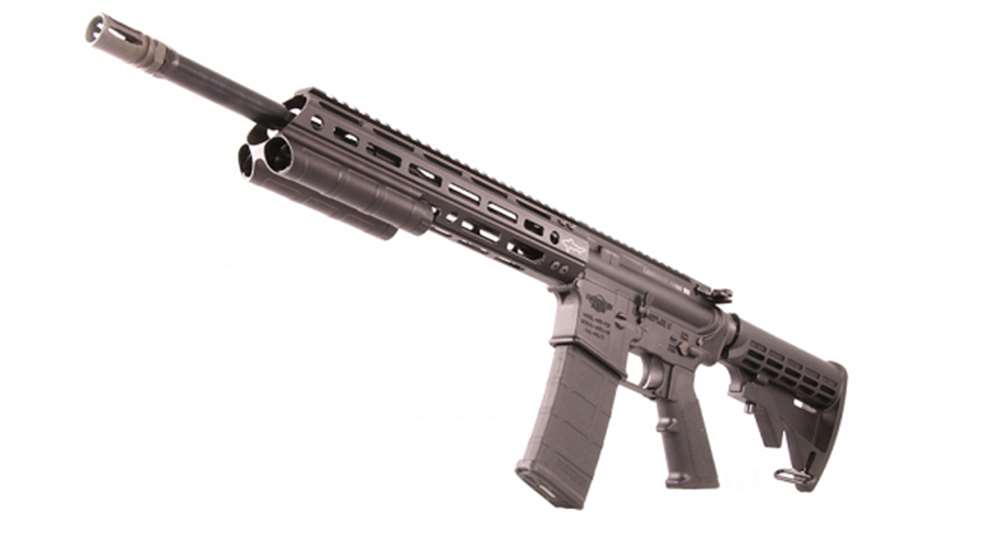 I'll admit that with so many M4 pattern AR-15 carbines chambered in 5.56 racked up along dealers' walls these days that black rifles can start to look a bit vanilla after a while. That's why I sought out an opportunity to work with one of Hardened Arms' HBAR pistol uppers last year. Although the company offers uppers and complete rifles in a variety of calibers, the company has mastered the tricky art of producing an AR that cycles the sometimes inconsistent Russian 7.62x39 mm cartridge reliably.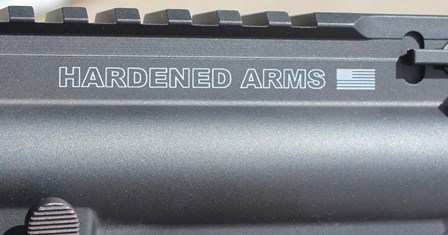 That Hardened Arms pistol upper lived up to (and surpassed) my expectations for fit, finish and reliability. It had the added bonus of being a hoot to shoot thanks to its lively handling characteristics. This successful range test left me with a hankering for a complete carbine test so that I could see an entire Hardened Arms gun at work and learn more about its performance at longer distances.

Recently, the company released the new integral illumination LumaShark handguard, which is available as a standalone accessory or as an upgrade for uppers and complete rifles. I requested a 7.62x39 mm carbine with the new handguard installed to put them both through their paces at the same time.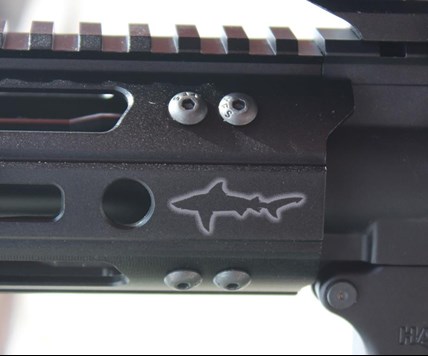 The Hardened Arms M4-style HBAR carbine is a gas-impingement operated semi-automatic fitted out with the features and controls that make modern sporting rifles one of the most popular platforms in the U.S. today. The components demonstrated the same superior level of quality, fit and finish as the pistol upper.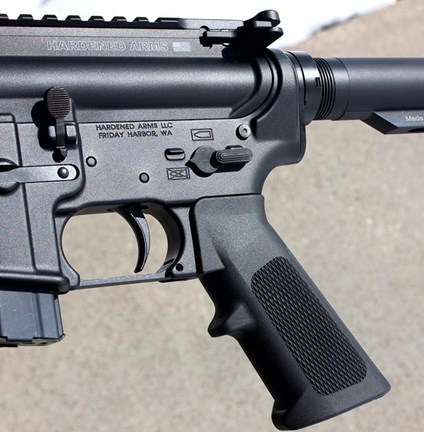 The receiver set is forged from 7075-T6 Aluminum with a mil-spec, hard-coat anodized finish. The flat-top upper receiver features an M4 feed ramp, a full length Picatinny optics rail and mil-spec charging handle. Some companies are choosing to drop the forward assists and dust covers from their rifles, but this one arrives with both installed. The 7.62x39 mm bolt carrier group is chrome lined with a Phosphate exterior finish.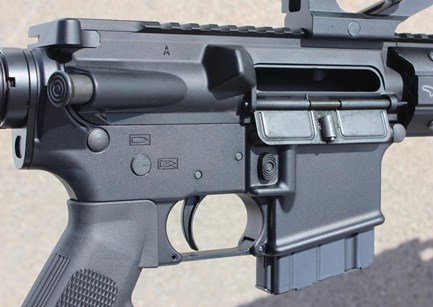 The 16" long HBAR profile barrel is constructed of 4150CMV steel with a QPQ finish. Fitted with a mid-length gas system and a low-profile gas block, the four groove rifling is cut at a 1:10" twist. The 1/2x28 TPI threaded muzzle is topped off with a basket-style flash hider secured with a reusable jam nut in place of a disposable crush washer.

The lower receiver is typical for the breed with a right-side magazine release, left-side bolt catch, left-side two-postion safety selector switch, a removable trigger guard and an A2 polymer grip. The single-stage trigger group is also mil-spec with a typical 6-lb. 5-oz. trigger pull. The six-postion buffer tube is fitted with a U.S. made UTG Pro shoulder stock that has a metallic sling loop.
That brings us to the patented 12" aluminum LumaShark handguard. This is the first handguard on the market to provide not one, but two fully integrated light sources. In most cases, adding a light to an AR involves clamping a light module to a rail with some sort of corded tape switch attached. These modules and cords can get caught or broken off by various barriers and obstacles in combat situations.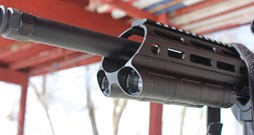 The milled billet T-6061 aluminum LumaShark features a full-length optics rail, a hard-coat anodized finish and two sleek side-by-side tubular housings that rest below the barrel. Each housing contains a recessed 1150-lumen CREE white light bulb at the front with independently operated press-button switches at the rear. Activate both lights at the same time for a positively dazzling spot light or one at a time to conserve energy.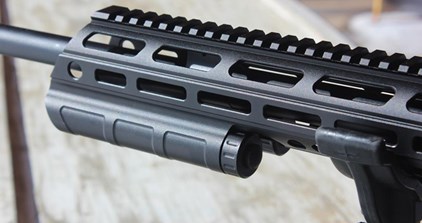 Boasting a IP68 16+ waterproof rating and powered by CR123A batteries, the LumaShark provides added strength and brightness with a weight of 22 oz. Additional interchangeable illumination options include 200-lumen, 500-lumen and 94nm IR bulbs. Laser sights will be available in the future. M-LOK accessory slots are cut out on each side along with six quick-detach (flush cup) sling mount ports.
Hardened Arms recommends the use of Ammunition Storage Components (ASC) magazines with this rifle. Designed specifically for use with 7.62x39 mm ammunition, the aluminum ASC magazines are available in 10-, 20- and 30-round capacities. The HBAR ships with a single 10-round ASC magazine in the box.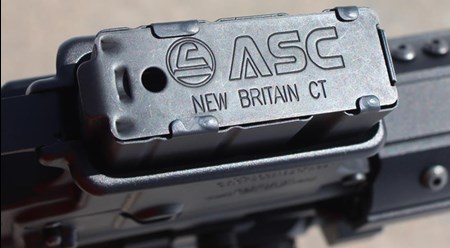 The 30-round magazines have a distinctive curve that makes them easy to identify when compared to 5.56 AR magazines. However, the 10- and 20-rounders have a nearly identical profile to similarly sized magazines in other calibers. A simple and affordable solution for keeping magazines straight is Faxon Firearms' Magazine Marker Bands. They are available in blue (5.56), red (300 BLK) and yellow (7.62x39 mm) and have enough stretch for them to fit around AR-15 uppers too. Just slide the bands into place and you'll have a simple color-coded means of keeping your components properly organized.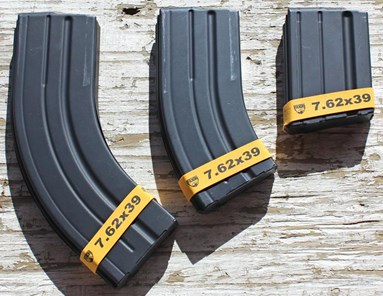 The LumaShark handguard proved to have positive handling characteristics during off-the-bench shooting. For those who shoot with bare handguards, the added weight of the lights will be noticeable. But at 12" long, the handguard balances nicely (it might feel muzzle heavy if it were much longer). The two flashlight button switches are easy to operate with the thumb and index finger knuckle of the support hand. If you prefer a 3-Gun style straight-arm grip with the thumb up and over the handguard, the LumaShark is not a good fit. However, the light housings were compatible with the other gripping styles I tried, including placing the support hand at the magazine well, mid way or straightening the elbow and grasping the underside of the handguard.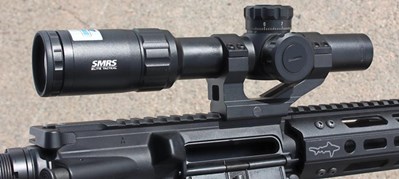 Ammunition cycling and magazine reliability proved to be pleasantly free of surprises. There were no malfunctions or misfires throughout the entire testing process. With the HBAR comfortably couched in a bench rest, formal accuracy testing was conducted at 100 yards by firing five 5-shot groups using a Bushnell SMRS Elite Tactical 1-6.5x24 mm optic mounted to the rifle with a Weaver SPR Optics Tactical Rail Mount. Bullet velocity and accuracy were noticeably consistent with the three loads tested.
Hornady's steel-cased 123-gr. SST load produced a muzzle velocity of 2327 fps. with a best single group of 1.48" and a five group average of 1.53". Federal Premium's brass-cased Power Shok 123-gr. soft points traveled at 2325 fps. with a best group of 1.47" and an average of 1.52". The Wolf Performance steel-cased Military Classic 124-gr. full-metal-jacket load inched out ahead of the rest at a velocity of 2350 fps. with a best group of 1.29" and an average of 1.38" .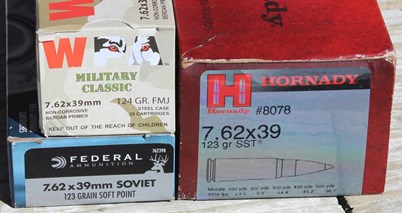 The Hardened Arms HBAR carbine is another solid example of the company's dedication to producing high-quality AR platforms. Although I have no complaints about this rifle's performance at the range, I'm sure that swapping out the mil-spec trigger for a drop-in upgrade will shrink group sizes even more. The LumaShark handguard is one of the brightest and toughest illumination systems for the AR platform that I've worked with so far. The integral light housings make clamp-on modules almost look like an afterthought by comparison. If you're in the market for an AR chambered in 7.62x39 mm, then the HBAR is a solid option.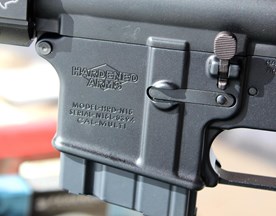 Specifications
Manufacturer: Hardened Arms
Model: HBAR
Action: Gas-Impingement Semi-automatic
Caliber: 7.62x39 mm
Upper Receiver: M4 Feed Ramp Flat Top Receiver, Forged 7075-T6 Aluminum, Mil-Spec Hard-Coat Anodized
Ejection Port Cover: Yes
Forward Assist: Yes
Charging Handle: Mil-Spec
Bolt Carrier Group (BCG): 7.62x39 mm Phosphate, Chrome Lined
Barrel: HBAR Profile, 4150CMV Steel, Stress Relieved & Crowned, QPQ Finish
Rifling: 1:10" RH
Barrel Length: 16"
Grooves: 4
Muzzle Threading: 1/2x28 TPI
Muzzle Device: A2 Flash Hider
Gas Block: .750" Diameter, Low Profile
Gas Tube: Mid-Length
Handguard: 12" Free Float LumaShark, Integral Picatinny Optics Rail
Handguard Slots: MLOCK
Lower Receiver: Forged 7075-T6 Aluminum, Mil-Spec Hard-Coat Anodized
Lower Parts: Mil-Spec
Trigger: Mil-Spec
Trigger Pull: 6 lbs. 5 oz., Single-Stage
Pistol Grip: A2, Black Polymer
Buffer Tube: Mil-Spec
Shoulder Stock: UTG Pro 6-Position
Sights: None
Magazine: ASC 7.62x39 mm Magazines (recommended)
Capacity: 10 to 30 Rounds
Overall Length: 24.25"
Weight: 6 lbs. 2 oz. Unloaded, No Magazine
Accessories: One 10-Round Magazine, Owner's Manual
MSRP: $1,349.99
Optic: Bushnell SMRS Elite Tactical 1-6.5x24 mm with BTR-2 Reticle (ET1624J) $1,822.45
Scope Mount: Weaver SPR Optics Tactical Rail Mount, 1"/30 mm (48377) $90.45
Faxon Firearms Magazine Marker Bands $9.99 per 10 Pack