by
posted on August 17, 2016
Support NRA American Rifleman
DONATE
As a shooting enthusiast who enjoys going to the movies, I'm always curious to see what kind of guns and gear the action stars are packing as they head into dangerous situations. One of last summer's blockbuster hits was the long-awaited Jurassic Park re-boot, Jurassic World. In order to make this near future sci-fi flick feel more believable, the characters were equipped with current production firearms in a variety of calibers. There was a good deal of hardware bandied about in this film but the one rifle that caught my eye was Owen Grady's (Chris Pratt) stainless steel Marlin 1895SBL lever-action chambered in the .45-70 U.S. Government (.45-70 Gov't.) cartridge.
With so much military-grade firepower at hand, what would possess the on-set gun wranglers to hand the leading man a 120-year-old rifle design chambered in a 140-year-old cartridge? Audiences regularly suffer through all kinds of Hollywood hokum thanks to production teams who don't know or understand firearms. But in this case, did the producers get it right for a change?
Let's consider the more plausible aspects of our hero's situation. He needed a fast-handling rifle that was light weight, accurate and utterly reliable in a harsh jungle environment. Modern lever-action guide guns fit the bill nicely. The rifle's cartridge had to provide a decisive level of stopping power at close range in order to protect himself and others from dangerous game. Nineteeth century hunters armed with blackpowder cartridges determined that heavy, large-caliber bullets traveling at moderate velocities are effective at knocking down big and dangerous critters.
At the end of the movie, I was left with a nagging question. Yes, the .45-70 Gov't. was undoubtedly an effective cartridge when it was first developed. But are today's loads really up to the task, or is this cartridge still hanging around thanks to shooter nostalgia and big budget movies? I set out to learn more about the loads currently on the market and the guns available to shoot them.
Modern .45-70 Gov't. Cartridges
Fans of this venerable big-bore cartridge will be glad to know that it's nowhere near to becoming extinct any time soon. I found no less than 18 ammunition manufacturers, great and small, offering loads in a variety of power levels and bullet configurations. I was able to lay hands on test ammunition from half of them. 

Of all the companies that offer .45-70 Gov't., Buffalo Bore is by far the most enthusiastic. Tim Sundles has developed 14 loads in four categories with bullet weights ranging from 300 gr. to 500 gr. in weight. Known for producing some of the hottest loads available, Buffalo Bore offers five Magnum Lever Gun loads that will stop anything that walks the earth. At the other end of the power spectrum are three Smokeless Black Powder Equivalent loads designed specifically for vintage rifles and reproductions.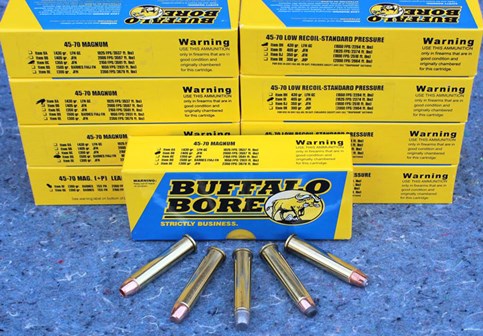 For those who want full-power performance without the shoulder-pounding recoil, there are four Standard Pressure rounds which still pack plenty of punch. To round out their offerings, Buffalo Bore stocks two Lead Free +P rounds topped with Barnes all-copper TSX hollow points. Mr. Sundles' company has sold over 10 million rounds of .45-70 Gov't. over the last decade and a half, which is a good indicator of the continuing popularity of this cartridge and the quality of Buffalo Bore products. 
Double Tap Ammunition is another manufacturer that specializes in rounds loaded on the hot side of the SAAMI scale. The company offers four loads specifically geared towards hunting with bullet styles including jacketed soft points, all-copper hollow points and hard cast lead solids.


HSM Ammunition's four offerings span the gamut of.45-70 Gov't. loads with a low-velocity cowboy competition round, two +P hunting rounds and a heavy hard cast +P bear load. Black Hills Ammunition provides one load for the historical re-enactment competition crowd as part of its Authentic Cowboy Action line-up. This load launches a 405-gr. lead flat nose bullet at a reduced recoil velocity of 1250 fps.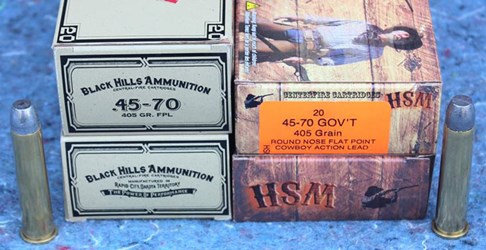 Federal Premium Ammunition makes three 300-gr. hunting rounds loaded to an advertised velocity of 1850 fps. Bullet options include the Speer Hot-Cor HP Power-Shok, Fusion soft point and the Trophy Bonded Bear Claw.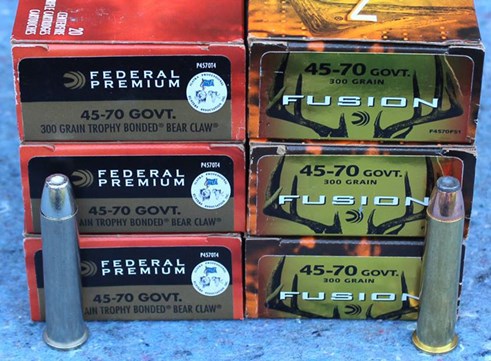 Hornady provides two loads in the LEVERevolution line which, as the name implies, are designed for lever-actions with tubular magazines. Customers can choose either the 250-gr. MONOFLEX or 325-gr. FTX load, both of which are fitted with a ballistic polymer tip.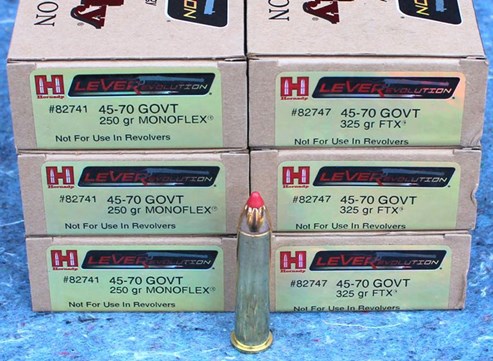 Remington keeps two loads in stock. The Express Cor-Lokt round is topped with a 405-gr. jacketed soft point and is listed as safe for all rifle types. The High Performance Rifle load is topped with a 300-gr. jacketed soft point. Barnes Bullets manufactures one of the more popular hollow points for the .45-70 Gov't., the 300-gr. all-copper TSX. When you see a lead-free option from other ammunition makers, it's most likely topped with this Barnes bullet. To make the most of this bullet's popularity, the company offers a VOR-TX Rifle round with the TSX loaded to an advertised velocity of 1905 fps.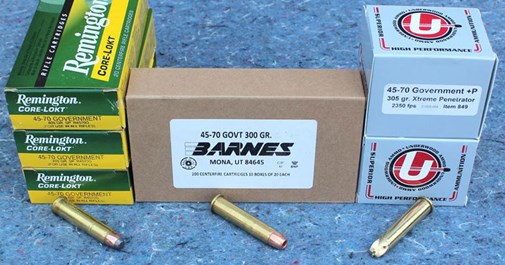 Underwood Ammunition makes one the most unconventional rounds of this test set. It's topped with a solid brass 305-gr. Xtreme Penetrator bullet manufactured by Lehigh Defense. The bullet's progressive nose geometry and solid construction allow it to overcome environmental barriers, penetrate deeply, and create a permanent wound cavity on par with or better than some hollow points. Underwood offers this round at a Standard velocity of 2100 fps, or in a +P version loaded to 2350 fps.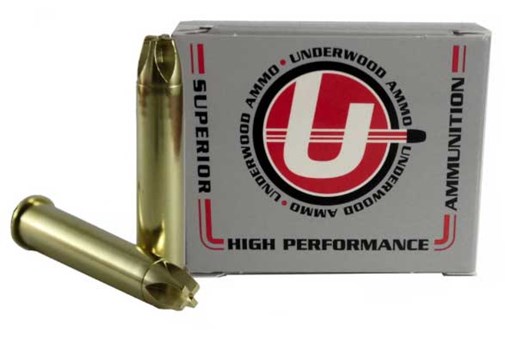 Test Guns
Because .45-70 Gov't has been around for such a long time there are several makes and models of rifles chambered for it. Reproductions of older designs for historical re-enactors are available, including Uberti's 1874 Sharps and Springfield "Trapdoor" rifles. However, it seems the two predominant action types found in the hands of today's outdoorsman are the lever-action and break-action single shot rifles.
To cover the lever-action guide gun category, I contacted Henry Repeating Arms to request one of the new-for-2016 All-Weather (H010AW) .45-70 Gov't rifles. Based on Henry's 18.43" round barrel blued steel model, the All-Weather features a tough industrial grade hard-chrome plating on all metal surfaces (except the springs and sights). This plating is permanently bonded to the steel to increase surface hardness and provide more corrosion resistance than some stainless steels. This new finish resists dings and scratches, reduces the friction of moving parts, and has a handsome non-reflective matte finish.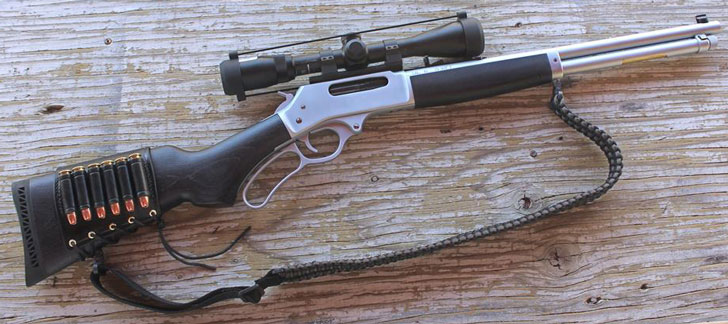 The dark charcoal gray stained hardwood stocks have been treated with a matte finish, water resistant coating that protects against wear and tear (think high school gymnasium floor and you'll have the right idea). This new rifle neatly satisfies the Hollywood cool factor while offering an utterly practical option for regular use. The action was smooth and reliable with a crisp, short trigger pull of 5 lbs. 13 oz. To prepare the All-Weather for use in the field, an adjustable braided paracord Sandstorm Custom rifle sling, a Simply Rugged leather cartridge cuff, a Weaver 63B scope mount and a Bushnell Legend Ultra HD 3x9-40mm hunting scope were all added to the rifle.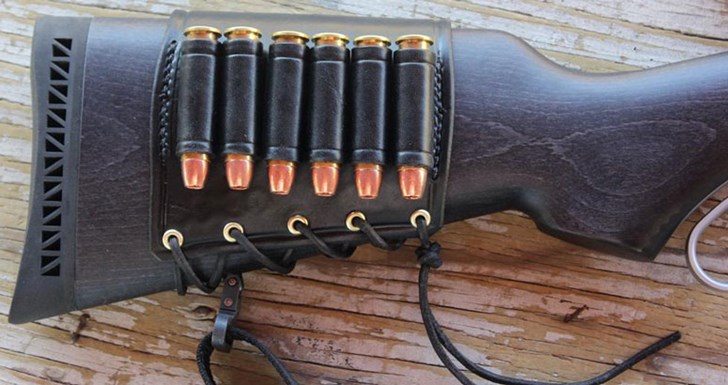 In the single-shot category, there are several beautifully crafted, hardwood-stocked reproductions to choose from. But in this case, I was looking for a balance of modern features, tough construction and a reasonable price point so that the gun could be put to work instead of polished up and put on display. The CVA Scout Model CR4806S break-action was just what I had in mind.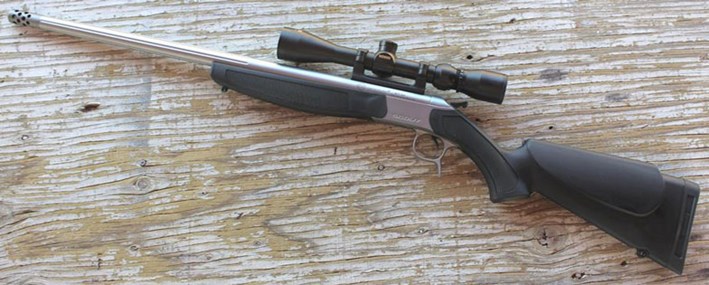 Featuring an all-stainless steel construction, black synthetic stocks, and a shock absorbent CrushZone recoil pad, this version of the Scout sports a 25" fluted barrel fitted with a fixed muzzle brake to reduce felt recoil. Pulling the trigger guard towards the shoulder stock releases the swing-down barrel for loading. With an exposed hammer that's manually cocked for each shot, the smooth single-action trigger has a light, short 2-lbs. 14-oz. trigger pull. This rifle arrives with a DuraSight DEAD-ON one-piece scope mount for scopes with 1" tubes. The Scout was test fired using a Konus Pro 550 3x9-40mm scope.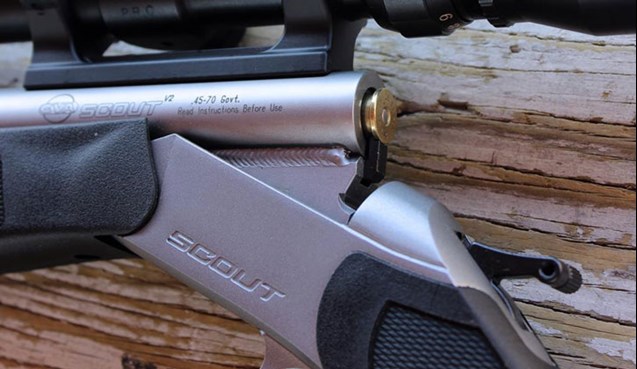 After selecting these two rifles, I had a colleague remind me that there is a company that makes a .45-70 Govt. revolver. Who else but Magnum Research, Inc. (MRI), makers of the massive Desert Eagle semi-auto pistol, would offer a single-action wheelgun large enough to chamber these sausage-size rifle rounds. Available in a variety of potent big-bore calibers, the .45-70 Gov't. version of the stainless steel BFR (Biggest Finest Revolver) comes in two barrel lengths, including a 10" version and the 7.5" barrel model test fired for this review. It arrives with an optional Weaver style mount for those who wish to attach an optic.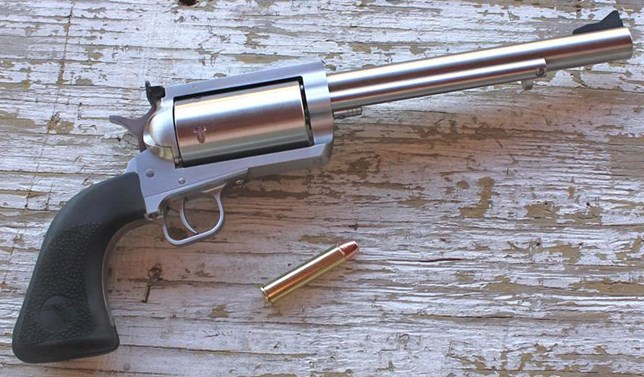 I called Jim Tertin (the gunsmith and designer who developed the BFR for MRI) to verify which .45-70 Gov't. loads the BFR can safely fire. He verified that the revolver can comfortably digest all of the factory load power levels on the market, including Magnum, +P and heavy bullet loads. Recently, the BFR was upgraded with a taller, narrower hammer spur and a slim profile one-piece rubber grip. The clean single-action trigger breaks at just 2 lbs. 13 oz. of trigger pull. The revolver was test fired using the factory iron sights.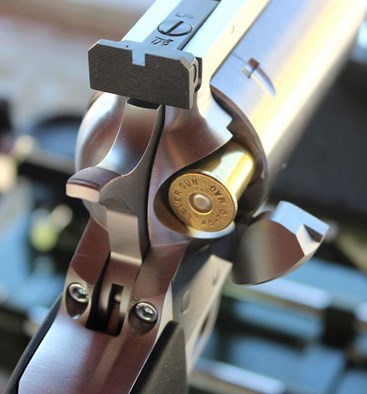 At The Range
It becomes readily apparent in the course of testing .45-70 Gov't. platforms that they are not the best option for novice shooters or the faint of heart. Depending on the ammunition fired, felt recoil starts at stout (cowboy loads) and quickly moves up to intense levels (magnum loads) that will leave you feeling sore the next day if several rounds are fired in the course of a shooting session. With factory rounds running between $1.50 to $3 per round, your wallet may need some aspirin too.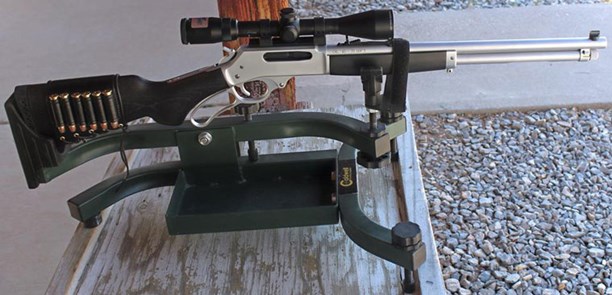 The good news is that, with the exception of the cowboy competition crowd, those who invest in a .45-70 Gov't are usually looking for a hunting rifle or for protection against dangerous game. In both of these cases, felt recoil and ammunition costs are not as much of an issue since only a few rounds may be fired at any given time.



I experienced positive results throughout the testing sessions with all three guns and the selected test loads. The straight-walled cartridges fed, fired and extracted (or ejected) smoothly. The spent brass cartridge cases were free of any dents or damage, meaning they were in great shape for hand loading. There were no hiccups, hangups or failures in any of the guns or the ammunition.
So, how much has the .45-70 Gov't.'s performance improved over the years? One characteristic that hasn't changed is its rainbow trajectory. The bullets are more advanced and scoot along more quickly but they're still subject to the laws of physics. Heavy bullets traveling at moderate speeds tend to drop quickly in flight. This behavior wasn't as evident with the revolver because the targets were only 25 yards away. However, when the rifles were fired at 100 yards, the vertical point of impact varied as much as 15" when switching from lighter bullet weights to heavier ones, and vice versa.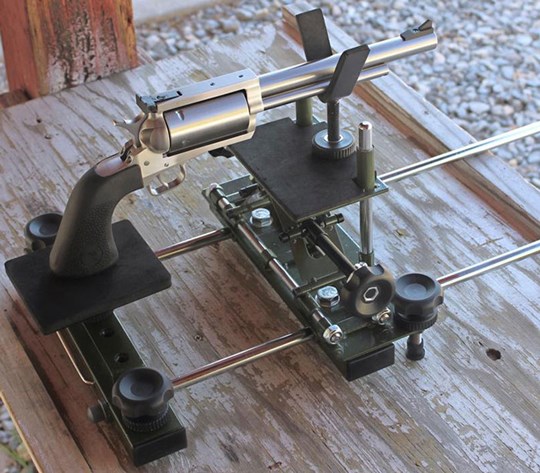 What about stopping power? The 19th century black powder loads packed with 50 to 70 gr. of powder could propel a 405-gr. lead bullet at nominal velocities of 1,040 to 1,280 fps. generating between 973 to 1473 ft.-lbs. of energy at the muzzle. Those are respectable levels of energy even by today's standards. Here's a look at how the modern loads performed: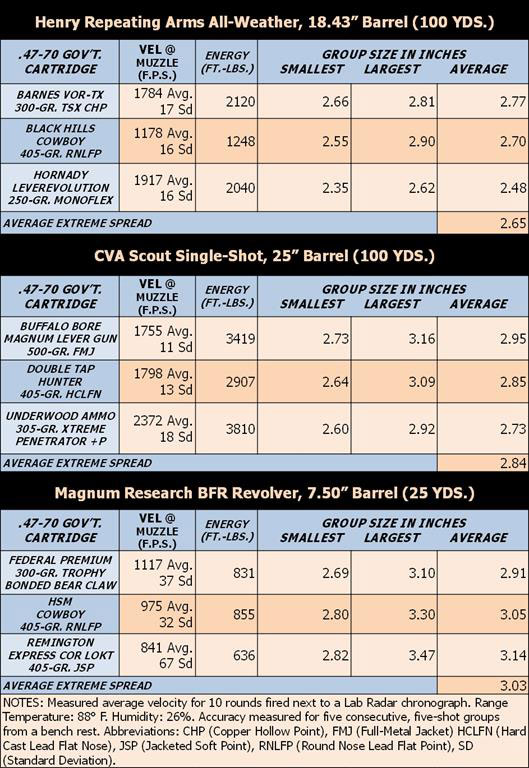 Thanks to the .45-70 Gov't.'s capacious cartridge case, advances in smokeless powders and cutting-edge bullet designs, today's loads can easily double, and in some cases almost triple, the energy of the original blackpowder rounds when fired from lever-action and single-shot rifles. With this data in hand it's easy to see why this cartridge is still on the market. As for the revolver, bullet velocities dropped significantly because the short barrel doesn't provide as much burn time for the powder charges. That being said, heavy big-bore bullets generating upwards of 800 ft.-lbs. of energy from a handgun are nothing to sneeze at.
Parting Thoughts
Is the 140-year old .45-70 Gov't. still a relevant cartridge for modern shooting enthusiasts? After spending some quality time with a variety of loads in three different platforms I think the answer is a resounding yes. I can't speak to the needs of futuristic dinosaur trainers. However, for today's hunters and outdoorsmen who need a devastating level of stopping power at distances of 200 yards or less, the hard-hitting .45-70 Gov't. delivers deep penetration and the bone-crushing power needed to stop big and dangerous game animals effectively.
NRA Specifications
Ammunition Manufacturers:
Barnes Bullets
Black Hills Ammunition
Buffalo Bore
Double Tap Ammunition
Federal Premium Ammunition
Hornady
HSM Ammunition
Remington
Underwood Ammo
Test Gun Makes & Models:
Manufacturer: Henry Repeating Arms
Model: H010AW
Action: Lever Action
Caliber: .45-70 Govt.
Finish: Hard Chrome Steel
Stock: Pistol Grip, Dark Stained Hardwood with Rubber Recoil Pad
Rear Sight: Fully Adjustable Semi-Buckhorn rear
Front Sight: Brass Beaded
Optic Mount: Drilled and Tapped for Weaver 63B Mount (Sold Separately)
Barrel: 18.43", Round Profile
Reversible Hammer Spur Extension: Available (Sold Separately)
Trigger Pull: 5 lbs. 13 oz. (As Tested)
Safety: Hammer Mounted Transfer Bar
Overall Length: 39"
Length of Pull (LOP): 14"
Weight: 7.08 lbs.
Capacity: 4-Round Tubular Magazine
Twist: 1:20" RH
Rifle Grooves: 6
Accessories: Lock, Owner's Manual
MSRP: $999.95
Sling: Sandstorm Custom Rifle Slings Adjustable Model, Starting at $40
Leather Cartridge Cuff: Simply Rugged Holsters, $100 
Manufacturer: CVA
Model: Scout (CR4806S)
Action: Break-Action Single Shot
Caliber: .45-70 Gov't.
Finish: Matte 416 Stainless Steel
Stock: Ambidextrous Pistol Grip, Checkered Black Polymer
Recoil Pad: CrushZone Black Synthetic
Sights: None
Optic Mount: 1" DuraSight DEAD-ON One-Piece Scope Mount
Barrel: 25" Fluted Bull Barrel with Fixed Muzzle Brake
Reversible Hammer Spur Extension: Provided
External Safety: None
Trigger Pull: 2 lbs. 14 oz. (As Tested)
Overall Length: 40"
Length of Pull (LOP): 14"
Weight: 7 lbs. 7 oz.
Capacity: 1 Round
Twist: 1:20" RH
Rifle Grooves: 6
Accessories: Scope Base, Lock, Owner's Manual
MSRP: $413.60
Manufacturer: Magnum Research, Inc.
Model: BFR45-707
Action: Single-Action Revolver
Caliber: .45-70 Gov't.
Finish: Brushed Stainless Steel
Grip: Hogue Monogrip, Black Synthetic
Front Sight: Fixed Black Ramp
Rear Sight: Adjustable
Optics Mount: Weaver (Provided)
External Safety: None
Trigger Pull: 2 lbs. 13 oz. (As Tested)
Barrel Length: 7.50" (10" Available)
Overall Length: 15.00"
Height: 6.00"
Cylinder Width: 1.78"
Weight: 4 lbs. 5 oz.
Capacity: 5 Round Cylinder
Twist: 1:14" RH
Rifle Grooves: 6
Accessories: Hard Case, Scope Base with Mounting Hardware, Lock, Owner's Manual
MSRP: $1,184