by
posted on November 30, 2018
Support NRA American Rifleman
DONATE
Windham Weaponry recently started offering its forged-in-house WW-15 mulit-cal lower receivers as stripped-down, stand-alone components for at-home builders. This is good news for those who want to stick with Windham components while saving money with a bit of do-it-yourself sweat equity. As soon as I heard this news, I knew exactly what I wanted to build with this lower.

At a trade show earlier this year, I got to handle Windham's .450 Thumper (RP9SFS-450M). This 9" barrel, gas-impingement-operated pistol is chambered in the beefy .450 Bushmaster rifle cartridge. Here was a model that scratched my itch for big-bore handguns and rifle-action pistols at the same time. But I didn't want to work with a gun similar to the Thumper—I wanted to work with the same gun I saw on the floor!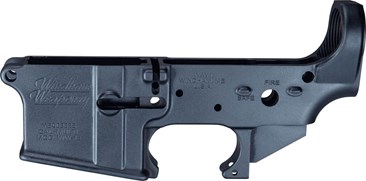 So, I teamed up Windham to replicate a factory configured Thumper from the comfort of my own workbench by drawing from their online catalog and rounding up the few parts they don't offer on the website. It turned out to be an enjoyable, easy-build project that really blew my hair back (literally).


The build started with a complete Thumper pistol upper kit (KIT-UR9SFSB-450M), which ships fully assembled and ready to use. The flattop upper receiver is forged from 7075-T6 aluminum with a Mil-Spec hard-coat anodized finish. An ejection port cover and forward assist are installed at the factory, along with a Mil-Spec charging handle. The bolt-carrier group is topped off with a .450 compatible Carpenter 158 steel bolt.

The 9" long, medium-profile barrel is made of 4150 chrome-moly vanadium steel and features a Melonite QPQ finish with an M4 feed ramp. The rifling is cut at a 1:24": RH twist. The muzzle is threaded at 1/16" x 24 T.P.I. and fitted with the company's steel Nor'Easter muzzle brake. The aluminum handguard is Windham's 7" free-float model, with an integral Picatinny optics rail and M-Lok compatible accessory slots. This kit is thoughtfully fleshed out with one 5-round magazine, a set of Magpul MBUS polymer flip-up sights and a 2.5" long 4-slot accessory rail with a QD sling port.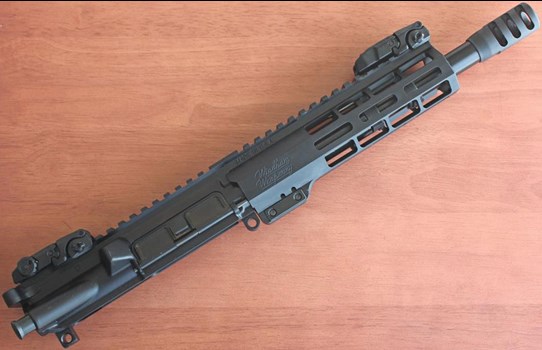 As mentioned earlier, this pistol was built around a stripped Mil-Spec WW-15 Multi-Cal forged 7075 T6 aluminum lower that was shipped to my local FFL for transfer (all other components can be sent directly to your home or business). I've had positive results with Windham's complete lower parts kits (LPK) in other builds and did so once again here. The kits ship with a typical single-stage Mil-Spec trigger group with the usual mushy and heavy feel of its breed which, in this case, broke with 6 lbs. 12 oz. of trigger pull (AR trigger upgrades are worth the investment).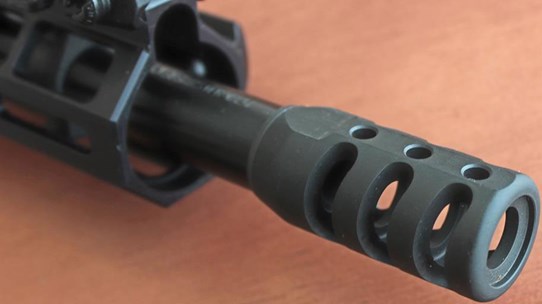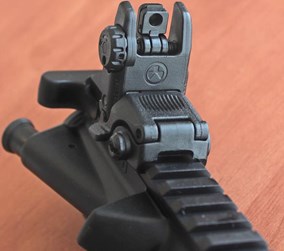 Three upgrades were made to bring this pistol build in harmony with the factory model. The hard-plastic A2 grip was replaced with a rubberized and pebble textured Hogue Beavertail pistol grip. The Mil-Spec trigger guard was traded out for a Magpul Enhanced aluminum model and the end plate was upgraded to the POF USA Ambi QD model, with QD sling ports on both sides.

The buffer assembly for this pistol included a typical castle nut, carbine buffer and buffer spring. The STDT-C collared pistol buffer tube was fitted with a SBM4 pistol stabilizing brace, both of which were provided by SB Tactical.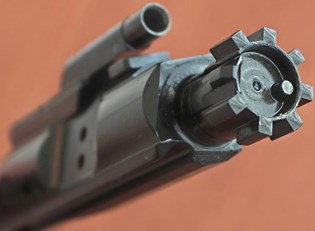 Once it was fully assembled, which only took about an hour or so, the home-rolled .450 Thumper pistol passed its bench checks with flying colors. Looking over the retail pricing for the components from Windham Weaponry, and rounding up the parts they don't offer in their catalog, this build cost about $1,191 before taxes and shipping. However, the fully assembled pistol has a suggested retail of $1,254. In the end, building this pistol at home doesn't save as much money as some other builds. But if you are one of those folks who enjoys the build process, then the option is available if you want it.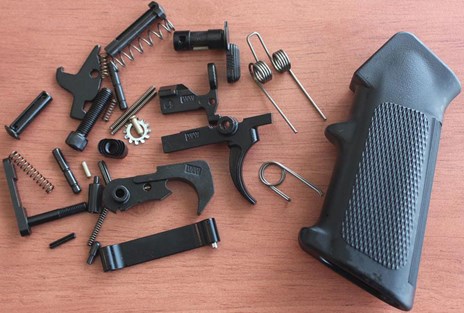 I was surprised to learn how few .450 Bushmaster AR magazines are available. Those that were available were all five rounders. Windham saves customers the trouble of hunting for magazines by making their own. These in-house magazines are assembled using OKAY Industries Surefeed 5.56 20 rounders. The aluminum body is PTFE-finished with stainless-steel springs. A blue Fulton Armory follower plate is snapped on top of the 5.56 follower and a rivet is driven into the spine of the magazine limiting the capacity in order to meet common hunting regulations.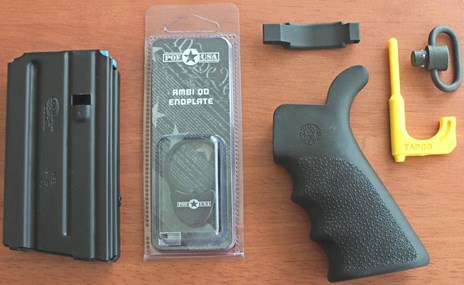 If you already have a few metallic Mil-Spec magazines on hand, Chamber Tactical offers an inexpensive set of polymer conversion components including AR-15 big-bore followers, trim-to-size capacity limiter strips, big-bore speed loaders, and a slip-in plate which allows magazines fitted with the .450 followers to fire 5.56/.223 ammunition. The conversion process is quite simple—just field strip the magazine as you would for cleaning and install the Big Bore Follower in place of the factory 5.56/.223 follower.
Remember that the .450 Bushmaster cartridge is much thicker than the 5.56/.223 cartridge. This means that installing the Chamber Tactical .450 followers, or any other big bore follower, converts double-stack 5.56/.223 magazines into a single-stack configuration for larger cartridges including the .458 SOCOM, .50 Beowulf and, of course, the .450 Bushmaster.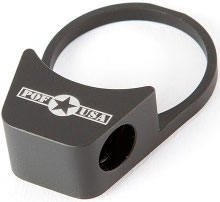 I spent time at the range experimenting with the Chamber Tactical big-bore followers in different sizes of Mil-Spec magazines, including a Surefeed ten round, Brownells 20 round and a Surefeed 30 round magazine, all of which happened to have aluminum bodies. The followers come from the factory with a one round capacity limiter extension along the front edge in order to eliminate the need for a limiter strip in some magazines. In this case, I wanted to discover the maximum capacity for each magazine size, so the limiters on all three followers were trimmed off before installation.

As a result of the conversions, the 5.56 ten round magazine technically became a three round .450 Bushmaster magazine; the 20 round holds a maximum of seven rounds and the 30 round holds up to nine rounds. However, and this is important, Chamber Tactical recommends loading one less round than full capacity for reliable feeding. While testing the magazines, I found that loading the converted magazines to maximum capacity put too much pressure on the top round and/or caused the follower to get stuck in the magazine body. When I loaded one less cartridge, two, six, and eight rounds respectively, the converted magazines ran flawlessly, just like the Windham Weaponry five round factory magazine.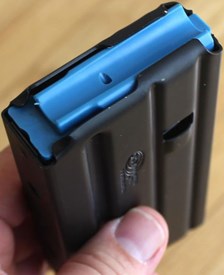 The .450 Thumper pistol is one of those platforms with handling characteristics that change noticeably depending on the shooting environment. Working with it from the bench in a rest was not all that enjoyable. The rest drove the recoil straight back, making it feel stiffer than it actually is. Because the Nor'Easter muzzle break was just inches from the bench top, instead of extended past it like a rifle's brake, the muzzle blast was concussive enough to blow paint chips off of the wood.

Off the bench it was a different story: this pistol was fun to shoot. The soft rubber of the brace and muzzle brake worked together to tame the recoil enough to make shooting the pistol two-handed a vigorous experience, but not uncomfortably so.
Formal accuracy testing was conducted at 25 yards from a benchrest with the provided Magpul flip-up sights, in outdoor temperatures averaging 32 degrees Fahrenheit. The loads included some impressive bullet styles like Hornady's Black 250-gr. FTX Flex Tip, Inceptor Ammunition's Preferred Hunting 158-gr. ARX fluted poly-copper solid bullet and Underwood Ammo's 220-gr. X-Treme topped with Lehigh Defense's X-treme Defense fluted solid-copper penetrator projectile.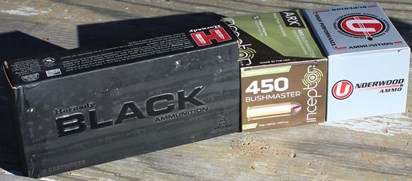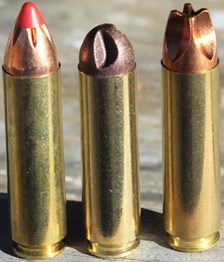 The 5-shot groups tended to be right around 1.5" in size. I fired a few informal groups at 50 yards with groups hovering in the 2.5" range. With a red dot or magnified optic, this pistol can definitely be put to work out to 100 yards, probably more.

What I was most curious to learn was how the performance of the .450 Bushmaster would change when fired from a 9" pistol barrel instead of the more typical 16" to 20" rifle barrels. Some rifle rounds, like the 300 Blackout, lose very little velocity from pistol barrels while others can drop quite a bit. The following table shows how things panned out: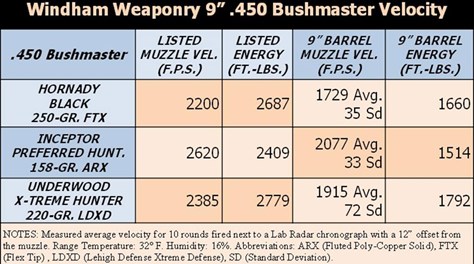 Taking into consideration the Thumper pistol's relatively short barrel and the cold weather, while taking the often optimistic manufacturers' listed velocities at face value, the projectiles lost on average, 21 percent of their velocity for an average projectile muzzle energy drop of 37percent. Comparatively speaking, these results set the performance potential of this pistol and caliber combination squarely within the same range as the .454 Casull revolver round. In other words, if a .454 Casull revolver will get the job done, then this pistol will be a good match for that task too.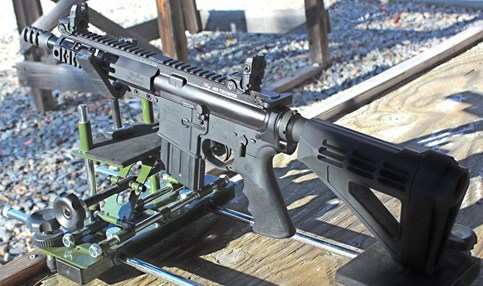 Windham Weaponry continues to meet and exceed my expectations for quality and reliability. In this case, the company also gets extra points for creativity. I enjoy shooting big-bore handguns, but they can be quite a handful, especially for less experienced shooters. The Thumper pistol chambered in .450 Bushmaster provides a punch on par with the .454 Casull with the handling, reloading speed and optics options of an AR-15 platform. This makes it easier to work with than most super-charged revolvers. The Thumper is a solid option for handgun hunters where AR pistols are allowed. It's also an ideal camp, hiking or trunk gun for those who want a potent level of close-range stopping power for defense against dangerous game in all its shapes and sizes.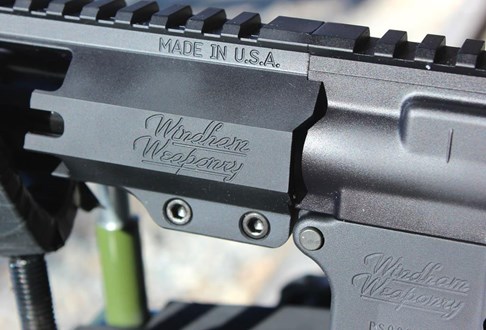 Specifications:
Company: Windham Weaponry
Model: .450 Thumper At-Home AR-15 Pistol Build
Complete Upper Kit with Sights, BCG and Magazine (KIT-UR9SFSB-450M): $750
Windham Weaponry WW-15 Multi-Cal Stripped Lower: $105
Windham Complete Lower Receiver Parts Kit for AR15: $68.95
Hogue Beavertail Pistol Grip for AR15/M16: $24.95
POF USA Ambi QD Endplate (SKU: 00781): $39.99
SB Tactical Collared Pistol Buffer Tube: $44.95
Magpul Enhanced Aluminum Trigger Guard: $19.95
SB Tactical SDM4 Stabilizing Wrist Brace (From Windham): $119.95
Windham Carbine Buffer AR15/M16 (1005-914-4578):  $12.95
Windham Carbine Length Buffer Spring AR15/M16 (9390022):  $3.95
At-Home Build Retail Price: ~$1,191 (Not Including Tax, Shipping or Labor)

Completed Pistol Specifications (Same As Factory Model RP9SFS-450M):
Action: Gas-Impingement Semi-Automatic
Caliber: .450 Bushmaster
Upper Receiver: Flat Top Forged 7075-T6 Aluminum, Mil-Spec Hard-Coat Anodized
Ejection Port Cover: Yes
Forward Assist: Yes
Charging Handle: Mil-Spec
Bolt Carrier Group (BCG): Mil-Spec
Bolt Material: Carpenter 158 Steel
Barrel: 9" Medium-Profile, Melonite QPQ Finish
Barrel Material: 4150 Chrome-Moly Vanadium 11595E Steel with M4 Feed Ramps
Rifling: 1:24": RH
Muzzle Threading: 1/16" x 24 T.P.I.
Muzzle Device: Windham .450 Bushmaster Nor'Easter Muzzle Brake
Gas Block: Low-Profile
Gas Tube: Pistol-Length
Handguard: Windham 7" Free-Float, Integral Picatinny Optics Rail
Handguard Slots: M-Lok with One Removable Rail Provided
Front Sight: Magpul MBUS Front Flip Sight
Rear Sight: Magpul MBUS Rear Flip Sight
Lower Receiver: Forged 7075-T6 Aluminum, Mil-Spec Hard-Coat Anodized
Complete Lower Parts: Windham Mil-Spec with GI Trigger Group and A2 Grip
Trigger Guard Upgrade: Magpul Enhanced Aluminum $19.95
Grip Upgrade: Hogue Beavertail Pistol Grip
Trigger Pull: 6 lbs. 12 oz. (As Tested)
Buffer Tube: Pistol with Stabilizing Wrist Brace
Magazine: In-House Modified Surefeed Five Round, Blue Follower
Capacity: 5+1 Rounds
Overall Length: Length: 26.25"
Weight: 6 lbs. 0.5 oz., Unloaded with Empty Magazine 
Windham Weaponry .450 Thumper Five Round Magazines: $32.95
Chamber Tactical Magazine Components:
AR-15 Big Bore Follower: $8.50
.223 Adapter: $1.50
AR-15 Magazine Capacity Limiter (Three Pack): $8.50
AR-15 Big Bore Speed Loader: $9.50