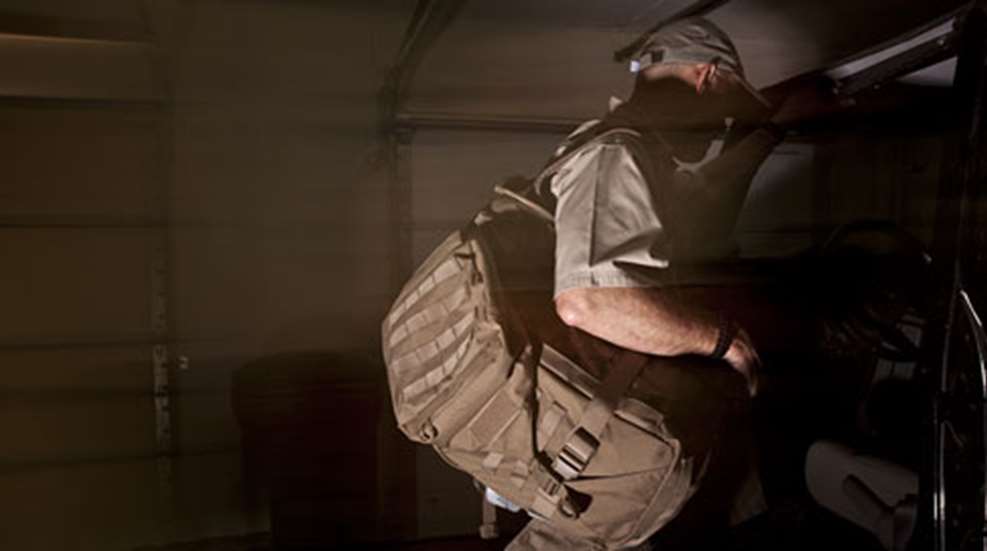 I was comfortably nestled in the pillows with my dog, Peabody, watching TV when the phone rang.
After answering a voice exclaimed, "Il Ling!"
"Yes," I replied, wondering why the voice sounded so urgent.
"Are you home?"
"Yes."
"There's a fire on the road (there's one main road into my neighborhood) and it's moving fast….get out now!"
Quickly I understood the urgency, and recognized the voice of our volunteer fire chief.
And with that, I was challenged with a self-defense problem-one that could not be resolved with even the most skilled use of any firearm.
I live in the rural hills of the drylands of California in earthquake country. Like everyone else around here, I've learned about preparing for disasters, practicing emergency procedures and putting together earthquake bug-out kits.
Though I also work at preparing myself and others to protect ourselves with firearms, it had not occurred to me how fundamentally similar preparing for a personal-defense situation involving a two- or four-legged adversary is to one involving a non-living threat-until that night.
Within 10 minutes, Peabody and I were in the car ready to leave.
I headed out my driveway and turned to go down the road I would normally take to leave my home. I saw the flames, and they were indeed coming fast. I did not have any extra minutes to spare.
I turned the other direction, and took the only alternate route available, a dirt track that curves and swerves down through other properties. I saw people loading possessions into cars, shouting into cell phones, crying and arguing, in all stages of tumult. I considered my situation. Only 15 minutes since the call, I was on my way out and, all things considered, I was calm-at least as calm as I could be given the circumstances. I sighed with relief.
Don't get me wrong, I was worried, alert and in full-on escape mode, but for all that, I was comparatively calm. It was not just that I had my bug-out gear (and my dog's) all ready to go, nor that I was able to get all of that packed into the car within minutes. Rather, it was that I had thought this through, devised a plan (however simple) and acted upon that plan. That resulted in a bit of calming confidence, which in turn gave me more good ju-ju to continue on and last through what could have been an excruciating night.
Though the bug-out kit itself provides relief and defense, the more important and useful element is the mind's journey that started with it-not ended with it. When disaster hits, the bug-out kit should be the least thought-burdening item here-considered and created in advance, checked and updated regularly, and accessible. Then think beyond the point where you need it. The entire thought process that goes into preparing for a disaster is what can really help us survive, because properly done, it's a problem-solving simulation.
Devising your plan is entirely your business-dictated by your life, surroundings and accessible tools. As you think about and experience more, your plan will likely evolve, but you'll also identify its strongest elements. The following is my list of lessons learned and confirmed from this particular experience.
1. Have a Plan: I know, we say this so often it has become a cliché, but there's a reason it's oft repeated. Everything you do well will start with having a plan-or at the very least, the beginning of a plan. The mere process of working through the problem of, say, sheltering in place for a hurricane, fleeing a fire or defending a home invasion, helps to lay a flow chart-let's call it a "Path of Action." It's the same as the "What If" scenarios trainers are always asking about. At worst, you won't be caught flat-footed, completely without brain power. At best, you'll execute your plan and problem-solve your way to safety.
To paraphrase Jeff Cooper, a pioneer in training the mind to prepare for disasters, we don't want our first thought to be, "Omg! Omg! Omg!" Rather, we'd like to respond with, "I knew this would happen, and if it did, I had planned to…" and carry on.
Critically important in my case, was that in planning for what I would do in the event of a big fire, I'd already made up my mind to just leave. I don't know what I don't know, but I do know that I don't know fire. So my plan has always been to escape, stay out of the way of emergency responders and not panic. Having made up my mind to just leave helped with the not-panic part.
2. Prepare Bug-out Kits: Yes, I have more than one bug-out bag, and I made sure they were accessible. That's something people often forget-they create the world's best survival kit, but then bury it in the trunk, the garage or the pantry and can't get to it.
As for the kits, the best advice is be serious and have at least one (don't just talk about it). Check it, update it and be able to get to it. And have one for the important beings in your life. My dog Peabody has her own, though she's a little small to carry it by herself. I was able to get Pea, our kits and myself in the car in about eight minutes.
3. Grab and Run: Have at least one other (besides your phone) 3G or 4G capable device with you. These items are vital for getting local LE and fire agency info, news updates, and making and taking calls and texts. Even after getting home, when power and phone lines weren't working, I had a link to others. And keep them charged. You don't know when you'll have a chance to charge them again. I keep a solar charger in my bug-out kit and a back-up power pack near my phone.
If you possibly can, don't run out in your flip flops. Get out with as much hard-core gear on your person, as you can: boots, clothing with pockets, gloves, hats, eye protection.
Also, have extra lights (not just your personal one), including one you can wear. Even in non-rural areas, you might not have power. You might need to guide emergency personnel and a steady-signal clip-on light will keep you visible while moving about. The key is extra (in multiples), and in different configurations, in addition to your daily carry light.
Be sure to keep a firearm handy-I always have one on an overbelt, which I use when dog-walking. It has a spare light, ammo, loaders, etc. Though I had packed others as well, I grabbed the overbelt-quick and easy to strap on-on the way out, and had that much more all ready to go.
If you do have enough time to grab other items, make your exit as streamlined as possible by deciding which items to take before escape is necessary-make a prioritized list of items and note their locations. In a panic, the brain doesn't work as well as we'd like, and we don't have time to wait for it.
4. Mindset: Always consider worst-case scenarios. Make as much peace as you can, ahead of time, with potential losses. Having thought about the possibility of fire before and having executed my plan-I found that I was calm because I had the most important things out with me. I had faced the fact that I wouldn't be able to take everything with me. The prospect of losing the house and its contents was very real (I truly believed they were goners), and not pleasant. But I had already decided, long before this ever happened, that I wouldn't worry about "just stuff." My dog was safe. I was safe. My neighbors were safe. We were good.
This made the watching and waiting so much more bearable.
5.  Be thankful: There is always something for which to be thankful. Find it.