They have firearms and ammunition for sale in a Dallas, Texas, Walmart's sporting goods department, but you'd better check your pro-Second Amendment attitude at the photo counter. Mitch Strobl learned that the hard way when he tried to have the store print engagement photos that included an image of him, his fiancé and beloved shotgun. USA Today covered the story in this video, and across the pond, it even wound up in the pages of the Daily Mail. Obviously, that Ruger Red Label in the image has been made safe, it's unloaded, fingers are nowhere near the trigger and it's not pointing at anyone. I expect nothing less from the groom-to-be, who produces hunter-education materials. It's hardly gang-banger promotional material, as was alleged by the clerk.
A spokesman from Walmart told WFAA, "We had a new associate who was misinformed." With the retail goliath employing more than 1.4 million Americans—1 percent of all United States employees back in 2010—it's hard to argue the contention that some have never read the employee manual.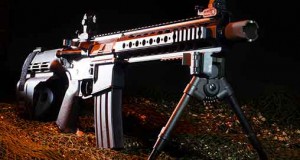 I decided to test the "policy," with an order of prints on Walmart.com. I deliberately selected a "glamor" shot of Black Forge Weaponry Tier 1 Pistol, which I surmised would look intimidating, despite the clunky bipod used to elevate the AR-15 handgun for the image. In the other, I had a DPMS in my hands near some dark woods—"Armed Sasquatch with Attitude" is what I call the photo, because I'm old, hairy, smelly and when spotted in the trees, walk funny.
One hour and $3.44 less, I had two 5x7s in hand. There was no heated discussion, either. In fact, there was barely any sort of conversation because I paid online.
There's a big difference between submitting photos in my region of rural North Carolina, where the number of fingerprints on the glossy prints indicate employees were interested in the guns, and urban Texas, though. Therefore, the experiment is far from an apples-to-apples comparison.
However, my order also included an 8x10 I took of my wife for her job that endorses Walmart's defense. It needed to be slick looking, with a painted backdrop like those used in a studio. Walmart.com has a strict rule that requires a signed release before it prints anything that looks professionally taken, whether in a studio or elsewhere. I had the form completed, but was never asked to present it.
The mandatory-release policy insulates Walmart from lawsuits should theft (printing) of intellectual property occur.  From a corporate perspective, it should probably be the most-enforced, least-negotiable rule. It was never mentioned in my case and probably not in Texas (those were professional images), all of which leads me to believe the company needs to train photo-department staff a little better—and remind them they're not being paid to force their opinions on customers.