by
posted on July 28, 2014
Support NRA American Rifleman
DONATE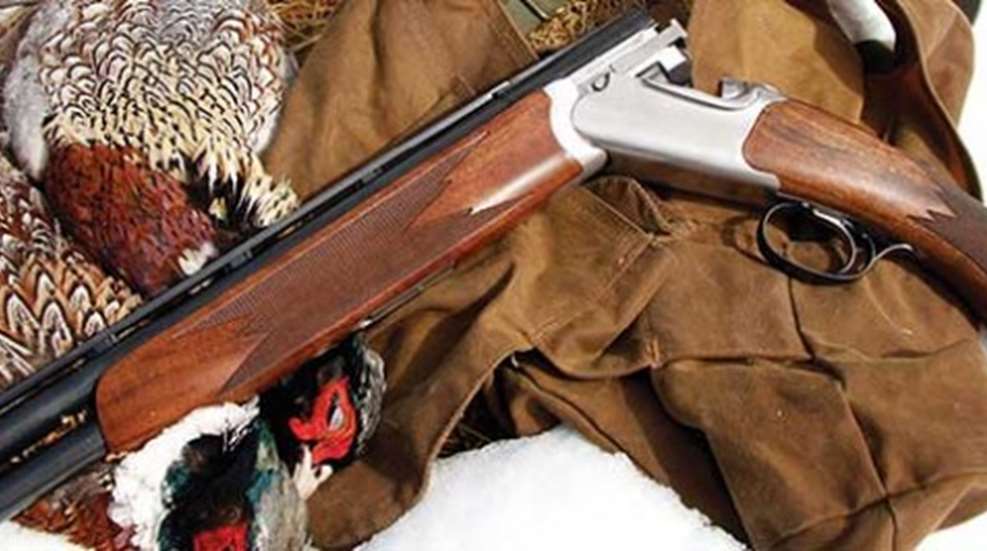 In 1977, a BMW 320i cost $7,990. The average home was $49,000 and a gallon of gas was 65 cents. The Apple IIe personal computer made its debut for $1,398, and Sturm, Ruger & Co. unveiled its Red Label over-under shotgun at the NRA Annual Meetings & Exhibits for $480.
Much has changed since then.
From 1977 to 2011, the Red Label was the American-made over-under. Some loved it for its mechanical robustness and stock dimensions—reminiscent of Golden Age American classics—while others bought it to avoid being caught afield shooting a Japanese or Italian gun. There are also those who didn't like the Red Label for the same reasons, citing clunkiness, a stock design more befitting of riflemen and poor wood-to-metal finish. Whatever your opinion, the gun performed the way Bill Ruger designed it; the way all Rugers did. The company's first and by far most popular shotgun was the epitome of Ruger's style, a style that's famous for function over form. That style is finally changing, as evidenced by the company's cutting-edge polymer LC-series pistols, its American rifle and now, the rebirth of the Red Label.
For the majority of its 75 years Ruger engineered robust steel guns designed to last indefinitely. Its manufacturing technique of casting the Red Label's receiver from two pieces and welding them together won awards for innovation at that time. Perhaps its trigger didn't inspire poetry, and maybe its lines more closely favored John Deere than a 1977 Olivia Newton John, but that was fine with Ruger, because he realized that many Americans have little use for a leathery two-seater with no trunk. For more than three decades, the Red Label held steadfastly to its working-man's shotgun niche.
Problem is, customers who prefer pragmatism to aestheticism tend to also be money-conscious. With the early 21st century's rising labor costs, the shotgun's hand-fitted stock and action, two painstakingly regulated barrels and more parts than any piece in its catalog, the Red Label simply became too expensive to produce in its Newport, N.H., facility and remain competitive in the foreign-dominated market. The icon's tomb slid shut as its price rose steadily in the face of a flagging economy. By 2011 a Red Label cost a bird-hunting man more than $2,000. What spare cash folks had for guns went to semi-automatic rifles and handguns—not to yesteryear's bird gun—and so the all-American over-under with the flaming red Ruger logo was relegated to the large heap of guns that history forgot. More on the logo later.

Ironically, the same tactical sales boom that buried the Red Label has resurrected it, because 2011, '12 and '13 brought windfall years to Ruger after it reinvented itself. "Our earnings nearly doubled from the first quarter of 2011, driven by the 49 percent growth in sales and our ongoing focus on continuous improvement in our operations," wrote Ruger CEO Mike Fifer in a 2012 first quarter report. In fact, 2011-12 was so prosperous that Ruger became the first commercial gun company to build and ship more than 1 million guns in one year during its "Million Gun Challenge" that resulted in $1,253,700 donated to NRA. Surplus funds enabled Fifer to hire new engineers and marketers—and buy machinery—so the company could refocus on deficient areas in its product line. He hired Dwight Potter (of Browning's edgy Cynergy project) whose mission was to not redesign the Red Label but to re-engineer it.
"Engineers looked at every single part of the gun, and if there was a better way to make its manufacture more efficient they redesigned that part or came up with another way to do it," said Ruger Hunting Product Manager Craig Cushman. (Cushman was recently hired away from Smith & Wesson.)
So in 2013, Ruger officially re-launched the Red Label 12 gauge, with some manufacturing changes that allowed it to be made, once again, affordably and in Newport. It's also gained subtle changes that Ruger says lend it more liveliness, all while still offering features that American hunters tend to like. Unlike the original release of the Red Label that broke tradition by introducing the 20 gauge first, the new model made its debut in 12 gauge,

likely due to that platform's broader appeal. Cushman says that while there is no definite date, the 20 gauge will happen—a claim I know to be true since I've shot it. But before we talk about the future, let's review what's currently available. After all, theory is great, but in reality how many parts can an engineer redesign to make the gun less expensive to produce without cheapening it?
What follows is a rundown of what Ruger did differently with the new Red Label, how it did it, and whether it accomplished its design goals.
In essence, the 12-ga. Red Label is a 7-lb., 8-oz., boxlock over-under with a steel receiver,3" chambers, single-selective trigger, automatic safety, screw-in choke tubes and a semi-pistol grip stock of American walnut. The fore-end is attached via a Deeley & Edge-style latch and is very trim, which I believe wingshooters benefit from because it allows the face, hands and eye the closest possible contact with the bore line.
The brushed-finish receiver is cast from stainless steel then machined in a CNC center. What results is a monolithic gun part that is not only produced much faster than with more traditional methods, but is so accurate from receiver to receiver that no handfitting is required to ensure precise lockup to the monobloc. This is the key to cost savings.
The CNC process shaves the comma-shaped trunnions and cut-outs in the breechface, through which a bifurcated, wedge-shaped locking bolt protrudes to bite bolting lugs that extend rearward from both sides of the monobloc when the action is closed. A top lever trip plunger in the breechface is depressed by the monobloc as it closes, allowing the stainless steel top lever and the locking bolt to enter their locked positions. A maximum receiver height of 2.41" is 0.19" taller than the old model. (The 20 gauge, while made exactly the same way, is built on a scaled-down frame measuring 2.24" high.) That measurement includes the beginning of the barrel rib that is machined directly into the receiver for maximum sight plane radius and an aesthetically pleasing appearance when it mates to the barrel rib upon closing the action.
The receiver's side walls flare to 0.27" thick at the top for strength and decoration while tapering to 0.15" for their remainder. Like the old receiver, it owns a surgical-clean look with no exposed pins, screws or clutter. One of the best ways to tell the old model from the new at a profile glance is at the rear edge of the receiver, where metal meets wood. With the barrels pointing to the right, the new model's sidewall metal is angled slightly like a backslash on your keyboard (\), giving it a racier appearance than the squared receiver of old. The receiver's belly features the guns' engraved name, place of origin and the iconic Ruger logo.
The inside belly of the receiver features a machined recess that cradles a recoil lug on the monobloc that reduces stress on the trunnions when closed and grants the action rock-solid lockup. Four parallel holes (two on each side of the recess) provide the pathways through which twin square cocking rods pass. They anchor on the pivoting fore-end sears and use the gun's opening leverage to pass through the bottom of the breechface and cock the hammers.
The receiver's tang measures 33⁄8" and arcs downward 0.7" before terminating at the pistol grip's wrist where it measures 413⁄16" in diameter. The 1.0" rectangle safety latch sports a stepped pyramid shape to facilitate its manipulation even with gloved hands. It consumes the last portion of the tang. Slid forward to fire, it is returned to the safe position either manually or automatically via an internal connector as the release lever is actuated. In my experience, bird hunters prefer automatic safeties while target shooters loathe them. Evidently Ruger thinks similarly. The tail-end of the safety pivots left and right to select either barrel for the first trigger pull. I found the selector slightly too easy to inadvertently switch during normal hunting activities.
The 3.64" monobloc (3.37" in 20 gauge) is cast, finished via CNC machining, then silver-brazed to the barrels. Integral, half-moon sockets provide the bearing surfaces in which the receiver's trunnions rotate. Beefed up, triangular-shaped cams on both sides of the monobloc fit into matching ejector cam slots on the receiver to provide anchor points for the automatic ejectors. The dual ejectors' sears are actuated by fore-end leverage as the gun is opened. If a shell is not fired, ejectors become extractors for easy shell removal. The ejector springs housed in the tunnels between the barrels are quite stout, tossing empties with authority. Timing was excellent, and in several hundred shells of testing, I had no misfires, malfunctions or failures to eject.
The Red Label's stainless steel, mechanical trigger design is noted for safety features, such as the fact that it cannot double due to an inertia block. The pull weight of the 12 gauge's top barrel trigger averaged 6 lbs., 5 ozs., while the bottom barrel pull weight averaged 5 lbs., 4 ozs. It's a great trigger that's shielded by a contrasting blued trigger guard. Hammers are rebounding.
The old Red Label's barrel unit came with optional spacers, or "filler strips," that fit between the barrels to give the gun a traditional appearance. They also served to add weight to the muzzle. The new gun does away with the spacers, and by doing so, creates a "daylight-between-the-tubes" look that is distinctly Ruger. More important to the pragmatist, however, the absence of the metal spacers changes the gun's balance slightly, a fact which I believe is responsible for much of new gun's shift in balance point 1/2" rearward compared to otherwise identical models of old. This half-inch may sound insignificant, but many upland hunters believe that a weight-between-the-hands, rather than weight-forward, balance point is conducive to a livelier feeling gun. While feel is always tough to quantify, to my pheasant-hunting hands the new guns rose to cheek and pointed more naturally than before. I especially liked the 20 gauge's qualities in this regard.
Its ventilated rib is attached via a dovetail that rides atop eight posts (on the 28" barrel model) that are silver-brazed to the monobloc. It joins the monobloc's integral rib as it ramps forward, but does not meet seamlessly with it as I'd prefer; it rises 1/16" above it, a seemingly minute transition until the eye is aligned along the rib, at which time it becomes glaring. The rib is 0.335" thick throughout the barrel length. It's 0.282" high—which for a field gun is quite high. Nonetheless, its pattern printed to my point of aim, so mere familiarization of the sight picture is in order. A single, 0.123" brass bead adorns the rib 0.329" from the muzzle; 30"-barreled guns also feature a mid-bead.
The 26", 28" or 30" barrels are cold-hammer-forged from blued, chrome-molybdenum steel and threaded for choke tubes. Each features 2" forcing cones and is back-bored, which is said to reduce recoil. They roughly centered below the point of aim, just under the bead. Five steel-shot-approved, flush-fitting Briley choke tubes are standard. If bought directly from Briley, these high-quality chokes cost more than $20 apiece.
The straight fore-end is gloriously trim, with 20-line-per-inch checkering that allows the fingers proper purchase, unlike the worthless Schnabel style so prevalent today. The buttstock features a semi-pistol grip that terminates in a classy metal grip cap within which a golden Ruger logo is inletted, matching that on the fore-end. And the old red recoil pad is replaced by a superb Pachmayr pad that's 0.8" thick and features a slick coating that prevents snagging on a coat. Ruger decided to keep its traditional stock fit—14" length of pull (Ruger lists it at 14½"), 1½" drop at comb and 2½" drop at heel—so it would fit the broadest number of shooters.
After hunting with the new Red Label, I believe Ruger accomplished its goal. The company reduced the gun's price by nearly $1,000 yet didn't change its quality. Certainly, it saved manufacturing costs by optimizing its manufacturing process, and in other ways, such as not engraving the receiver. (I like the clean look over cheesy laser engraving, anyway.) But it also spent some extra money in packaging. It comes with a classy, semi-rigid nylon case that cradles the gun and accoutrements. Frankly, I'm amazed at what Ruger has done considering the asking price.
I have mentioned a few of the gun's negatives. In sum, however, I challenge you to find a better over-under for the money or even double the amount—if you are talking American-made—it simply doesn't exist. Before buying any shotgun for wingshooting, I suggest handling it first. I think that if you do so with the Ruger you'll be impressed, even before you spy its throwback price tag. For me, the Red Label handled surprisingly well. I simply saw a flushing bird, pointed, and more times than not, folded it like old news. Speaking of which … .
Remember that new BMW from 1977 that cost $7,990? When adjusted for inflation, it should cost $30,239 right now, yet dealers sell them for $40,000. It'll be junk in 15 years, just like that Apple IIe. As for the Red Label? In today's dollars $480 amounts to $1,800. But you can get one for around $1,000. In 15 years it won't even be fully broken in.
As for that blood red, flame-licking rooster on Ruger's logo? Some say it is a hawk or an eagle; but I prefer, at least in this case, to think of it as the Phoenix from ancient Greek mythology that rose from the ashes of its predecessor.
As such, the Red Label's logo has never been more fitting.
Manufacturer: Sturm, Ruger & Co., Inc.; 411 Sunapee St., Newport, NH 03773; (603) 865-2442; Ruger.com
Action type: boxlock, over-under shotgun
Gauge: 12, 3"
Trigger: single-selective, mechanical: 6-lb., 5-oz. pull, top barrel; 5-lb., 4-oz. pull, bottom barrel
Barrel: 26" (tested), 28", 30"; screw-in chokes
Sights: 0.335" ventilated rib, brass bead
Stock: American walnut: length of pull, 14"; drop at comb, 11⁄2"; drop at heel, 21⁄2"
Overall Length: 43"
Weight: 7 lbs., 5 ozs.
Metal Finish: brushed steel receiver, trigger, locking lever; blued barrel, trigger guard, safety
Accessories: five Briley choke tubes (SK, SK, IC, M, F); wrench, owner's manual, lock, fitted nylon case
MSRP: $1,300