The legendary firearms firm has entered into a partnership with Folds of Honor, and its labor union is asking the state to help the company address those nagging financial challenges. It's not all good news, though—Walmart has stopped selling ARs, including Colts.
If Colt's Aug. 13
announcement
that is has entered into a partnership with one of the industry's foremost when it comes to serving military families—the
Folds of Honor Foundation
—is any indication, the company's leaders are optimistic about the future. A portion of the proceeds from each sale of its commercial pistols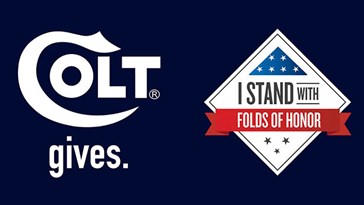 and rifles will now go to the charitable organization. In addition, Colt will soon be offering exclusive
Folds & Colt wearables
to help raise awareness for Folds of Honor's shooting event series, Patriot Range Days.
United Auto Workers tried to come to the aid of the company a few weeks before, when it
inquired
if the state could help Colt address a tough
fiscal situation
for a fourth time in 25 years. Five hundred of the 610 workers at the company's Hartford, Conn., plant are members of the labor union.
And finally, Walmart's decision to
end sales of AR-15s
—allegedly due to slow sales—could be yet another setback. A search of the retail giant's website turned up at least one Colt model that was available to the
260 million customers
that come through its doors each week. Overall impact depends on volume of sales at the outlet, figures I don't expect Walmart and Colt to share anytime soon.