by
posted on September 25, 2012
Support NRA American Rifleman
DONATE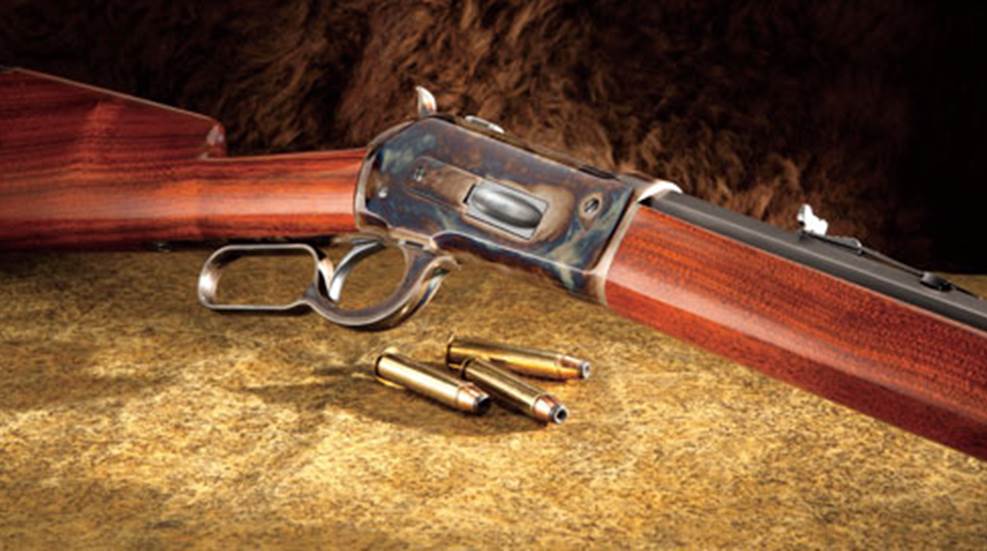 9/25/2012
The adage that everything old is new again finds welcome reception among those of us who long for some of the classic firearm designs of yesteryear and yearn to shoot them without fear of ruining or damaging an expensive original. Since Val Forgett and Turner Kirkland began to design, manufacture and import replica firearms in the late 1950s, contemporary shooters have had affordable 19th century reproduction arms with which to shoot, hunt and re-enact.
With the advent of the wildly popular Cowboy Action Shooting sport, Italian-made reproductions have found a new market in cartridge lever-actions and revolving six guns. For those who love the old designs and itch to get their hands on an iconic long gun, Doug Turnbull of Turnbull Mfg. Co. has the perfect gun, John Browning's first lever-action, magazine-fed rifle design made for Winchester, the venerable Model 1886.
The Winchester Model 1886 became one of the first American lever-action express rifles capable of killing any North American big-game animal, and most African game, with its .45-70 Gov't, .45-90 and .50-110 blackpowder cartridges. The Browning design, with improvements by William Mason, featured two vertical locking bolts that greatly enhanced the strength of the lockup between the breechbolt and the frame.
The rifle soon found devoted followers among the shooting community that included rancher Theodore Roosevelt and a host of others. (T.R. would return one of his 1886s to Winchester no less than five times for refinishing and restocking). Manufactured between 1886 and 1935, nearly 160,000 were produced; they still command premium prices in the collectors market.
Turnbull Mfg. Co.'s Model 1886 started life out as an Italian-made 1886 designed and imported by Chiappa Firearms of Dayton, Ohio, and faithfully enhanced by Doug Turnbull's cadre of talented gunsmiths. The finished product from his Bloomfield, N.Y. manufacturing facility excels in craftsmanship and pure beauty.
A Turnbull 1886 is a rifle of distinction. It is not just another reproduction. Each rifle is painstakingly worked over by hours of metal polishing before it undergoes Turnbull's exclusive casehardening process and high-polish barrel bluing. The wood is given special attention with more hand finishing and application of the Winchester classic "red" stain that was a standout finish available only on Winchesters of the time.
The standard rifle is available in .45-70 Gov't and .45-90 chamberings with a 26-inch full-octagon barrel and walnut stocks. It has a color-casehardened crescent buttplate and receiver. It is complete with period-correct Winchester-style flat sights and a brass bead front sight.
For those who wish to place a special order for a deluxe model, as TR so often did, Turnbull offers factory enhancements much like Winchester did more than 125 years ago. One can order the rifle in a deluxe model with 22- or 24-l.p.i. "H"-pattern checkering, extra fancy wood, shotgun butt, custom barrel lengths and even half-round/half-octagon barrels. Special orders can also include chambering for the .475 Turnbull—a 400-grain bullet that reaches 2,100 fps.
All of the parts are completely interchangeable with original Winchester 1886 parts thus making the Turnbull gun the closest one can get to an original 1886, for approximately one-tenth of the price.
Our test gun was the standard model with the 26" barrel, crescent buttplate and chambered in .45-70 Gov't. The craftsmanship and finish far exceeded any out-of-the-box reproduction we have recently examined. Turnbull, who started out restoring fine firearms in 1983, has perfected the hidden mysteries of period-correct color-casehardening, wood finishes, and bluing.
Loading the gun from the sideplate differs from most other lever-actions, as the enormous .45-70 Gov't cartridge takes a bit of getting used to as it slides into the tubular magazine. The 26-inch-barreled rifle can hold eight rounds in the magazine tube. The lever-action is sharp and crisp and every round is ejected clear and free of the receiver. If the rifle is to be shot frequently, the shotgun-style buttplate, available by special order, is preferable to the crescent buttplate.
We tested the rifle with three types of ammunition: Winchester Super-X 300-grain jacketed hollow point, Winchester Supreme 300-grain Ballistic Silvertip, and DoubleTap 405-grain jacketed soft point. All three loads performed exceedingly well; however, the Winchester Ballistic Silvertips produced the tightest single group, and the Super-X load had the smallest overall average.
Whether you are on the range, or posing over a freshly harvested trophy elk, this Turnbull 1886 will stand out next to all others, not only as a high-quality, flawlessly functioning and accurate firearm, but one of rare beauty destined to hold its value.
Manufacturer: Turnbull Mfg. Co.; (585) 657-6338; www.turnbullmfg.com
Mechanism Type: lever-action center-fire rifle
Caliber: .45-70 Gov't (tested), .475 Turnbull, .45-90, .50-110
Receiver: color-casehardened steel
Barrel: 26" blued octagon
Rifling: six-groove, 1:18" twist
Magazine: eight-round-capacity tubular
Sights: period flat sights with brass bead front
Trigger: 4-lb., 12-oz. pull
Stock: walnut; length of pull, 12¾"; drop at heel, 23⁄8"; drop at comb, 111⁄16"
Overall Length: 45"
Weight: 9 lbs., 7.2 ozs.
Accessories: none
Suggested Retail Price: $2,650 (as tested)