by
posted on October 4, 2012
Support NRA American Rifleman
DONATE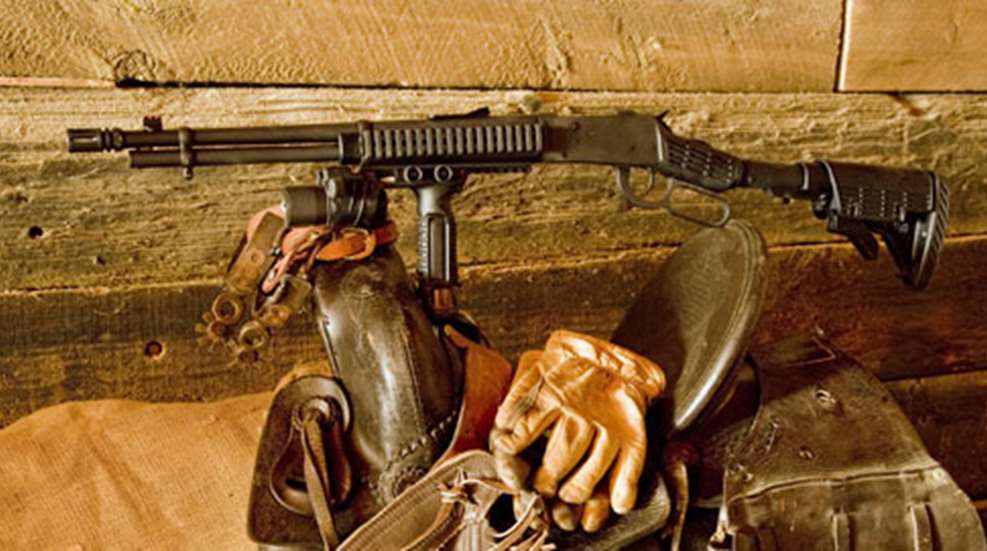 10/4/2012
The lever-action rifle has been with us for 146 years. As the first successful repeating rifle, it was the "battle rifle" of its day. Lever-action rifles have been chambered in everything from low-powered rimfire cartridges to huge express cartridges capable of handling the world's largest game. And while lever-guns continue a rich hunting heritage, their primary purpose for more than a century has been to serve as a marshal rifle.
When Winchester closed its New Haven, Conn., facility in 2006, lever-action aficionados began to rent their clothing. But a couple of years later Mossberg manned up and began producing the Model 464 lever-action. Though its appearance is clearly Model 94 inspired, Mossberg offered a number of improvements on John Browning's lever-action, while keeping the price point available to most budget-minded shooters. I had the opportunity to review the Model 464 in 2008 for American Rifleman and found it to be a well-designed and well-executed replacement for the iconic rifle.
Today, everything in the shooting industry has to be tactical. From guns to optics, accessories, ammo and even clothing—if it is to sell, it has to be tactical. So Mossberg has given its traditional lever-action rifle a tactical makeover. It has been fitted with a six-position adjustable stock, a Tri-Rail fore-end and an optional flash suppressor to cap off its 16 1/4-inch barrel. Traditionalists might be taken aback by the new-fangled lever-gun. But if you put in some trigger time with this unconventional piece, it'll start bringing you around. Younger shooters—many who know little of walnut and blued steel, and couldn't care less, seem to be more open minded. A few of them have dropped by recently as I was looking it over, and their response was a virtually universal, "Wow, way cool!"
The Model 464 is a melding of old-school design and modern manufacturing, along with a few design improvements for today's market. Primary in design improvement is the adaptations made to allow the top-ejecting rifle to kick spent cases out of the receiver at an angle, thus allowing it to accept a top-mounted riflescope. This really isn't new; Winchester developed the Angle Eject version of the '94 in 1982. Mossberg simplified the design by incorporating a plunger-style ejector instead of the more-expensive-to-manufacture blade used in the Winchester. Both extractor and ejector have been rotated about 30 degrees from the traditional 12 and 6 o'clock position to accomplish this.
In further deference to scope mounting, Mossberg put a 3/4-inch-long rear bridge across the receiver. Not only does this provide a conventional rear support for the riflescope, it strengthens the receiver and allows the use of a round bolt that is less expensive to manufacture. Mossberg did not, however, over-emphasize cost cutting to produce the 464. Instead of modern investment castings, the receiver is machined from a forging. Modern CNC machining centers are more capable of producing exacting parts that require less hand fitting, yet the fit is on par with hand-assembled guns.
But the big changes to the 464 SPX are the barrel, stock and fore-end. The barrel has been trimmed from 20 inches to 16 1/4 inches, and an optional flash suppressor is available. I did not shoot my sample at night, so I cannot say whether it is effective or not, but a threaded barrel at the muzzle is capable of wearing a sound suppressor—a handy, hearing-saving accessory for abbreviated barrels. Dovetailed into the barrel is a set of adjustable, fiber-optic sights. A shorter barrel means that the tubular magazine is abbreviated as well and holds only five rounds, instead of the normal seven. The fore-end has three Picatinny rails molded into an otherwise standard lever-action fore-end, and ladder-style covers are included. Just for grins I attached my SureFire vertical fore-end light base to the 464. The strange-looking lever action looked even more bizarre with it, but if you had night work to do with this rifle it would be worth it.
In back of the receiver Mossberg attached a six-position stock with a comfy recoil pad. The height-adjustable comb is sans any joints or fissures that have a notorious tendency to pluck facial hairs from such endowed shooters like me. Right where the rear grip transcends in to the adjustable stock there is a slight bend upward to allow the comb to be closer to parallel with the bore. It's not truly parallel, as I found out at the range. Different stock lengths affected bullet impact significantly, and even the minimal amount of lost motion of the stock in position needed to be addressed. Translated into real-world terms: I found that I needed to pull the buttstock firmly and consistently to my shoulder, lest my groups suffered. It's probably not a big thing when shot from field positions since seating the buttstock firmly into the shoulder is SOP, but on the bench it was noticeable.
On the range I was able to look beyond my classic-style prejudices and recognize the possibilities of this little carbine. With the stubby barrel, there's no doubt that this carbine is handy, either for clearing a building or busting through brush. After I did my accuracy tests I did a little walk-and-shoot with it and found it quick handling and utterly reliable. Accuracy was on par for an open-sighted rifle with a short barrel. My best results were with Hornady LEVERevolution 160-grainers, which turned in an average 1 3/4 inches at 100 yards. Surprisingly, the short barrel did not give up any velocity over its longer brethren. In fact, it bested it! Going over my notes from when I reviewed the first 464 this ammo exited the muzzle at an average of 2,128 fps. The SPX with ammo from the same lot yielded an average of 2,250 fps with a standard deviation of 80.
I found two things that could be improved. First, of course, is the trigger. At 7 pounds, 2 ounces, it is quite simply a pain in the finger. The other thing that struck me as substandard were the fiber-optic sights. They seem awfully fragile and adjusting them is by the cut-and-try method. XS Sights is now making a ghost-ring aperture sight for the 464, and if I were to keep this carbine, that would be my first call to make. You won't find it on the website; it's that new. You'll have to call them.
The question begs; where will this carbine eventually fit into the grand scheme of shooting? As a dyed-in-the-wool traditionalist I can assure you that I will not be giving up my wood-stocked lever-guns. But there are some niches this gun can fill nicely. As a first deer rifle for a youngster, the adjustable stock allows the carbine to grow with the shooter—a big plus for families on a budget. Its handiness, ruggedness and .30-30 power make it an ideal truck gun. And for those poor souls forced to live in the states terrified by semi-autos, the 464 SPX provides decent firepower for home and camp self-defense. With its $535 MSRP and a street price likely in the low to mid-400s, it does fill a niche once owned by the '94—an everyman's rifle.
Manufacturer: Mossberg; (203) 230-5300; www.mossberg.com
Model: 464 SPX
Type: Lever-action repeating rifle
Caliber: .30-30 Winchester
Barrel: 16 1/4 inches; 1:10" RH; optional flash suppressor
Trigger: 7 lbs., 2 oz.
Magazine: Tubular; 5-round capacity
Sights: Adjustable fiber optic
Safety: Tang
Stock: Six-position adjustable synthetic stock
Overall Length: 33 ½" with stock collapsed; 37 1/2" extended
Weight: 7.0 lbs.
Metal Finish: Matte blue
Accessories: Tri-rail fore-end with rail covers gun lock
Suggested Retail Price: $535