by
posted on June 29, 2017
Support NRA American Rifleman
DONATE
To mark the iconic Commercial 1911 Government Pistol's significance in the history of American firearms, Turnbull Restoration has announced a limited edition number of pistols that will feature the early style commercial finish that was applied to them in their original manufacture in 1912. These .45 ACP pistols are set to be released on July 4, 2017.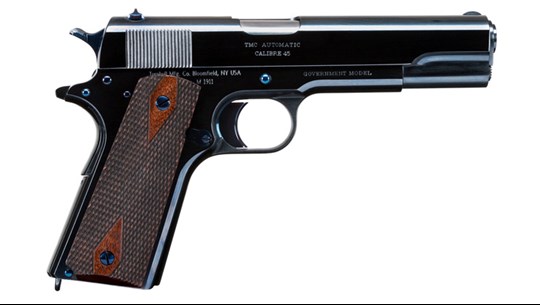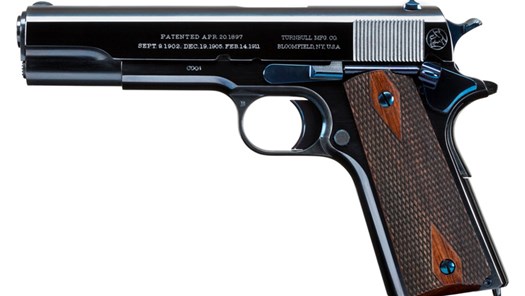 "The 1911 is simply the best known and still most beloved pistol design in firearm history and the Commercial is the design that people most identify with it," said CEO and Founder Doug Turnbull. "It just made sense to honor this purely American firearm design by releasing it on Independence Day."
The Turnbull Commercial 1911 Government will be finished in the circa 1912 early style, including a high-polish-charcoal blued slide and frame. The one-piece solid steel trigger, as well as the slide stop hammer and grip screws, are nitre blued for strength. Two two-tone magazines with the then standard lanyard loop are included.
Serial numbers and other stampings will be consistent with the style used on the originals on the left front of the frame. Every pistol will have Turnbull's "Turning Bull" mark on the left rear of the slide. Each Turnbull Commercial 1911 includes a Turnbull branded leather case.
The pistols have a 5" barrel and a World War I-style ejection port. The sight is also in the World War I-style with a semi-circle notch. The grips are hand checkered double diamond pattern in American Black Walnut. The safety lock is in the early style with a knurled undercut thumbpiece.
"The history of the 1911 is a fascinating voyage through the growth and development of the American firearms industry," said Turnbull of the Commercial 1911. "The Commercial 1911 is the gun most enthusiasts picture when you talk about the original 1911."
The Commercial 1911 will be available for order from Turnbull starting on Independence Day. Production is limited to serial numbers C001-C020. Customers can select any of the remaining numbers when they order. The Commercial 1911 will retail at $4,995. To order or learn more, visit turnbullrestoration.com/c1911.
"All of us here are serious firearms enthusiasts and collectors," added Turnbull. "It is that love and admiration for early American firearm design that drives us every day."