by
posted on April 10, 2017
Support NRA American Rifleman
DONATE
Following the successful release of new Winchester 1892 rifles, Turnbull Restoration Co. is continuing the lever-action series with a Winchester Model 1873. These are new rifles that will feature the unique Turnbull Color Case Finish, charcoal bluing and rust bluing.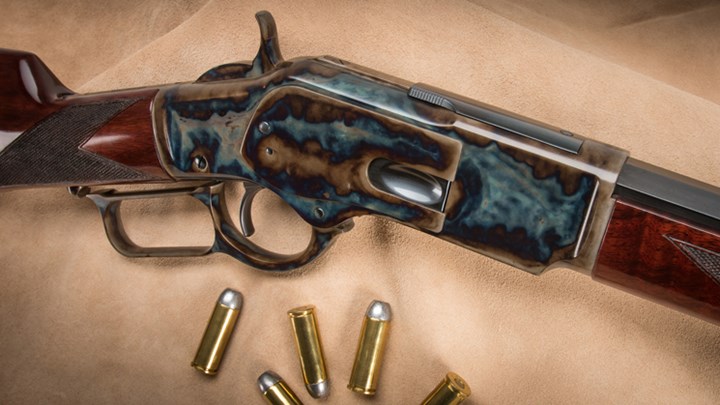 "When it comes to lever actions, the Winchester 1873 is an American icon," said CEO and Founder Doug Turnbull. "The 1873 was built to be the sturdy, reliable rifle that ranchers, farmers and law enforcement relied on daily. We are proud to take this workhorse gun and make it into an instant collectible."
The 1873 rifles will be available in .357-38, .44-40 Winchester or .45 Colt, all with straight grips. Every rifle has a 24" octagonal barrel and factory checkered stocks. The wood has been Turnbull refinished in a hand rubbed oil that gives it Winchester's signature red shade. The .357-38 and .45 Colt models are short stroked, which has been the preference of many shooters since 1883 when the first mass produced 1873's shipped.
The receiver, lever, hammer, buttplate and fore-end cap are finished in Turnbull's unique color case hardening using traditional bone and ash methods for the best result. The barrel and magazine tube are finished in Turnbull Rust Blue and the small parts are finished in Turnbull Charcoal Blue for both finish and strength. The rifles carry an MSRP of $2,500 and are available at turnbullrestoration.com/winchester1873.
"Our love for historical firearms is really well known among collectors, shooters and the industry," said Turnbull of the 1873. "The 1873 is one of those for us. From the small profile lever to the classic look and feel of the octagonal barrel, and of course, the legendary accuracy."
"Every person that works here—including me—is a fan of classic guns and American firearm history," added Turnbull. "That love for the classics translates into the quality of every gun that ships out of here—new or restored. We care about the details. They matter."
Turnbull is known globally for the ability to take even the most damaged collectible gun and return it to its original look, feel and function. They offer a line of new production firearms that incorporate the same quality look and feel as the collectibles they are famous for restoring. Also available are authentic vintage firearms of many iconic brands from private collections that Turnbull has purchased and inspected, cleaned and restored where needed.
Now in its third decade, Turnbull Restoration Co., Inc. has maintained a strong commitment to building firearms the way they used to be built. Founder and CEO Doug Turnbull is best known for his mottled color case hardening which stands out as the most striking and unique. Turnbull offers other reproductions as well as a full array of the finest and most respected restoration services in the shooting trade. For more information, visit turnbullrestoration.com.