by
posted on January 16, 2018
Support NRA American Rifleman
DONATE
Since the platform's introduction in 2012, TNW Firearms' Aero Survival Rifles (ASR) have been steadily gaining a following among outdoor enthusiasts looking for rugged, reliable pistol-caliber carbines with removable barrels for easy storage and transport. These rifles, along with the more compact pistol version (ASP), also provide the flexibility of drop-in caliber conversion kits. TNW recently expanded the ASR and ASP lines to include .22 rimfire options along with new tactical accessories for the pistols. Here is a closer look at the ASR chambered in .22 Long Rifle (.22 LR) and a Tactical ASP chambered in 10 mm.

The Aero Survival series of blowback-operated semi-automatics is built around a tubular upper receiver milled from 6160 aircraft-grade aluminum and treated with a hard-coat anodized finish in a variety of colors. The receivers are topped with an integral 9.5" M1913 Picatinny optics rail with the ejection ports on both sides and a reciprocating charging handle on the right side.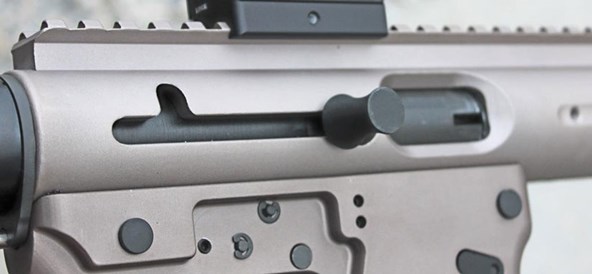 The bolt can be locked open by pulling the charging handle to the rear and pressing it up into a notch in the receiver. The receiver's fore-end is drilled and tapped to accept a 3.5" aluminum M1913 Picatinny accessory rail at the 3, 6 and 9 o'clock positions. One of these rails, with mounting hardware, is provided with each gun.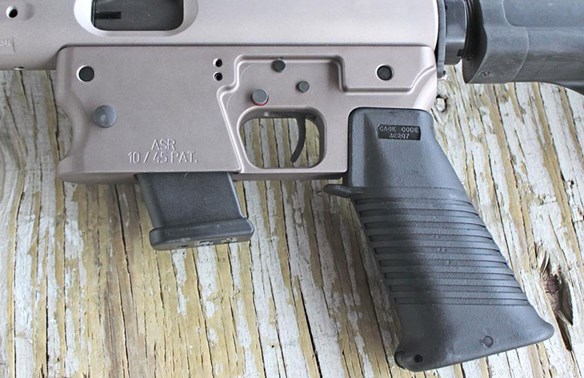 The rest of the components, including the removable barrel, lower receiver assembly, AR-15 pistol grip and AR-type buffer assembly are modular and can be traded out to change a particular gun's caliber and features. However, don't make the mistake of attaching a pistol-length barrel to a rifle or a shoulder stock to a pistol without registering the receiver as a Short-Barrel Rifle (SBR) with the proper NFA paperwork and tax stamps first. Otherwise, make sure that pistol parts stay attached to pistols and rifle parts to rifles in order to avoid any trouble with federal authorities. 
The round profile barrels are made from Parkerized 4140 chrome-moly steel and secured to the upper receiver using a 3.32" ventilated aluminum barrel nut. Loosening the nut allows the barrel to be simply lifted out of the receiver for easy cleaning, to fit the platform in a more compact storage space or to be swapped out as part of a caliber conversion. Customers have a choice of a smooth muzzle (included in the base price) or, for an additional fee, having the muzzle threaded for accessories. A thread protector is provided to keep dirt and grit out of the threads.

The rear of the receiver is threaded to accept AR-15 buffer tubes and buffer assemblies. The heavy-duty bolt assemblies are supported by AR type buffers and buffer springs. The ASRs are fitted with mil-spec M4 carbine buffer tubes that support 6-position shoulder stocks while the ASPs sport smooth profile AR pistol tubes. The same buffer tube assembly is used for all caliber conversions.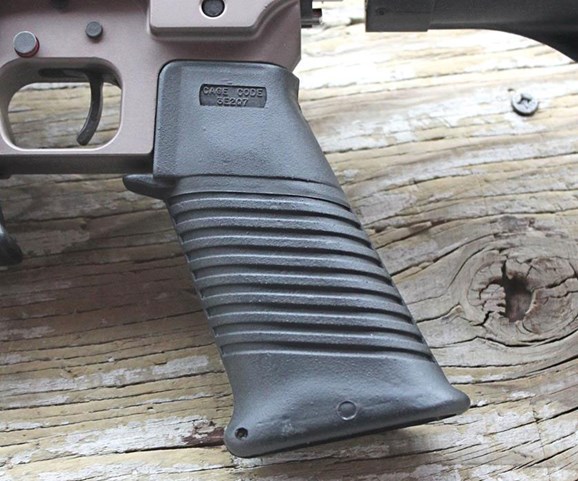 The milled 6160 aluminum interchangeable lower receiver, attached to the upper by two removable retention pins, houses the magazine well, trigger group and AR pistol grip. The company now offers three lower receiver models. The first in the series was designed for use with 9 mm, .40 S&W and.357 SIG Glock magazines of all available factory lengths with the appropriate caliber conversion kits in the same caliber. The second receiver model has a larger magazine well for .45 ACP and 10 mm Glock style magazines.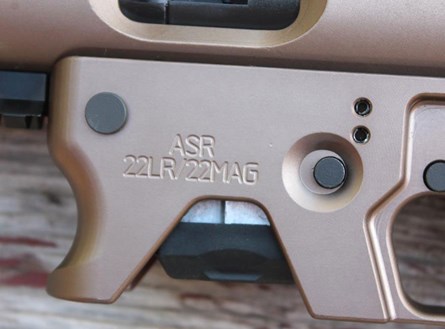 The most recent addition is the .22 rimfire lower receiver. Designed to accept Remington 597 rifle magazines, it has a removable spacer in the magazine well to accommodate either .22 LR or .22 Winchester Magnum (.22 Mag.) 597 magazines. The magazine wells of all three versions are curved along the front edge to provide a finger rest.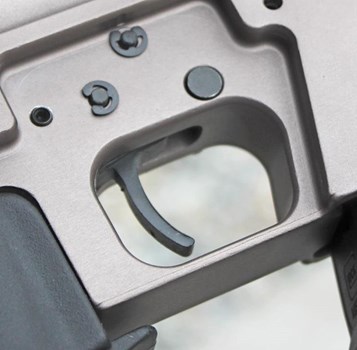 The lower receiver's controls consist of a round-button magazine release (left side only for Glock magazines, ambidextrous for .22 rimfire 597 magazines), a cross-bolt safety and a smooth-faced Parkerized steel trigger housed in an integral trigger housing. I appreciate TNW going with a removable AR pistol grip. This allows customers to choose from dozens of options should they need to tune the grip to fit their hand size or preferences. The grip provided on both guns is ridged for increased purchase with a covered storage compartment. 

The trigger is best described as single-stage with a clean break and a short travel distance of 0.30" before it comes to rest against the interior of the trigger guard. Past models I've worked with had trigger pulls of around 4 lbs. 10 oz. The .22 LR ASR has a heavier, but still clean, trigger pull of 6 lbs. even. I would expect the .22 LR trigger to be heavier to provide reliable ignition of consistently inconsistent rimfire primers. However, the 10 mm pistol's trigger, after being lubricated and broken in, was a relatively heavy 6 lbs. 10-oz. making it two pounds heavier than previous models. It worked just fine but I can't account for the change in trigger pull weight.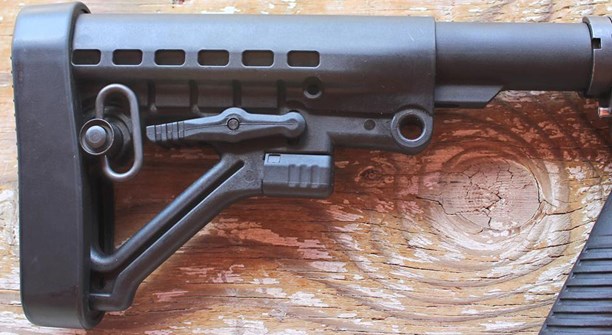 The rimfire .22 LR ASR sports a 16.5" barrel and an AR stock featuring a removable rubber recoil pad, four QD sling swivel ports, one QD sling swivel and an adjustable length of pull (LOP) ranging from 9.50" to 13.50". The bolt assembly has been redesigned with a built-in lightweight recoil assembly for the soft shooting .22 LR. Although the rimfire bolt assembly is fully self-contained, TNW still installs an AR buffer and spring in the buffer tube so that all the hardware needed for a center-fire pistol-caliber conversion is already in place.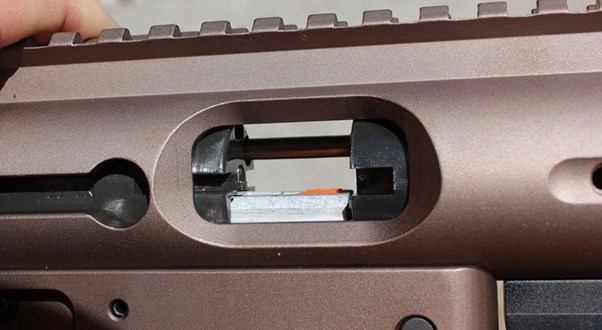 Remington's 10-round 597 magazines are not my first choice to work with. They sometimes arrive from the factory with problems such as not allowing the follower to move down far enough to allow all 10 rounds to be loaded. However, they have the advantages of being inexpensive, easy to find and they fit the ASR receiver profile. The three 597 magazines tested with this rifle functioned properly throughout the testing process.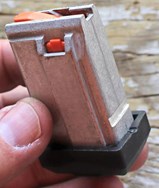 As one might expect of a 5 lbs. 15 oz. rimfire, the recoil was about as tame as it gets. I was expecting at least a couple of ammunition hang-ups along the way, especially when firing bulk-box loads. But this .22 hummed right along without any ammunition induced malfunctions throughout the testing process. For formal bench rested accuracy testing at 50 yards, the rifle was fitted with a Bushnell AR Optics 2-7x32 mm scope and loaded with a mix of practice and hunting-grade ammunition.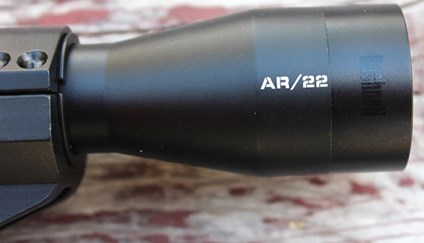 Federal Premium Hunter Match 40-gr. lead hollow points printed a best single 5-shot group of 1.47" with a five group average of 1.55". Aguila Ammunition's Interceptor 40-gr. copper-plated flat points produced a best group of 1.38" with an average of 1.45". Browning Ammunition's BPR 37-gr. fragmenting hollow points yielded a best group of 1.29" with an average of 1.37".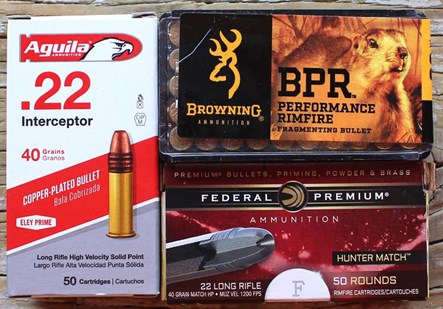 I've been itching to get my hands on the 10.5" barrel ASP ever since I had the opportunity to spend some quality time at the range with TNW's 10 mm ASR two years ago.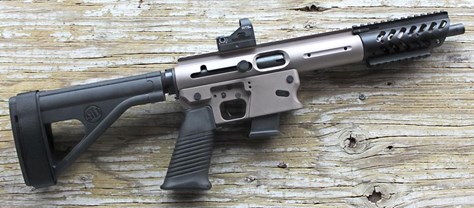 The new milled aluminum ASR Skeleton Handguard is threaded onto a rifle or pistol via a modified barrel nut. Once it's locked in place, using a spring loaded anti-rotation support on the left side of its top rail and two hex screws, the handguard's rail extends the receiver's rail for a total of 15" of usable rail space. This provides a much more useful sight radius should customers choose to install removable AR folding combat sights or fixed sights.

Like the receiver, the handguard is drilled and tapped at the 3, 6 and 9 o'clock positions to accept the provided accessory rail. This allows the rail to be moved away from the gripping area in front of the magazine well and provides a more logical at-the-muzzle location for light and laser modules.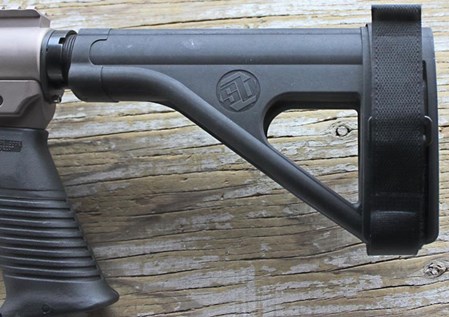 The Tactical pistol's smooth AR pistol type buffer tube is fitted with a SB Tactical SOB model stabilizing wrist brace. Now that the ATF has ruled (again) that shouldering a wrist brace is not a violation of NFA regulations, these devices have been driving up the interest in rifle-action pistols like the ASP once more. I have yet to find these braces to be of much use when shouldered. They rotate freely on the buffer tube are too short to make good stocks but they are more comfortable to cheek than a bare tube. The key to enjoying wrist braces is not making any alterations to them that would be seen as an attempt to convert them into rifle stocks. Use them as-is and you won't have any problems (until the ATF changes its mind again). 

Recently discussed in more detail as part of a Ruger Super Redhawk revolver review, the 10 mm cartridge is often hampered in reaching its full performance potential. This is due to the short barrels and relative fragility of the duty-size semi-auto pistols it's chambered in along with uncomfortable levels of felt recoil. The ASR and ASP rifle-action platforms are much more rugged so they can comfortably digest any of the SAAMI spec 10 mm loads one might be inclined to feed them.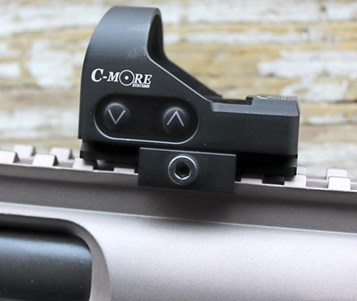 The Tactical ASP proved to be utterly reliable with a mix of practice, defense and hunting-grade loads when fired with the provided sub-compact Glock G29 10-round magazine. Three top-notch loads from DoubleTap Ammunition were used for formal velocity and bench rested accuracy testing with a C-More Systems RTS2R Mini Red Dot sight mounted to the pistol. Bullet speed was checked for 10 rounds fired next to a Lab Radar chronograph with a 12" offset from the muzzle. Five 5-shot groups were fired at 25-yds. using paper targets. As expected, the 10.5" barrel produced a tangible velocity boost when compared to the company's listed 5" barrel velocities.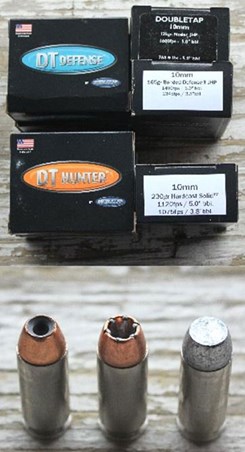 DoubleTap's Hunting 230-gr. hard cast lead flat point load with a listed velocity of 1120 fps is one of the heaviest bulleted deep-penetration rounds available in 10 mm. It flew at 1248 fps. for a muzzle energy of 795 ft./lbs. while yielding a best single group of 2.39" with an average group size of 2.47". The Bonded Defense 165-gr. jacketed hollow points jumped up from 1400 fps to 1513 fps. for a muzzle energy of 839 ft./lbs. with a best group of 2.41" and an average of 2.50". The round that benefited the most from the longer barrel was the Defense series load topped with a 135-gr. Nosler jacketed hollow point listed at 1600 fps. Bullet speed increased to 1886 fps for 1066 ft./lbs. of energy with a best group of 2.68" and an average of 2.79".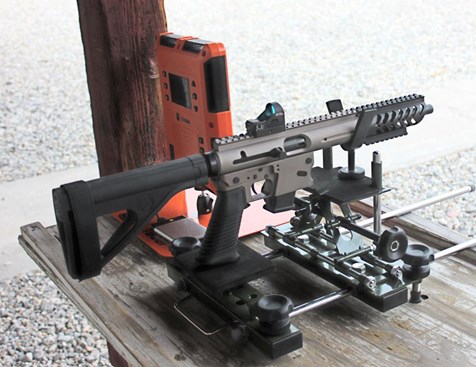 The expansion of TNW's Aero Survival line of rifles and pistols to include rimfire and tactical options is good news. It provides even more ways to enjoy this rugged, reliable platform. The .22 LR ASR makes for a less expensive plinker, small game hunter and practice rifle. As for the Tactical ASP 10 mm, the numbers I got at the range point to it being among the most potent 10 mm handguns currently on the market.
Specifications:
Manufacturer: TNW Firearms, Inc.
Model: Rimfire Aero Survival Rifle (ASR)
Action: Blowback-operated Semi-Automatic
Caliber: .22 LR
Receivers: 6160 Aircraft-Grade Aluminum
Receiver Finish: Hard Anodized, Flat Dark Earth 
Barrel: Parkerized 4140 Chrome-moly Steel
Grip: Removable AR-15 Type with Storage Compartment
Sights: None
Optics Rail: Integral 9.5" 23-Slot M1913 Picatinny
Accessory Rail: Removable 3.5" 8-Slot M1913 Picatinny
Buffer Tube: AR-15 Mil-Spec 6-Position
Shoulder Stock: AR-15 Mil-Spec 6-Position, Four QD Sling Ports, Removable Rubber Recoil Pad
Barrel Length: 16.50"
Overall Length: 29.50" to 32.50"
Length of Pull (LOP): 9.75" to 13.00"
Trigger Pull: 6 lbs.,  Single Stage
Weight: 5 lbs. 15 oz. with Empty Magazine
Magazine Type: Remington 597
Capacity: 10+1 lbs.
Twist: 1:16" RH
Rifle Grooves: Six 
Accessories: One Removable Accessory Rail, One QD Sling Swivel, One Remington 597 Magazine, Owner's Manual
Rifle MSRP: $799
Optional Barrel Threading with Thread Protector: $68
Caliber Conversion Kits: $205 - $450
Optic: Bushnell AR Optics 2-7x32 mm (AR92732) $173
Scope Mount: Weaver SPR Optics Tactical Rail Mount for 1" and 30 mm Tubes (48377) $90.45 
Model: Aero Survival Tactical Pistol (ASP) with Extended Handguard and SB Tactical Brace
Action: Blowback Operated Semi-Automatic
Caliber: 10 mm
Receivers: 6160 Aircraft-Grade Aluminum
Receiver Finish: Hard Anodized, Flat Dark Earth 
Barrel: Parkerized 4140 Chrome-moly Steel
Grip: Removable AR-15 Type with Storage Compartment
Sights: None
Optics Rail: Integral 9.5" 23-Slot M1913 Picatinny
Handguard: 5.5" ASR Skeleton with Full-Length Top Rail 
Buffer Tube: AR-15 Mil-Spec Pistol with SD Wrist Brace
Barrel Length: 10.50"
Overall Length: 24.75" with Wrist Brace Installed
Trigger Pull: 6 lbs. 10 oz., Single Stage
Weight: 5 lbs. 15 oz. with Empty 10-round G29 Magazine
Trigger Pull: 6 lbs. 10 oz.
Magazine Type: Glock 10 mm (G20, G29, G40)
Capacity: 10+1 or 15+1
Twist: 1:10" RH
Rifle Grooves: Six 
Accessories: Extended Hand Guard, Wrist Brace, Removable Accessory Rail, One Glock Magazine, Owner's Manual
Pistol MSRP: $899
Caliber Conversion Kits: $205 - $450
Optic: C-More Systems RTS2R Mini Red Dot Sight with Rail Mount $419