by
posted on January 16, 2015
Support NRA American Rifleman
DONATE
There is a wide variety of combat rifles converted to semi-auto operation for civilian applications on the market these days. But despite all of the various makes and models to choose from, two designs in particular seem to garner more attention from American shooters, namely, the Stoner-style AR platforms and the Kalashnikov-inspired AKs.  
Both the AR and the AK are battle-proven with admirable, if differing, features which have made them popular with the shooting public for more than half a century. The AR-15, typically chambered for .223 Rem./5.56 mm NATO, is accurate, produces a low level of felt recoil, and is easy to customize due to its modular design. However, the relatively light .223 bullet it shoots has limited applications, and the rifles themselves can be fairly expensive depending on the configuration. The AK is a rugged, reliable, and less expensive rifle commonly chambered for the more flexible 7.62x39 mm Russian cartridge. But off-the-rack AKs rarely produce tack-driving accuracy, and they have fewer features.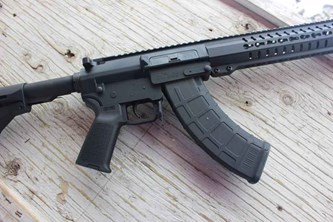 Considering the passionate devotion that AR and AK fans often demonstrate for their rifles of choice, it seems like a provocative move on the part of CMMG to launch a gun touted as a happy marriage of these former Cold War rivals. Dubbed the Mk47 Mutant, this new rifle is advertised as providing the accuracy and components-compatibility of an AR blended with the rugged simplicity, ammunition and magazines of an AK. This review takes a closer look at the AKM configuration, which is the middle-priced version of the three models scheduled to launch in 2015. 
The MK-47 is a removable box magazine fed, gas-operated semi-auto rifle. The 16.1" free-floated barrel is fitted with a simple, but reliable, AR carbine length direct-impingement gas system, which in turn operates the AR-type bolt assembly. 
Although the idea of chambering an AR for 7.62x39 mm is not new, there comes a point where using existing components won't produce the desired results. So CMMG went back to the drawing board to develop a new set of receivers designed specifically for the 7.62x39 mm cartridge. This is where the real differences between this and other Modern Sporting Rifles can be found. Both the upper and lower receivers are milled from billet 7075-T6 aluminum and finished with matte black hard-coat anodizing. 
The flat-top upper has a milled-in Picatinny rail that meshes with the top rail of the hand guard to provide over 21" of rail space for optics and removable iron sights. This receiver is slim and simplified for a sleek profile. The top-mounted charging handle is of the typical AR-15 configuration while the right-side ejection port is graced with a dust cover and brass deflector but no forward assist. Inside is a sturdy bolt carrier group based on the beefier AR-10 carrier designed for use with .308 Win. and 7.62 mm NATO ammunition. This combination of a lean receiver and a stocky bolt group provides plenty of strength for handling the 7.62x39 mm cartridge without excess weight. 
The looks and layout of the proprietary lower receiver are probably what inspired the inclusion of the word Mutant in the Mk47's name. It's certainly the component where the AK/AR collision is most prominent. The straight-up loading AR magazine well has been trimmed away to make room for standard AK-47 magazines to rock-and-lock into place. Instead of an AR press-button magazine release, a customized AK-type paddle release is employed. The paddle has well defined contact points on both sides and a flange that extends below the trigger guard so that it can be easily activated from three directions. This configuration made it easy to swing magazines in and out of place. A replaceable steel support pin, located at the front of the magazine well, protects the aluminum frame so that the rifle can safely use steel magazines as well as polymer and Bakelite models. 
The two-position safety lever is located on the left side just above the grip where it looks and operates like a classic AR safety. The integr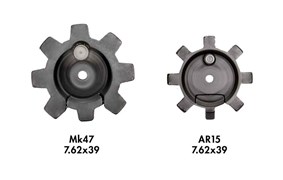 al trigger guard is squared-off in an AK fashion in order to support the magazine release. The factory trigger is one of CMMG's single-stage configurations that proved to be better than the average mil-spec model. Requiring 5 lbs. 14 ozs. of trigger pull, it cycled cleanly without any grittiness to it.
Many of the Mk47's components are fully interchangeable with mil-spec AR-15 and CMMG Mk3 components. These include the shoulder stock, mil-spec buffer tube assembly, grip, trigger group, gas tube, gas block, and the threaded muzzle. The AKM version of this rifle sports a Magpul six-position adjustable shoulderstock and an MOE grip. The 15" KeyMod hand guard allows accessory rails to be attached to the 3, 6 and 9 o'clock positions for mounting accessories like lights, lasers and bi-pods. The muzzle is fitted with a removable CMMG SV Brake, which proved to be effective in reducing muzzle flip. Without any added accessories or a magazine in place, the Mk47 used in this test weighed 7 lbs. 5 ozs.
As with any other brand new gun design, I just wasn't sure what to expect from the Mk47 at the shooting range. Some recently-released guns run like a Swiss clock while others exhibit problems both great and small in nature. I happen to know that the rifle I received was part of the first group of factory built models, and it shipped the same day it came off of the assembly line. It's a testament to CMMGs R&D and their dedication to quality that this rifle ran without a single hiccup or malfunction throughout the entire testing process. Test ammunition included a mix of loads ranging from imported steel-case ball to premium brass-case hunting hollow points.  
For the most part, the Mk47 looked and handled just like a quality AR-15 both on and off of the bench. The felt recoil of the larger 7.62x39 mm was a little more pronounced than that of a .223 Rem. but it was still all-day-comfortable to work with. The three things that AR fans will have to get used to are the swing-in motion of loading AK magazines, the paddle magazine release, and the fact that the bolt does not lock open on the last shot. The lack of a bolt catch may be a hang-up for some folks but the AK shooters are used to it. 
The reason CMMG says shooters should invest in this unusual platform is because it provides the knock-down power of the 7.62x39 mm cartridge with the accuracy of an AR, which is just what the rifle demonstrated during formal bench-rest accuracy testing at 100 yards when quality ammunition was fired. The best single five-shot group of 0.69" and top average of 0.91" were produced using Federal Premium's Fusion 123-grain jacketed soft points. Winchester's PDX1 Defender 120-grain split-core hollow points averaged 1.00-inch, followed by the Double Tap Rifle Defense 123-gr. boat-tail soft points at 1.14" and the steel-cased Red Army Standard 123-gr. full-metal jacket rounds at 1.38". A goodly number of new-production Romanian 123-gr. full-metal jacket rounds, taken from a 700-round Spam can, were test fired for reliability since it's the kind of affordably-priced ammunition folks are using for plinking and training purposes these days. This military ball load produced an average group size of 1.81", which is certainly good enough for practice. 
The CMMG Mk47 AKM proved to be a fun and reliable rifle to work with. The fit and finish were first rate and all of the controls and features operated flawlessly. This brand-new platform strikes me as a well thought out platform that's ready to fill the role of a simple, reliable, and flexible Modern Sporting Rifle. Although we all wish milled-receiver semi-auto rifles with top-notch accuracy cost less, the Mk47 performed at a level indicative of its price. Now that CMMG's new receiver design is up and running, it will be interesting to see what the company does with it next. 
CMMG Mutant
Manufacturer: CMMG 
Model: Mk47 Mutant AKM
Action: Gas-Impingement Semi-Auto
Caliber: 7.62x39 mm
Upper Receiver: Milled Billet 7075-T6 Aluminum
Lower Receiver: Milled Billet 7075-T6 Aluminum
Barrel: 16.10" Medium-Taper Profile
Muzzle: CMMG SV Brake
Hand Guard: CMMG RKM15 KeyMod
Pistol Grip: Magpul MOE
Shoulder Stock: Magpul CTR
Trigger: CMMG Single Stage
Sights: None, Integral Optics Rail 
Overall Length: 33.50" (Stock Collapsed)
Weight: 7.20 lbs.
Capacity: 30+1 Rounds, Accepts Standard AK-47 Type Magazines
Twist: 1:16" RH
Rifle Grooves: Six
Accessories: Two 30-round PMAG AK/AKM MOE Magazines, Owner's Manual 
MSRP: $1,649.95