by
posted on April 5, 2021
Support NRA American Rifleman
DONATE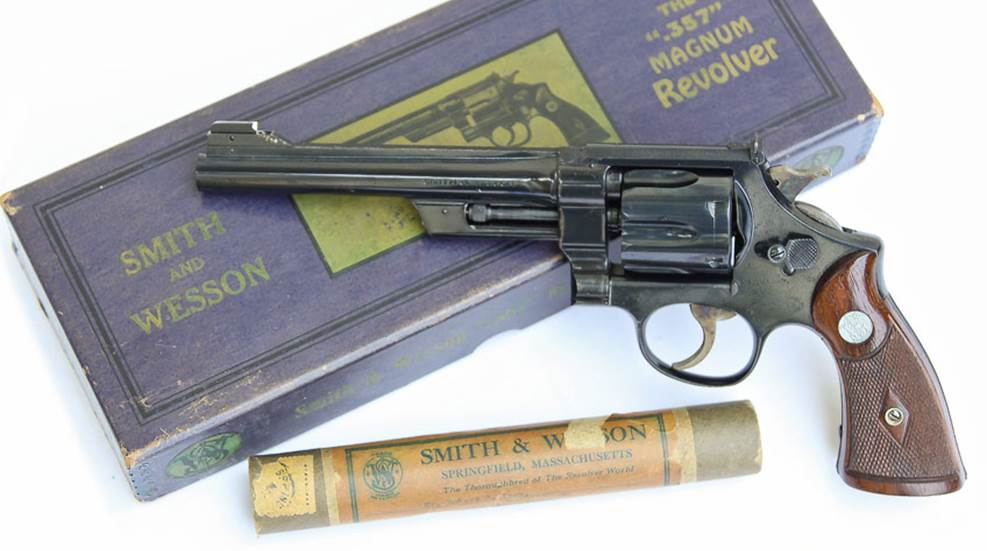 Some firearms and cartridges were literally made for one another. That certainly was the case for Smith & Wesson's Registered Magnum and its exclusive chambering in the .357 Magnum, a cartridge that pioneering handloader Phil Sharpe championed. Since its introduction in 1935, the Registered Magnum has achieved the unabashed title as one of the holy grails of modern-day gun collecting.
It started with the cartridge. With the country in the throes of the Great Depression, and organized crime running rampant, law enforcement—primarily armed with .38 Spl. revolvers—found itself under-gunned. But Sharpe felt that the caliber had potential. Assisted by Elmer Keith, S&W Vice President Douglas Wesson and Winchester, the .357 Mag. emerged, using a slightly elongated .38 Spl. case to prevent it from chambering in standard .38 Spl. guns. Indeed, the resulting Registered Magnum was anything but standard.
Each revolver was built to order, with customers specifying a blue or nickel finish, any barrel length from 3½" to 8¾", and numerous front and rear sight options. Guns were sighted at 25 yds., with buyers specifying either a 6-o'clock or "dead-center" hold.

But most notably, in addition to its serial number, each gun was stamped with an individual registration number and came with a registration card. When this card was filled out and sent back, the owner received a certificate (signed by Douglas Wesson) confirming the owner's name, registration number and customized features. Unbelievably, half of these registration cards were never mailed to S&W.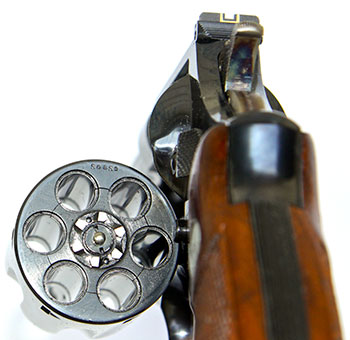 Although priced at a hefty $60 (discounted 20 percent for military and law enforcement personnel), the Registered Magnum proved to be unexpectedly popular, with 5,500 made before Oct. 16, 1939, when Harold Wesson decided they were too costly to manufacture. However, roughly another 2,000 "Non-Registered Magnums" (without registration numbers) were produced until America's involvement in World War II began.
This particular Registered Magnum, Registration No. 2221, was confirmed by the S&W Historical Foundation (swhistoricalfoundation.com) as shipped on April 14, 1937, to Robert R. Imse—a prominent St. Louis, Mo., businessman and member of the Missouri Athletic Association, c/o American Sporting Goods Co.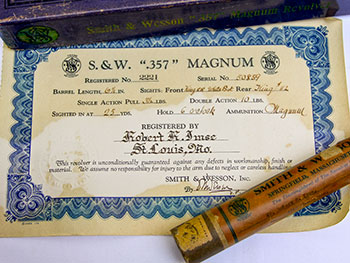 This 95 percent gun shows little use, and remarkably, retains its original box, factory-signed registration certificate and postmarked mailing tube. The stock panels have been replaced with period-correct Magna stocks. In 2019, online auctioneers Lock, Stock & Barrel ([email protected]) sold this boxed gun with tubed certificate for $12,300. Today, a Registered Magnum in this condition, with these ultra-rare accoutrements, would easily command $16,000 to $20,000.
Gun: Registered Magnum
Manufacturer: Smith & Wesson
Chambering: .357 Mag.
Serial No.: 50XXX (numbered in sequence with other large-frame S&W Hand Ejectors)
Registration No.: 2221 (stamped on inside of ejector shroud recess)
Manufactured: April 14, 1937
Condition: NRA Excellent (Modern Gun Standards)
Value: $16,000 to $20,000
Note: Shipped in Type II blue cardboard box, with registration card, screwdriver and separate "Wesson Grip Adapter." Registered Magnums in this condition, without box and paperwork, typically bring $4,500 to $6,000. An original box and registration certificate can fetch upwards of $1,000 each, and an empty mailing tube recently sold for $350.