Support NRA American Rifleman
DONATE
When the Smith & Wesson Chiefs Special made its debut in 1950, many hailed it as the perfect backup gun. With a five-shot .38 Spl. cylinder, 17⁄8" barrel, and a weight of 20 ozs., it was ideal for a lawman's off-duty revolver or for a law-abiding civilian's self-defense gun. Two years later, S&W introduced an aluminum-alloy version, the Chief's Special Airweight. But the Chief's Special and Airweight had one hang-up, literally. The hammer had a nasty habit of snagging on clothing when the gun was drawn.

To address that issue, in 1955, the company introduced an altered version. It sported a redesigned frame with an integral hump that concealed a low-contoured hammer, and its flattened spur barely protruded above the top of the hump. Thus, the double-action revolver could still be manually cocked for aimed single-action fire. Smith & Wesson dubbed this innovative variation the Bodyguard (setting the precedent for S&W's current concealed-hammer Bodyguard revolver).

In a reversal of the way things were normally done, however, S&W introduced its camel-humped double-action as an aluminum-frame Bodyguard Airweight, rather than an all-steel version. Proving you can't please all the people all the time, there soon was a demand for a steel-frame version, prompted by a request from the Massachusetts State Police. As a result, in 1959 an all-steel Bodyguard was introduced, providing greater strength and reduced felt recoil.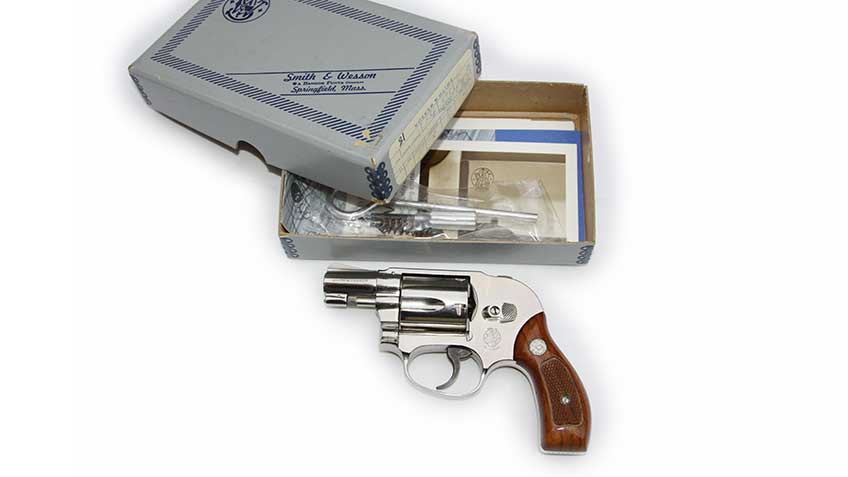 As with the Chief's Special, finishes were blued or nickeled, with a case-hardened trigger and hammer. A few 3" barrels were also produced. With the changeover in S&W numbering in 1957, the steel-frame Bodyguard became the Model 49, which remained in production until 1996.

Although its unorthodox design borders on what some might call ugly, the extra weight from its hump-backed frame nestles the Bodyguard solidly in the hand, the semi-concealed hammer is surprisingly easy to cock and, due to its snag-free contours, the gun can be quickly drawn from the pocket.

This pristine example is in NRA Excellent Condition. It would have been NRA Perfect had not the previous owner, at some point during the last 40 years, fired three shots (probably to see what it felt like), before cleaning the gun and storing it.

Gun: Smith & Wesson Model 49 Bodyguard
Caliber: .38 Spl.
Serial No: J263XXX
Manufactured: 1975
Condition: NRA Excellent (Modern Gun Standards)
Value: $350 in 98-percent condition (add $25 for a nickel-finished model), according to the 38th Edition Blue Book of Gun Values.