posted on August 27, 2020
Support NRA American Rifleman
DONATE
The Smith & Wesson Hand Ejector First Model, commonly referred to as the Triple Lock, is one of the most coveted large-frame revolvers of the 20th century. For many, this gracefully configured hunk of steel represents the epitome of the modern double-action, even though the Triple Lock dates from 1908. Appropriately, it was catalogued as the .44 New Century.

Also listed as the Smith & Wesson .44 Military Model of 1908, the Triple Lock chambered a new cartridge specifically developed for it, the .44 Smith & Wesson Special, a slightly more powerful version of the older .44 Russian. Like the .44 Russian, the .44 Spl. began as a blackpowder cartridge, but Smith & Wesson soon realized its new revolver was more than capable of handling smokeless powder loads.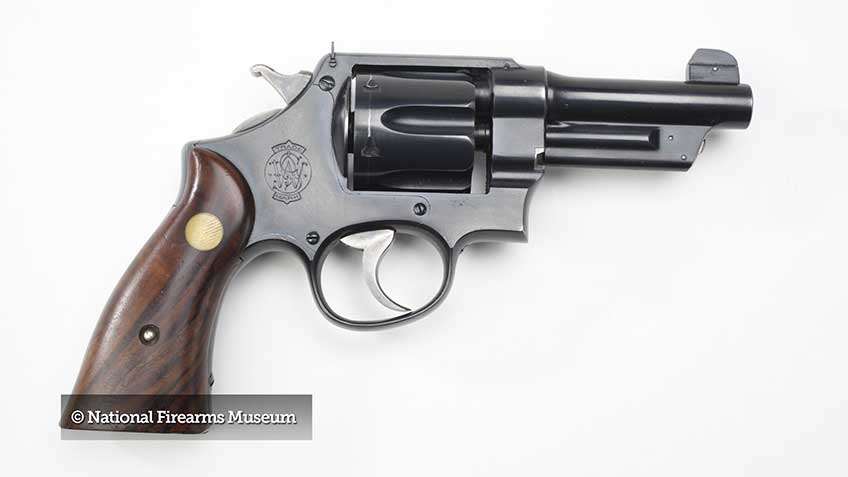 Indeed, the Smith & Wesson Triple Lock was the most over-engineered double-action of its day. In addition to its innovative under-barrel shroud, which protected the extractor rod, its swing-out cylinder system sported three locking points: A spring-loaded catch between the end of the yoke and the extractor shroud; a center pin indentation in the frame that secured the cylinder; and another catch in front of the extractor that secured it to the shroud.

Available blued or nickeled, and with barrel lengths of 4", 5", 6", 6½" and 7½", with fixed or adjustable sights, the Triple Lock was also chambered in .44 Russian, .455 Webley Mark II, the scarcer .38-40 Win. and .44-40 Win., and even rarer .45 Colt.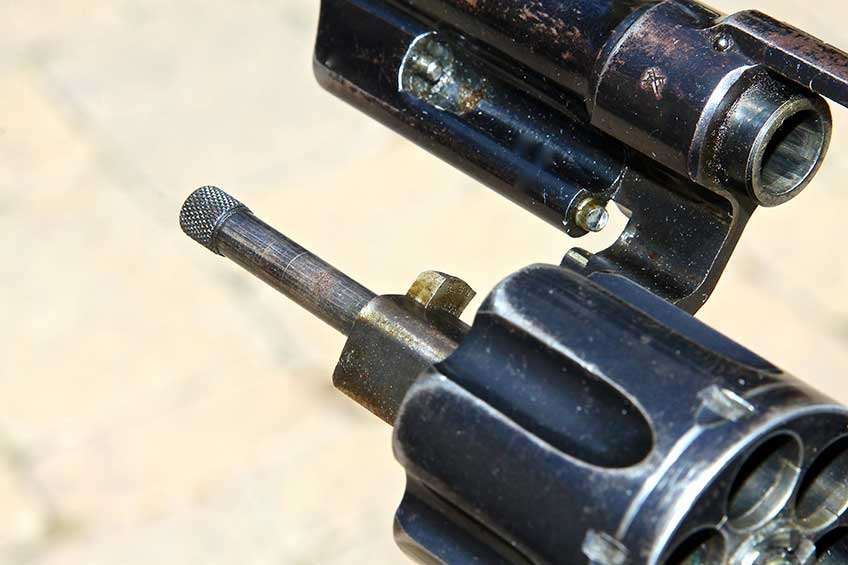 With an initial price tag of $21—a substantial sum back in those days—the Triple Lock was expensive to manufacture. Thus, in 1915, with 15,376 guns produced, it was modified into the .44 Hand Ejector Second Model, which eliminated the extractor shroud and the yoke-locking mechanism.

This example of the Triple Lock, although mechanically tight, exhibits moderate blemishes to its finish. Chambered in .455 Webley Mark II (not marked on the barrel, which is proper for this variation) and stamped with British crossed-pennant proofs and opposing broad arrows on the frame (indicating it was "sold out of service" to the civilian market after military use), it is one of 5,000 Triple Locks made in 1914-1915 for Britain during World War I.

These guns can fetch as much as $1,750 on today's market, according to the 38th Edition Blue Book for Gun Values, though more typical examples in the 65-percent condition range in price from $885 to $1,150.

Gun: Smith & Wesson Hand Ejector First Model (Triple Lock)
Caliber: .455 Webley Mark II (part of the initial order, not to be confused with the 808 Triple Locks that were converted for British use from .44 Spl.)
Serial No: 34XX
Manufactured: 1915
Condition: 65 percent—NRA Good (Modern Gun Standards)
Value: $885-$1,150