Support NRA American Rifleman
DONATE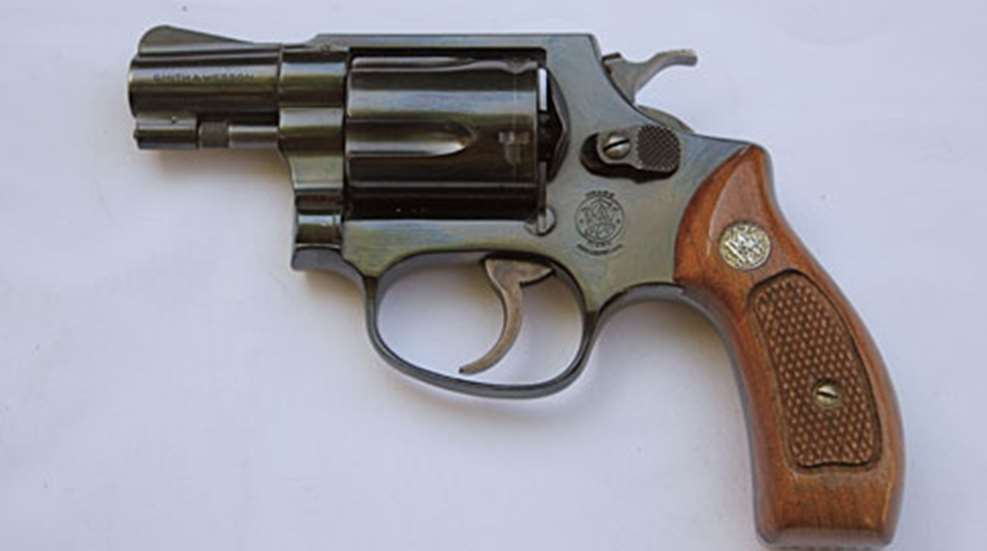 Even with the recent advent of ultra-compact handguns, the Smith & Wesson Model 36 remains an extremely popular pocket revolver. For years its only competition was the Colt Detective Special. Indeed, the slightly larger six-shot "Dick Special" was the impetus for S&W's snubby.
In 1948, S&W President C.R. Hellstrom realized his company was losing ground to the Detective Special. The only thing S&W had that even came close was its five-shot Terrier, which was built on a .32-cal. frame and fired the anemic .38 S&W, a cartridge that dated from 1877 and the days of the top-breaks. Hellstrom instructed his engineers to turn the Terrier into something that could handle the more potent .38 Spl.
The result was a gun that retained its compactness, thanks to a stubby 17⁄8-inch barrel and a five-shot cylinder. With a sturdier coil mainspring instead of the Terrier's flat mainspring, and with a slightly beefier frame and cylinder to handle the .38 Spl., it weighed less than 20 ounces. This was the first of S&W's "J"-frame series. In a stroke of marketing genius, it was decided to let some of the potential purchasers name the new revolver.
Smith's newest creation was unveiled in October 1950 at the Int'l Ass'n of Chiefs of Police conference in Colorado Springs, Colo., where—not surprisingly—attendees christened it the Chief's Special. In 1957, when S&W switched to numerical designations, it became the Model 36. The guns were blued, with case-hardened hammers and triggers, or nickeled. In 1952, at serial number 21,342, a square-butt option was offered. Numerous minor changes were made through the years, including the switch from a flat to a contoured cylinder-release in 1966. Adjustable sights and 3-inch barrels are occasionally encountered. Most dramatically, in 1965 a variation of the Model 36 became the Model 60, the world's first stainless steel revolver. Although the Model 36 was discontinued in 1999, in 2008 it became part of S&W's Classic Series.
This 98 percent revolver was purchased in the 1980s for $85 and was carried briefly, then spent the next decades in a bedside drawer, where its 98 percent condition remained intact while its value rose. It is currently worth approximately $460 while still providing the protection for which it was designed.
Gun: Smith & Wesson Model 36 (Chief's Special)
Caliber: 38 Spl.
Condition: 98 percent(NRA Modern – Excellent)
Manufactured: 1978
Value: $460