by
Mark A. Keefe, IV, Editorial Director
posted on June 23, 2014
Support NRA American Rifleman
DONATE
While the men of the U.S. 2nd Ranger Battalion-"Rudders Ranger"-had Vickers K Guns mounted on ladders from the London Fire Brigade to help scale the cliffs at Pointe Du Hoc, the biggest users of K Guns on D-Day were British Commandoes. The fast moving, hard hitting Special Operations troops needed punch, and lightweight punch. The K Gun was fitted with a 96-round-capacity drum that, when mated to its gun, gave the "heavy" troop of British Army and Royal Marine Commandos a lot of punch. That .303 Vickers K Gun or VGO for Vickers gas-operated gun, was based on the Vickers-Berthier Light machine gun. The credit for infantry use of these guns in a ground role goes to Col. David Stirling, founder of the Special Air Service (SAS) Regiment and a cousin to Simon Frasier, Lord Lovat and the commander of the British First Special Service Brigade on D-Day.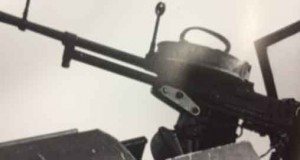 The K gun was produced by Vickers-Armstrong originally for the Royal Air Force as a flexible machine gun on pre-war planes, such as the Fairy Battle. But, as aircraft speeds increased, they soon realized that a rear gun couldn't be operated at high speed, so the gunner and his K Gun were merely extra weight in an obsolete aircraft that would probably be shot down anyway.
Stirling employed K Guns on trucks and jeeps for raids in North Africa, often mounted in pairs, capable of delivering about 1,200 r.p.m. And they were used on SAS jeeps well into Germany in 1945 and British Airborne Reconnaissance Squadron jeeps in both Normandy and at Arnhem in 1944.
The British Army and Royal Marine Commandos were nominally 461 men in five assault troops, a headquarters troop and a medium machine gun section of 16 men. Earlier in the war, as with the rest of the army, the Commandos used the Vickers medium machine gun in this role.
But Commandos were designed to be fast moving and hard hitting. A tripod-mounted gun that weighed 40 lbs. without its mount or accessories was hardly the right tool for the job. The "grand old lady of no man's land"-the water-cooled Vickers-was many things, reliable, robust, capable. One thing it was and is not, however, is light.
That's where the K Gun came in, as it weighed a mere 29½ lbs. Depending on the mark and ammunition, it could generate between 700 to 1,250 r.p.m. Think of it as an uncontrollable, drum-magazine-fed MG42 on a fairly flimsy bipod.
The problem with such a high rate of fire is that a K Gun could quickly outrun its available ammunition supply. And that's just what happened. The K Gun was subsequently withdrawn from service with the Commandos, because when the going got tough, the tough ran out of ammunition.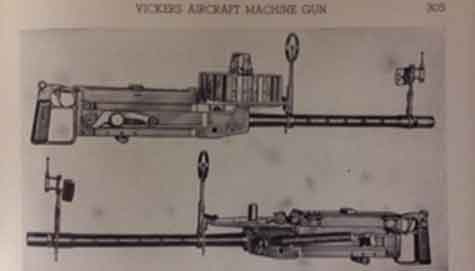 The K Gun
Vickers VGO, Kickers K Gun, Vickers, Aircraft Machine Gun, Class K
Manufacturer: Vickers-Armstrong
Operation: gas-operated machine gun
Caliber: .303 British
Weight: 29.5 lbs.
Overall Length: 37"
Barrel length: 18"
Rifling: five-groove, left-hand 1:10" twist
Cyclic rate: 700 up to 1,250 r.p.m.
Magazine: detachable top-fed drum 60- or 96-round capacity
Bullet Weight: 174 grs. (Mk VII SAA)
Bullet Velocity: 2350 f.p.s.
Effective Range: 700 yds
Maximum Range: 3,500 yds.