by
Mark A. Keefe, IV, Editorial Director
posted on January 31, 2017
Support NRA American Rifleman
DONATE
Have you heard? SIG Sauer of Newington, N.H., has been awarded the biggest U.S. Army pistol contract in more than 30 years. And it is the first time a polymer-frame, striker-fired, double-action-only gun has been adopted as the standard sidearm for American soldiers.
It has been a long time since the United States military declared a new service pistol. Of course, there was the decision to adopt the U.S. Model of 1911 pistol back in 1911. Then in the late 1920s, the Army just adopted the M1911-A1 without much fanfare (while keeping the M1911 in service). John Browning's masterpiece continue to serve until 1985 when the Beretta Model 92FS was adopted as the U.S. Pistol M9. That was followed up by the adoption of the SIG Sauer P226 as the US M11. As good as the M11 was, it was not the standard sidearm. 
Getting the XM17 contract no doubt will benefit SIG Sauer beyond the actual number of guns supplied to the army over the 10-year contract span.
But will the coattails of the army pistol contract have as much influence in the market as the M9 did for Beretta back in the 1980s? I would say not.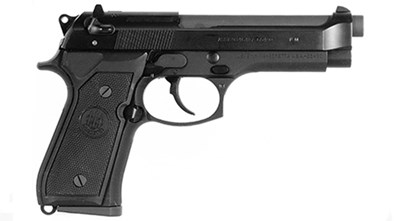 This is a very different era in terms of handgun ownership, use and decision-making then were the 1980s. Back then, American law enforcement was in the middle of the transition from double-action revolvers to semi-automatic pistols. Many agencies had not yet converted, and the adoption of the Beretta no doubt influenced a lot of police agencies. And frankly, there were just not that many semi-automatic pistols available in 1985. Now there are literally dozens and dozens of very good full-size and compact double-action 9 mm pistols.
While no doubt some police agencies will weigh the XM17 contract heavily in their decision to buy new pistols, likely those most influenced by the decision will be foreign governments that are our allies around the world. If you operate with U.S. troops into combat theater, it is nice to be able to rely on the U.S. military's logistics train for parts, magazines and ammunition, as well as American armorers. At the battalion level there will certainly be armorers that can fix any problems that might come up with a handgun. That is the same reason why some American special forces gave up on exotic personal guns and just went with the US M9. If you break something, it's nice to just get parts and service from a local line unit.
Another thought: Much has been made over the fact that SIG Sauer is a foreign company. While SIG is owned by German partners, when it comes to handguns SIG is a very American company. Except for small specific German police contracts, all SIG Sauer handguns are made in New Hampshire—by American workers in an American factory. SIG Sauer has transitioned away from manufacture in Germany. And the P320 was jointly designed by American and German engineers, and was prototyped and tested right here in the United States. Perhaps it is just one more sign of a global economy.

Top: Department of Defense image