by
posted on March 26, 2014
Support NRA American Rifleman
DONATE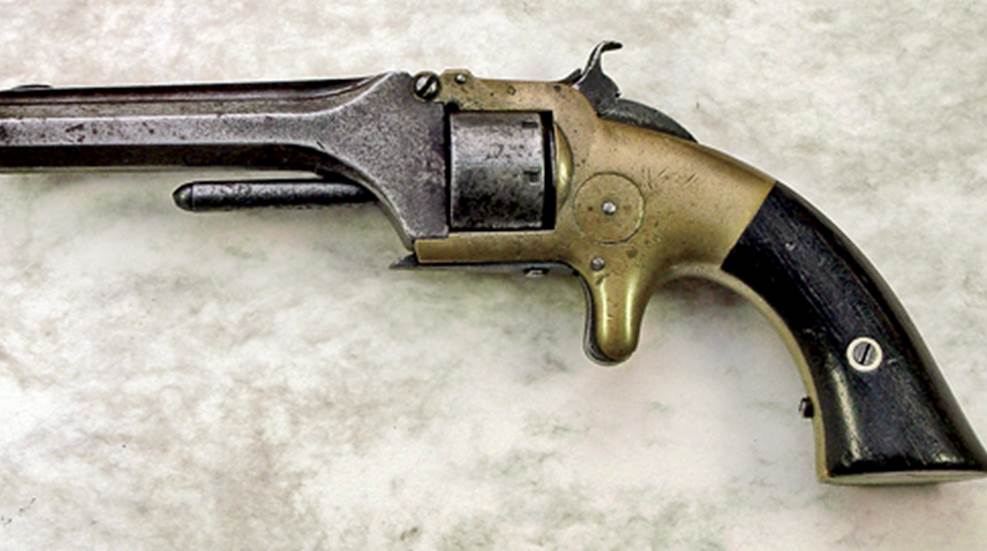 The First Smith & Wesson Revolvers
Gun:  Smith & Wesson Model One, First Issue, 2nd Type
Condition:  No original finish (NRA Antique Good)
Approximate Value:  $3,000 to $6,000
The Model One was the first commercially successful American revolver to fire a self-contained metallic rimfire cartridge.
Combining projectile, propellant and primer into a single cartridge represented a tremendous advance in ammunition.  In many ways, the Model One and its cartridge introduced the modern era of handgun design.
On all Model Ones, the barrel tips up and the cylinder is removed for loading and unloading. There are a number of variations of Model Ones, and these variations make for a tremendous difference in value.
Collectors recognize three "issues" of the Model One, with examples of all three shown in the inset photo.  The First Issue has curved frame sides and a circular sideplate, and was made from 1857 to 1860. Second and Third Issues have flat-frame sides and irregular side plates.  The Model One, Second Issue (1860-1868) has a square butt and octagonal barrel.  The Model One, Third Issue (1868 to 1881) has a bird's head butt and round ribbed barrel.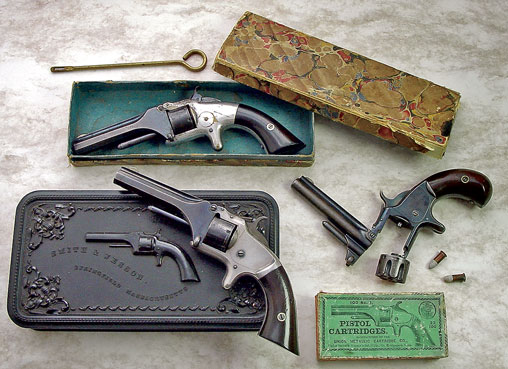 Collectors further subdivide the early Model One, First Issue into six "types."  The most valuable are the very earliest 1st and 2nd types.  These were unique among Model Ones in that they have a "bayonet"-style barrel latch mounted on the frame, shown in the detail view, as opposed to the vertically sliding, barrel-mounted latch found on all later variations of the Model One.
The Blue Book of Gun Values estimates the values of Model One First Issue, Types 3 through 6, (the First Issues with the standard barrel mounted latches), from $750 to possibly several thousand dollars for a nice and scarce variation. The later Model One, Second or Third Issues, are estimated from $175 to $1,500, depending on exact variation and condition.  Many are found with no finish or are refinished, and those will bring less, as Blue Book of Gun Values pricing is based on the percentage of original finish remaining.
The rare Model One First Issues, 1st and 2nd Types, are a different story. The Blue Book of Gun Values notes "Extreme rarity of this model precludes accurate pricing-a nice condition model can easily exceed $10,000," and this is certainly an accurate observation. The "bayonet latch" Model One, First Issue revolvers surface so seldom, and have such significance, that those that do often go to auction where the two most determined (and deep-pocketed) bidders will establish the value on that particular day.
Over the past few years, a very few of these early "bayonet latch" Model Ones have sold at auction.  At least two Model One, First Issue, 2nd Types sold in the $5,400 to $6,400 range, while an even more rare 1st Type went for $19,550. None was a particularly high-condition gun.
Original boxes and cases for Model Ones can also be surprisingly valuable. The plastic-like "gutta percha" cases will bring $1,000 to $5,000, depending on variation and condition.  Distributor-supplied wooden cases often sell for $500 to $1,000, while a very rare original cardboard box for a Model One has been sold at auction for just over $5,600.
-Jim Supica
(Originally published November 2006)