Support NRA American Rifleman
DONATE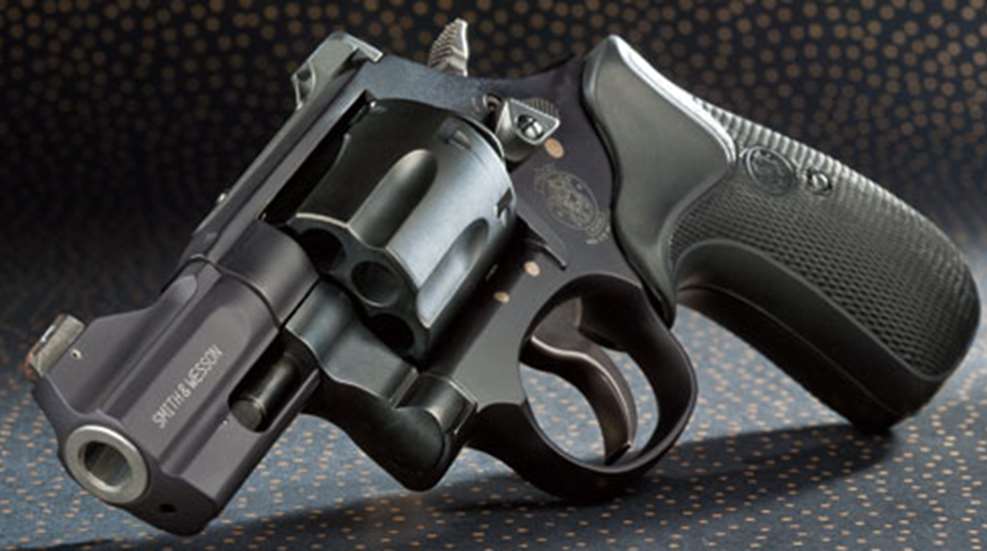 Since 1935, Smith & Wesson has made dozens of different .357 Mag. revolvers. They have been available with five-, six-, seven- and eight-round-capacity cylinders and four different frame sizes. Obviously, there has been plenty of variety, so a new version might seem redundant. The new Model 386 Night Guard in .357 Mag., however, offers a unique combination of features and is therefore a fresh choice for those in the market for a defensive revolver. In S&W's complex numbering system, the "3" indicates a lightweight gun and the "86" is the model, with the "Night Guard" indicating a feature and finish option.
This is a revolver built on a medium-large L-frame, which was developed specifically to handle the .357 Mag. cartridge. It is one of six different variants in the Night Guard series of personal-defense revolvers. There are three large N-frames in .44 Mag., .45 ACP and .45 Colt; two L-frames in .44 Spl. and .357 Mag.; and a smaller K-frame in .38 Spl. All the Night Guards are light revolvers with 2 1/2-inch barrels and a dull black finish.
The Model 386 weighs 24.5 ounces. and is more than 7 1/2-inches long. It is light, but strong enough to handle seven rounds of .357 Mag., as S&W uses an alloy of scandium and aluminum to build the frame, yoke and barrel shroud. The barrel and cylinder are stainless steel. On most of S&W's lightweight revolvers, the use of a two-piece barrel—a lightweight alloy shroud and steel tube—permits an economical part with all the durability of more traditional materials. The recent interest in concealable firearms for CCW permit holders has driven the development of compact, lightweight handguns of many types. As full-size, short-barreled magnum revolvers go, the 386 Night Guard is about as light and compact as it gets. Indeed, this was the development goal of the Night Guard line.
Model 386s have some special features that make them particularly well suited for the discreet personal-defense role. The Night Guard variation of the light L-frame has a top-strap cut to accept S&W's familiar click-adjustable rear sight, which has been used on revolvers since the immediate post-war era. As there is relatively little need for adjustable sights on a gun intended for close-range shooting, S&W uses a rear sight made by Cylinder & Slide of Fremont, Neb. It is a fixed unit with a contour that fits the standard S&W cut on the top strap. It is better for concealed carry by virtue of its rounded edges and corners, and its big U-notch and plain black face match up beautifully with the XS Sight Systems Big Dot tritium front sight. Sight picture is quick to acquire and is quite prominent against varied backgrounds and in different light conditions. It is not the best for precise shooting, but then this is not a bullseye gun.
To help alleviate the discomfort of firing the gun, S&W equipped it with round-butt Pachmayr grips that cover the backstrap. This provides a generous handful of slightly compressible rubber surrounding a pound and a half of lightweight magnum revolver. With many loads the recoil is bearable. But when heavy bullet or high-velocity magnum loads are used, the recoil is severe. Combined with a rather violent muzzle flash, this makes the 386 a somewhat intimidating revolver to shoot. Fortunately, the 386 is like most .357 Magnums in that it handles .38 Spl. as well. Somewhere in the wide range of .38 Spl. and .357 Mag. ammunition available, the handgunner should be able to find practice loads he or she can live with, leaving the hard-kicking magnums for real-world use.
Our accuracy evaluation followed the American Rifleman protocol of five consecutive, five-shot groups at 25 yards. Firing with the revolver mounted in a Ransom Rest took the recoil difficulties out of the equation and produced groups consistent with other .38s and .357s in the S&W line. Groups from the sample Night Guard revolver hovered around the 2-inch mark.
It is clear that this particular .357 Mag. is intended to be carried, as there is no other rationale in taking the necessary steps to lower the weight to the pound-and-a-half point. If a shooter really intends to carry the gun, the light weight is perfectly justified. But if the gun is intended for general shooting, an all-steel revolver would be a better choice.
The Night Guard revolvers are great choices for carry. The line includes a .41 Mag. version for the legions of .41 fans. As it stands, the .357 Mag. fired for this report is a fine carrying gun for personal defense and field use.
Manufacturer: Smith & Wesson; (800) 331-0852; Smith-Wesson.com
Caliber: .357 Mag. (.38 Spl.)
Action Type: double-action/single-action center-fire revolver
Frame: scandium/aluminum alloy
Barrel: 2½"
Rifling: five-groove; 1:18¾" RH twist
Cylinder Capacity: seven
Sights: XS Sight Systems Big Dot front, C&S fixed U-notch rear
Trigger Pull: double-action, 10 lbs.; single-action, 3 lbs.
Overall Length: 75⁄8"
Width: 1.56"
Height: 5½"
Weight: 24.5 ozs.
Accessories: hard case, manual, lock
Suggested Retail Price: $1,011