Support NRA American Rifleman
DONATE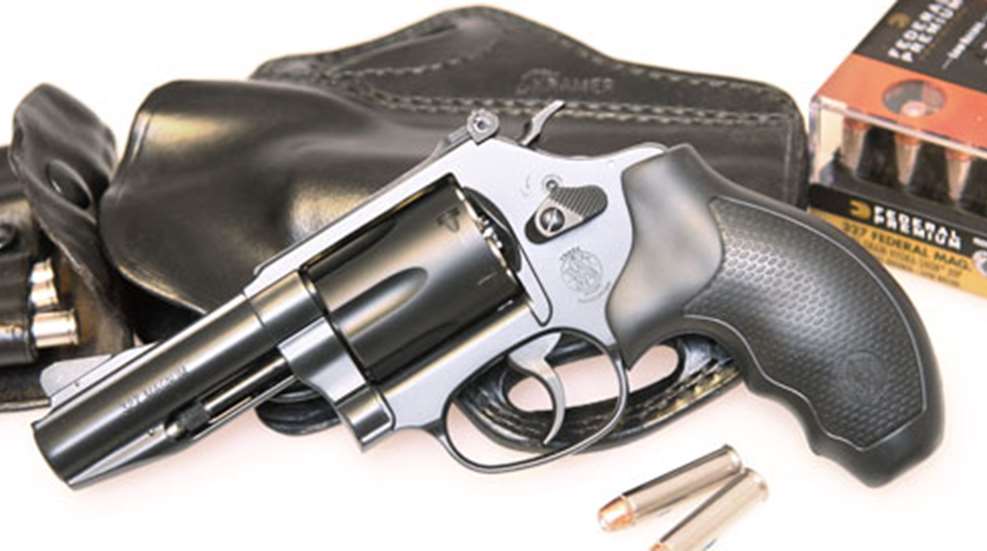 Almost as soon as ATK introduced its .327 Federal Mag. cartridge, attention turned to Smith & Wesson to see how the world's pre-eminent manufacturer of revolvers would respond.
The Massachusetts-based maker's first offering in the new cartridge is the Model 632 based on its time-proven J-Frame. It is especially noteworthy as S&W didn't play it safe by initially introducing a basic gun; instead, it opted to launch a distinctive and elegant gun that may serve as the flagship of its subsequent .327 Federal Mag. line-up.
The significance of the .327 Federal Mag. is, of course, that by lengthening the .32 H&R Mag. case by 0.125 on an inch and thickening the case walls, ATK was able to create a cartridge of considerable muzzle energy that was nonetheless so narrow that six rounds would fit in a small revolver's cylinder. While that is an increase of only one round, it can also be seen as a 20 percent improvement. In any event, it is something wheelgunners have longed for.
Aside from the chambering, what makes this J-frame different? First, it has a 3-inch barrel that includes an expansion chamber and port to reduce perceived recoil and muzzle rise. The pinned ramp front sight is necessarily set back from the muzzle. This configuration, called Carry Comp in S&W parlance, has often been seen on Performance Center revolvers. Additionally, the barrel has a full underlug that tapers near the muzzle.
The profile is highly distinctive, appearing functional but also graceful. The barrel's length prevents the gun from having the stubby look of a true snub-nose. Further, it permits inclusion of a full-length ejector rod to completely clear spent cases.
Also departing from most small concealment guns, the rear sight is fully adjustable for windage and elevation; not unknown to S&W J-frames, but rare nonetheless. The hammer is small, narrow and deeply knurled. The trigger is broad and smooth.
It is a rather strange amalgam of features. The heavy barrel and adjustable sights of a target gun, the porting of a hunting gun and the smooth trigger and snag-resistant hammer of a combat gun. Yet it all works well together, both aesthetically and mechanically.
The full-size grip is actually a one-piece synthetic unit held by a single hex-head screw on the right side. It has finger grooves, a gentle palm swell and small oval-shaped texturing on the sides.
There is no such thing as a gun with universal fit, but the Model 632 comes as close as any small gun we've handled. Even those with very large hands didn't have a sense of overwhelming the gun. Those with small-to-medium-size hands found it ideal. The Model 632 has an appealing matte-black finish, but the gun is actually built of stainless steel.
The overall dimensions dictate that this is a holster gun. It carried well in a Kramer Gunleather Horsehide Belt Scabbard. Strapping it on, one is tempted to compare the Model 632 to other J-frames, but that is a mistake. It is more appropriate to compare it to a medium-bore K-frame. The Model 632 compares favorably, having the same firepower and significant muzzle energy while being smaller, lighter and faster handling. It also compares favorably to many single-stack subcompact 9 mm Luger pistols. It's neither as small nor light, but it provides six shots of 9 mm Luger +P-class power, has a full-size grip, better balance and the option of single-action operation.
At the range, the Model 632 performed satisfactorily. Neither the adjustable rear sights nor the exposed (though diminutive) hammer created any problems drawing from concealment.
Though the Model 632's double-action trigger pull measured more than 12 pounds on our Lyman gauge, the pull was smooth, precise and exhibited little take-up. The excellent single-action pull felt lighter than the measured 3 pounds, 5 ounces.
Accuracy was typical for a small revolver, yet easier to achieve due to the sights and sight radius. Recoil was stout from full-power loads, but relatively mild from Federal's low-recoil Hydra-Shok. The tested Model 632 was something of a spitter. Upon firing, particles would lightly sting the cheek, regardless of the ammunition used.
Categorizing the Model 632 is difficult. It might best be described as a belt gun for shooters with small to medium hands who prefer a wheelgun. It would also make an excellent trainer, one that fits a broad range of shooters and can initially be loaded with a wide variety of cartridges including .32 S&W, .32 S&W Long, .32 H&R Mag. and .327 Federal Mag. And that ammunition versatility, coupled with the gun's features, make it a good all-around gun that can take small game, plink, be carried concealed and even serve as a house gun that can be handled by both men and women.
Manufacturer: Smith & Wesson; (800) 331-0852; www.smith-wesson.com
Caliber: .327 Federal Mag. (also .32 S&W, .32 S&W Long, .32 H&R Mag.)
Action Type: double-action, center-fire revolver
Frame: blackened stainless steel
Barrel: 3"
Rifling: five-groove, 1:18.75" RH twist
Cylinder capacity: six
Sights: pinned ramp front; square notch, fully-adjustable rear
Trigger Pull: double-action, 12 lbs., 4 ozs.; single-action, 3 lbs., 5 ozs.
Overall Length: 71⁄2"
Width: 15⁄16"
Height: 5"
Weight: 24.5 ozs.
Accessories: plastic case, cylinder lock
Suggested Retail Price: $1,011