Support NRA American Rifleman
DONATE
Gallery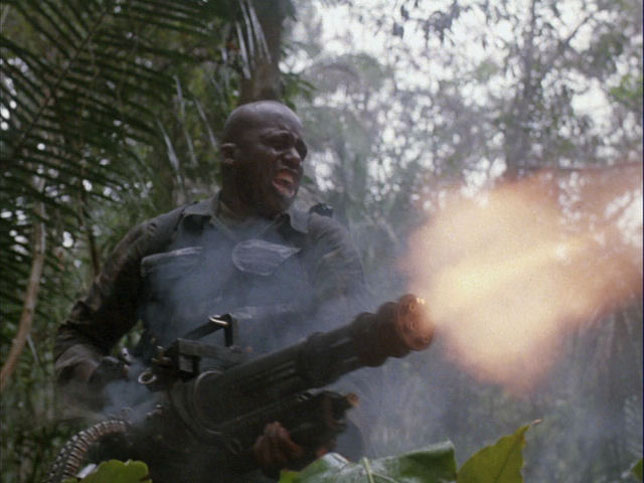 M134 Minigun from "Predator"
By NRA Staff
Blain Cooper, played by Jesse Ventura, dies fairly early in the movie, but his character supplied some unforgettable scenes, both with and without the M134 Minigun. The movie brought us the memorable line: "I don't have time to bleed." Of course, the 7.62 Minigun made it greatest impression when Mac mows down trees with it while trying to avenge his friend's death.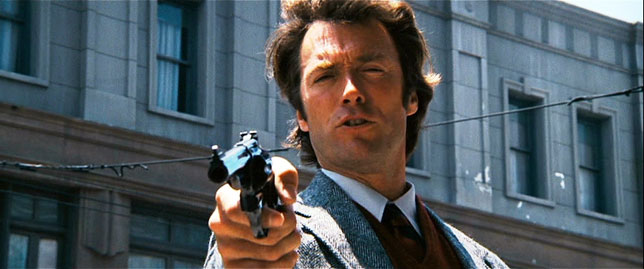 Smith & Wesson Model 29 from "Dirty Harry"
By NRA Staff
Harry Callahan, played by Clint Eastwood, made the Model 29 in .44 Mag. famous while challenging his nemeses in the "Dirty Harry" movies. At the time, the .44 Mag. was considered the big boy on the block, though today, it has been eclipsed by the .454 Casull, the .460 S&W and the .500 S&W. However, there is still just something about holding a Smith & Wesson Model 29 in .44 that makes you want to dare: "Go ahead, make my day."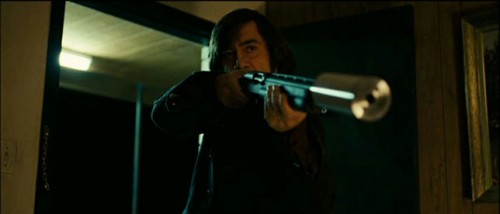 Suppressed Remington 11-87 from "No Country for Old Men"
By NRA Staff
The use of a suppressed Remington 11-87 by Anton Chigurh, played by Javier Bardem, in "No Country for Old Men" was a chronological mistake as the movie was set seven years before Remington brought the 11-87 to market. However, having a suppressor on a black-matte semi-auto shotgun was so cool, few people even noticed.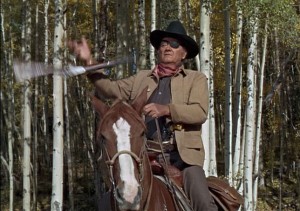 John Wayne's Winchester Model 1892 from "True Grit"
By NRA Staff
John Wayne, one of the most legendary Western movie stars, often used a Winchester Model 1892 with an oversized loop lever, which allowed him to cock the rifle by spinning it around on his hand. "The Duke" used this rifle, and technique, in numerous films, including the climax of "True Grit" where he charges at Ned Pepper's gang with a Single Action Army in one hand, the 1892 Saddle Ring Carbine in the other and the reins in his teeth.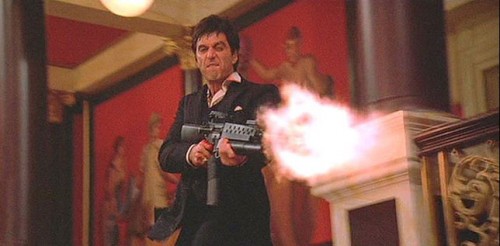 Colt AR-15 with M203 Grenade Launcher from "Scarface"
By NRA Staff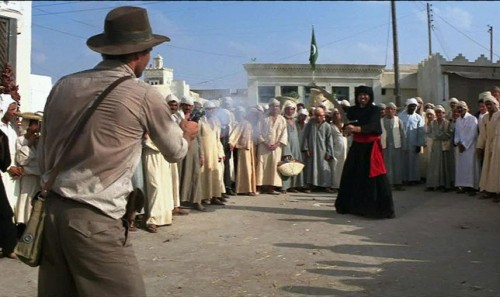 Smith & Wesson Mk II Hand-Ejector from "Raiders of the Lost Ark"
By NRA Staff
Any movie with Al Pacino in it almost screams cool gun scenes, and one of his coolest is when he, as Tony Montana, challenges Alejandro Sosa's men with one of the most remembered lines in movie history, "Say hello to my little friend" before unloading on them with a fully automatic Colt AR-15, which was used instead of an M16A1 due to cinematographic needs of the movie.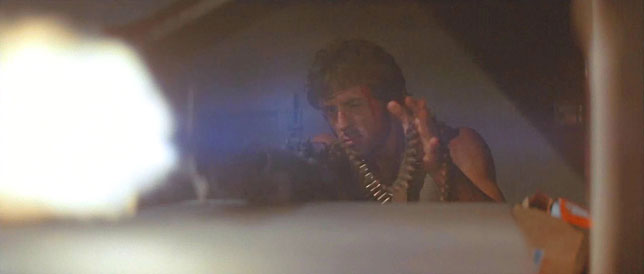 M60 Machinegun from "First Blood"
By NRA Staff
John Rambo, played by Sylvester Stallone, strolls into a town to visit a Vietnam buddy where he gets accosted by a small-town sheriff with a big-time ego who learns you really shouldn't push a Green Beret, not unless you want your deputies made a fool of and your office shot up with a M60 Machinegun. Everything about that is cool.
FN FNC-80 from "Heat"
By NRA Staff
The director used a wide variety of firearms to create an action-packed firefight during the bank heist in "Heat." In this scene that imitates life, bullets are flying as both good and bad guys battle it out, and we watch Lt. Vincent Hanna, played by Al Pacino, look all-out tough as he chases the crew he grudgingly respects, though he's going to take them down, one way or another.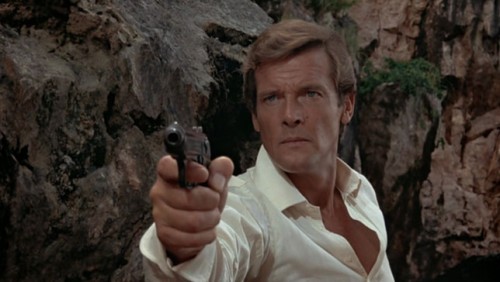 Walther PPK from the James Bond Movies
By NRA Staff
Yes, the gun itself, and the caliber (.32 ACP or .380 depending on the movie), aren't that impressive, but the fact that James Bond uses this compact handgun, both with and without a suppressor, in countless movies brings its cool factor way up. Most of us have dreamed of being a 00 and saving the world while carrying a Walther PPK. If it's cool enough for James Bond, it's cool enough for us.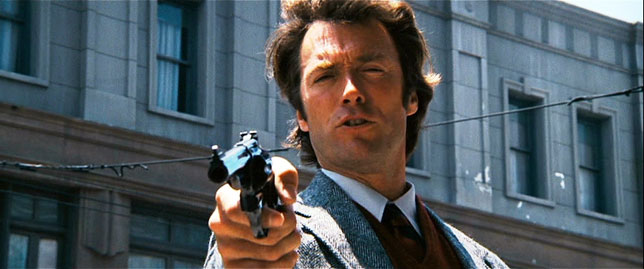 Colt Navy 1851 Cartridge Conversion from "The Good, The Bad and the Ugly"
By NRA Staff
In "The Good, The Bad and The Ugly," Clint Eastwood's character still doesn't have a name, though he's called Blondie throughout the movie. Despite the fact that the Colt Navy 1851 Cartridge Conversion that Blondie carries throughout the film requires some imagination to be believable, it looks great with its rattlesnake grips in what could be the greatest three-man standoff of all time, let alone in this Western classic.