by
posted on October 4, 2020
Support NRA American Rifleman
DONATE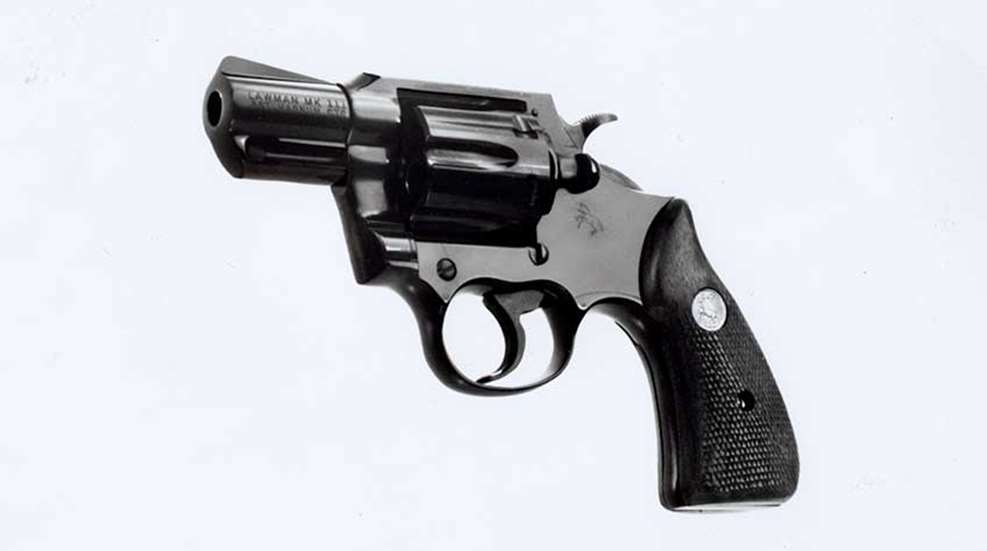 In 1969, the decision-makers at Colt Firearms had to face facts. The company had survived WWII with mountains of 1911A1 pistols for the government then made it through the '50s with an elegant new .357 called the Python, as well as an equally elegant return of the Peacemaker.

It had also managed to return the best of the pre-war revolvers, dropping the huge New Services and tiny Pocket Positives. Along with updated semi-autos like the Gold Cup (.45s and .38s) and Match Target Woodsman, it was a product line focused strongly on high-quality fit-and-finish and match-grade accuracy. 

Colt sold a lot of guns, particularly when they started into the so-called "Commemorative" business. But the legendary first maker of revolvers in America did not have a truly competitive service revolver in their catalog by 1969.

The company did have two basic, six-shot, .38 Special models in the line, both originally designed in the early 20th century. The first, called the Official Police, had a medium-to-heavy frame and was made in a variety of barrel lengths.

There was also a smaller sixgun called the Police Positive, the frame of which served as the basis for such well-received models as the Cobra and Detective Special. Building any of these revolvers was a tedious process in which skilled craftsmen assembled guns from parts, which needed fitting in order to work.

Colt had the guys to do this, but time passed, and only a few new fitters wanted to take this on as a lifetime job. All the fitters were necessarily skilled enough as to deserve a fatter paycheck. In time, building a plain fixed-sight 4" Official Police took just about the same hand fitting as a Python. Economically, this made no sense at all, and Colt began to look for a new way to make a new gun.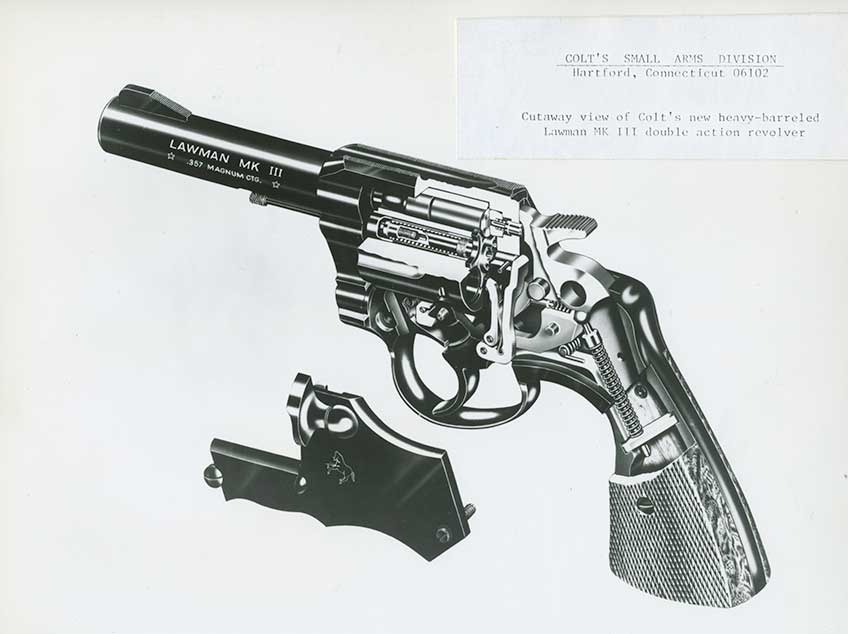 Enter the Mk III series of new medium-frame revolvers. They were designed to compete with Smith & Wesson's K-Frame series and had more than a passing resemblance to them. Built from the ground up as a strong, modern, easy-to-build police service revolver, the Mark IIIs were the first handguns to make use of sintered metal technology in the crafting of the action parts.

While this system did work and lowered production costs, the sintered-metal construction was regarded with suspicion by too many customers. It matters little that the guys who bought and used the Mark IIIs were rewarded with great ergonomics, long service life and impressive accuracy. These Colts may have been quality handguns, but the design was probably too little and way too late. Even a similar series of guns called the Mark Vs was not well received.

When the Mark III guns were current, I owned several of them and fired others. The flagship of the line was the Trooper Mark III, a DA/SA revolver with hand-filling target grips, adjustable Accro or Elliason sights and a graceful ribbed barrel.

One of my fellow deputy sheriffs carried one of these guns with the (very) rare 5" barrel. I confess to a sinful coveting of my neighbor's goods, and although I tried to euchre that gun away from him, I failed. It was a fine example of gun-making, with superior balance and great trigger action. I did own and use an 8" Trooper Mark III, which is large in my memory for its bewildering accuracy.

On several occasions, I had that Colt in the Ransom Rest and got twice-around, 12-shot groups measuring an inch at 25 yards. Usually, it was with Hornady's outstanding 140-gr. JHP load. The gun was super-accurate and once even put six rounds into just over two inches at fifty.

To my hand, eye and experience, the Colt Trooper Mark III was a very fine service revolver. It just never managed to catch fire. And since the Mk IIIs were introduced at about the same time that capacity-minded shooters demanded semi-autos with bottomless magazines, they never got a fair shot at competition.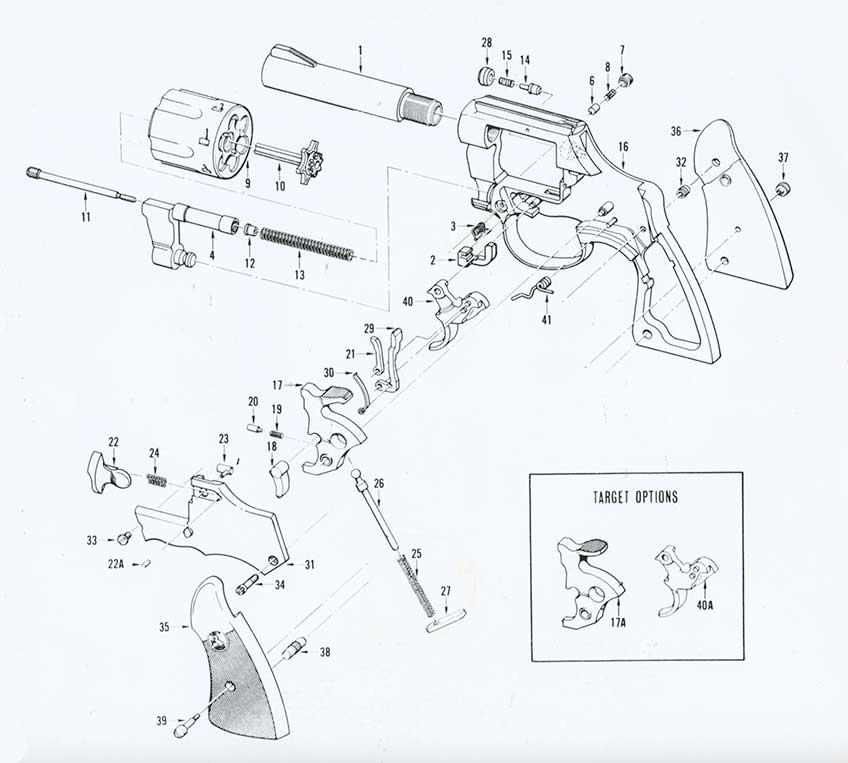 I cannot leave a story on the unappreciated Colt Mark III without mentioning a variant that always caught my attention: the Lawman Mark III, a basic sixgun with fixed sights, plain grips and matte finish.

It was an economy model, much like the original Official Police and Police Positive guns that were good sellers in the pre-WWII era. A solid gun, with the same basic action as the Trooper, the Lawman was aimed at the beginner market. There were few options, but Colt did offer the gun in 4" barrel length, as well as a snubby.

The 2" Colt Lawman was just possibly the ugliest firearm that Colt ever made.

It had a skinny little ejector rod sticking out of the beefy frame, a bull barrel with little grace or taper and a squarish front sight that seemed almost an afterthought. Most of all, it had a grip that was obviously rounded down from the standard square butt contour.

Grips were checkered walnut and rather thick for a snubby. A few years into production, Colt changed the barrel to shroud the vulnerable ejector rod, and that helped a bit, but the grotesque skinny butt, sitting off at a goofy angle, was too much to like.

A partner showed me his off-duty gun one night, and I was intrigued. A Lawman III 2" with no modifications, the gun felt very good in the hand. Gripped high for double-action shooting, the grip shape put my trigger finger in exactly the right place on the trigger for a smooth, sweeping 11- to 12-lb. pull.

Also, I found that the gun was just as accurate as the target-sighted Mk IIIs I had machine-rested earlier. I went shopping and found one at a good price. As a shooter who almost always changes something on every revolver that comes along, I changed nothing on this one.

Right out of the box, the snubby Colt Mk III Lawman did everything it was supposed to do and was obviously designed by somebody at Colt who knew his business. Good things happen when form follows function. Who knew?