by
posted on June 17, 2021
Support NRA American Rifleman
DONATE
Hornady shook up the rimfire world back in 2002 when it introduced the .17 HMR. The Hornady Magnum Rimfire generated faster velocities and flatter trajectories than were associated with the tiny rounds, therefore generating attention from rival ammunition manufacturers. With several of the big companies working on different designs and approaches, it became evident that beefier rimfire brass was needed.
The answer came with some out-of-the-box thinking, as Winchester looked to the construction industry by testing .27-cal. nail-gun blanks. These blanks offered a thicker case wall, and thus were able to hold more pressure. This pressure allowed Winchester to launch a .17-cal. bullet at speeds in excess of 3,000 f.p.s. With that, the .17 Winchester Super Magnum was born.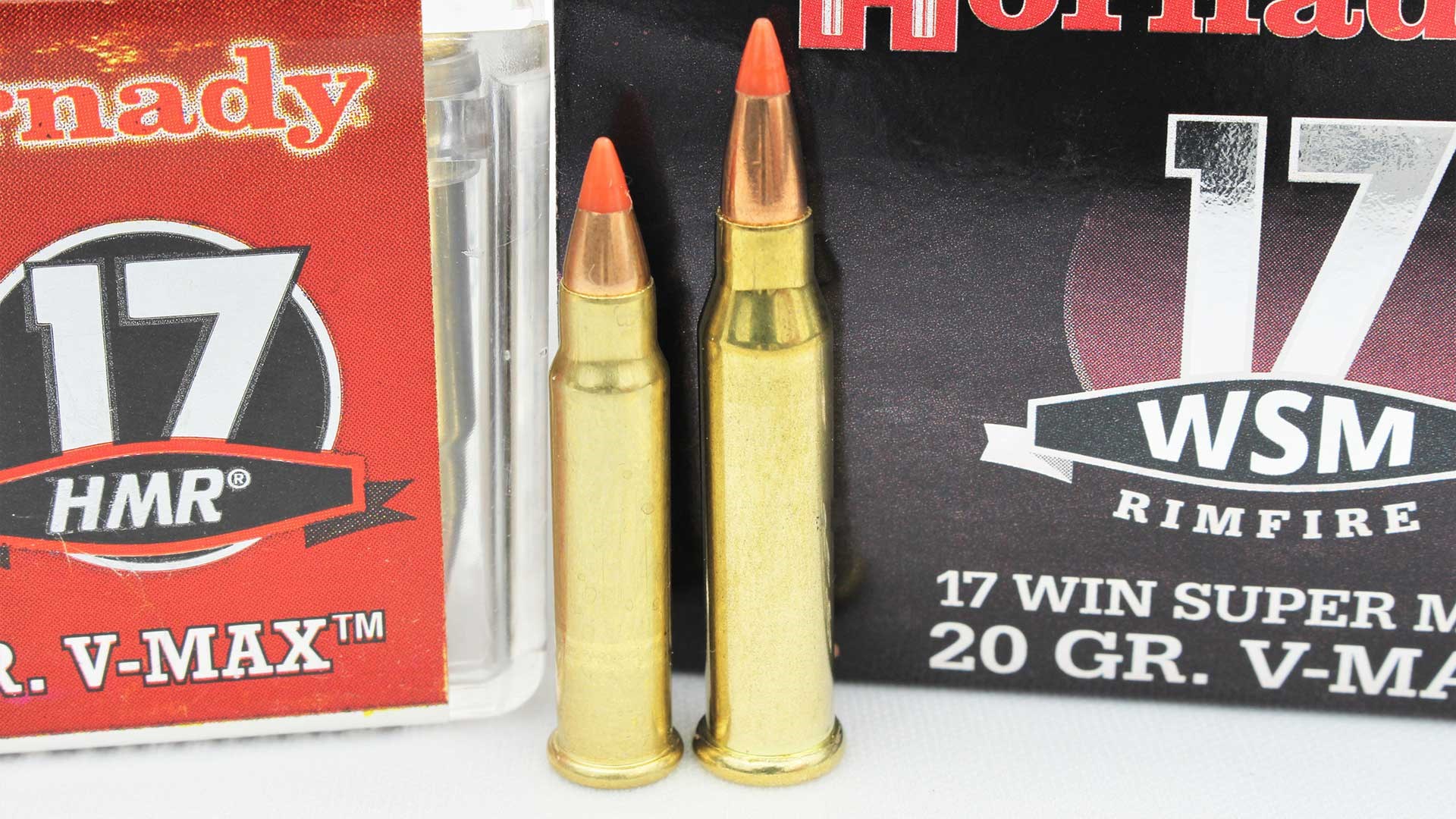 .17 HMR on the left versus .17 WSM on the right.
I'm generally slow to accept a new rimfire cartridge. Before I get invested in something, I typically like to see how its initial launch goes and wait to see if any bugs turn up. In the case of the .17 WSM, things were off to a good start; except that very few manufacturers were making rifles chambered for it. I got excited when Volquartsen announced that it was going to chamber its Summit for the new cartridge, but alas it ran into production problems that revolved around rim-thickness variance and decided to scrap the project.
Nonetheless, I was "stuck" with 200 rounds of this amazing-looking ammunition, and I was destined to send it downrange. With Volquartsen in the rearview, I reached out to Ruger to borrow one of its M77/17s. This gorgeous rifle features a multi-color laminated stock, a matte-stainless barrel and integral scope mounts. Ruger even includes its proprietary scope rings, which I used to mount a Bushnell 4-12x40 mm Trophy XLT scope.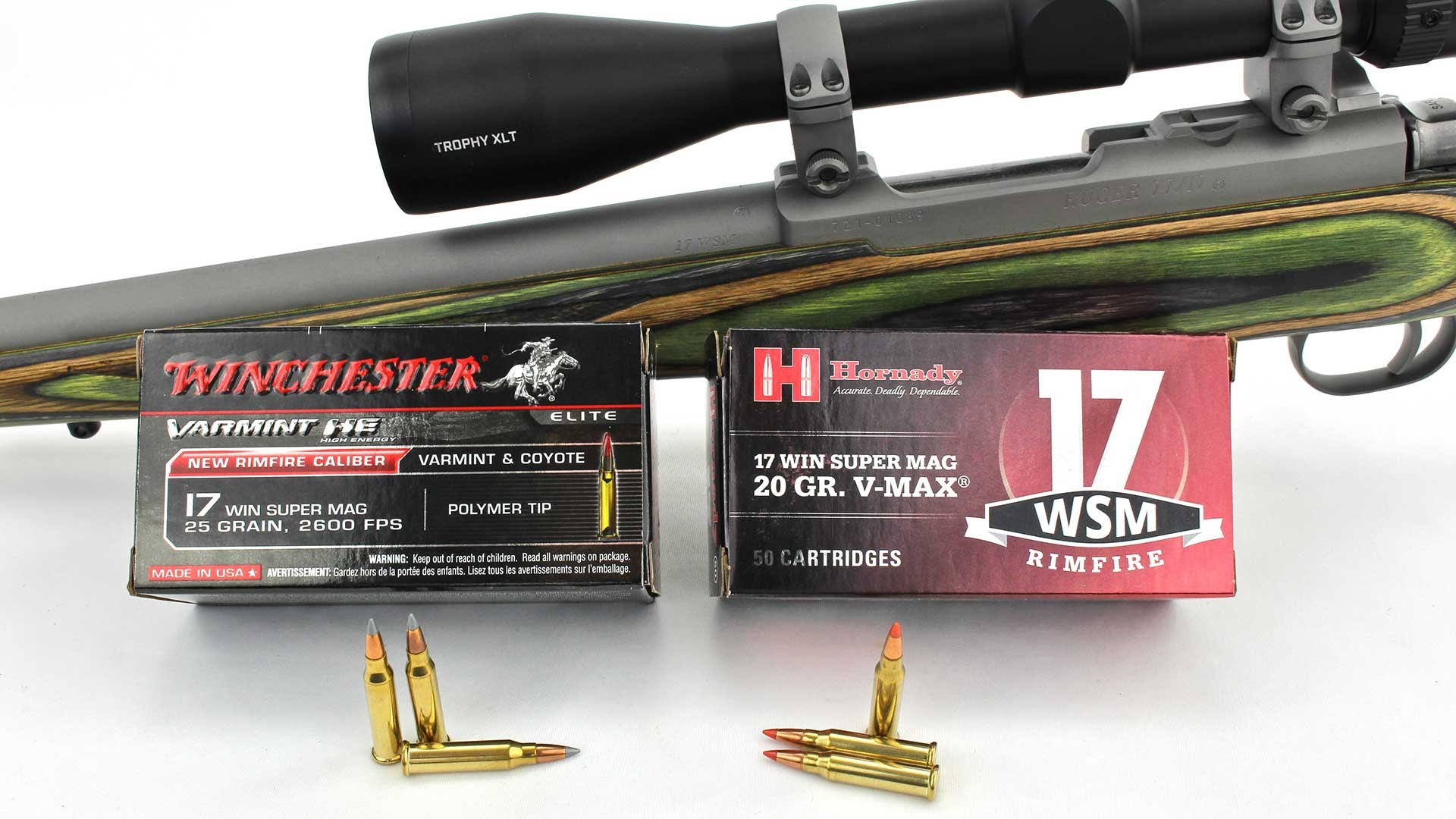 The Winchester 25-gr. HE Varmint and Hornady's 20-gr. V-Max ammunition used in testing, with the Ruger M77/17 with Bushnell 4-12x40 mm Trophy XLT scope used in the test in the background.
My rationale was that it made a good fit for this cartridge and the ranges I intended to use it at. Aside from not disturbing the balance, the XLT is compatible with the Bushnell App to calculate drop and make use of the DOA reticle holdovers. I was more interested in finding out what those drops were on my own, so I opted to gather authentic DOPE out on the range.
My first task was to gather some accuracy and velocity data on the two types of ammunition that I had. My selection included Winchester HE Varmint which featured a heavy 25-gr. polymer-topped bullet and Hornady's 20-gr. V-Max offering. I was happy to see Hornady put out a .17 WSM load as it highlights the camaraderie that exists in the firearms industry. By all rights, you would think they would be bitter that the .17 HMR just got outrun by Winchester's new creation, but this community just isn't like that.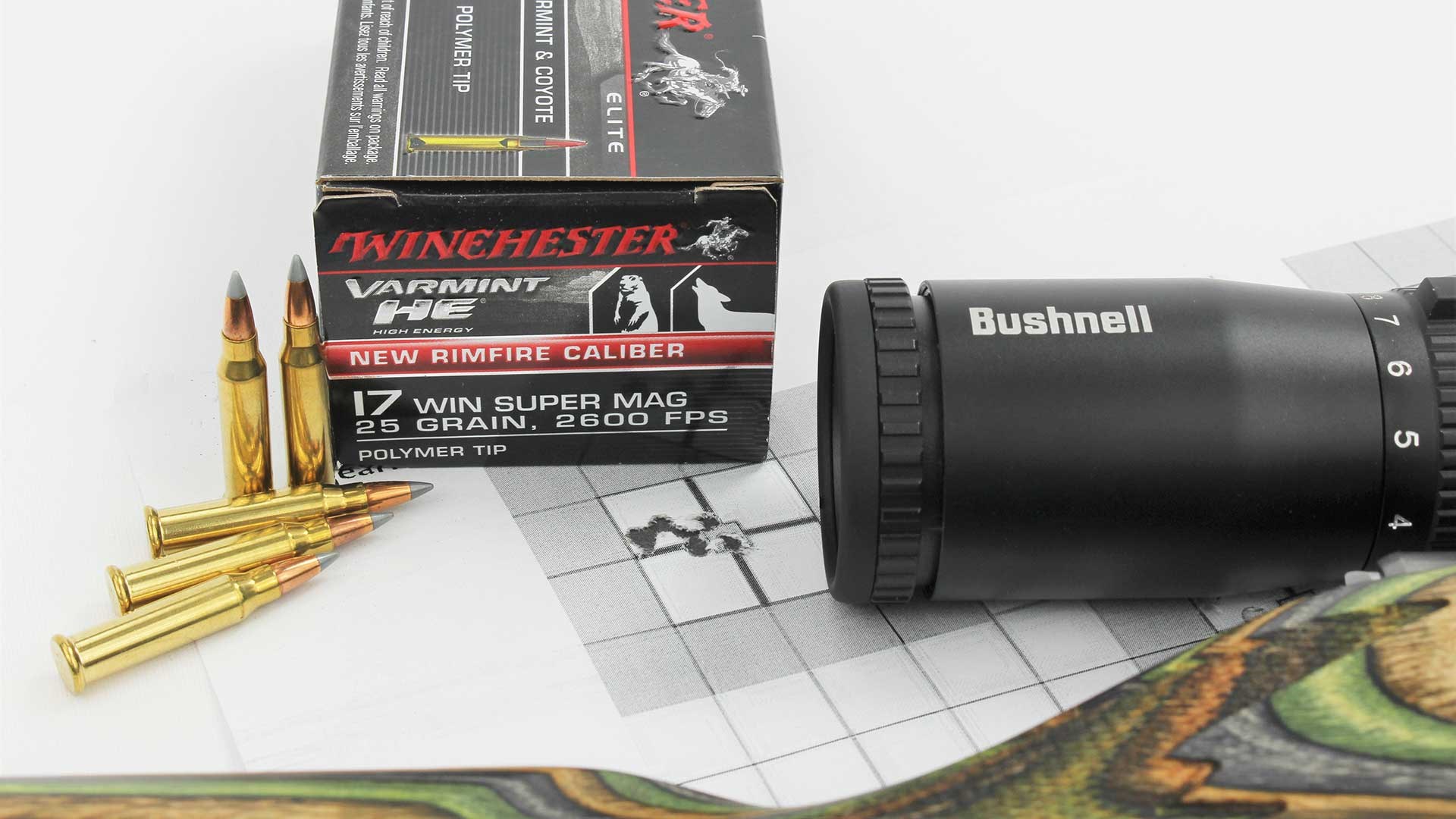 Accuracy results from the Winchester 25-gr. HE Varmint ammunition.
That 20-gr. V-Max is a spectacular projectile, and I was excited to see it driven to new speeds from a rimfire platform. Even though this cartridge is on par with smaller centerfires, I tested it as a rimfire and placed my targets at the 50-yard line. Accuracy was pretty impressive, granted that the rounds had a full-value 5-m.p.h. wind to deal with on this particular day. My best group was with Winchester's 25-gr. HE Varmint rounds and measured at just 0.51". After five, five-shot groups, I tabulated an average of 0.79", which is basically anywhere on a ground squirrel that you wish.
Hornady's rounds weren't too far behind, with the best group measuring 0.65" and its five-group average leaving me with 0.98". I wouldn't hesitate to grab a case of either for a hunt, and the decision would come down to first available. Both rounds fed and ejected equally well, showing that Ruger solved the rimfire magazine issue back in 1964 with the 10/22. The M77/17 magazine is the spitting image of this, except of course being much longer.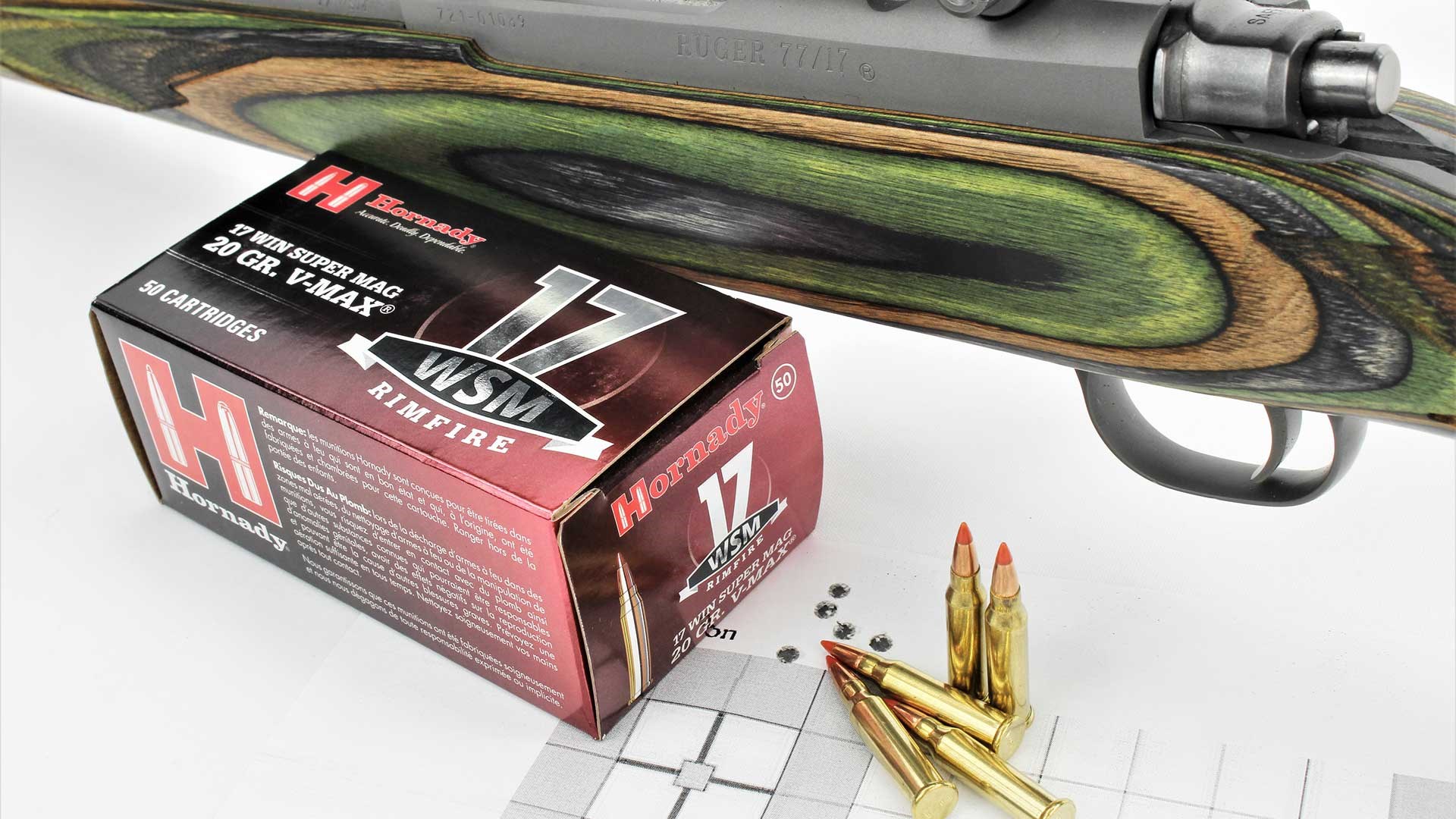 Accuracy results with Hornady's 20-gr. V-Max ammunition.
Accurate rimfires are impressive, yet nothing new. My main interest with the .17 WSM was its flat trajectory. To gain an appreciation for this, I littered the range with targets at the 100- and 200-yard backers to see exactly how these zippy little bullets performed. I started with the 25-gr. Winchester loads and was quite surprised with my 100-yard results. While I was expecting a rather small drop, my three-round group actually impacted 0.5" high. A second group confirmed this wasn't shooter error, and both of these landed just a hair outside of m.o.a., so they certainly qualified as a rule.
This is puzzling, as the barrel and ambient temperature were nearly identical to what they were during my 50-yard testing. The only explanations that I could come up with are parallax error (this scope is nonadjustable) or perhaps it was induced by the gentle breeze, although there wasn't even a hint of horizontal displacement. At 200 yards, I measured a more predictable drop of 6.25", which would still work on a Prairie dog without having to use any sort of holdover. The 20-gr. V-Max loads mimicked the ballistics, except only 0.25" high at 100 and 5.25" low at 200 yards.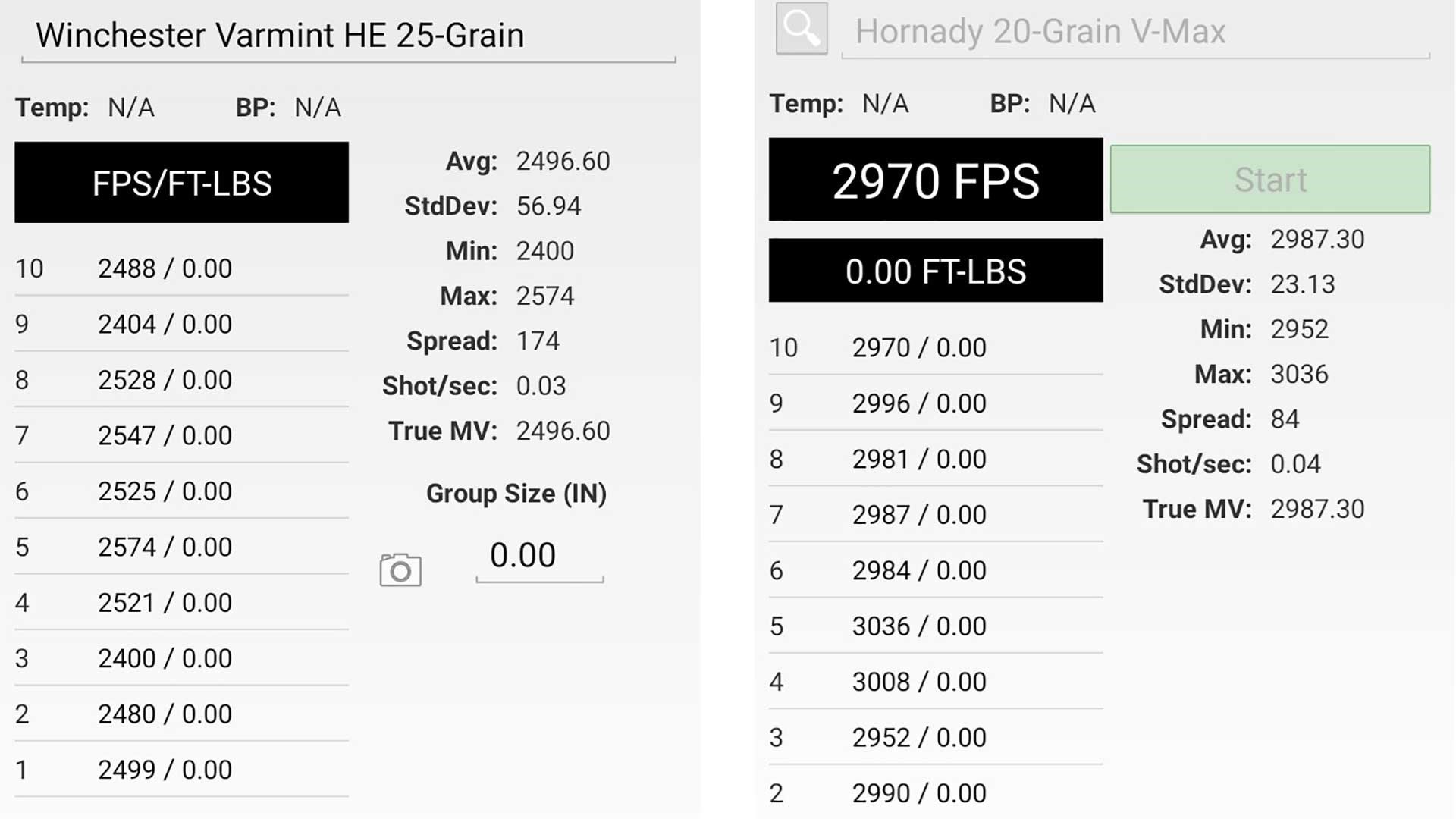 A comparison of performance data between Winchester's 25-gr. HE Varmint and Hornady's 20-gr. V-Max ammunition from the test.
Most impressive of all is that both rounds follow each other close enough that they could be interchanged during a hunt without having to re-zero or swap out DOPE charts. While accuracy was impressive velocity really sealed the deal for me. In the case of the V-Max, we exceeded 3,025 f.p.s. on several occasions. This unprecedented speed from a rimfire is likely to cement it into shooters' hearts and hopefully ammunition manufacturers' product lines.
My time with the .17 WSM ended all too soon but it is certainly something that I would like to take on a varmint or coyote hunt and maybe even a trip to the mountains to stretch it out a bit. Putting a round like this through a gun like the Ruger M77/17 was an amazing experience, and I highly recommend anybody who likes .17 HMR give it a shot as they will certainly enjoy it.