by
posted on February 26, 2020
Support NRA American Rifleman
DONATE

The .17 HMR Rimfire Cartridge

Launched in 2002, the .17 HMR (which is short for Hornady Magnum Rimfire) was designed by Hornady in collaboration with Marlin and Ruger. The goal was to create a rimfire round with a longer reach than the .22 Mag. Up to that point in time the .22 Winchester Magnum Rimfire (WMR), or .22 Mag, filled the price and performance gap between the .22 LR rimfire cartridge and centerfire cartridges preferred for varminting. The .22 Mag. costs less than fast, light bulleted center fire cartridges like the .204 Ruger and .223 Rem. while hitting with upwards of 200 ftlbs. more energy than the .22 LR.

But the folks at Hornady saw the potential to squeeze more velocity out of the .22 Mag. cartridge case, a lot more. In fact, their goal was to replicate the bullet velocities of the legendary 5 mm Remington Magnum Rimfire (RMR) which was the fastest rimfire ever made from 1970 until its demise in 1974. Because 5 mm (0.197") bullets were not a commercially viable option in the early 2000s, Hornady necked down the .22 Mag.'s cartridge case mouth from 0.224" to 0.172" to accept the more readily available .17 caliber bullets. This reduction in bullet diameter results in a notable reduction in bullet weight along with a significant increase in velocity.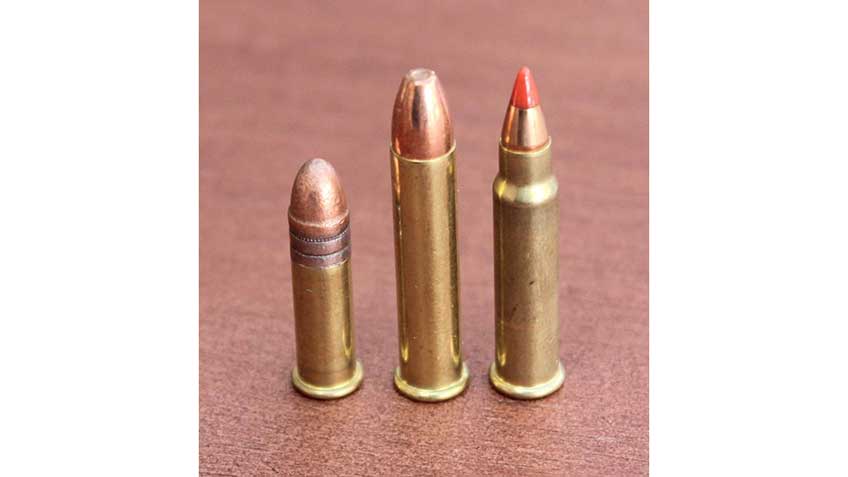 A .22 Mag. cartridge launching a 40 gr. bullet can generate a nominal velocity of 1,875 fps. A .17 HMR topped with a 17 gr. projectile can achieve 2,650 fps. of muzzle velocity. Using rapidly expanding bullet designs, and generating around 250 ftlbs. of muzzle energy, the flat shooting .17 HMR was the first 200 yd. capable rimfire cartridge. It has garnered the reputation for being an exceptionally accurate round as well.     

The only time sales have really suffered in the last 18 years was during the rimfire ammunition shortages of the Obama administration. Like .22 LR, .22 Mag. and even .22 Short, the .17 HMR supplies are back up where they should be. Prices for .17 HMR ammunition are similar to those of .22 Mag., which is to say about 1 round of a magnum rimfire to every five rounds of .22 LR.  In other words, it's not terribly expensive but it's not just a casual plinking load either.

I was able to lay hands on several different loads from five major American manufacturers. That's a good sized slice of what's currently available but there's still more to choose from. The .17 HMR has been outfitted with typical bullet styles including full-metal-jacket, soft point, hollow point and polymer tip options. However, rapid expansion hollow points and polymer tipped bullets weighing 15.5 gr., 17 gr. or 20 gr. dominated the loads used for this review.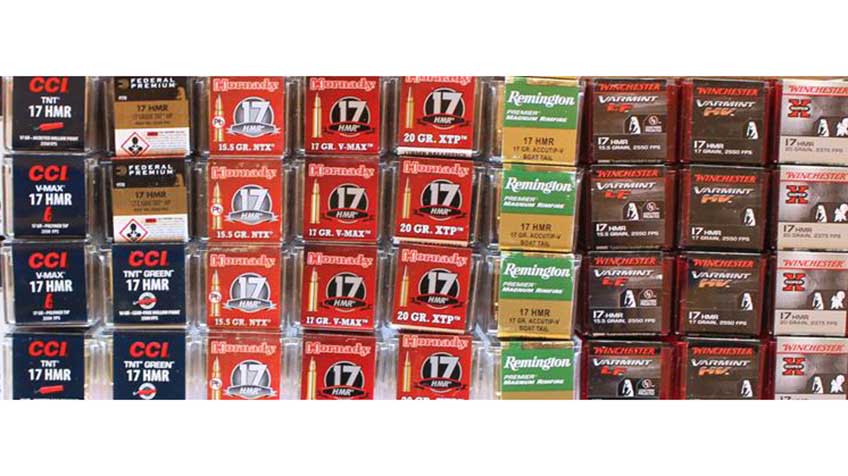 CCI Ammunition offers the most diverse .17 HMR ammunition selection with ten different loads. Four of them are shown here including a less common 20 gr. full-metal jacket load and the 17 gr. TNT Green lead free round for folks who live in areas that restrict the use of leaded ammunition. CCI's .17 gr. polymer tip A17 was designed specifically for the Savage A17 semi-auto rifle and it was the hottest load of the test set with a listed bullet velocity of 2650 fps. That's 100 fps. faster than other 17 gr. loads. I was curious to see how it would perform in other platforms so it was used to set the performance baseline for both rifles.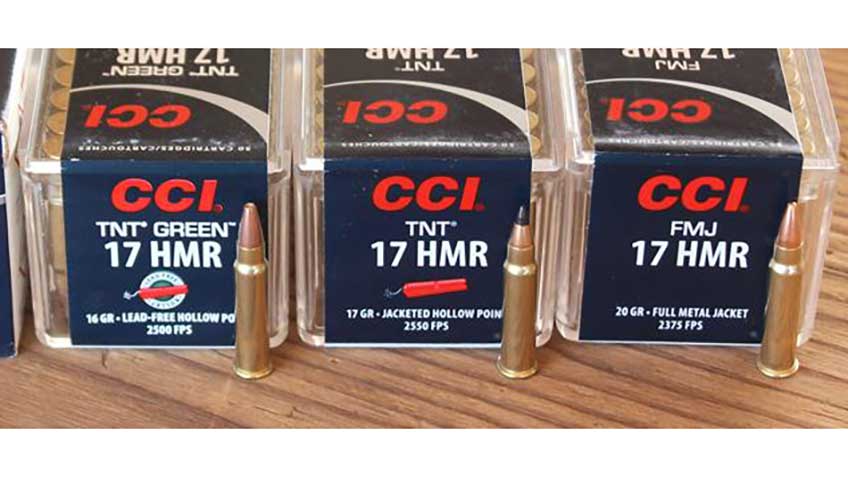 Federal Premium currently offers three load options for the .17 HMR. including 50 round boxes of 17 gr. TNT hollow points (shown here) or 17 gr. V-Max bullets. The company just recently added a new BYOB bottle option filled with 250 rounds of 17 gr. jacketed hollow points. Suggested retail price for the BYOB hollow points is about $0.26 per round, but real world prices are closer to $0.18 per shot.      
Remington has kept a finger in the .17 HMR pie with just one load at the moment.  It's a member of the Premier Magnum Rimfire series topped with a 17 gr. AccuTip (polymer tip) boat tail bullet.      
It may seem surprising that Hornady, the company that developed and launched the .17 HMR cartridge, currently produces just three loads. However, the bullet weights offered do cover the spectrum of common options.  They're all part of the company's Varmint Express Rimfire series including the 15.5 gr NTX polymer tips, 17 gr. V-Max polymer tips and 20 gr. Varmint hollow points.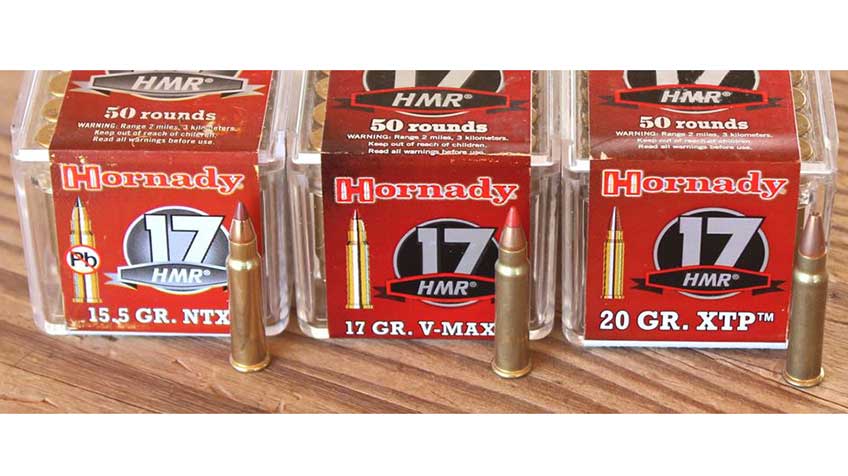 Winchester also offers three loads, each of which covers one of the three typical bullet weights. The Varmint LF NXT is topped with a 15.5 gr. polymer tip bullet, while the Varmint HV NXT's bullet is 17 gr. The venerable Super-X branded load is outfitted with a 20 gr. jacketed hollow point.

The Henry Varmint Express & The Savage A17 XP

When the .17 HMR first arrived on the shooting scene it was quickly adopted by gun makers that already offered .22 Mag. bolt-action rifles. Because the .22 Mag. and .17 HMR share the same cartridge case dimension and overall length, all that was needed to convert existing .22 Mag. bolt guns to .17 HMR. was a barrel swap.     

This barrel switch also applied to lever-action rifles like the Henry Repeating Arms H001 series. The company currently offers several rimfire models chambered for .17 HMR including the Frontier, Golden Boy, and Silver Eagle models along with the purpose-built Varmint Express which was requested for this review.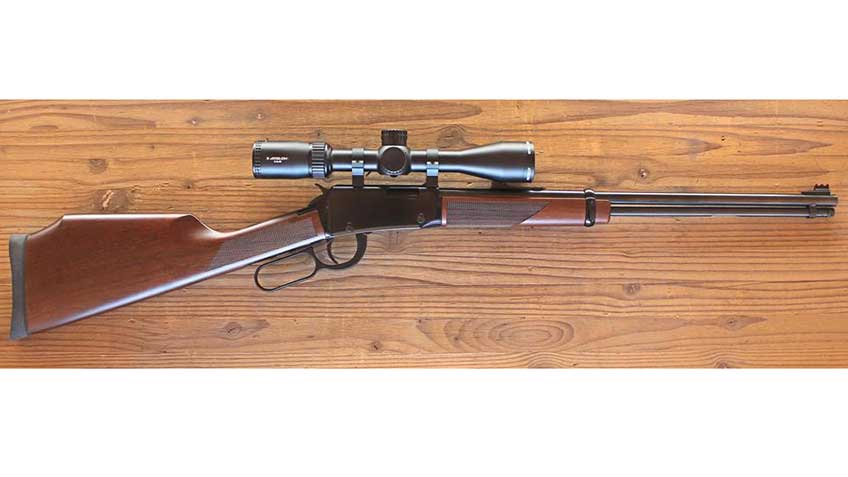 The Varmint Express mostly follows the H001 design with a round profile barrel, aluminum receiver and checkered American Walnut furniture. But it does have a few modifications for varmint hunting. The Monte Carlo stock has a raised comb for use with long-range optics. The barrel is 19.25" instead of 18.50" and the typical factory sight system has been replaced with a set of adjustable fiber optic Williams Fire Sights.     

Like other H001 models, it's a pleasure to shoot on and off the bench with its handy feel, light trigger pull and buttery smooth action. The level of felt recoil produced by .17 HMR in this 5 lbs. 13 oz. lever gun wasn't just mild, it was almost ethereal making this a shoot-all-day comfortable platform. The Williams sights are bright and useful if you're shooting without an optic.     

For formal bench rested accuracy testing, this rifle was outfitted with an Athlon Optics Neos 3-9x40 BDC 22 Rimfire Reticle scope using a top notch set of Warne Maxima 1" High 7.3/22 Quick Detach rings for 11 mm or .375" dovetail rails like that of the H001. The Athlon Neos provides a sight picture and level of clarity that's much better than its suggested retail price ($109.99) would imply. I'm leery of low priced optics because of some disappointing experiences I've had with them in the past. But I tried this one because a friend recommended the company. I'm glad that I did and I'm looking forward to using it with other rimfire rifles.

Although bolt-action and lever-action .17 HMR platforms were utterly reliable from the start, early attempts to build a semi-auto rifle for this cartridge proved to be problematic. The pressure generated by this cartridge is high (by rimfire standards) and the initial blowback-operated rifle designs were cycling open too soon and causing the cartridge cases to rupture in dangerous ways.

In 2015 Savage Arms successfully tackled the .17 HMR safety issues with the release of the A17 rifle, the first reliable semi-auto for this round. The solution was to install an innovative interrupter lug into the top of the bolt carrier assembly. When the carrier is in the forward position the lug locks into a recess milled into the top of the receiver. As the gun is fired, the lug delays the reward movement of the bolt carrier momentarily before dropping down. Once it drops, the action cycles just like those of other blowback operated rifles which means there was no need to bulk up the gun.  It sounds like a simple fix once you see it in action but this is an intelligent design that has yet to be replicated by other gun makers. The A17 employs 10 round removable rotary magazines that are reliable and easy to load. The signature Savage adjustable AccuTrigger, is one of my favorites to work with.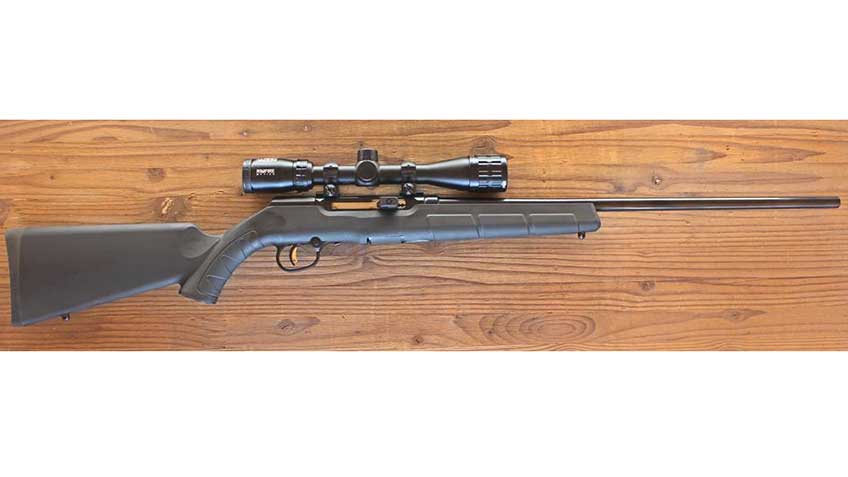 As of this writing, the company offers nine variations of this semi-auto A17 ranging from the standard A17 ($379) polymer stock version to the bull-barrel, wood stocked A17 Target Thumbhole ($639) model. I opted for the A17 XP ($589), which features a black polymer Accustock, a blued round profile carbon steel barrel and a Bushnell Rimfire 3.5-10 x 36mm scope with a set of quick-detach rings. This optic's reticle is configured specifically for the .17 HMR and proved to be just as enjoyable to work with as Bushnell's other rimfire offerings.

This scope, rifle and ammunition combination allows for some of the quickest follow-up shots I've experienced. Once again the felt recoil was exceptionally soft. This stability combined with the smooth Accu-Trigger and the bright, clear view through the Bushell optic made tight double and triple taps a breeze.   

Range Results

For formal, bench-rested five shot group accuracy testing, the targets were set at 50 yds. Bullet velocity was measured for 10 rounds using a Lab Radar chronograph. The results are shown in the following table: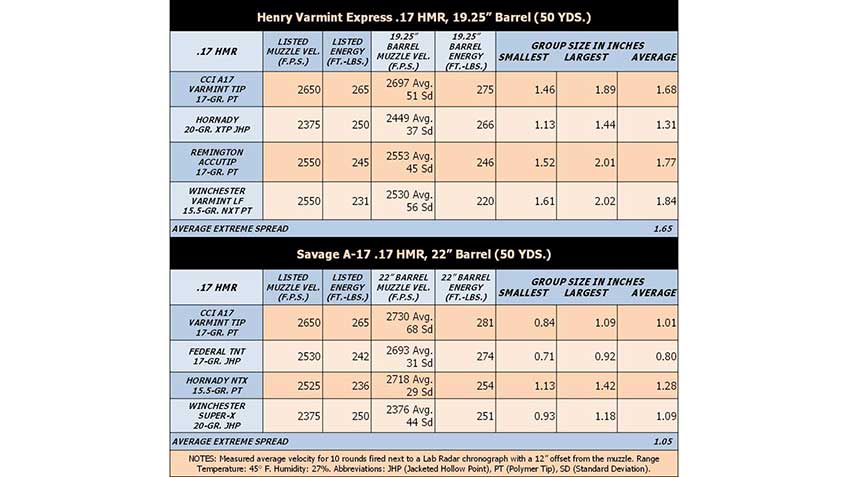 What's most impressive about this particular cartridge test are the bullet velocity averages when compared to the manufacturers' listed velocities. A good deal of commercial velocity information is generated in laboratory conditions using barrels that are often longer than those found on production guns. As a result, it's not uncommon to see real world bullet velocities which are slower (sometimes significantly slower) than those listed on the side of the ammunition box.

But in this case, seven out of eight loads were traveling at or above listed velocity with two loads speeding right along at more than 150 fps. faster. The one load that was slower than the listed velocity only lost 20 fps. Statistically speaking, that's close enough to list velocity to be counted in with the other seven loads, if you squint a little.

I went into this cartridge test having heard good things about the .17 HMR and the high quality rifles available for it. Now I know those good things for myself and I have to say, I've definitely been bitten by the .17 HMR bug. It's a new favorite and I can't wait work with it in the future. If you would like to see how some of the loads tested here fared in a wet clay block test, take a look at Aaron Carter's Top 6 .17 HMR Hunting Loads review.

.17 HMR Ammunition Manufacturers:

CCI Ammunition
Federal Premium  
Hornady
Remington
Winchester

Rifle Specifications:

Manufacturer: Henry Repeating Arms
Model: Varmint Express
Model Number: H001V
Action: Lever Action
Caliber: .17 HMR
Receiver: Aluminum with .375" Groove Optics Rail
Barrel: 19.25" Round Profile, Blued Carbon Steel
Muzzle: 11 Degree Target Crown
Magazine: 11 Round Tubular
Furniture: Checkered American Walnut
Shoulder Stock: Straight Grip with Raised Comb and Rubber Recoil Pad
Length of Pull: 14"
Trigger Pull: 3 lbs. 4 oz. (As Tested)
Safety: 1/4 Cock
Sight System: Williams Fire Sights
Front Sight: Red Fiber Optic Blade
Rear Sight: Green Fiber Optics, Fully Adjustable
Overall Length: 37.5"
Weight: 5 lbs. 13 oz. without Optic
Twist: 1:9" RH
Rifle Grooves: 6
Accessories: Owner's Manual, Lock
MSRP: $589
Scope: Athlon Optics Neos 3-9x40 BDC 22 Rimfire Reticle (#216003) $109.99
Rings: Warne Maxima 1" High 7.3/22 QD for 11mm or 3/8" Dovetail (722LM) $55.49

Manufacturer: Savage Arms
Model: A17 XP (47011)
Action: Delayed Blowback Operated Semi-Automatic
Caliber: .22 Long Rifle
Receiver: Blued Carbon Steel
Barrel: Blued Carbon Steel
Stock: Synthetic AccuStock, Matte Black
Trigger: Adjustable AccuTrigger
Magazine: Detachable Rotary
Sights: None
Included Optic: Bushnell Rimfire .17 HMR 3.5-10x 36mm
Barrel Length: 22"
Overall Length: 41.875"
Weight: Weight: 6 lbs. 14 oz. with Empty Magazine and Optic
Length of Pull (LOP): 13.5"
Trigger Pull: 3 lbs. 6 oz. (As Tested, Factory Setting)
Capacity: 10+1 Rounds
Twist: 1:9" RH
Rifle Grooves: 6
Accessories: One 10 Round Magazine, Trigger Adjustment Tool, Owner's Manual, Lock
MSRP: $589