by
posted on January 11, 2017
Support NRA American Rifleman
DONATE
Often lauded for its durability and accuracy, the M1A platform chambered in 7.62 NATO/.308 Win. also deserves a nod for flexibility. Not long ago I spent some quality time on the range with Springfield's long-range Loaded M1A target model. With its medium-weight National Match barrel and adjustable stock, that rifle can really reach out to far-off targets. However, with a few adjustments to the rifle's configuration, it becomes a potent close-quarters combat platform. Here's a closer look at the Springfield SOCOM 16 CQB M1A model designed specifically for up-close and personal situations.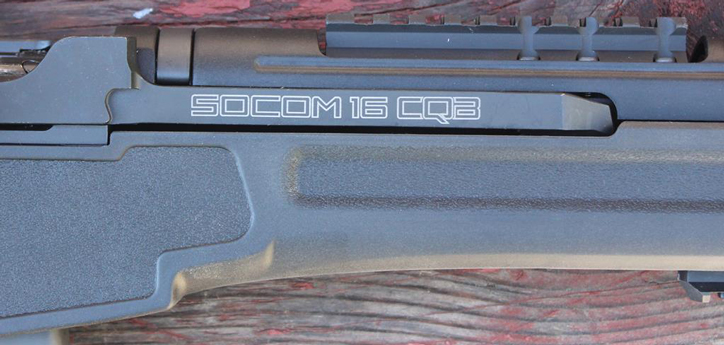 Like its compatriots, the SOCOM 16 CQB is a semi-automatic rifle that operates using the battle-tested M1A gas piston, a rotating bolt and an all-steel action. No matter how you slice it, the M1A is a big gun and Springfield isn't going to monkey with a proven system by experimenting with lightweight alloys. That being said, the company has done a good job of giving it a balanced feel off the bench and making it 2 lbs. lighter than the target model.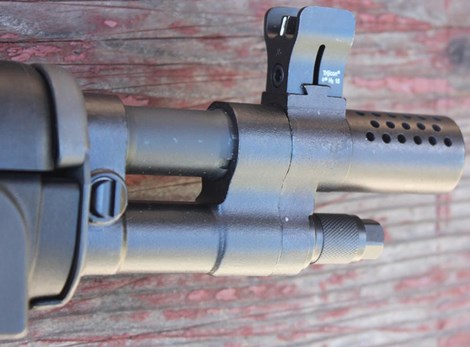 The carbon-steel components have been treated with a non-reflective black Parkerized finish that blends in neatly with the matte black of the lightweight composite stock. The muzzle of the 16.25" medium-profile carbon-steel barrel is fitted with a slim multi-port brake that brings the total barrel length to just under 18".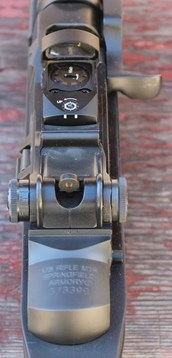 This version of the rifle arrives with two sighting systems installed and accommodations for a third. The iron sights consist of a winged XS Sight Systems .125" blade with a Trijicon tritium insert in front and a fully adjustable .135" ghost-ring aperture in back. Dovetailed into the receiver above the ejection port is a Springfield Armory Clip Guide red-dot mount supporting a Vortex Optics Venom 3 MOA red-dot sight (VMD-3103). This compact sight provides 10 illumination levels, fully multi-coated optics, a water resistant single-piece chassis and ships with a protective rubber cover. The third option is to use the 4" long Picatinny compatible rail located in front of the action to mount a scout scope with extended eye relief. For this review, I ran the rifle exclusively with the excellent Vortex red-dot optic.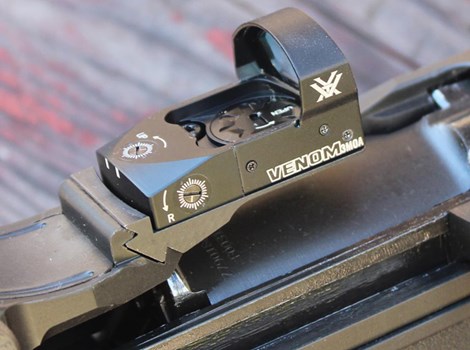 The controls have a typical M1A configuration. The charging handle is on the right, the safety lever is mounted in front of the trigger guard and the magazine release is mounted directly behind the magazine well. The gun arrived with a 10-round steel magazine that rocks into place much like that of an AK-47. The traditional steel bow two-stage trigger was smooth with a 5 lbs. 9 oz. trigger pull.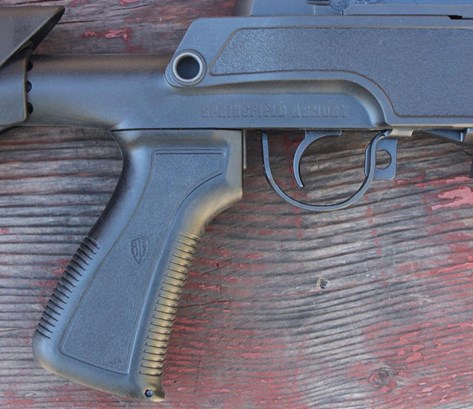 The single-piece Archangel composite stock is loaded with features that will please the tactically minded. The 3, 6 and 9 o'clock positions of the fore-end are slotted to accept accessory rails. A pair of 1.5" side rails is installed at the factory along with a single 3" rail. Two metallic quick release (QD) flush cup sling swivel ports are located on the right and left sides near the muzzle with two more just above the AR-type removable pistol grip. The AR-type 5-postion adjustable shoulder stock is fitted with a removable rubber recoil pad and cheek riser. The length-of-pull (LOP) can be shifted from 11.5" to 14.5".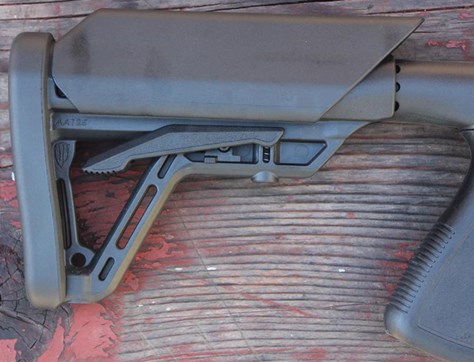 To facilitate easy transport, this M1A arrives in a black soft case in which one entire interior surface is a loop side fastener. The support straps can be placed where preferred in order to accommodate an attached optic while leaving plenty of free space for other aftermarket accessory pouches to be added.

As expected, the SOCOM 16 CQB exhibited top-notch levels of fit and finish across the board. It passed its bench checks with flying colors and went on to perform admirably at the shooting range. The muzzle brake works effectively to reduce muzzle rise, keeping the gun level and on target. The AR-type pistol grip and adjustable stock make this beefy platform much easier to shoulder and swing off the bench. Felt recoil was stiff but manageable. If you feel strong enough to carry a nearly 10-lb. gun around in the first place, then recoil is not going to be an issue. 
I was careful to consider which varieties of .308 Win. might be a good fit for this gun. Because there are so many general purpose and specialized target shooting loads to choose from, it's a good idea to look for those cartridges with performance qualities suited to close-quarters conditions. For example, rapid bullet expansion is a plus. It's not uncommon to see .308s with barrels from 18" to 22" long, so I broke out the trusty Lab Radar chronograph to see how much velocity the relatively short 16.25" barrel would preserve.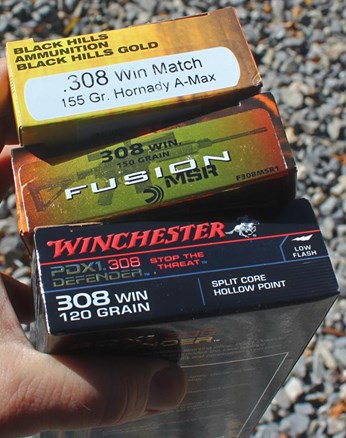 Formal accuracy testing was conducted at 100 yards using the Vortex red-dot optic to shoot five 5-shot groups with 10 rounds fired to check velocity. Black Hills Gold 155-gr. Hornady A-Max flew from the muzzle at 2598 fps. which was 94 percent of list velocity. It produced a best single group of 1.86" with an average of 1.99".
Federal Premium Fusion MSR 150-gr. Fusion soft points, designed for modern sporting rifle platforms, tripped along an 2732 fps. which was 98.6 percent of list velocity. It turned in a best group of 1.91" with an average of 2.11".
Winchester's PDX1 Defender 120-gr. hollow point is listed as a self-defense load and designed to not over penetrate. I witnessed a live-fire demonstration of this load fired into calibrated 10 percent ballistic gelatin. The bullet mushroomed to about one and a half times its original size, stopped at right around 12" into the bare gelatin and left an impressive permanent cavity behind it. Muzzle velocity for this test was a zippy 2969 fps., or 104 percent of list velocity. Its best single group was 2.05" with an average of 2.18".
The Springfield SOCOM 16 CQB M1A is an impressive piece of hardware. Its long and respected battlefield heritage has been preserved and enhanced for the needs of today's military and law enforcement personnel. It's certainly enough gun for those civilians who are looking for a defensive option that offers plenty of punch and a host of tactical features.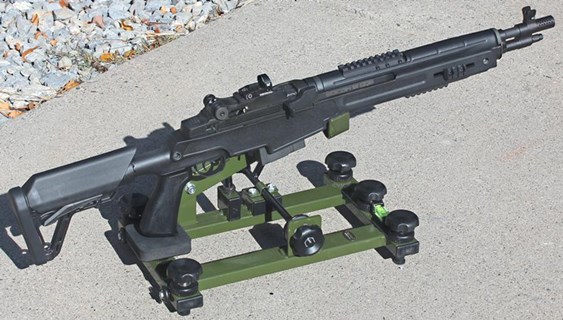 Specifications
Manufacturer: Springfield Armory
Model: M1A AA9611PK CQB Close-Quarters Combat
Action: Gas-Piston Operated Semi-Automatic with Rotating Bolt
Caliber: 7.62 NATO/.308 Win.
Finish: Parkerized Steel
Stock: Archangel Synthetic 5 Position CQB with Adjustable Cheek Piece, Black
Barrel: Medium Profile Parkerized Carbon Steel
Muzzle: SOCOM Muzzle Brake
Front Sight: XS Sight Systems Post with Tritium Insert, .125" Blade Front
Rear Sight: Ghost Ring Adjustable, .135" Aperture
Optic: Vortex Optics Venom 3 MOA Red Dot
Optic Mount: Springfield Armory Clip Guide Red-Dot Mount
Barrel Length: 16.25"
Overall Length: 35.5" - 38.5"
Length Of Pull (LOP): 11.5" - 14.5"
Weight: 9 lbs. 4 oz. with Empty Magazine & Optic
Capacity: 10-Round Parkerized Steel Removable Box Magazine
Twist: 1:11" RH
Rifle Grooves: 6
Accessories: One Magazine, Soft Carry Case, Owner's Manual
MSRP: $2420