Support NRA American Rifleman
DONATE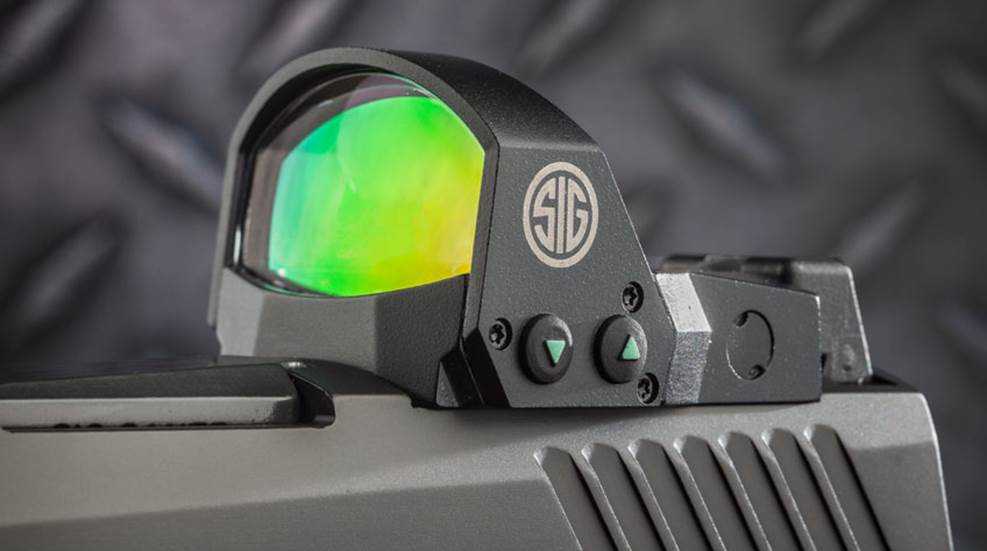 Mini-reflex sights, also called mini-red dots, are gaining popularity because they afford shooters several notable advantages over irons and riflescopes. Namely, they are compact, fast and versatile. And SIG Sauer's Romeo1 unit has a few features that make it stand out from the rest.
SIG offers two versions of the Romeo1, one configured for attachment to M1913 Picatinny rail and one for use with optics-ready handguns; our test optic is an example of the latter. In essence, it's a battery-powered red-dot optic that weighs 0.8 ozs., is 1.8" long and 1.1" tall. As such, it can easily mount onto a handgun without significantly altering its balance or its ability to holster. A channel in the rear of the Romeo1 allows tall iron sights to be co-witnessed through its lens. This is a necessary feature for anyone who likes the speed and accuracy benefits of a red dot but who is unwilling to bet his life on batteries.
The sides of the Romeo1 flare to a maximum width of 1.3" to slightly increase the field of view. The Romeo1's battery cap/compartment is on top of the unit, meaning the sight does not have to be removed, reinstalled and re-zeroed after a battery replacement like many other models. The battery is a CR1632 that's touted to last 2,600 hours (108 days) of continuous use at medium brightness (440 hours at full brightness).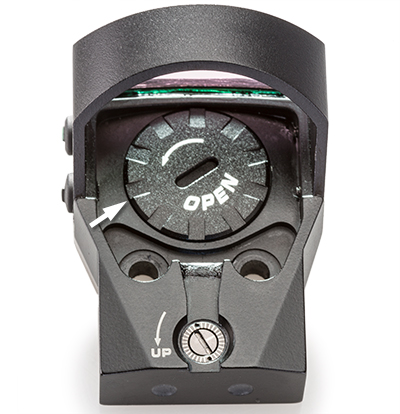 Adjustments to the Romeo1's turrets are made via a small flathead screwdriver. In tests, each quarter turn of the turret (six hashes) resulted in a 1.6" shift in the point of impact at 25 yds. Therefore one hash roughly equates to one m.o.a. The 3-mm red dot's intensity level can be controlled manually by the "up" and "down" arrows on the left side of the unit. In tests, the brightest setting was ample during mid-day sun, while its lowest setting could be used at night without blowing out the entire field of view or ruining the shooter's night vision.
Perhaps the best feature of the Romeo1 is its MOTAC (Motion Activated Illumination) on/off control system that allows shooters to use the pistol assuredly in defensive situations without worrying that the battery might be dead or that ambient brightness will conceal the aiming point. MOTAC works by automatically rousing the sight from its sleeping state upon moving it and returning to whatever setting it was set to prior to shutting off. No matter how we tried to beat it, we could not pull the sight up to the eye to aim and shoot without the reticle already being on and waiting.
The test unit was frozen, thrown, dropped, submerged and then remounted and used to fire hundreds of rounds of .40 S&W without failing or losing its zero. Nonetheless, SIG backs the optic with a five-year warranty. In sum, we found the SIG Sauer Romeo1 to be an incredibly accurate, lightweight and durable optic that can be used on shotguns, rifles and handguns.