by
posted on March 21, 2016
Support NRA American Rifleman
DONATE
There's nothing dainty about the latest version of SIG's flagship P220. But the big gun's steel frame and 5" barrel, and a weight of more than 44 ozs., make it ideal for launching the 10 mm Auto. Add to that the hand-filling G10 composite stocks and checkering on the frontstrap and trigger guard, and the result is a powerhouse that shoots like a pussycat. Even better—it's satisfyingly accurate.
Forty-one years ago, the Swiss armed forces adopted a new service pistol to replace their aging—and costly to make—P210s. The new gun grew from a cooperative effort of the Swiss SIG plant and a German maker named J.P. Sauer & Sohn. Initially, their P75s (named for their year of introduction) had no market other than military service. But the overall worth of the design had great potential for chambering in other cartridges. It was also relatively inexpensive to manufacture, and variations began to make their way to the United States. Now called the P220, the Swiss service pistol became the flagship gun of the cooperative firm that wears the name of both companies—SIG Sauer. Originally seen in America as the Hawes or Interarms 220 or Browning BDA, the P220 very quickly became popular here. The gun came as a .45 ACP, .38 Super, 9 mm Luger or, rarely, .30 Luger. At that point in time in America, the only sensibly priced double-action/single-action .45 was the SIG Sauer. The police, both agencies and individual officers, snapped them up. As the common choice for police shifted slowly from revolvers to semi-automatics, we also came to question the power of the 9 mm Luger cartridge and tried to resolve it with either more power or more cartridges. SIG Sauer broadened the line with a P226 pistol that was really an upgraded P220 with a double-wide magazine of shorter 9 mm cartridges. But it also kept the P220 line punching out single-column .45s, because they were in demand.
Here we are looking at a new version of that classic design—now more than 40 years old—that helped establish the SIG Sauer company in the handgunning world. The new pistol is a much updated, but still familiar, P220, chambered for the resurgent 10 mm Auto cartridge (americanrifleman.org/resurgent). This troubled chambering actually originated in the same time period as the P220, and involved some of the same people. It was originally conceived as a cartridge that would not only increase power levels over anything else, but also permit a double column of mid-size cartridges. Writer/engineer Whit Collins of California made the first rounds from shortened .30 Rem. brass and .38-40 Win. revolver bullets (.400" diameter). The shooting platform was a much-modified High Power with a special Bar-Sto barrel. In time, a southern California maker named Dornaus & Dixon offered the Bren 10 pistol in 10 mm Auto. Somewhat inspired by the CZ 75 design, suitably strengthened for the larger cartridge, the gun and company failed for business reasons. Suddenly, there was no home for the 10 mm Auto cartridge until Colt brought out the M1911-based Delta Elite. Then a few other makers, including Smith & Wesson, followed suit. 
The ammunition was a different story. Before the.40 S&W cartridge came along to fill the medium autopistol gap between the 9 mm and .45 ACP, the 10 mm Auto looked pretty good. Initially described as delivering a 200-gr. bullet at 1200 f.p.s., the velocity was quickly dropped to about 1150. It didn't take long until bullet weight decreased to 180 grs. and the velocity maintained. Norma of Sweden made the first factory ammunition in 10 mm Auto and also tried a super-hot 170-gr. JHP. The 10 mm Auto concept became so popular, so fast, that every ammunition maker rushed product to market, most of it 180-gr. bullets at approximately 1150 f.p.s. This was the standard load and it turned out to be very hard on guns and gunners. 
When the FBI took up the 10 mm idea, it dropped velocity by just about 200 f.p.s., producing the so-called "FedLite" load—a 180 at 950. But as this was going down, S&W and Winchester developed and introduced the .40 S&W, which delivered a 180-gr. 10 mm bullet at 950 f.p.s., just like the 10 mm Auto. You could also get more .40 S&Ws in a typical gun, and within weeks, the 10 mm was dead as a service cartridge. 
This happened in 1990, and 10 mm interest, particularly in the hot loadings, declined sharply. Oddly, there was a brief spike in 10 mm interest when S&W introduced the Model 610 revolver. The basic problem is simple: In FedLite loadings, the 10 mm was the ballistic equivalent of the .40 S&W, which has a distinct magazine capacity advantage. In high-velocity loadings, the 10 mm produced pronounced recoil and muzzle blast, making it unpleasant to shoot. Gun life was also somewhat limited, as I once found out in a lengthy range session with a new Colt Delta. The guns that would take this kind of beating were not there. All of these things happened some 30 years ago. That was then and this is now—enter the new SIG Sauer P220 in 10 mm Auto.
Original P220s in .45 ACP were fairly light pistols with aluminum receivers and slides welded together from sheet steel and solid sections. In the mid-'70s, the guns were innovative not only for their means of construction, but also for their unique decocker/no-safety action. The system was well received in law enforcement at all levels, as well as by certain special operations units in the military. It is present on our evaluation sample of the 10 mm Auto P220. The system is a double-action/single-action, in which the first shot fires with a long pull of the trigger. When the slide cycles, it cocks the external hammer, rendering successive shots in single-action mode. At any point, the cocked hammer may be lowered safely with a quick flick of the decocking lever. There is no manual safety and no need for one either. Although this system would seem to be ideally suited for tactical roles, SIG Sauer apparently sees the 10 mm P220 as more of a sportsman's pistol. At the new P220 10 mm's introduction, there were four variations offered, and three had a pure, single-action trigger system, which is arguably better-suited for hunting.
Nevertheless, the sample gun was a double-action/single-action because that was what I preferred. It is different from the variety of P-series pistols I have fired over the years, most notably in weight. Typically, a full-size P220 in .45 ACP weighs about 28 ozs. compared to the sample 10 mm, which weighed just under 46 ozs. That's just over a pound—about 18 ozs.—heavier. So where does the extra weight come from? Primarily it is the result of a frame that is machined from solid stainless steel. Additionally, it comes from the length of the barrel and slide. Earlier P220s had 4.4" barrels, but the new high-performance models have longer slides that accommodate 5" barrels. Also, careful examination of the new model reveals that the slide is a little thicker and therefore a little heavier. All of this is not necessarily a bad thing.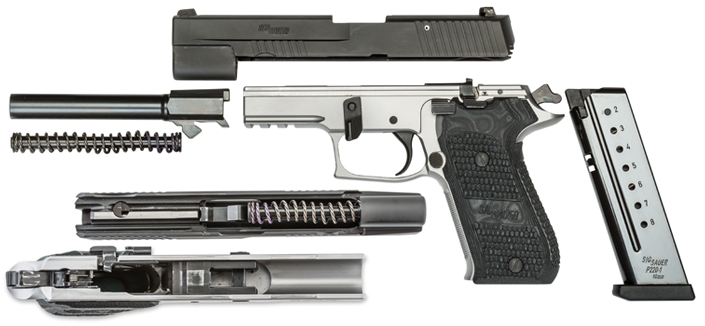 If there is anything we have learned about the 10 mm Auto and its ammunition, it is that this combination is close to the upper limit of what we can expect from a recoil-operated semi-automatic pistol. I am not referring to the magnums such as the Desert Eagle, Grizzly, Wildey and Automag, but full-size pistols capable of holster carry on a regular basis. At the peak of its popularity in the '80s, it was clear that the hot-loaded 10 mm cartridge delivered about 30 percent more power than the beloved .45 ACP. The cost of all that power comes in relatively short service life for the gun, as well as pronounced recoil and muzzle blast. In shooting the 10 mm P220, the recoil and muzzle blast are still hefty. Service life is a matter that will take some time to determine, but for the majority of shooters there should be no concern. Clearly, SIG Sauer wanted to ensure that its new P220 variant would stand up to protracted shooting with 21st century 10 mm loads—hotter than ever before. That's what a modern buyer gets with the P220—a strong, heavy, sensibly upgraded pistol for rugged use afield.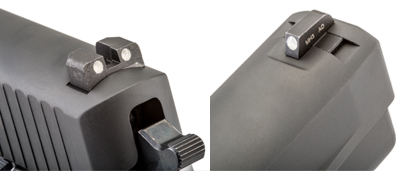 The gun has a strong family resemblance to all earlier SIG Sauers made 40-plus years ago. It has the same manual of arms, profile, controls and sights. The single-action-only versions all have adjustable sights, but the DA/SA sample gun gave me the same SIG sight picture I have been looking at for more than 30 years—three dots on drift-adjustable front and rear sights of the "SigLite" type with tritium inserts. G10 composite material used on the grips gets sharp checkering in what the company calls the "Piranha" style. The two different trigger modes—double-action and single-action—run a bit more than 10 lbs. and 4 lbs., respectively. 
This brings us to the shooting, which was uneventful in terms of problems. The gun accepted every kind of load I fed it, cycling them all with monotonous regularity. Recoil was sharp, but not so bad as to noticeably slow down recovery. You will want good hearing protection when you fire the gun, as it really cracks.
The American Rifleman evaluation protocol calls for three different loads to be tested, but there are several new factory loads for 10 mm Auto, and I needed to see how they would perform next to some old standards, so the accompanying table includes results for five different loads.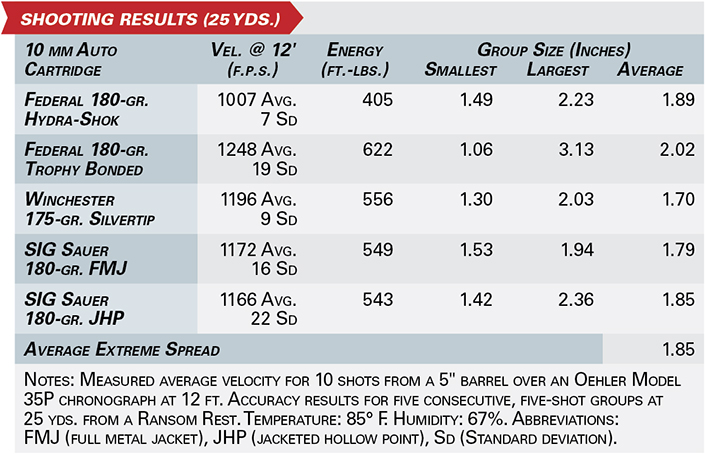 Overall, accuracy was excellent. Five different loads, each fired for five consecutive, five-shot groups, means a total of 25 groups. Those groups averaged 1.85" at 25 yds. The best single group was a 1.06" cluster fired with Federal's new 180-gr. Trophy Bonded, which also was the fastest load at 1248 f.p.s. On the average, the most accurate load (1.70") was the familiar 175-gr. Winchester Silvertip, followed closely by two brand-new loads from SIG Sauer's ammunition division at 1.79" and 1.85". This is top-notch accuracy for a semi-automatic pistol, and it was accompanied by impressive velocity and calculated energy figures. One of the five loads could be considered in the so-called FedLite class, but the other four were hot, running well over the 1150-f.p.s. level. One—the Federal Trophy Bonded—turned up enough velocity to produce 622 ft.-lbs. of energy. This is power performance to rival many of the popular magnum revolvers. 
No large law enforcement agency I am aware of issues 10 mm sidearms anymore, and while some folks prefer the power of 10 mm Auto for personal protection, I suspect the principal use of the P220 10 mm is going to be pretty much as an outdoorsman's gun. Also, there are places around the world where there are actually serious problems with pack animals—wolves, jackals, even feral hogs. A gun like this would seem to offer a great deal of accurate firepower for an encounter with such beasts. I have to wonder if SIG Sauer might be persuaded to adapt its P227 (a double-wide version of the P220) to this cartridge. Almost certainly, the American outdoorsman will probably be the best customer for this pistol and ammunition. A pistol that shoots like this one did at 25 yds. can shoot around 4" to 6" at 100. That is a significant step up in the ongoing story of the handgun.