by
posted on January 3, 2017
Support NRA American Rifleman
DONATE
Although 2016 was a bumpy ride politically speaking, it was a time of positive growth and change for Savage Arms. Starting the year off with a new stylized "S" logo, customers were kept properly supplied with high-quality, affordably priced bolt-actions,  rimfire semi-autos, and even dual-caliber break-action options. Behind the scenes, Savage was working diligently in tandem with Blackhawk! to launch a brand new series of semi-automatic rifles the company had yet to offer despite the platform's ubiquitous popularity with the American public.
In keeping with the push to be a modern firearms company, Savage is now ready to launch its own series of Modern Savage Rifles (an unabashed take on the Modern Sporting Rifle moniker) patterned after the popular AR-15 and AR-10 type semi-automatics.
I had an opportunity to handle pre-production versions of the MSR-15s and MSR-10s at an event held last October but I had to keep what I learned to myself until now. However, this review is not based on what I saw then. Instead, I was sent a fresh-off-the-floor, production-grade Patrol rifle to put through its paces.
As is usually the case with sneak-peek products and hot topics like this one, there was something of a wrestling match over which reviewers would get the limited number of dolled up premium models and who would receive a budget-friendly, basic rifle. I gladly stepped up and accepted the Patrol model for an important reason. Gun makers often reveal more about who they are as a company and how much they care about their customers with their methods of reducing cost than with their efforts to make the tricked-out models attractive to the consumer. In other words, if the "plain-Jane" version of a platform is a solid offering, then the upgraded models are going to be just that much better. 

The new Savage MSR-15 Patrol is a gas-impingement-operated semi-automatic that takes its cues from the mil-spec version of the M4 carbine. But thanks to its quality construction and a top-notch set of new polymer furniture from Blackhawk!, the rifle takes a nice, big step out of the "basic" category that its $849 suggested retail price implies.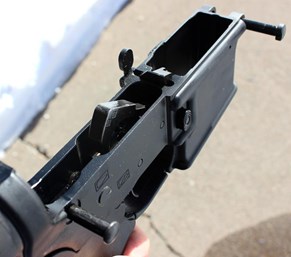 The upper and lower receivers are forged 7075-T6 aluminum with a matte-black hard-coat anodized finish. The pivot and takedown pins exhibit a snug fit, which is generally a good sign. The flattop upper has an integral Picatinny Rail for optics. The 16.125" 4140 steel barrel features 1:8" twist right-hand rifling, an M4 feed ramp and a Melonite QPQ Finish. The muzzle is threaded at 1/2x28 TPI and fitted with an A2-type flash hider.  The mid-length gas tube is paired with a milled custom A-frame gas block that has an adjustable front sight post. This front sight has much cleaner, crisper lines than the typical cast mil-spec version. A removable flip-up Blackhawk! BUIS rear sight is shipped with the rifle to complete the sight system.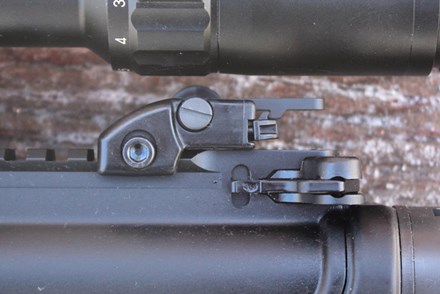 The M16 bolt carrier group (BCG) is fitted with a Carpenter 158 steel bolt and manually cycled with a mil-spec charging handle. All of the BCG's components were well made and properly fitted. The right side of the upper receiver is where you often see cost saving changes. Some rifles ship without a dust cover or have no place to install a forward assist. I think Savage chose a good feature set that splits the difference. The Patrol arrives with a dust cover installed and a port for a forward assist that is capped with a polymer plug to keep out the dust. This way a customer can add a forward assist if they so choose.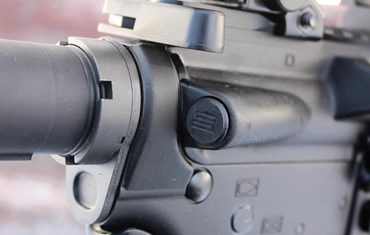 The 6-position buffer tube hosts a standard carbine buffer. All of the rifle's lower receiver controls are typical mil-spec offerings, including the magazine release, bolt release, left-side safety selector and mil-spec single-stage trigger group. The tradtional straight aluminum trigger guard has been replaced with a curved, enlarged polymer replacement. The single-stage trigger is nothing to write home about. Although it does not exhibit the grittiness of some triggers, it was still mushy with a 7-lb. trigger pull.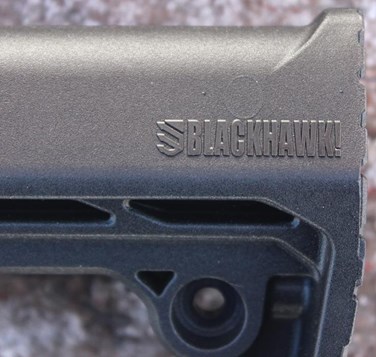 This brings us to the black polymer Blackhawk! Knoxx Axiom furniture. Knoxx is no slouch when it comes to durable polymer stock systems. It's readily apparent that the company put plenty of thought into these components so as to compete with the established big players in the AR market. I found the designs to be both useful and good looking. The M4 style two-piece handguard, held in place with the usual spring-loaded Delta ring, cleverly extends past the front sight. It's shaped to provide an ambidextrous thumb rest and hand stop for those shooters who prefer the straight arm support hand grip favored by 3-gunners and competitors. Four M-LOK compatible accessory slots are found at at the 3-, 6- and 9-o'clock positions. The handguard also has light grip-enhancing textured areas and quick-detach (QD), flush cup sling mount ports on the right and left sides.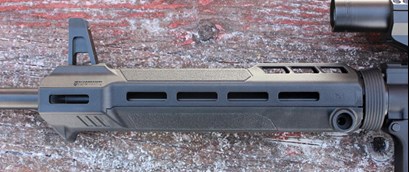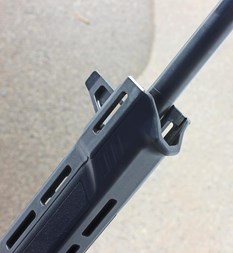 The single piece, molded polymer grip is designed to comfortably fit a wide variety of hand sizes. Sections of straight line raised ridges are separated by non-abrasive sand type texturing. The grip is narrow at the top with deep ambidextrous thumb grooves and a hand filling palm swell. It was a terrific fit for my smaller hands while providing plenty of room for larger ones.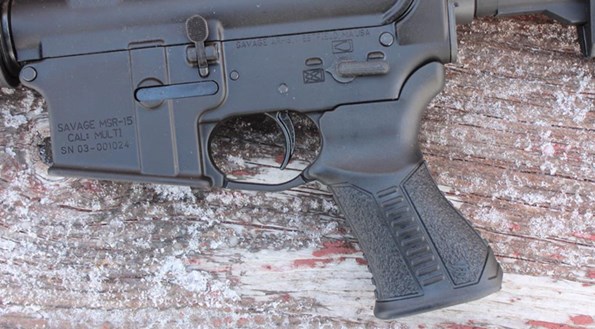 The sleek A-frame 6-position shoulder stock provides four ports for QD sling mounts and a slot for strap-type slings. The rounded top provides a positive cheek weld. The buttplate has large diamond pattern texturing with two ports that allow for the attachment of a Knoxx recoil pad. The stock's adjustment lever is placed at the front to keep it out of the way.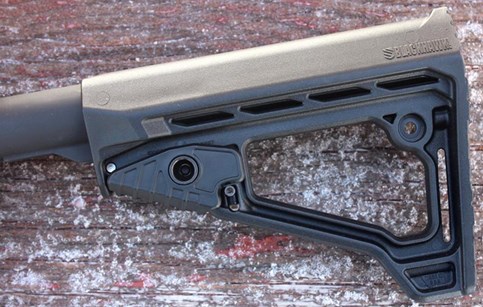 Along with wringing out a brand new rifle, I had the opportunity to test drive a new optic from Bushnell. It is the latest version of the SMRS Elite Tactical 1-6.5x24 mm with a first focal plane BTR-2 Reticle (ET1624J). It won't officially be announced until SHOT Show in a couple of weeks, so you are getting a first look at it right here.



 
 The Elite Tactical SMRS, which stands for Short Midrange Rifle Scope, was designed in accordance to feedback gathered from consultants in the military, law enforcement and 3-Gun competition in order to ensure ease of use and reliability. The folding, knurled ThrowDown Power Change Lever (PCL) provides for quick magnification changes under pressure. The mil-based illuminated BTR-2 reticle provides precise holdovers and red laser illumination. I appreciate having an Off position in between each illumination brightness level so it's not necessary to crank through all of the settings in order to save battery power.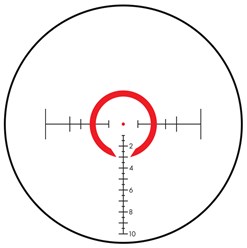 Other features include a 30 mm Forged aluminum alloy one-piece tube, T-Lok locking target turrets and RainGuard HD Lens coating. Mounted to the rifle using a Weaver SPR Optics Tactical Rail Mount, this scope provides a clear, bright view with a reticule that was useful at all test ranges, on and off the shooting bench. This optic costs twice as much as the rifle but the quality shines through.
It was a balmy 24 degrees Fahrenheit in my neck of the woods when I took the Patrol rifle out for a stroll around my favorite canyon outdoor range. Despite the cold, the rifle and scope ran flawlessly from the start to the finish of all testing procedures using a sizable container filled with a variety of Federal Premium ammunition. Off the bench this rifle was just as handy and comfortable to work with as one would expect a good M4-type semi-automatic to be. Test magazines included the single Magpul Gen2 MOE 30-rounder provided with the gun, along with Brownells in-house aluminum and Mission First Tactical (MFT) polymer 30-round magazines. They all fit and functioned as expected.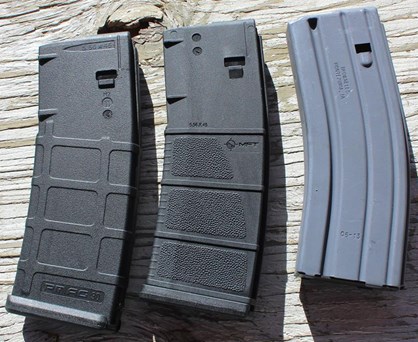 The formal five 5-shot groups for three loads were fired from a bench rest at 100 yards. If I can keep groups at sizes somewhere in the neighborhood of the 1.50" mark using a mil-spec trigger, then I know I'm doing my part. So, it was a bit disappointing to see a best group of 2.15" with a five group average of 2.30" when firing Federal Ammunition 55-gr. full-metal-jacket 100-round bulk box loads. Then again, this is a practice-grade load.

Moving up to the Federal Fusion 62-gr. soft point demonstrated an immediate improvement in accuracy with a single best group of 1.61" and an average of 1.74". Things got even better with Federal Premium Gold Medal Match 77-gr. Sierra Matchking boat-tail hollow points. This load produced a best single group of just 0.66" with an average of 0.83". The potential for this rifle to go to work as an entry level competition rifle is definitely there. I think with a better trigger group (and warmer hands) this rifle's groups would shrink across the board.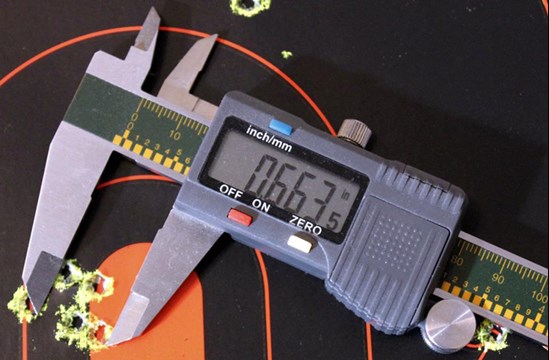 Some readers may not be jumping up and down at the announcement of a new line of Modern Sporting Rifles on the market. Ladies and gentlemen, considering how close we recently came to losing our MSRs, I will be celebrating every good MSR that makes it out the door this year.
Those sentiments aside, I'm glad to see that Savage has chosen to jump on board the AR train. The Patrol rifle, along with other Savage AR models I've handled, clearly reflect the company's long-standing commitment to quality rifles at fair prices. The Patrol is a great fit for those who want a ready-to-go, all purpose .223/5.56 that won't break the bank and can get by without the need for a bunch of expensive upgrades.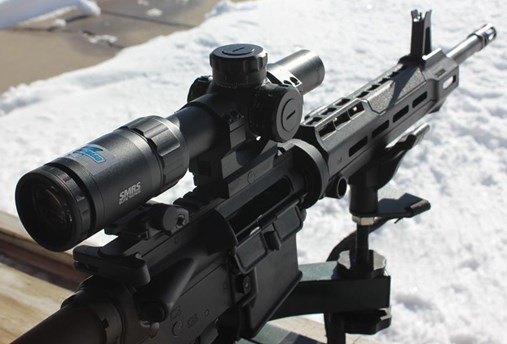 NRA Specifications
Manufacturer:  Savage Arms
Model: MSR 15 Patrol
Action: Gas-Impingement Semi-automatic
Caliber: 5.56 NATO/.223 Rem.
Upper Receiver: Forged 7075-T6 Flat Top, Picatinny Rail, Hardcoat Anodized
Ejection Port Cover: Yes
Forward Assist: No
Charging Handle: Mil-Spec
Bolt Carrier Group: M16 with Carpenter 158 Steel Bolt
Barrel: 16.125", 4140 Steel, Melonite QPQ Finish
Chamber: 223 Wylde
Feed Ramp: M4
Rifling: 1:8" RH
Grooves: 5
Muzzle Threading: 1/2x28 TPI, Class 3
Crown: 11 Degrees
Muzzle Device: A2 Flash Hider
Gas Block: Custom A-Frame
Gas System: Mid-Length
Handguard: Blackhawk! Mid-Length
Handguard Rails: M-LOK Compatible Slots
Lower Receiver: Forged 7075-T6, Hardcoat Anodized
Magazine Release Button: Mil-Spec
Bolt Release: Mil-Spec
Safety Selector: Mil-Spec
Trigger Group: Mil-Spec
Trigger Pull: 7 lbs., Single-Stage
Pistol Grip: Blackhawk! Knoxx Axiom AR
Buffer Tube: 6-Position, Mil-Spec
Buffer Weight: Standard Carbine
Shoulder Stock: Blackhawk! Knoxx Axiom Adjustable Carbine
Front Sight: Adjustable Post
Rear Flip-Up Sight: Blackhawk! BUIS
Magazine: Magpul PMAG Gen2 MOE 30-Round
Overall Length (Extended): 35.75"
Overall Length (Collapsed): 32.50"
Weight: 6 lbs. 8 oz. Unloaded, No Magazine
Accessories: One Magazine, Lock, Ear Plugs, Owner's Manual
MSRP:  $849
Optic: Bushnell SMRS Elite Tactical 1-6.5x24 mm with BTR-2 Reticle (ET1624J) $1,822.45
Scope Mount: Weaver SPR Optics Tactical Rail Mount, 1"/30 mm (48377) $90.45