by
posted on December 19, 2016
Support NRA American Rifleman
DONATE
During this season, we usually post a few gift guides to aid our readers in their holiday shopping. This year I would like to add a few ideas for products that are not currently available. While my kids are penning their holiday wishes to Santa Claus, I'm writing this note to the companies that provide shooting enthusiasts with their Christmas morning smiles: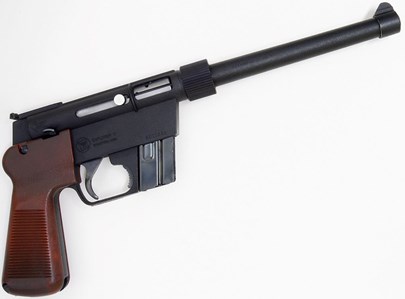 Dear Henry Repeating Arms,
For more than two decades now, you have held the production rights for the rimfire AR-7 pattern U.S. Survival Rifle. Henry Repeating Arms, I like the upgrades you've made, including the updated polymers, integral scope rail and new finish options. But now I would like you to take a crack at converting the platform into an emergency survival pistol, like the Charter Arms Explorer II (shown). This would make for a very handy package to store and pack along in the great outdoors.
Like the Explorer II, it would be easy for you to modify the pistol barrels and grip screws so that the pistol components could not be attached to rifle receivers (per NFA regulations). Please provide a selection of barrel lengths (with threaded muzzles), 6", 8" and 10" would be great. But instead of the Charter model's fixed grip frame, stick with a removable grip modeled after the system the rifle uses now. This would allow for an exciting variety of interchangeable grip styles. Options could include a bright yellow floatation grip for marine applications, a compact folding grip that covers the trigger guard, a spare magazine storage grip or a water-tight compartment for survival supplies. (Photo: Wikipedia)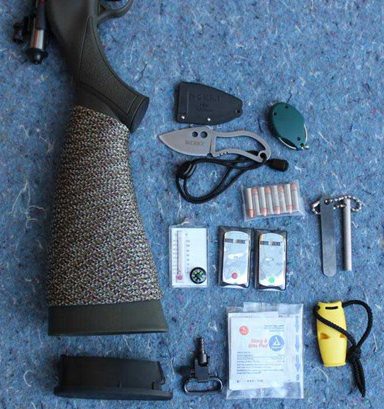 Dear Savage Arms,
I see plenty of potential for your Savage Rascal, that sturdy little single shot that's loaded with more features than one would expect to find in an affordable youth rifle. These include an adjustable peep sight, spring-supported loading ramp, standard rifle controls and the company's signature AccuTrigger. The shoulder stock is hollow and easy to access by loosening the sling swivel stud and removing the buttplate. This combination of features makes this gun a top-notch selection for conversion into a budget-friendly survival rifle. 
There's a good chance that I would enjoy shooting this rifle as much as the kids do except for the feature that makes it such a good fit for younger enthusiasts, the 11.25" length of pull (LOP). My first thought was to suggest that Savage should offer a complete, carbine-size replacement stock for older youth and adults. But then I realized the easy to remove, cup-like buttplate allows for a much less expensive solution: a simple, drop-in, one-piece extended buttplate based on the existing component. Just stretch it out a bit and offer it as an optional accessory. How about an intermediate LOP of around 12.75", for growing youngsters, and a carbine-length model of 13.75" or 14.25" for the big kids like me? Making the extension hollow will keep the weight down and provide extra storage space for the grownups using the rifle as a survival gun.
I don't believe that offering a stock extension will keep folks from purchasing more sophisticated Savage rifles, like the latest version of the A-22 semi-automatic. But it will ensure that the slick little Rascals will get a good deal more range and field time than they do now.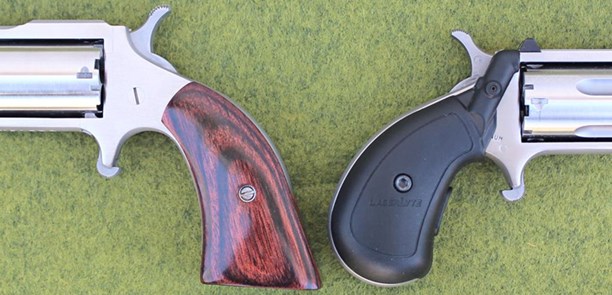 Dear LaserLyte,
You have skillfully demonstrated just how compact your red laser sighting system can be with grip-mounted options for the diminutive North American Arms (NAA) Mini revolvers, including options for the .22 Magnum birdshead grip frame and even smaller .22 Long Rifle frame. I like these Laserlyte offerings just fine, but might I make a suggestion?
In order to fire a NAA Mini, the revolver's oh-so-little grip must be squeezed tightly by just the middle finger of the shooting hand with the ring and little finger curled tightly underneath the middle finger for added support. The rounded birdshead grip rolls back and forth (like a ball bearing) in the cup of the ring finger during recoil. This rolling action helps to reduce the level of felt recoil but it takes more effort to line the gun up for follow-up shots. 
Among NAA's wood grip options are those models called "boot" grips. Much like traditional single-action revolver grip panels, the boot grips have a flat base instead of a rounded one. What has surprised me is how much that flat grip base stabilizes the NAA Minis during recoil with only a miniscule amount of added material that doesn't spoil the revolver's concealable size in the least. It makes follow up shots much easier to place accurately. Laserlyte team, could you take a look at making boot grips a part of the next generation of NAA laser sights?

Dear Sturm, Ruger & Co.,
I know how busy you are this time of year and that you already have a slew of new SKUs on the way. Nevertheless, I would like to suggest a new product for a market niche you have yet to scratch.
I'm not terribly shy about sharing my enthusiasm for rifle-action pistols, including AR-15 types which continue to grow in popularity. This year I dedicated a solid chunk of time to building AR pistols at home and testing them as defensive options. But not everyone has the inclination to build an AR from scratch and would prefer to buy their pistol in a ready-to-shoot condition. Unfortunately, several of the factory pistols on the market are quite expensive.
Here's a good solution: A factory produced AR pistol from Ruger based on the budget-friendly, gas-impingement operated AR-556 rifle. When I tested the AR-556 a couple of years ago, I liked it so well that I paid to keep it. You're in a great position to provide a quality pistol at a much more reasonable price than some models. I would suggest a 10" barrel for improved performance with .223 Rem. and 5.56 NATO cartridges. Stick with the A-Frame front sight and the easy to use twist ring for the M-4 type handguard. Come on, Ruger! All the other AR guys are doing it.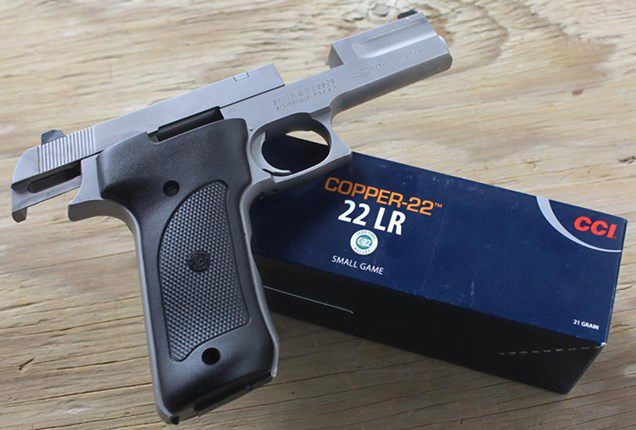 Dear Smith & Wesson,
I really like what I've seen so far of the new .22 Long Rifle Smith & Wesson SW22 Victory. This target pistol handled quite nicely at SHOT Show earlier this year and it has a terrific set of noteworthy features. However, with sound suppressors becoming more and more popular, I would like to point out that you've discontinued a .22 pistol model that was, in certain ways, ahead of its time.
Manufactured from 1987–1996, the Model 422 series of blow-back operated .22 Long Rifle pistols had lightweight aluminum frames with blued steel slides and a choice of 4.5" or 6" barrels. It was also offered in an all-stainless-steel version called the 2206 (shown). It stood out from the rimfire crowd because its recoil assembly is placed over the barrel instead of under it. This raises the iron sights while lowering the bore axis. The barrel nut can be removed and replaced with a threaded extension. In other words, this pistol is ready-made to be fitted with a sound suppressor without the need to modify or replace the iron sights. They're also reliable and fun to shoot without a can. Please bring the 422s back into production.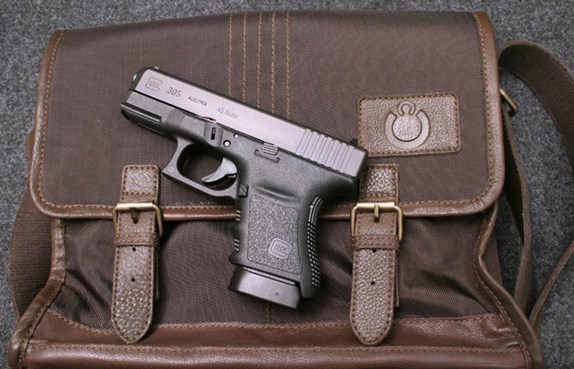 Dear Anyone Who's Listening,
Convenient methods for legally concealed handguns keep dying off. Some fade away because of changing style and others because they have become commonly recognized.
When I first qualified for a permit (over 20 years ago now), I needed a flexible carry system for my handgun. Those were the college years and I was walking and cycling as much as driving in those days. Local regulations required me to remove and lock up my gun in the car or a locker at various times and I didn't want to flash gun steel in the process.
The solution back then was a simple, effective, self-contained system with its own belt, better known as a fanny pack. There were no concealed-carry fanny packs at the time. So, I bought a bright blue sporting model with lots of pockets and hand stitched in a nylon strap to support a clip-on holster in the main pocket. Worn on the hip, it was comfortable, easy to access and, at that particular point in history, socially invisible.
Unfortunately, the fickle fopperies of fashion have little to do with comfort or practicality. All too soon my wife said she would no longer be seen in public with me if I was wearing "that thing." The situation was made even worse by those horrible first-generation concealed-carry fanny packs. They were squared-off black boxes that too many guys insisted on wearing low-slung and dead center off their pelvic region, like medieval cod pieces. Seeing someone digging around for their keys or spare change was, well, embarrassing to say the least. And so my favorite fanny pack was removed long ago, but not forgotten.
Next, I went with a photographer's vest as a concealment garment. Soon there were specialized "Tactical Vests," which are now colloquially known as Shoot-Me-First Vests because they've become so widely recognized. There were the zippered concealment planner/organizers. However, paper organizers started dying off with the advent of PDAs and then bit the dust with the arrival of smart phones. More recently we've seen the "Murse" (Man-Purse), which is a relatively small single-strap bag that has specialized pockets for a pistol or revolver. I don't think this trend has played out just yet and it may stick around for a long time. However, where I live, not enough men my age are using them around town for it to look inconspicuous. 
And so, I would like to put out a general request to bag, holster and accessory manufacturers to come up with the next comfortable, convenient concealed-carry method. I have no idea what that might be, so I'm open to suggestions. 
If you have a comfortable concealment system you like, please share with the rest of us in the comments below. But then again, maybe it's almost time for fanny packs to go from being nerdy to "retro."