by
posted on September 18, 2018
Support NRA American Rifleman
DONATE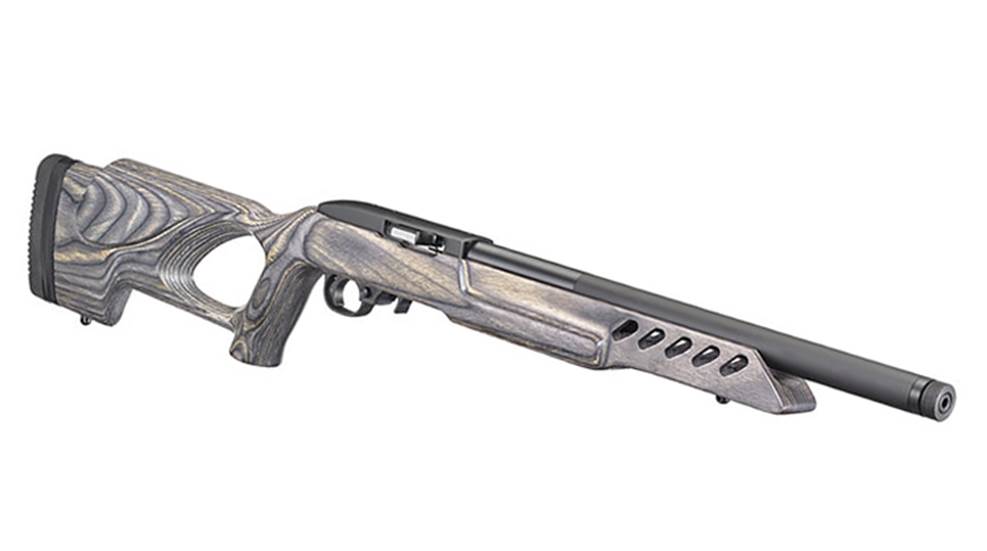 One rimfire rifle that's enjoyed plenty of innovative thinking from both Ruger and other companies over the years is the 10/22 semi-automatic carbine. Its simplicity, modularity and user-friendly controls make it an enjoyable option for enthusiasts of all ages and body types. In fact, the 10/22 has been widely adopted and frequently cloned for precision-rimfire competitions. Companies including Volquartsen Firearms, Tactical Solutions and Kidd Innovative Designs all specialize in race-gun 10/22s with sleek thumbhole stocks, light triggers and tensioned bull barrels. This year Ruger said yep, we can do that too. The company has successfully blended sophisticated manufacturing techniques and simple solutions resulting in a target-grade carbine that costs about half the price as those offered by the competition.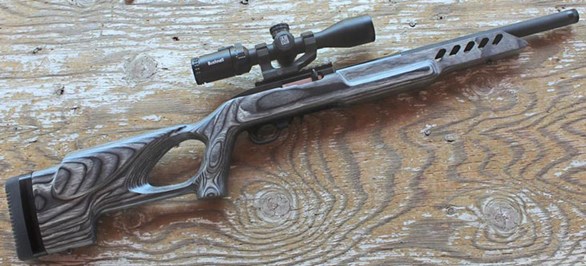 The new Target Lite 10/22 Carbine is based on Ruger's time-tested fixed-barrel, blowback-operated action, which employs the company's patented detachable rotary magazine. Ruger offers 15- and 25-round BX magazines these days, but this rifle ships with the flush-fit 10-round version. The top of the aluminum receiver is drilled and tapped to accept an optics base. This model includes a base suitable for both Weaver-style and .22 tip-off-type scope mounting systems. The reciprocating bolt handle is located on the right side of the receiver.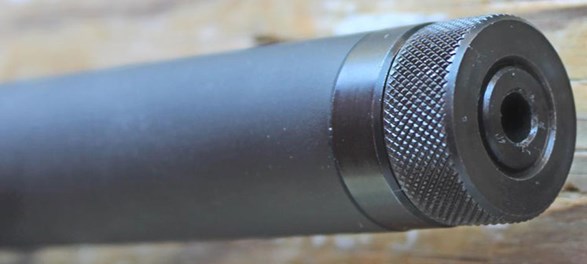 The word Lite in this model's name refers to the bull-barrel design. The first 4" of the blued, cold-hammer-forged carbon-steel barrel has a diameter of 0.920". Some all-steel bull barrels maintain this diameter all the way to the muzzle. This provides added rigidity for tighter groups but makes the rifle relatively heavy. In order to reduce the Lite barrel's weight, the barrel is milled down to a pencil-thin profile forward of the 4" mark and fitted with an aluminum sleeve that maintains the 0.920" diameter. At the muzzle, this thin portion of the barrel is fitted with a specialized nut that's tightened against the aluminum sleeve to generate tension. Securing the thin portion of the barrel in this manner significantly reduces barrel flex when a cartridge is fired. The result is a degree of rigidity comparable to an all-steel bull barrel but at a fraction of the weight. The muzzle is threaded at ½"-28 TPI and fitted with a knurled 0.920" diameter thread protector.

Several custom competition trigger groups for the 10/22 are available from reputable companies who do great work. However, these tuned triggers set in milled aluminum housings are not cheap. Prices start at around $250 and go up from there. By comparison, Ruger's in-house BX Trigger sells as a drop-in upgrade for just $89.95. The Target Lite ships with the BX trigger installed instead of the factory standard model. Much of the trigger's cost reduction is made possible by using a heat-stabilized, glass-filled polymer-trigger housing assembly in place of an aluminum block. The polymer housings are impact and abrasion-resistant with a high tolerance for crummy weather and tough outdoor conditions. 
The non-adjustable grooved polymer trigger is listed as shipping with a 2.5- to 3-lb. trigger pull weight. The BX trigger installed in the Target Lite tested here exhibited a crisp, clean trigger pull of 2 lbs. 9 oz. according to a Lyman's digital trigger gauge. The traditional rounded trigger guard supports a push-button cross bolt safety. A simple, but effective, extended magazine release lever has been installed in place of the typical flush-fit release found on sporting models.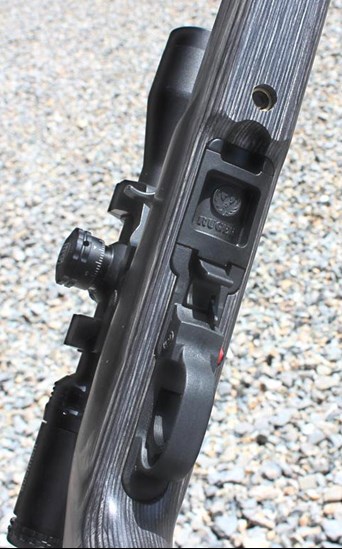 One of the things I like best about 10/22 race guns is the sleek, colorful thumbhole stocks made of laminated hardwood that competitors often use. They are comfortable to work with and give the platforms a unique personality. Customers have a choice of a cool and conservative gray/black laminate (shown) or a more eye-catching red/black option. The fore-end is ventilated and flat along the bottom edge for added stability when using a sandbag rest. The front sling swivel stud, with its mate located next to the recoil pad, can be used to support a detachable bi-pod.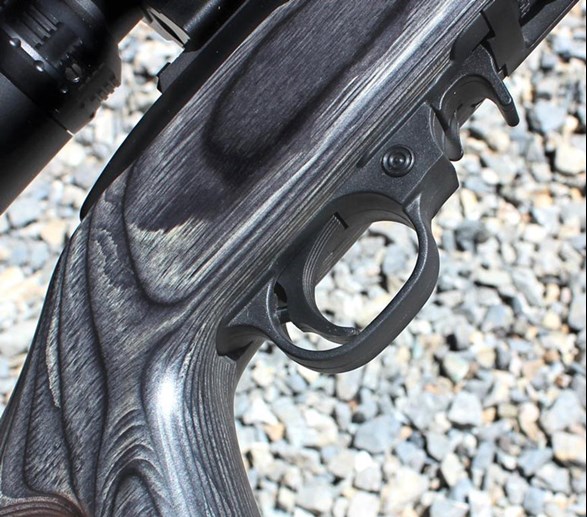 Between the vents and the receiver, the fore-end is contoured to provide a comfortable gripping surface. The pistol grip is sleek and subtly contoured to fit the shooting hand like a glove. The shoulder stock has an ambidextrous cheek riser to provide just the right amount of height for a competition-grade optic. The inch-thick textured recoil pad is made of a soft synthetic material which provides plenty of purchase. With the 0.5" polymer spacer installed, the length-of-pull (LOP) is 14.5". My only complaint about the stock is that the vents around the barrel are rough and uneven, like they were not sanded properly after being cut into the stock. The fact that the rest of the stock is smooth and properly finished makes the rough vents stand out even more. Although this one oversight will not affect the rifle's handling or operation in any way, I hope the company will fix the problem.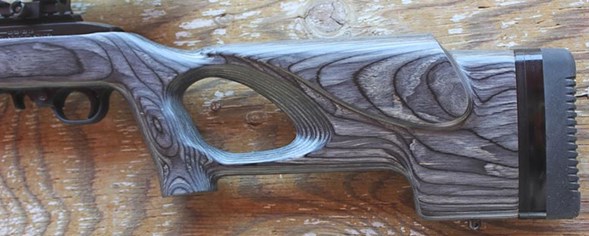 Budget-friendly rimfire optics sell for as little as $35. However, optics are definitely one of those accessories where you get what you pay for. If you just want to do some casual plinking with a plain-Jane gun, then an inexpensive scope will do to the trick. If, however, you are going to strive to squeeze as much performance as possible out of your .22 by purchasing a target model with competition-grade ammunition, then investing in a quality optic just makes sense. 
For this range test, the Target Lite was paired with Bushnell's new AR Optics 2-7 x 36mm scope with a specially designed .22 LR Drop Zone reticle. Although this Bushnell line is labeled for use with AR-15 rimfire platforms, I've found these optics work splendidly with the 10/22. The set of fully multi-coated lenses are housed in a one-piece tube. The fast-focus eyepiece and folding throw-down Power Change Lever (PCL) allow for quick magnification adjustments with Mil-type target turrets for height and windage adjustments. The factory optics rail was traded out for a Picatinny model to allow for the use of a Weaver Tactical one-piece SPR mount.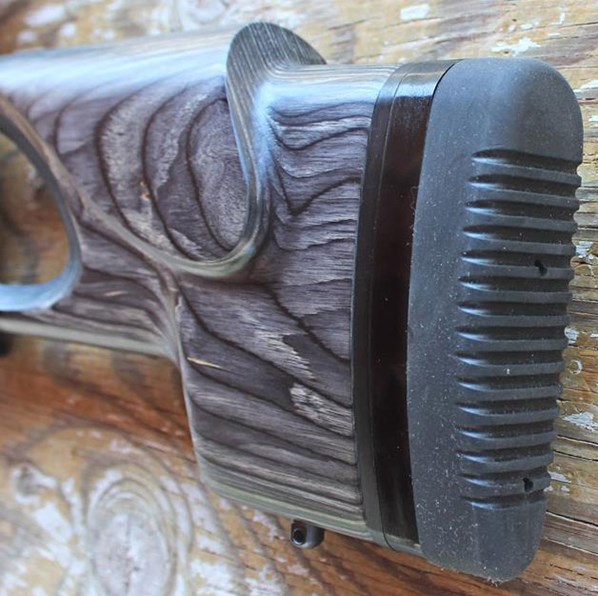 I enjoy being comfortably couched behind a bench with a soft-shooting target .22 rimfire quietly punching out tight groups on paper and engaging reactive targets. This rifle's Lite barrel lives up to its name and I found the thumbhole stock to be a particularly good fit for me both on and off the bench. In typical 10/22 fashion, this rifle ran reliably with all of the loads it was fed. However, the 10-round magazine provided with the rifle had a tight spring that made it difficult to load past eight rounds. I only mention it because I haven't had this problem before. Most likely it just needs to be broken in a bit. The well traveled BX-15 magazine borrowed from another gun also fed reliably in this gun.

Formal benchrested accuracy testing was conducted at 50 yards using target-grade ammunition. The group sizes produced by this model were similar, but slightly better, than those I got when testing the Takedown Lite version back in 2016. CCI Green Tag 40-gr. lead round nose produced a best single 10-shot group of 1.30" with a five-group average of 1.45". Norma USA Match-22 40-gr. lead round nose turned in a best group of 1.16" with an average of 1.25". The tightest shooting load of the day was Eley's Contact Target 42-gr. lead round nose with a best group of 1.15" and an average of 1.22".
Regarding accuracy potential, a $1,000 custom carbine that I built myself a while back printed a single best group of 0.69" while the smallest group I could squeeze out of the Target Lite was 1.15". That being said, this Ruger is selling for real world prices under $500. So, it's up to you to decide how much that half inch of difference is worth.          
The new Ruger Target Lite 10/22 is yet another example of why this platform is among America's favorite rifles to own. It's light, smooth and fun to shoot with. This model allows customers to take a step up from standard sporting 10/22s without breaking the bank or having to build a target gun from scratch.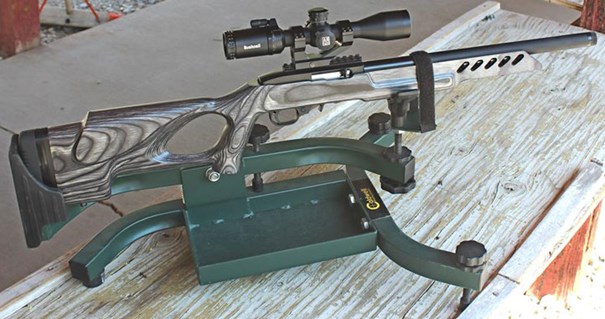 Specifications:
Manufacturer: Sturm, Ruger & Co. Inc.
Model: 10/22 Target Lite (#21186)
Action: Blowback-Operated Semi-Automatic
Caliber: .22 Long Rifle
Barrel: Alloy Steel Barrel Tensioned in Black Aluminum Sleeve
Muzzle: ½"-28 TPI Threading with 0.920" Thread Protector
Receiver: Matte Black Aluminum
Stock: Thumbhole, Black Laminate with Recoil Pad
Trigger Group: Ruger BX Trigger Upgrade
Trigger Pull: 2 lbs. 9 oz. (As Tested)
Sights: None
Optics: Combination Scope Base for Weaver and Tip-off-Type Scope Mounts
Barrel Length: 16.13"
Overall Length: 35.25"
Length of Pull (LOP): 14.50" with Polymer Spacer
Capacity: 10-round Rotary Magazine
Twist: 1:16" RH
Rifle Grooves: 6
Accessories: One 10-Round Magazine, Scope Base, Lock, Owner's Manual
MSRP: $649
Optic: Bushnell AR Optics 2-7x36 mm, Drop Zone .22 LR SFP Reticle (AR72736) $227.95
Scope Mount: Weaver Tactical One-Piece SPR (48377) $90.45