by
posted on September 30, 2015
Support NRA American Rifleman
DONATE
With the first models introduced in 1964, the Ruger 10/22 has become one of the most popular rimfire semi-auto rifles ever devised. Its affordable price and modular design have made it a popular choice for shooting enthusiasts who want to customize their rifles at home without the need for gunsmithing. One of the easiest upgrades to install is a new shoulder stock. There are literally dozens of stock options to choose from, but here are a few that I've had a chance to try that proved to be useful, comfortable to work with and cool to look at. All of these models are ambidextrous so that left and right-handed shooters can enjoy them. 
It should be noted that these stocks are designed with a drop-in fit for Ruger factory produced 10/22 receivers and trigger groups. Some aftermarket receivers may not be compatible while certain trigger groups, like those made by Timney, may require just a bit of trimming along the interior of the stock in order to fit.
1. Adaptive Tactical ADTAC RM4 
The Adaptive Tactical ADTAC RM4 replacement stock is loaded with features and is available in several camouflage finishes (Muddy Girl shown) and black. The stock's reinforced polymer construction makes it light weight and weather resistant. The barrel channel is shaped to support factory carbine barrels with a removable insert to make room for the use of .920 bull barrels as well. The fore-end is grooved for a secure grip and contains a reversible Stowaway accessory rail for the attachment of Picatinny compatible bi-pods, lights or lasers.
The ergonomic pistol grip will accept the ADTAC TacTRED monopod, which is designed to fit seamlessly with the base of the grip. Pressing the forward mounted release button allows the spring-loaded TacTRED to fully extend out of the grip. The monopod can then be adjusted by 0.50" increments to the desired height. Use the TacTRED as a stand-alone stabilizer or pair it with a bi-pod to eliminate the need for a rifle rest.



The AR style adjustable shoulder stock allows for a length-of-pull ranging from 10.50" – 14.75" to fit most shooters. The shoulder stock also contains a pair of pockets designed to snuggly retain two Ruger 10-round rotary magazines. Front and rear sling swivel studs are installed at the factory. This stock tips the scale at 2 lbs. 6 ozs. without spare magazines or the monopod installed. Adding those three accessories will bump the weight up by only 7 ozs. This stock system is also available for the 10/22 Takedown.  MSRP: ADTAC RM4 Ruger 10/22 Takedown Rifle Stock:  $129.95 - $169.99 ADTAC TacTRED Monopod: $39.95
2. Archangel Precision AAP1022 
If you've invested in the barrel and trigger upgrades to convert your 10/22 from a casual plinker into a precision shooting machine, Archangel Manufacturing offers an adjustable stock to match. The AAP1022 is constructed of high strength carbon fiber filled black Technapolymer for durability. A contoured soft rubber recoil pad is attached to a click adjustable butt plate that allows the length of pull to shift from 13.00" to 14.25". The adjustable cheek piece provides up to 1.75" in rise for a just right fit when using an optic.
The goose neck grip features a palm swell and secure storage compartment. The magazine well is flared to make magazine swaps go more smoothly. Four integral steel inserts, two up front and two near the recoil pad, allow for the use of ball lock quick detach sling swivels. The underside of the fore-end features an integral 6.5" Picatinny rail that ships with a textured cover installed. The barrel channel free floats both carbine and bull barrels but a barrel tension kit is included just in case your barrel needs a little extra support. 



This stock weighs in at 2 lbs. 15 ozs. and arrives with additional upgrades including an extended magazine release, red recoil buffer and one sling swivel stud for Harris style bipods. Also keep an eye out for the rugged Archangel AA922 10-22 magazine available in 25-round (A2) 15-round (A3) and 10-round (02) configurations. MSRP: $132.99
3. Boyds Hardwood SS Evolution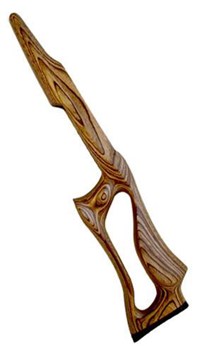 Boyds Hardwood Gunstocks manufactures high quality laminated stocks in a variety of colors and configurations for several long gun makes and models. The company's options include the sleek SS Evolution target stock for the Ruger 10/22. Configured to free float carbine and bull barrels, the buttstock is carefully hollowed out to reduce the weight to about 2.5 lbs. with a length of pull measuring 13.75". A contoured cheek rest, abbreviated angled fore-end, hand filling pistol-style grip and textured rubber recoil pad all come together to make this stock a pleasure to use on and off shooting rests. The exterior of the stock is coated with a tough clear coating which is resistant to solvents and oil. A brass takedown screw collar is installed to lend additional support to the action. The company has recently added new custom laser engravings that include grip textures, symbols and text. Visit their website to learn more about the available options. MSRP: Starting at $99
4. Magnum Research Glacier Ridge .22 LR Ambidextrous Thumbhole Stock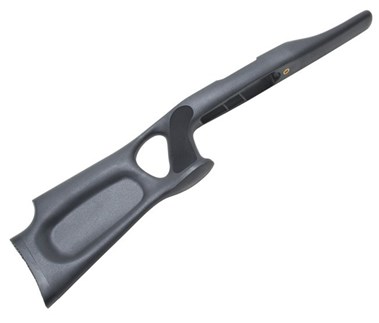 For hiking, hunting and time in the field it's hard to beat a rugged rifle stock that's simple and light weight. The Glacier Ridge thumbhole sporting stock was originally designed by Magnum Research for the company's signature series of MagnumLite rimfire rifles. Constructed of Polypropylene with fiber additives for maximum strength, this single piece stock features a comb height designed for comfort, a semi-palm swell grip with molded in diamond pattern checkering and a textured soft rubber recoil pad. The free float forend fits most 10/22 barrel styles with a flattened underside for increased stability when using a sandbag rest. MSRP $79.99
5. Magpul Hunter X-22 
Magpul has been rapidly expanding its U.S. made firearm accessories this year to include new stocks for AK pattern rifles, the Remington 700 and the Ruger 10/22. Just like the Hunter X stocks for center-fire rifles, this rimfire version is a full-feature black polymer stock with removable inserts for adjusting the length and comb height. The stock arrives with four 0.50" spacers to be placed in between the non-slip rubber buttpad allowing the length of pull to be stretched from 12.5" to 14.5". Optional SGA cheek riser kits can be used to raise the comb height to match the optics used.



Weighing 2 lbs. 7 ozs. with two spacers installed, this stock has a reversible barrel channel tray that ensures a proper fit with factory carbine or bull barrels. The textured grip features a 60-degree grip angle from the bore axis. The M-LOK slots located on the fore-end at the 3, 6 and 9 o'clock positions will accept a wide variety of Magpul accessory adapters and sling mounting options. Additional sling mounting options include left and right rear 1.25" Footman's Loops and quick detach (QD) swivel ports. The Hunter X is compatible with all capacities of factory Ruger 10/22 magazines. MSRP: $139.95