Support NRA American Rifleman
DONATE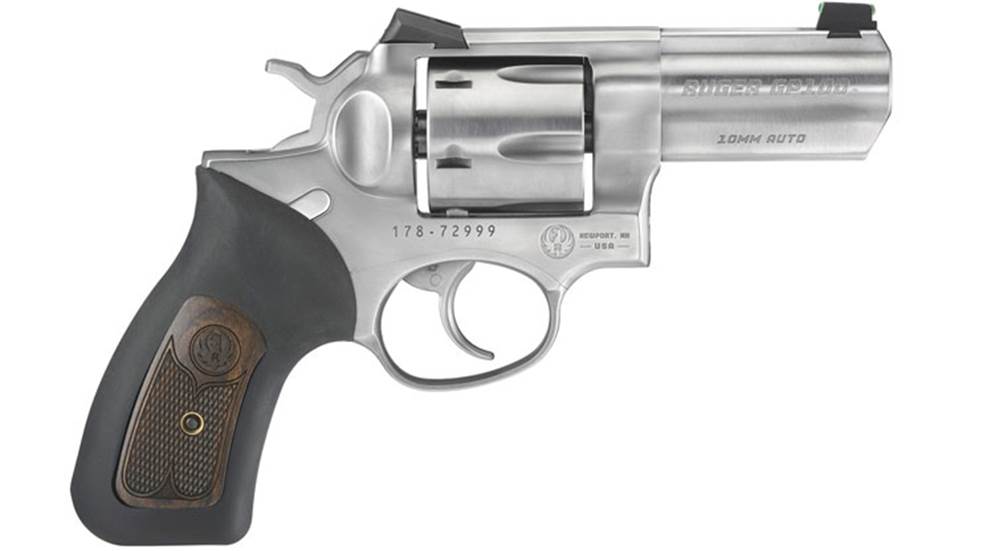 My love affair with Ruger's Compact GP100 began in earnest back at the turn of the century with the purchase of a now discontinued model KGPF-330. This 35-oz. stainless steel 6-shot .357 Mag. features a short-shroud 3" barrel, fixed sights and a "classic" compact rubber grip. Manufactured in 1999, it's still one of my all-time favorite handguns to shoot. Thanks to the latest Lipsey's exclusive version of the GP100, I have a terrific reason to revisit this somewhat neglected version of the GP100.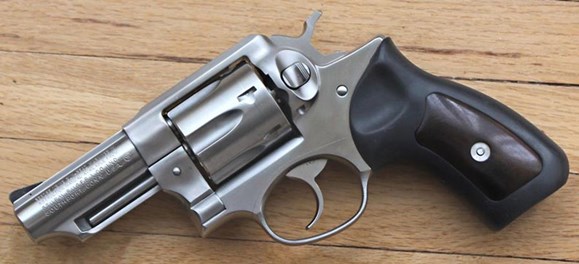 When I started writing gun reviews full time in 2009, one of the first models I wanted to tout as a flexible, multi-purpose shooting solution was the Compact GP100. The term Compact suits the 3" barrel GP100 because it neatly splits the difference between the Standard 4" to 6" barrel models fitted with full-sized grips and the Sub Compact 5-shot, 2" barrel SP101s. Like the larger versions, it's utterly reliable with a tough stainless steel construction. It's simple to operate with an intuitive press button cylinder release and the 3" model comfortably transitions from holsters into smaller quick-access lock boxes.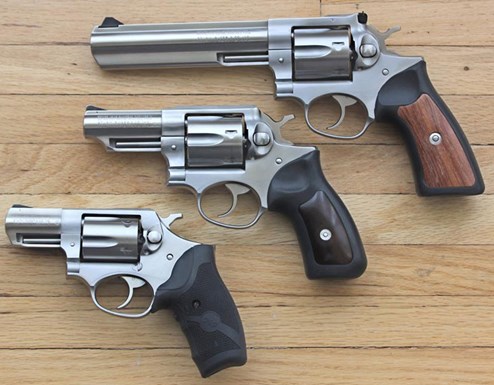 These GP100s are noticeably more comfortable to carry and conceal than Standard models with the advantages of a larger grip and less felt recoil when compared to the SP101. It can be loaded down with .38 Spl. for home defense or low-recoil practice. Around town it can be filled with top quality .357 Mag. defensive hollow points. In the field, one or two chambers can be stoked with CCI pest-control shells in case a poisonous snake gets too close for comfort with the remaining chambers packed with hard hitting hunting loads for defense against four-legged threats. With a plentiful supply of speed loaders, holsters and after market grips, what's not to like? 
But as much as I wanted to sing this gun's praises, no one wanted to buy the story at that time. Folks were much more interested in reading about the ever increasing power levels of hunting revolvers or the pocketable J-Frame-type concealed-carry models. Yet, despite the relatively thin media coverage, the Compact GP100 has maintained enough of a loyal following to keep it from falling out of production.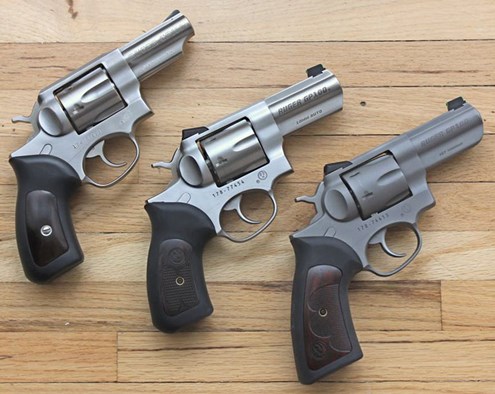 The short barreled GP100 line-up was given a much needed shot in the arm with the 2012 arrival of a handsome defensive version manufactured to Mr. Wiley Clapp's specifications. This Talo Exclusive version features a non-reflective matte finish, beveled cylinder for easier reholstering, a fiber optic front sight, a Novak LoMount rear sight and a special edition full-size wood paneled rubber grip.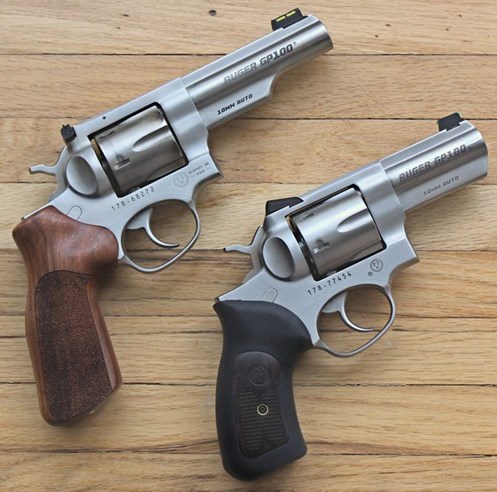 In 2016, the Compact was taken in a new direction with the arrival of the first ever 5-shot cylinder configuration. The Model 1761 .44 Special GP100 sports a satin finish, unfluted cylinder, adjustable rear sight, fiber optic front sight and a special edition Hogue monogrip. It proved to be just as fun to work with as I hoped it would be.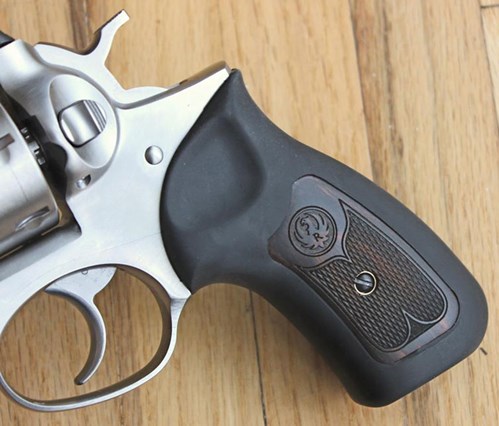 The 2018 SHOT Show in Las Vegas marked the arrival of a long awaited version of the Compact GP100, the Model 1774 7-shot cylinder .357 Mag. with a snubby 2.5" barrel and a compact grip. Unfortunately, like other Compact GP100s in the past, it was all but lost in the shuffle during the landslide release of more than 40 new Ruger models from December 2017 to January 2018.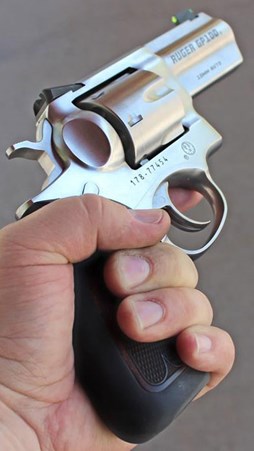 While looking over the 7-shot GP100 models at the Ruger Booth, I bumped into Mark Gurney, who serves as the company's director of product management. He is an exceptionally busy guy, so I was glad to have a chance to talk shop with him on the show room floor. I had tested the Super Redhawk 10 mm just ahead of the show, so I posed the burning questions that both the readers and I wanted an answer to: Will the GP100 be chambered in 10 mm? If so, when will it be available?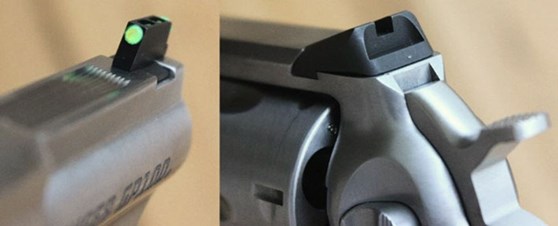 Mark's answer was yes, the 10 mm GP100 was in the works. The first model out the door would be a 6-shot Match Champion configuration that would hopefully ship mid 2018. It was exciting news and I have to admit that my enthusiasm for a 10 mm GP100 was all but leaking out my ears as I looked over pre-production images of the gun on Mark's smart phone (my apologies to Mark if I drooled on the screen).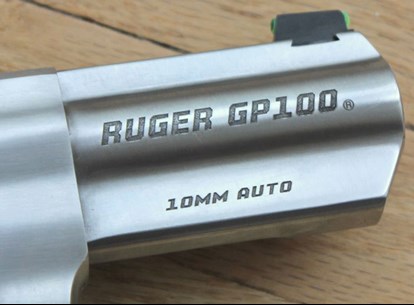 Then I had one of those wonderful, unexpected opportunities that gun writers and shooting enthusiasts secretly hope for but rarely receive: Mark asked me what features I would like to see in a future version of the 10 mm GP100. This is one of those important moments when I could have really blown it with too much humming and hawing or stumbling around trying to find the right answer during the few minutes that I had Mark's undivided attention. But because I was already thinking about a 10 mm GP100, the answer was an easy one. 
I turned around, plucked up the snubby 7-Shot Compact off the display and used it as a model. The pitch went something like this: My ideal, multi-purpose GP100 chambered in 10 mm would be stainless steel with the standard satin finish. A 3" barrel with either a full or short shroud would do nicely. The Model 1752 Wiley Clapp/Talo exclusive's Novak rear sight, with a fiber optic in front, would be preferable to an adjustable sight for concealed carry. And please, if possible, ship the revolver with the same compact rubber grip with textured wood panels as the Model 1774.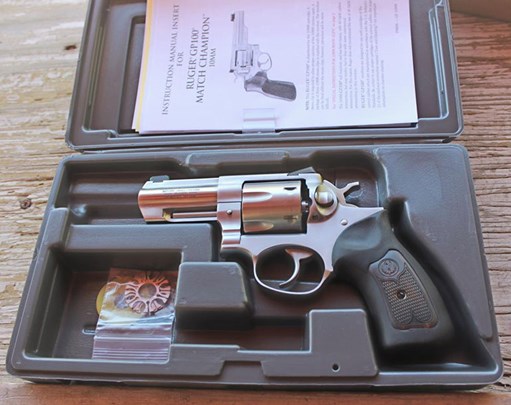 To say that Mr. Gurney has a bucket full of new model ideas poured over his head by the folks he meets with at trade shows would be an understatement. It certainly would have been understandable if my idea of a "perfect 10" didn't make it onto the list of possible considerations. Nevertheless, the same day that the Match Champion 10 mm was posted (yes, I was that bold), I sent a note to Mark asking what was next for the GP100 10 mm? He said to sit tight.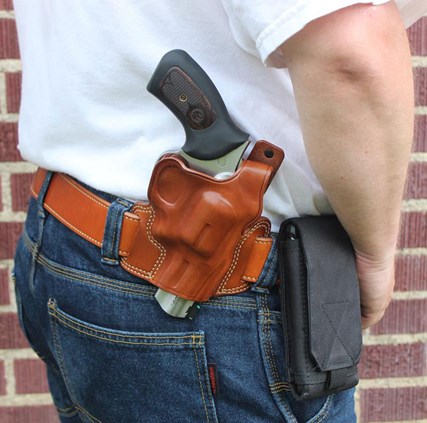 On June 19th, 2018 Ruger sent out a press release announcing a new Wiley Clapp Lipsey's Distributor Exclusive GP100 chambered in 10 mm Auto. It isn't just close to what I wanted, it's exactly what I wanted! Does that mean I can take credit for this revolver's debut? Hardly. First, there are far too many factors involved in a new gun release for just one person to swing the vote. Second, Wiley had his finger in the Compact GP100 pie long before I showed up on the scene. That's why it's named after him. Am I still exceptionally happy about its launch and the chance to test it? You bet!

Carrying a 35-oz. revolver on the hip all day calls for a high quality rig with a sturdy belt and a well-designed holster. Galco Gunleather offers one of the most comfortable and flexible rigs available for the GP100. The Silhouette High Ride holster's design is a useful option for concealed carry with a flat profile and a snug fit against the body. The open bottom accommodates all GP100 barrel lengths from 3" to 6". The thumb-break retention strap allows this holster to be used in the great outdoors or for open carry. With either the .357 Mag. or 10 mm 3" revolvers, set at the strong-side 4 O'clock position, this holster is all-day comfortable to sit, walk and ride in.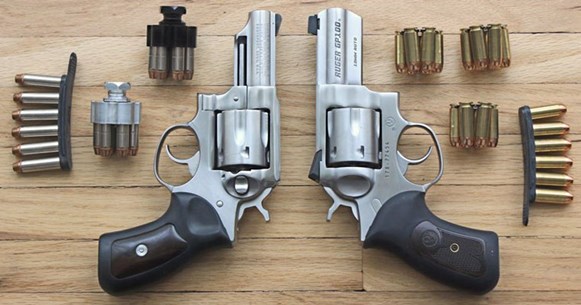 Galco offers two leather ammunition carriers that are a good fit for these guns. The 2X2X2 Ammunition Carrier (left) holds a total of 6-rounds of .357 Mag. ammo in pairs for easy loading. The Belt Speed Loader Carrier (center and right) will accommodate either .357 Mag. twist-knob speed loaders, like the milled aluminum 5 Star Firearms L6-357/38 speed loader shown here, or the 10 mm's full moon clips. For those who prefer the flat, pocketable profile of Tuff Products Quickstrips, the Model 6357 6-round strips can be used to carry either .357 Mag. or 10 mm cartridges.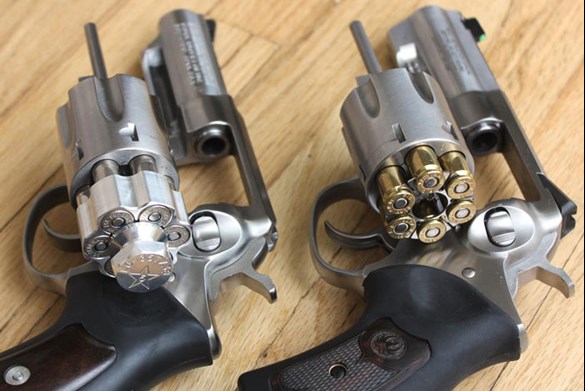 Some folks are put off by the use of full moon clips in a revolver. The clips Ruger provides are easier to use than most thanks to a series of relief cuts around the edges. They allow cartridges to snap in and out of the clips without the need for knuckle busting levels of pressure. Generally, the range time required for loading and unloading these clips is on par with twist knob speed loaders.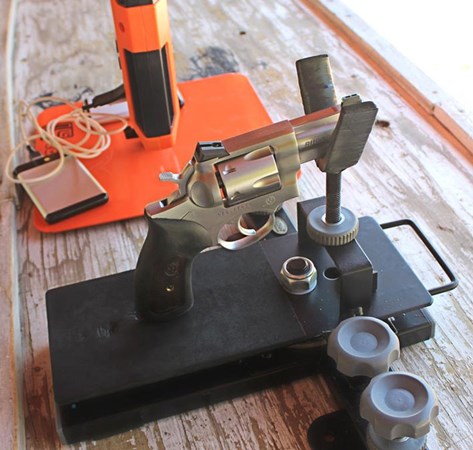 My time on the range with this GP100 was some of the best fun I've had this year. The revolver balances nicely, the grip fits my hand like it was made for it and the felt recoil is just right—lively enough to keep things interesting without the physical punishment that attends some big-bore handguns. The combat sights were quick to acquire and easy to see. The clean, smooth trigger had a double-action trigger pull of 9 lbs. 4 oz. and a single-action trigger pull of just 4 lbs. 3 oz. Formal accuracy was spot on at 25 yards with 5-shot groups hovering right around the 3.25" mark. Off the bench, I was able to successfully engage IPSC style silhouette steel plates at 40 yards from a 2-handed standing position. No complaints there.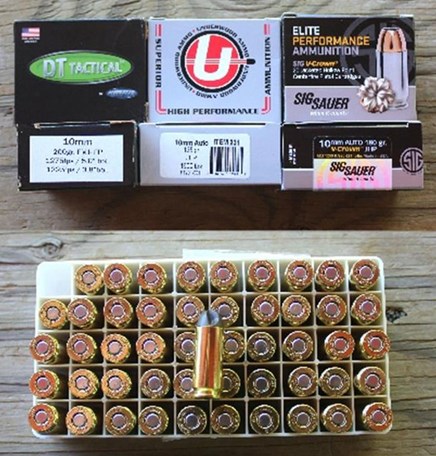 In the GP100 Match Champion review, I mentioned that the 10 mm cartridge has a performance potential that lies somewhere in between the .357 Mag. and the .41 Rem. Mag. depending on the gun and load combination. As a base line comparison of the 10 mm's performance in this case, Hornady's Custom .357 Mag. 158-gr. XTP is listed at 1,250 f.p.s. for 548 ft.-lbs. of energy when fired from an 8" test barrel.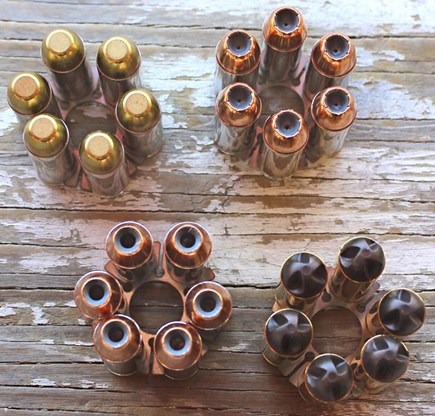 As you can see in the performance table shown here, the 3" barrel and cylinder gap of this gun moved the 10 mm performance level to just above that of a typical .357 cartridge in three cases with the Underwood round providing around 100 ft.-lbs. more than the other loads tested. I have yet to feel under-armed when packing a .357 Mag., so these 10 mm results suit my needs.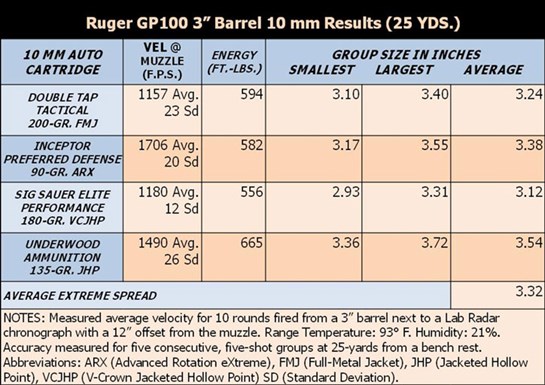 It seems that when I write up a revolver chambered for semi-automatic cartridges, some folks shake their heads and wonder why bother? In this case, the Lipsey's Exclusive Model 1780 3" GP100 chambered in 10 mm provides another way for me to enjoy one of my favorite wheelguns along with one of my favorite handgun cartridges at the same time without sacrificing the sixth chamber in the cylinder. To me, this gun and ammunition combination is a best-of-both-worlds option that handles and performs just as I hoped it would. What's not to like?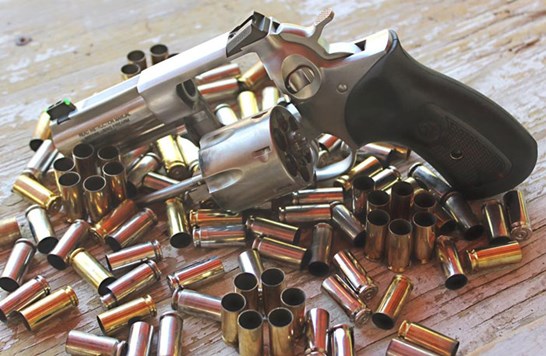 Specifications:
Manufacturer: Sturm, Ruger & Co.
Model: GP100 Wiley Clapp Lipsey's Exclusive
Ruger Model Number: 1780
Lipsey's Catalog Number: RUHKGP-1031-NVK
Action: Double-Action
Caliber: 10 mm/.40 S&W
Finish: Satin Stainless Steel
Barrel: 3" full-lug
Front Sight: Fiber Optic
Rear Sight: Novak, Drift Adjustable
Grips: Compact Rubber with Engraved Hardwood Inserts
Overall Length: 8.50"
Cylinder Width: 1.73"
Weight: 35 oz. unloaded
Capacity: 6 rounds
Twist: 1:18.75" RH
Rifle Grooves: 6
Accessories: Three Full Moon Clips, Hard case, Lock, Owner's Manual
MSRP: $859
Test Ammunition:
Double Tap Ammunition
Inceptor Ammunition
SIG Sauer
Underwood Ammo
Galco Gunleather:
Silhouette High Ride Holster $90
SB5 Sport Belt $97
Belt Speed Loader Carrier $49
2X2X2 Ammunition Carrier (.357 Mag.) $48
Tuff Products Model 6357 6-round Quickstrips $9.45 Per Pair
5 Star Firearms L6-357/38 Speed Loader $19.95