Support NRA American Rifleman
DONATE
I haven't been all that shy about expressing my hopes that Ruger would chamber some of its tank-tough revolvers in 10 mm.  When writing about it three years ago, the Super Blackhawk single-action seemed an ideal option for hunting. Ruger skipped over the single-actions earlier this year and went straight to the company's flagship double-action Super Redhawk, which proved to be a sweet-shooting wheelgun. 
When the Super Redhawk review hit the airwaves, some folks chimed in to say that a beefy 10 mm hunting revolver was all well and good for certain applications but they were hoping for a more compact, all-purpose model. With the arrival of the GP100 5-shot .44 Special in 2016 and a pair of distributor exclusive .41 Rem. Mag. GP100 6-shots released soon thereafter, it seemed like a 10 mm version of the GP100 was close to becoming a reality.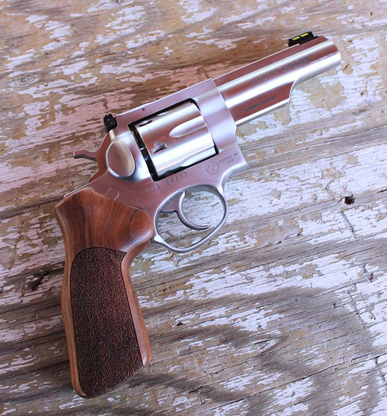 Despite having already launched more than 40 new models for the 2018 product year, the company is adding at least one more, the GP100 chambered in 10 mm that we've been waiting for. Although I expected it would be a 5-shot standard version like the .44 Spl., the first 10 mm GP100 is a 6-shot Match Champion configuration. Needless to say, receiving one to review ahead of its release date put a big smile on my face.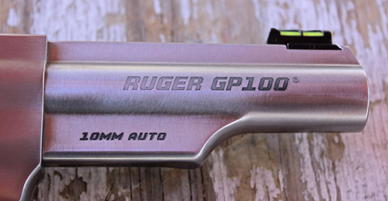 The double-action GP100 has been appreciated as a do-it-all wheelgun for over three decades now. The Match Champion configuration takes this platform one step further with the inclusion of IDPA-style upgrades that serve to enhance its use as a field and personal protection gun as well.
This revolver features an all-stainless steel construction. Instead of the milled, slab-side barrel installed on the .357 Mag. model, this half-lug 4.2" barrel has a rounded profile to accommodate the larger 0.40-cal. bullets of the 10 mm cartridge. An 11-degree target crown aids in improving accuracy. Thanks to the larger chambers in the cylinder and increased bore size, the 10 mm Match King weighs 37 ounces unloaded, which is a full ounce lighter than the .357 Mag. version.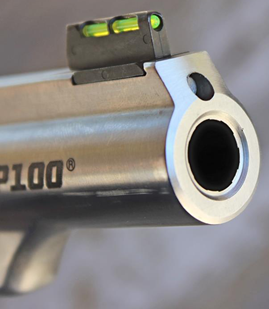 The front of the 10 mm Match Champion's triple-locking cylinder is not radiused. There's just not enough metal to do so safely. However, the ejector star and chamber mouths have been lightly chamfered for easier loading. The action is match-tuned and polished. Enhancements include a centering boss on the smooth-faced trigger and hammer shims for a smooth, clean trigger pull in either double-action or single-action trigger mode. The top strap is beveled and the portion of the frame in front of the trigger guard has been rounded.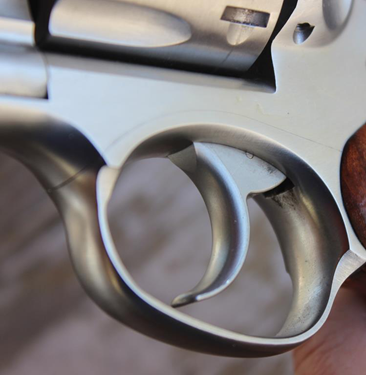 This model arrives with one of Ruger's most useful revolver sight configurations. The front sight is a bright green fiber optic tightly tucked into a metallic housing that provides a square profile from the shooter's point of view. The rear sight blade is fully adjustable for height and windage with a square notch and white outline. The result is a sight picture which is quick to acquire and easy to see.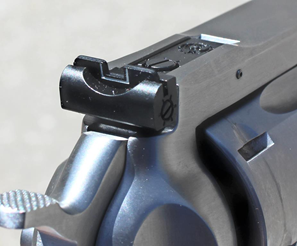 The two external controls consist of a press-button cylinder release, located on the left side of the frame, and an exposed hammer which is checkered for easy cocking when firing the revolver single-action.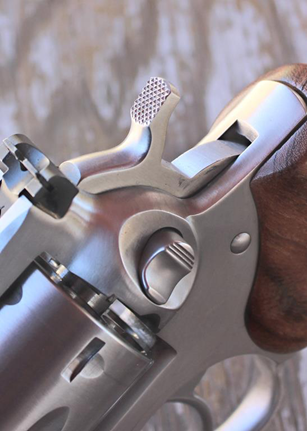 Generally speaking, I'm not a big fan of all-wood revolver grips because most models are simply too large or bulky for my hand size. However, the sculpted shaping and stippled side panels of the Match Champion's Hogue single-piece, competition-style hardwood grip makes it a pleasure to work with. It has all the right curves in just the right places with plenty of vertical space for larger hands.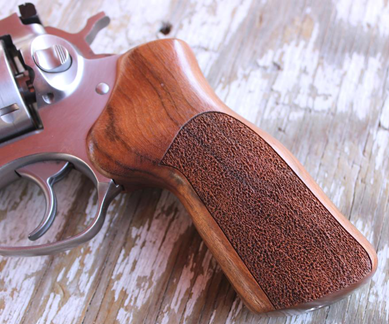 This version of the Match Champion arrives with three steel full-moon clips to support the rimless 10 mm cartridge. This revolver can be fired without moon clips when using 10 mm ammunition because the rounds are head spaced at the cartridge mouth. But then each spent casing must be poked out of the cylinder with a pencil or similar tool because the ejector star has nothing to push against. When moon clips are used, all 6 chambers can be loaded at once (speed loader style) and all spent cartridge casings will be pushed out at the same time by the ejector.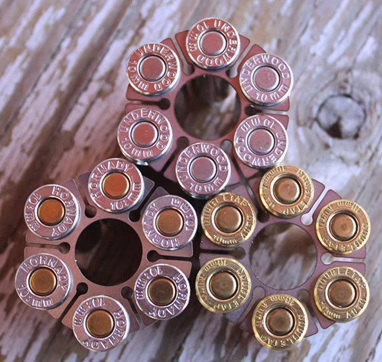 The cartridge case of the .40 S&W semi-auto pistol round shares the same external dimensions as the 10 mm with the exception of being 0.142" shorter. This means the revolver can be safely fired with the softer shooting .40 S&W but two things should be kept in mind. First, .40 S&W cartridges must be supported by full-moon clips. Otherwise they will slip down into the chambers and not fire. Secondly, it's important to thoroughly scrub out each of the cylinder's chambers after shooting .40 S&W before switching back to 10 mm to avoid the longer cartridge cases sticking in the chambers.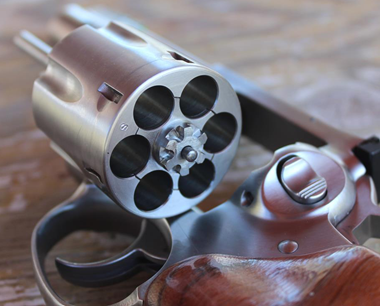 At the shooting range, the 10 mm version of the Match Champion exhibited what I'll call the "Goldie Locks Factor" on several levels, in other words, it was just right. The overall fit and finish was excellent. The sights were useful and pleasing to the eye. The grip was comfortable to hold and the gun balanced nicely. The long, double-action trigger pull was smooth and cycled without noticeable stacking along the way. The single action trigger pull exhibited a crisp clean break with just 3 lbs. 15 oz. of trigger pull. The full-moon clips were easy to load and unload while providing a reliable level of pressure to the cartridge cases. This GP100 ran flawlessly throughout the testing process with no issues or malfunctions of any kind.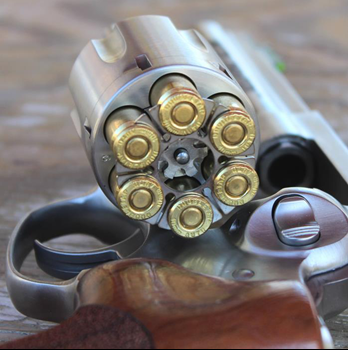 When I tested the 6.5" barrel, 54 oz. Super Redhawk, it tamed the felt recoil of the 10 mm cartridge to a moderate, almost modest level. The 37 oz. of the 4.2" proved to be just right for this cartridge in the recoil department. It was a bit more energetic than a .357 Mag. but still in the moderate range. It's certainly comfortable to shoot when compared to a similarly sized .41 Rem. Mag. or .44 Mag. revolver, while offering a marked performance boost when compared to a 4" barrel .357 Mag.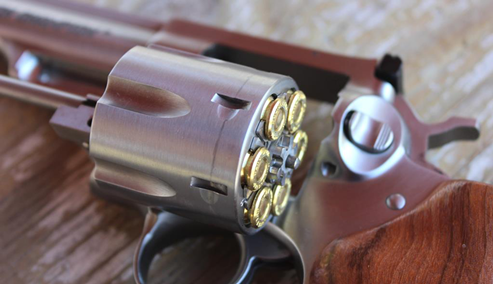 The 10 mm cartridge was designed to operate in 4" to 5" semi-automatics so I was interested to see how the cylinder gap and 4.2" barrel of the Match Champion would affect ammunition performance. Formal performance testing consisted of 10 rounds per load fired next to a Lab Radar chronograph (with a 12" barrel offset) and five 5-shot groups fired at 25 yards from a bench rest in single-action mode.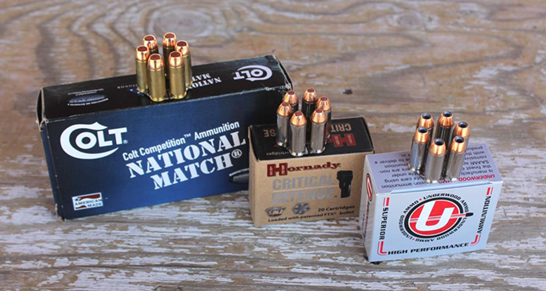 Double-Tap's Colt National Match 180-gr. full-metal jacket target load yielded a muzzle velocity average of 1153 fps., which is 3 fps. faster than the listed velocity, for 531 ft./lbs. of energy. It printed a best single 5-shot group of 2.59" with a five group average of 2.75". Hornady's Critical Defense 165-gr. FTX averaged 1193 fps. for a muzzle energy of 521 ft./lbs. It tapped out a best group of 2.94" with a group size average of 3.23". Underwood Ammunition's 135-gr. jacketed hollow point was the hottest load of the day with a velocity average of 1554 fps. for 724 ftlbs. of energy. This round knocked out a best group of 2.79" with an average of 2.93".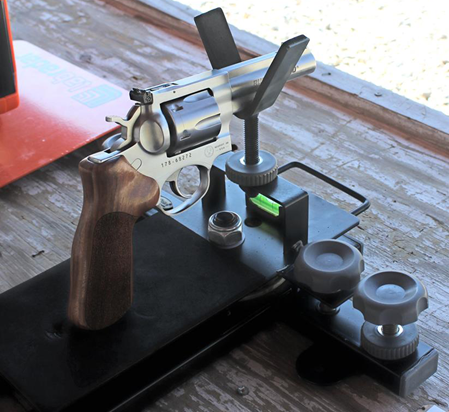 The new Ruger GP100 Match King chambered in 10 mm is one of those best-of revolvers that the company's customers have been waiting for, including me! It offers the balanced, easy to carry and comfortable to use GP100 format with the upgrades of a competition revolver at a fair price. Despite the cylinder gap, the 4.2" barrel keeps the 10 mm cartridge's energy potential right in between that of the .357 Mag. and the .41 Rem. Mag. for a manageable, but potent, level of performance for competition, personal protection and use in the field. Once again, Ruger has exceeded my expectations.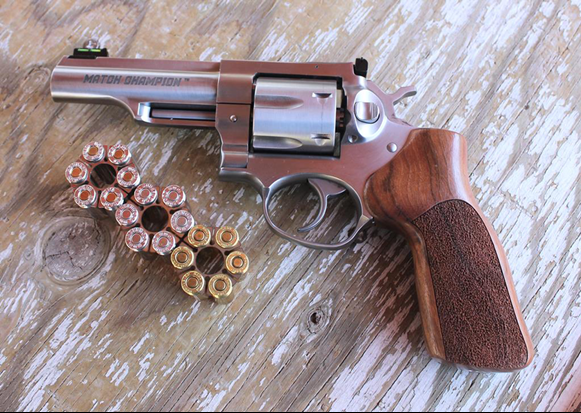 Specifications: 
Manufacturer: Sturm, Ruger & Co.
Model: GP100 Match Champion
Action: Double-Action
Caliber: 10 mm/.40 S&W
Finish: Satin Stainless Steel
Barrel: 4.20" half-lug, round profile
Front Sight: Fiber Optic
Rear Sight: Adjustable, white outline
Grips: Hogue Monogrip, hardwood
Overall Length: 9.50"
Weight: 37 oz.
Capacity: 6 rounds
Twist: 1:16" RH
Rifle Grooves: 6
Accessories: Hard case, lock, owner's manual
MSRP: $969