Support NRA American Rifleman
DONATE
Last year we posted 5 Ruger Revolvers We're Ready For. There I put into print my desire for a five-shot version of the Ruger GP100. Instead of additional chambers for smaller cartridges, like the 6-shot .327 Fed. SP101 or the 10-shot GP100 .22 LR, I hoped for fewer chambers capable of holding larger rounds. I'm happy to say that my wish has just been granted in the form of the new 5-shot GP100 chambered in .44 Spl.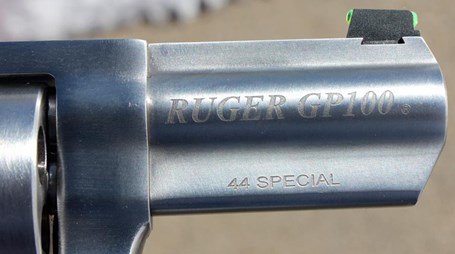 In an earlier post, Three Handguns That Got Away, I lamented my own short-sightedness in selling off what has become the relatively rare, collectable, 3" barrel Smith & Wesson 696 5-shot .44 Spl. Writing the article made my desire to replace the 696 just that much stronger. So, I hit the Information Highway to see what was available.
The occasional 696 will pop up on the market from time to time, but with healthy price tags starting at $1,600. The Taurus Tracker has a 4" ported barrel but I wanted a non-ported 3" barrel. There is, of course, the Charter Arms Bulldog. However, it is quite lightweight and therefore pretty snappy in the recoil department. Visiting the Clements Custom Guns website gave me my first look at a 6-shot .357 Mag. GP100 converted into a 5-shot .44 Spl., which I thought was a great idea. Unfortunately, the price tag was once again too steep for my budget.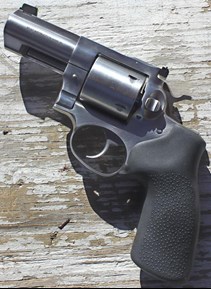 Luckily for me, the idea of a 5-shot big-bore GP100 is not an original one. Some folks will think I had some sort of insider information about this new model (including the insiders themselves) when I mentioned it last year. The truth is I just wanted what other folks had in mind. Ruger listens to its customers, but it still takes plenty of input to bring a new model into production.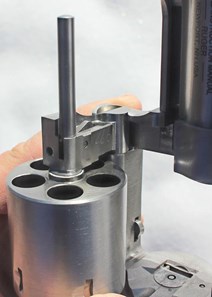 This recent version of the GP100 double-action revolver enjoys the same features that have made this line popular for more than 30 years, including an all-stainless-steel construction and a 3-point lockup for the cylinder. It also has some of the company's recent upgrades to the platform. The 3" full-lug barrel is grooved along its flat top to reduce glare. The removable front sight blade has been replaced with a dovetailed green fiber optic sight. The front sight's metallic housing has a square profile that matches nicely with the square notch of the fully adjustable, white outline rear sight.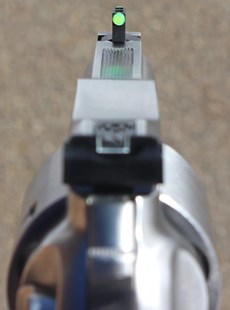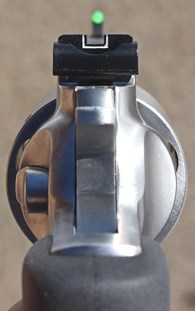 The tank-like single piece frame is one of the strongest in its class. Designed to handle the regular use of magnum pressure loads, it will comfortably manage the typically lower levels of pressure produced by most .44 Spl. ammunition.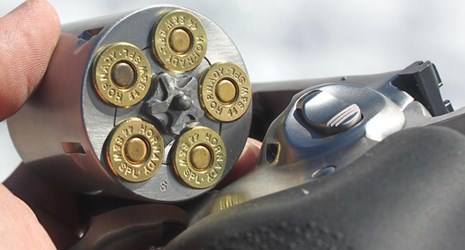 The post-shaped grip extension allows for the installation of a wide variety of grip types and sizes. The revolver arrives with a comfortable, slim-profile pebble-texture Hogue synthetic Monogrip. The grip's no-finger-grooves configuration allows for a high shooting hand placement (to manage recoil) and plenty of room for a full three-finger grip. If you want a more compact grip for concealed carry, Ruger still offers one of my favorite grips for the GP100, the previously installed Compact (#70084) rubber grip with rosewood inserts via ShopRuger.com.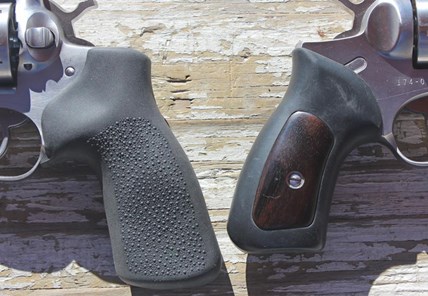 If you are looking to add a laser sight, the Crimson Trace full-size LG-344 lasergrip offers the comfort of a rubberovermolded gripping surface with an instinctive, front-mounted activation switch. This grip arrives with a set of textured polymer grip inserts that can be replaced with a full-size set of rosewood panels. It even has pockets under the left-side panel for the laser adjustment wrench and the revolver's takedown pin.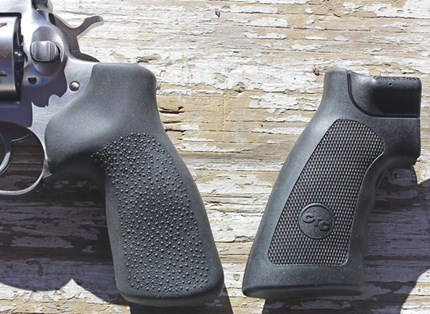 The combination of this revolver's plain unfluted cylinder, the Hogue grip and bigger bore gives it a similar appearance to the Super Redhawk Alaskan, which is not a bad thing. The cylinder notches are offset from the chambers for increased chamber strength. Ruger was careful not to re-invent the wheel, as it were, when it came to the 5-shot cylinder's internal dimensions. As a result, it's compatible with loading devices that are already on the market. This includes the milled aluminum 5 Star Firearms 5J-45/44 speed loader and the Tuff Products' five- and six- round Quick Strips. Because the GP100 3" barrel .357 Mag. version has been around for a long time, there are plenty of holsters available as well.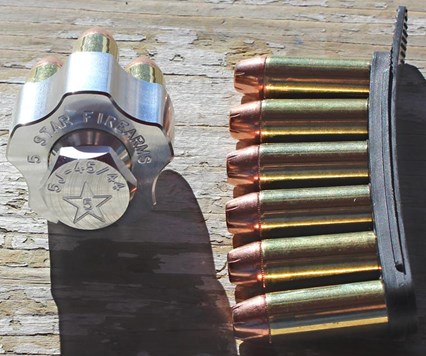 Although the GP100s I've worked with over the years have had good, smooth triggers, this one is better than I expected it to be. While reviewing the 5-Shot .44, I broke out a late 1990s production 6-shot .357 for comparison. The .357 exhibited an 11 lb. 7 oz. double-action trigger pull and a 6 lb. single-action trigger, according to a Lyman's digital-trigger gauge. The new .44 Spl. model has a 10 lb. double-action trigger and a short 0.10" single-action trigger stroke that breaks cleanly with 4 lbs. 10 oz. of trigger pull. In other words, this new GP100 has a trigger that's just shy of a pound and a half lighter than my older model. I suspect that the process improvements implemented for the GP100 Match Champion have found their way into the rest of the line-up.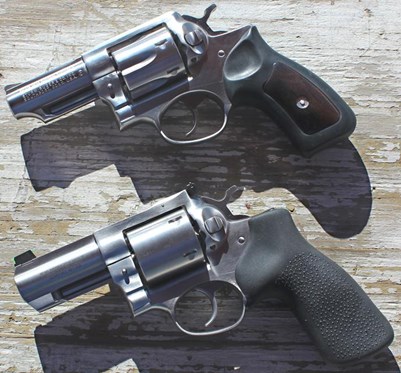 Some folks wonder why the .44 Special continues to hang around when more powerful cartridges are available. Personally, I enjoy the flexibility of this round. Much like the .45 Colt and .45 ACP, it offers the performance of a big-bore bullet traveling at moderate velocities. It can be loaded up to near magnum levels or loaded down for more comfortable shooting. This revolver's 36-oz. weight kept the recoil of standard velocity (around 1000 fps) .44 Spl. cartridges at a moderate, shoot-all-day kind of level. Enough pep to be fun without the punishment. The recoil of the hotter +P and heavy bullet loads can get stout, but they offer the performance needed for close-range hunting and protection against dangerous game.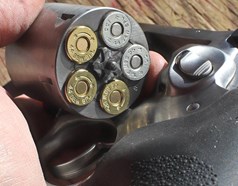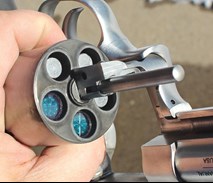 When enjoying the great outdoors, a revolver like this one can be loaded with a "trail mix," which includes one or two CCI .44 cal. shotshells loaded to fire first for poisonous snakes. The CCI load tested was the blue capsule version filled with ¼ oz. of #9 lead birdshot (approximately 170 pellets). At 7 yards, this load's shot pattern evenly covered a Birchwood Casey Shoot-N-C 12"x18" target from top to bottom with the shot cup punching a hole in the center.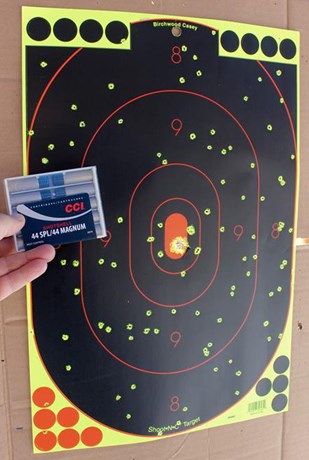 It was a sunny but sub-freezing day (high of 31 F) when I put this revolver through its paces. This might explain why the test loads were flying just a bit slower than I would have expected from the 3" barrel (all three are listed at 1000 fps.). Buffalo Bore's deep-penetrating 255-gr. Keith hard-cast lead load, for hunting or protection against dangerous game, flew at 934 fps. with 498 lbs. of muzzle energy and a 5-shot group average of 3.26" at 25 yards firing from a benchrest using the factory iron sights. Double Tap's Tactical 200-gr. Barnes TAC-XP all-copper hollow point traveled at 780 fps. for 270 lbs. of muzzle energy with an average group size of 3.37". Hornady's Custom 180-gr. XTP jacketed hollow points turned in a muzzle velocity of 869 fps. with 302 lbs. of energy and an average group size of 3.48".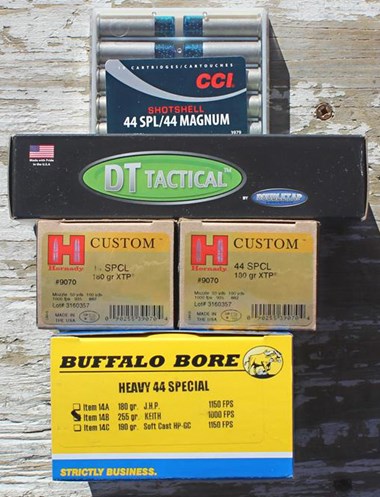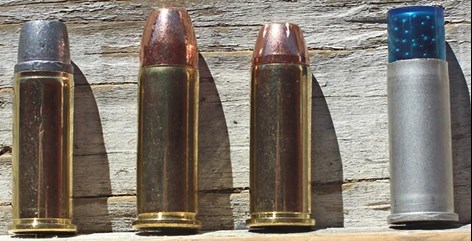 The new 3" barrel Ruger GP100 5-Shot .44 Special falls neatly into my idea of a one-gun shooting solution. It can be tucked into a nightstand strong box for home defense, carried concealed in the city or out on the trail for defense against dangerous critters of the no-legged, four-legged and two-legged varieties. Several reputable ammunition manufacturers offer a variety of .44 Spl. loads suitable for all of these roles.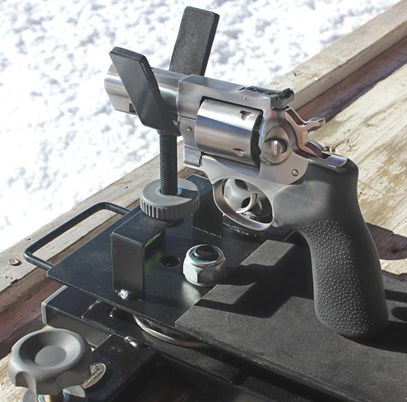 I'm quite happy with this new revolver. It scratched that itch I've been trying to reach for years and I'm in no hurry to part with it. But it won't come as much of a surprise when some folks start hollering for a fire-breathing .44 Mag. version. There's certainly nothing wrong with that. However, what I'm not-so-secretly hoping for are models chambered for cartridges that would be a real hoot to shoot in this configuration, such as the .41 Rem. Mag., .45 Colt, and 10 mm. With the 5-shot mechanism fully developed and in production, the GP100 has all kinds of potential that's been out of reach until now.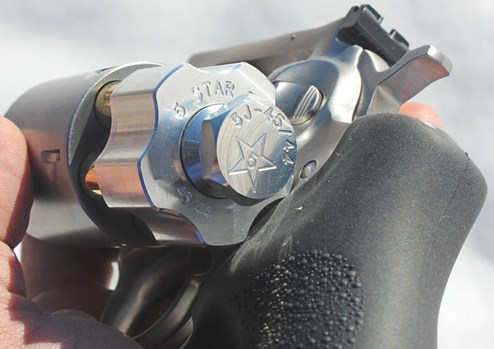 Specifications
Manufacturer: Sturm, Ruger & Co.
Model: GP100 5-Shot (#1761)
Action: Double-Action Revolver
Caliber: .44 Special
Finish: Satin Stainless Steel  
Grip: Hogue Synthetic Monogrip, No Finger Grooves
Front Sight: Black Metallic with Green Fiber Optic     
Rear Sight: Fully Adjustable White Outline
Barrel Length: 3.00"   
Overall Length: 8.50"
Cylinder Width: 1.56"
Height: 5.75"
Weight: 36 oz.
Capacity: 5 Rounds
Twist: 1:20" RH
Rifle Grooves: 6
Accessories: Hard Case, Lock, Owner's Manual
MSRP: $829
Crimson Trace LG-344 Red Laser Grip: $319
Ruger Compact Rubber Grip with Rosewood Inserts: $44.95
5 Star Firearms 5J-45/44 Milled Aluminum Speed Loader:
Tuff Products 7002-BP-644 Quick Strips: $9.45 per 2-Pack