posted on August 10, 2016
Support NRA American Rifleman
DONATE
Every outdoorsman or woman should own a knockabout .22 rifle. You know, the kind of gun you can leave in the truck or loan to a friend for a camping trip. You don't mind if you find a speck of rust on it or a new ding on its stock. You even laugh when your kid accidentally drops it in the creek. Yet the gun is capable of driving off a predator or putting game in the pot and it becomes the most used gun in your collection. In 2015 Mossberg introduced the Blaze .22LR semi-automatic rifle. Constructed primarily of polymers, the gun features a simple and robust design. Built to fill a myriad of roles, it should satisfy the demands of any user needing a lightweight, accurate and inexpensive gun.
Weighing in at an almost unbelievable 3.5 lbs. the Blaze is light enough for any hiker's backpack. Mossberg engineers accomplished this amazing feat by constructing the rifle's stock from two plastic shells which house the action, with its steel bolt, the steel barrel and the trigger group. The gun is blowback in operation and uses a small diameter action spring, wrapped around a guide rod, for the bolt to ride back and forth on.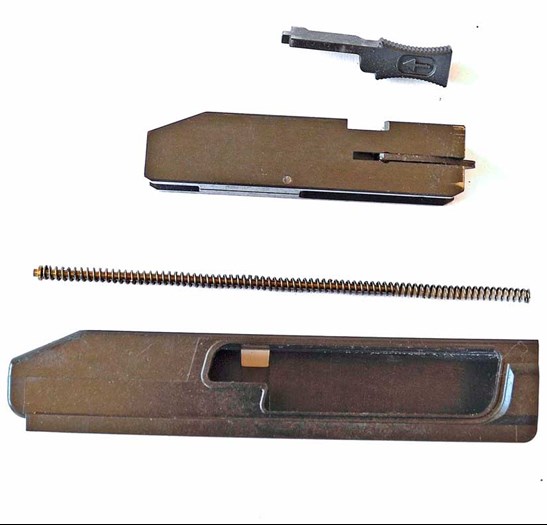 Shown here are the bolt handle, bolt, action spring and guide rod and the polymer bolt cover.
My test sample came with a 25-round magazine, and will ship with a 10-round magazine where dictated by law. The curved or banana-style magazine is easy to use and has two buttons on either side of the follower to aid in loading. To load the rifle simply insert the forward portion of the magazine into the rifle's magazine well and rock the mag backwards, AK-style, until it engages the magazine latch and securely locks into place.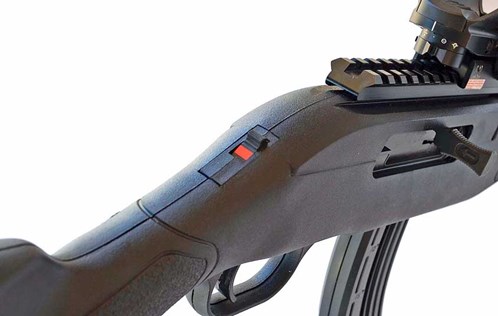 The Blaze's tang-mounted manual safety is conveniently located.
To chamber a round simply pull the bolt handle to the rear and release it. There is a conveniently located tang-mounted manual safety and pushing it forward exposes a red rectangle, alerting the shooter that the gun is now ready to fire. When the last round is fired the magazine's follower acts as a bolt stop and holds the bolt open so the chamber can be visually checked. However, removing the magazine will allow the bolt to go forward unless the bolt is manually locked open. To accomplish this, pull the bolt handle to its rear most position and push in on it. Now the bolt is locked open and the magazine can be removed by pushing the magazine latch forward and rocking the magazine out of the gun.
Mossberg offers a variety of Blaze rifles differing in sighting options, finishes and even length of pull for junior shooters. I received a sample of the Blaze Rifle Green Dot Combo. A Dead Ringer green dot optic comes with the Blaze. It offers four different reticles: a simple crosshair, a dot, a dot inside a circle and a circle with a crosshair through it. To choose a reticle the user moves a selector at the rear bottom of the sight. There are 11 brightness settings available via a knob on the right side of the sight and it is powered by a 3V-CR2032 battery. The Blaze has a 3/8" dovetail on its receiver top for attaching rimfire scope mounts. This particular Blaze Combo has a cantilever rail attached directly to the barrel and it offers a very stable platform for optics of any kind. Even though this particular gun shipped with a Dead Ringer dot sight shooters may choose to replace it with a scope with magnification to take advantage of the rifle's excellent accuracy.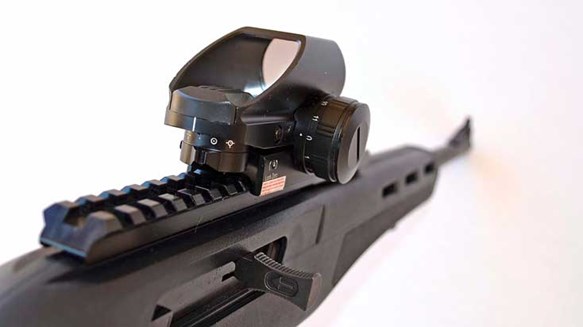 Featuring a green dot, the Dead Ringer offers shooters four different reticle styles and 11 different brightness settings.
I did my accuracy testing on a bright, Arizona summer day and needed to use the sight's highest brightness setting. I chose the simple dot reticle and tried to center the dot in the 3" Shoot-N-C targets I had set out at 25 yards. I chose this distance because the Dead Ringer Holographic sight does not magnify the sight picture. I shot my groups from a cement bench using a Caldwell Rifle Rest for support. I fired five shots to a group.
Blaze's trigger breaks with about 4 lbs. of pressure. It does have a sluggish takeup and plenty of over travel, and I had to remind myself this is a budget gun with a suggested retail price of just $265. That being said I was able shoot some really nice groups. CCI's Blazer 40-gr. ammo produced a nice tight group that measured just .62". Even if we extrapolate to 100 yards this is a gun capable of 2½" groups. That's plenty of accuracy for a gun that will probably end up in the back seat of a truck, in a barn, on a tractor etc. Certainly there are more accurate guns, heavier and, of course, more expensive than the Blaze. But I don't know of any other rimfire rifles which weigh 3.5 lbs. and cost less than $265.
| | | | |
| --- | --- | --- | --- |
| AMMO | VELOCITY | ENERGY | GROUP |
| Winchester 37-gr. copper plated | 1386 | 157 | .73" |
| Blazer 40-gr. | 1243 | 137 | .62" |
| Aguila Super Extra 40-gr. | 1270 | 143 | .97" |
| Raptor 40-gr. copper plated | 1247 | 138 | .98" |
| Federal Auto Match 40-gr. | 1209 | 129 | 1.19" |
A PACT Chronograph was used to measure velocities which are listed in Feet Per Second. Energies are recorded in Foot Pounds of Energy. Temperature was 102 degrees with 27 percent humidity.
On my next outing I set up a couple steel targets at about 50 yards. The targets are about 14" x 18" and I was able to put rounds on steel easily and quickly at this distance. The Dead Ringer sight made target to target transitions easy and, shooting with both eyes open, was as easy as putting the green dot on the target and pressing the trigger.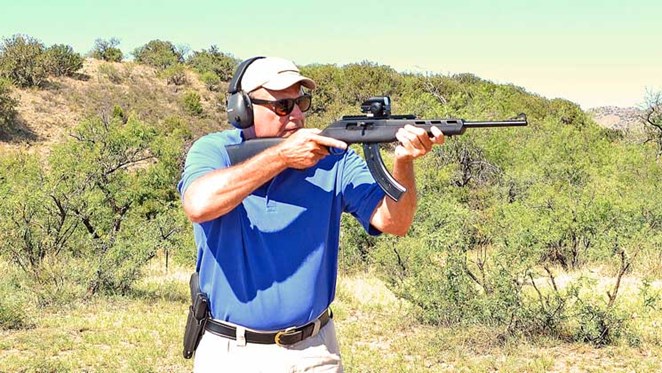 The Dead Ringer green dot sight made shooting as easy as placing the dot on the target and pressing the trigger.
During my evaluation I fired about 400 rounds of various rimfire ammunitions. There were no malfunctions of any types and that is unusual for .22LR guns. Everything I used in the Blaze is considered to be a high-velocity round though Mossberg says standard velocity ammunition works equally well.
Rimfire rounds are notoriously dirty. In addition to the firing residue there is also the waxy bullet lube and lead shavings which can accumulate to choke a semi-automatic. Mossberg recommends cleaning the Blaze every couple hundred rounds. The details of disassembling the Blaze are lengthy and I'll save you the step by step process. In a nutshell, the 16 plastite screws on the left side of the rifle are removed and the two plastic stock shells are separated.




To disassemble the Blaze there are 16 plastite screws on the left side of the stock which must first be removed.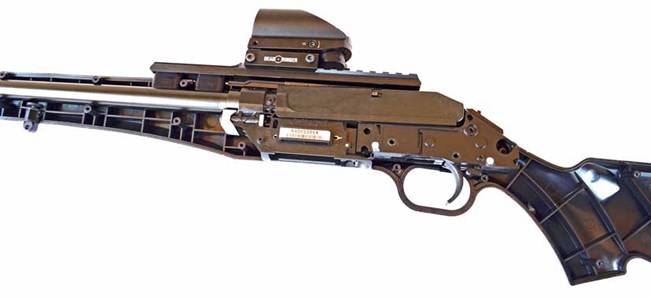 Mossberg engineers designed the Blaze's action to be housed within two plastic stock shells.


I found that I needed to remove the cantilever rail from the barrel to have enough room to remove the polymer bolt cover. The bolt can then be removed from its receiver housing for a good scrubbing and the inside of the bolt cover can easily be wiped down with an oily rag. The steel barrel can even be removed by unscrewing two 5/32 hex screws. It attaches to the polymer receiver using a V-block and once removed will allow it to be cleaned from the breech end.

Even the Blaze's trigger housing/receiver is constructed of a high strength polymer/nylon.


A "V" block is used to attach the steel barrel to the polymer receiver.
Mossberg's Blaze may well be the perfect knockabout or utility gun for sportsmen. It is incredibly light in weight, has plenty of accuracy and possesses unfailing reliability. Best of all, it is budget priced and offers shooters an incredible value for the money. For more information on Mossberg's Blaze, visit mossberg.com.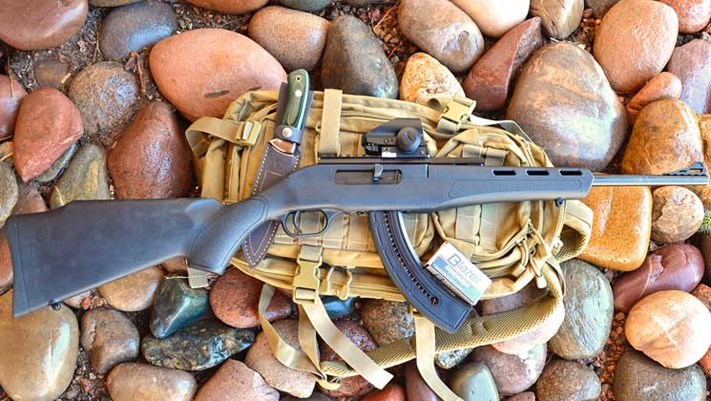 Mossberg's Blaze rifle may well be the perfect knockabout gun. It is lightweight, accurate, reliable and economically priced.
NRA Specifications
Manufacturer: Mossberg
Model: Blaze Rifle Green Dot Combo 25-round
Operation: Semi-automatic, Blowback
Caliber: .22LR, Standard and High Velocity
Capacity: 25-round magazine, 10 round where restricted by law
Barrel: 16.5"
Overall Length: 35.75"
Twist: 1:16"
Finish: Blue
Sights: 3/8" Dovetail Rail on Receiver Top, Cantilever Rail Attached to Barrel and Dead Ringer Green Holographic Sight
Stock: Black Synthetic with Sling Swivels Fore and Aft
Length of Pull: 13.5"
Weight: 3.5 lbs.
Warranty: Limited, 2 Year
MSRP: $265 as Tested, $196 for Iron Sights Model